No Comments
The Weekly Buzz | August 11 – 17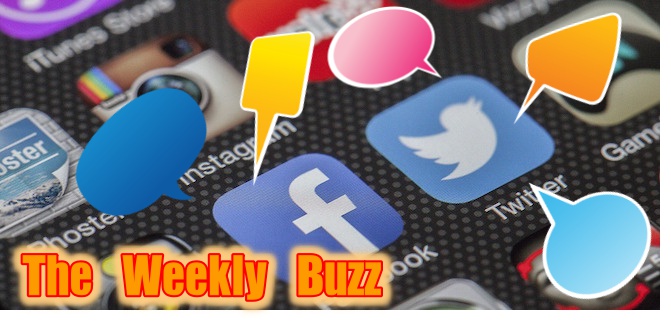 Compared to last week, this week was relatively quiet. The news that the sun is going to go dark and leave us in a lawless scenario (a la "The Purge") is a little unsettling, but I have craft beer and a deadbolt. I'll be fine. Safely locked in my highly secure bunker, I will not rest until I've brought you the finest tweets on the internet! The end may be nigh, but that doesn't stop you from sitting back, relaxing and enjoying this week's edition of The Weekly Buzz!
I guess this pumpkin thing is happening again…
Roll out the orange carpet…all hail the King! Pumking is back on draft in Pittsburgh! pic.twitter.com/EW4Coyy4MS

— Southern Tier PGH (@stbcbeer_pgh) August 15, 2017
---
Need a safe way to view the eclipse while drinking?
Staring at the sun is fun but looking at #Eclipse2017 could be dangerous! Make a safe #eclipse viewer in 5 easy steps! #Yards #PhillyPaleAle pic.twitter.com/vBYEhKi3sn

— Yards Brewing Co. (@yardsbrew) August 11, 2017
---
We need to get Americans back into the bars. Sad!
In 1825 the US annual consumption of alcohol for those over 15 years old was 7 gallons per person. Today its only 2. #history

— Drunken History (@DrunkenHistory) August 11, 2017
---
Get your tickets while they last!
Tickets to 9/16's Viking Oktöberfest are 80% sold. Don't wait. https://t.co/ZhBETPMTHI

— Solemn Oath Brewery (@solemnoathbeer) August 11, 2017
---
Nothing to see here. Move along!
https://www.instagram.com/p/BXqZABGAAbB/
---
Happy Anniversary!
#savethedate @gravitybrewing 5 Year Anniversary Party! September 9th 1pm-Close, Live Music, Great Food #louisvilleco #party #craftbeer pic.twitter.com/GXNFef93Nt

— Gravity Brewing (@gravitybrewing) August 11, 2017
---
I believe congratulations are in order.
A BIG congrats to @HandOfFateBrew for winning the IL Bicentennial Craft Beer Competition this weekend! https://t.co/vqRvBfrFbv

— IL Brewers Guild (@IllinoisBeer) August 14, 2017
---
Who do you want to see on stage?
ICYMI: The 312 Block Party music lineup! @anmlcollective / @therecordcomp / @Charles_Bradley / @JoeyPurps / @tedleo / @FriendsFilthy & More! pic.twitter.com/EADETVyJFV

— Goose Island Beer Co (@GooseIsland) August 14, 2017
---
New location coming soon!
Expansion plans in the works for @ThreeNotchdBeer in #CVille #vacraftbeer #ToastVA https://t.co/YIxOKzdfEU

— RVABeerBlog (@RVABeerBlog) August 12, 2017
---
Now that's a big Märzen!
Look for our delicious Märzen, 8.5%, brewed back in March, fermented slow and cool & ready for release on the Beer Vault next Monday @ Noon! pic.twitter.com/D0RcTL4kKX

— Smuttynose Brewing (@smuttynosebeer) August 14, 2017
---
Are you looking for a job in the craft beer industry?
#NYC Brewery Reps.
MKTG+Public Events@Springdalebeer Staff
Private Events Mgr.
S.NH Brand Ambass.@JABeerHall FOHhttps://t.co/xsQHEbHPEQ pic.twitter.com/gshDL6o7Mt

— Jack's Abby (@JacksAbby) August 14, 2017
---
Run on down and enjoy a beer!
We're pouring! Get tix: The Brew Hop 5K + Craft Beer Fest 2017 Tickets, Sat, Oct 21, 2017 at 12:00 PM | Eventbrite https://t.co/lji2jo0iHe

— Ommegang NYC (@ommegangnyc) August 14, 2017
---
Congratulations to this homebrewed champion!
The winner of our Homebrew Competition "Freedom of Peach is now available at the Eccentric Cafe. Congrats to Evan! pic.twitter.com/dpV8eHCCNT

— Bell's Brewery (@BellsBrewery) August 14, 2017
---
Get out there and support a great animal shelter!
https://instagram.com/p/BXpqADbgIGL/
---
Pay no attention to that man behind the curtain!
https://instagram.com/p/BXydY8FHFks/
---
Help beautify Roanoke. All you have to do is drink beer!
New beer event coming to @City_of_Roanoke – feat. @StarrHill beer & proceeds go to @DowntownRoanoke beautification https://t.co/lwua1DBn04 pic.twitter.com/XIKunlGdsV

— RVABeerBlog (@RVABeerBlog) August 15, 2017
---
It's tomorrow people! Move! Move! Move!
Looking towards @VaCraftBrewFest 2017, we've got drink specials on #VirginiaBeer all week.

Support #Charlottesville and #LocalBeer pic.twitter.com/mbQ2feaPMc

— Draft Taproom (@DraftTaproom) August 15, 2017
---
You had me at "John Popper."
One month from today! Best date night idea ever! @reynoldsgolf #gabeer pic.twitter.com/3JXsLFo5hV

— oconeebrewingco (@oconeebrewingco) August 16, 2017
---
I never realized I wanted jazz with my craft beer… until now!
Join us Labor Day Weekend at the John Coltrane International Jazz & Blues Festival for a great time! Tickets available at BTB. #highpointnc pic.twitter.com/xxh2Pbff4L

— Brown Truck Brewery (@browntruckbrew) August 16, 2017
---
Look out, Delaware! New beer is incoming!
We've officially launched Delaware! That makes 16 states of distribution (plus D.C.) for the Terrapin Tribe! pic.twitter.com/TDheTU8ExH

— Terrapin Beer Co. (@TerrapinBeerCo) August 16, 2017
---
You and me both…
You know how women in horror movies scream super loud when they see the bad guy? That's the sound I make when I find no #beer in the fridge.

— Triskelion Brewing (@TriskelionBrew) August 17, 2017
---
Our kids can't succeed without well-stocked classrooms!
Hoist a stein & support STL Schools! We'll be collecting unwrapped school supplies, donating a portion of proceeds. https://t.co/gF6Dqqp4pd pic.twitter.com/tTiRsyCStm

— [email protected] (@JShineUCBC) August 17, 2017
---
Because two locations was nowhere near enough.
Did you hear the news? We're opening our third brewery location in Lincoln, NE. Look out, Huskers!https://t.co/XEr3scAKGi @WestCoasterSD pic.twitter.com/ofMSnv7JN5

— Green Flash Brewing (@GreenFlashBeer) August 16, 2017
---
Craft beer is about community.
We are donating a portion of sales this Saturday to @splcenter. In the meantime, consider the words of MLK, via @withlovecleo. pic.twitter.com/qtlBPdqgju

— Hopewell Brewing (@HopewellBrewing) August 17, 2017
---