No Comments
The Weekly Buzz | August 18 – 24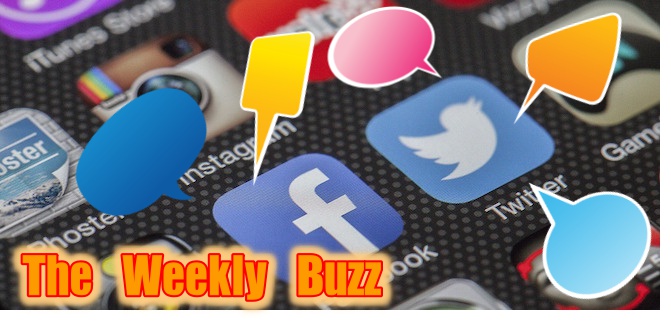 Did any of you know that parents of a kindergartner must endure no less than four events at the school? Four. That is all before school starts. There are meet-and-greets with teachers, self-guided tours and practice school bus rides. The real kicker is that none of these events serves beer. I'm running for PTA to undo this travesty. In the meantime, here are a bunch of beer things that I found on Twitter and Instagram. This is The Weekly Buzz.
Mark your calendars! New beer alert!
---
Look out, Roanoke!
---
Go live high on the hog!
---
This is pretty much everything I've ever hoped for.
Hold on to your lederhosen, ska-punk band @ReelBigFish will be headlining Longmont Oktoberfest this year! Info: https://t.co/SkWZEyJukT pic.twitter.com/FYuF554IoM

— Left Hand Brewing Co (@LeftHandBrewing) August 18, 2017
---
OK. Maybe I was wrong. There was no cheese in that last thing…
Hip hip hooray! The ticket sales for CHEESEtoberfest are open! #CraftBeer #brewery #beer @FoDobrewing pic.twitter.com/qcihT392o2

— FoDoBrewing (@FoDoBrewing) August 17, 2017
---
Happy Anniversary!
---
Go get those tickets!
---
I thought it seemed a little dark on Monday afternoon.
Nick Nock had a special somethin going on the Hatchery system today… pic.twitter.com/A0Z27Oicoj

— SweetWater Brewery (@sweetwaterbrew) August 21, 2017
It hasn't happened in almost 40 years? That sounds like a reason to have a #TwoBrosBeer on a Monday afternoon. #SolarEclipse2017 pic.twitter.com/PTX9NDy3Xa

— Two Brothers Brewing (@TwoBrothersBeer) August 21, 2017
Sunny day for bags and beer before the #solareclipse in Bloomsdale, MO! #eclipse2017 #eclipse pic.twitter.com/OxXqkpmut8

— Schlafly Beer (@Schlafly) August 21, 2017
Here is a preview of today's Eclipse from a top our neighborhood. Stay safe out there. pic.twitter.com/LwZUERT3de

— Revolution Brewing (@RevBrewChicago) August 21, 2017
Did you know? The next total solar eclipse to pass over the #Northwest will be in 2169! #Eclipse2017 #DontBeAfraidOfTheDark pic.twitter.com/roeOJgseaq

— Deschutes Brewery (@DeschutesBeer) August 21, 2017
and so it begins #SolarEclipse2017 pic.twitter.com/e5tbqOVUZ8

— Foothills Brewing (@FoothillsBeer) August 21, 2017
Y'all ready for this? #SolarEclipse2017 pic.twitter.com/xi0ye30tnM

— Sierra Nevada Beer (@SierraNevada) August 21, 2017
Viewing the eclipse? Remember to enjoy with a special viewer for safety (and a cold Indeed beer for fun). 🌞🌚 pic.twitter.com/ye6w8IpkRU

— Indeed Brewing Co. (@indeedbrewing) August 21, 2017
---
Is it still a DUI if you're on a bike?
Good luck to all those participating in The Great Fox River Bike-N-Brew this Sun. & see everyone at 11 am at the #TwoBrosRoundhouse. pic.twitter.com/h7OONQHRGt

— Two Brothers Brewing (@TwoBrothersBeer) August 22, 2017
---
This isn't an event you should miss!
We just released the #CABeerSummit beer list! Check out who's pouring and make plans to taste your way through CA https://t.co/MOJqSn3h1i pic.twitter.com/ZgEfFyZGFU

— CACraftBrewers (@CACraftBrewers) August 22, 2017
---
Hopefully, mine is in the mail… Probably not, though…
Don't miss out! This Sunday, 8/27, Promiscuus will be on tap starting at 11:00am and bottles will go on sale at 1:00pm! pic.twitter.com/SQ267vY0ej

— Avery Brewing Co (@AveryBrewingCo) August 22, 2017
---
Sign up now!
The clock is ticking runners! Registration is more than 50% full so jump on it. Register today before you miss out. https://t.co/RIDJDbWeWe pic.twitter.com/P2fC2iuJLo

— Yards Brewing Co. (@yardsbrew) August 23, 2017
---
My company picnic wasn't like this!
Team Maintenance crushing it for our staff BBQ! Special guest appearance from Oly on the drums. #insideallagash pic.twitter.com/WZTjv6vLre

— Allagash Brewing Co (@AllagashBrewing) August 23, 2017
---
Get your tickets now!
See you at @mabrewersguild
Mass Fermentational SEPT 16. Come support us and 50+ other Mass Craft Breweries! #MassFerm pic.twitter.com/XpGdTs8Nly

— Jack's Abby (@JacksAbby) August 23, 2017
---