No Comments
The Weekly Buzz | May 11 – 17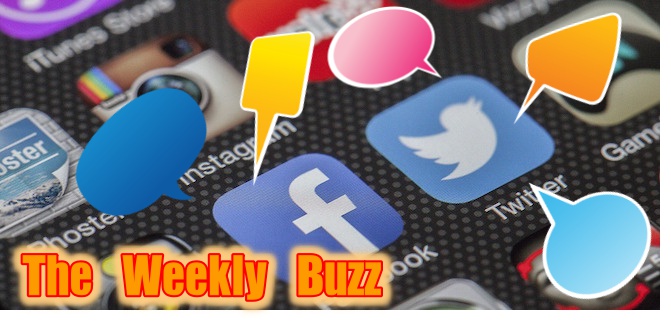 I'm far too tired to give you a witty introduction. My body is aching. Migraine symptoms are setting in. I know that these are probably related to the amount of time I spend on Twitter, but I'm just too darn committed to compiling this dumb list of tweets for your enjoyment. My own well-being comes second to you. Submitted for your approval, this is The Weekly Buzz.

This one time, at Beer Camp…
https://instagram.com/p/BirnB0xl2dU/
https://www.instagram.com/p/BisQkV_A4HW/
https://www.instagram.com/p/BispmvpAme4/
https://www.instagram.com/p/Bi0UzCdABvy/
---
Did you get your mom something nice?
https://instagram.com/p/Bio8X6UDuMg/
https://instagram.com/p/BiuHdAmBc7t/
---
I just needed to share this for some reason…
https://instagram.com/p/Bisa40NgM1D/
---
Happy Anniversary!
https://instagram.com/p/BirSx01hOTy/
---
It's really starting to take shape!
https://instagram.com/p/BipVMQ5F3DD/
---
This new location is open for business!
https://instagram.com/p/BisJvpWhcap/
---
How have you been celebrating American Craft Beer Week?
https://instagram.com/p/Bi5BJHxH8wi/
https://instagram.com/p/Bi5A8qdnJXn/
#AmericanCraftBeerWeek is May 14th – May 20th. To celebrate we encourage you to stop in and #beeritforward at Four Day Ray Brewing. Buy a friend a 🍺 & make someone's day. Ask your bartender or server for details. #SeektheSeal pic.twitter.com/3rOKDCIqdw

— Four Day Ray Brewing (@fourdayray) May 14, 2018
https://instagram.com/p/Bi4wETMFhby/
Happy #AmericanCraftBeerWeek everyone! TCBG Board Chair Josh Hare (@hopsandgrain) has a quick, well-timed message for you. Find an independent Texas craft brewery near you: https://t.co/d2LPKtbNhg

Video by Youngblood Productions. More fun stuff to come! #IndependentBeer pic.twitter.com/80qH0r9vcx

— Texas Craft Brewers Guild (@TXCraftBrewers) May 14, 2018
https://instagram.com/p/Bi5DDXxgI4E/
It's #AmericanCraftBeerWeek and we are honored to be part of American Independent Craft Beer. Soon all of our packaging will proudly show the #IndependenceMatters seal from the @BrewersAssoc ! #seektheseal 🍻 pic.twitter.com/ewMQtqeY0A

— Port City Brewing Co (@PortCityBrew) May 17, 2018
#AmericanCraftBeerWeek kicks off today and we're celebrating by looking back on some of the most experimental styles we've bottled. Any favorites you think are primed for a comeback?

Check out the events we're hosting and raise a glass to craft beer! https://t.co/8yynyBIoUK pic.twitter.com/RKBgrnlXbn

— Founders Brewing Co. (@foundersbrewing) May 14, 2018
---
Mark your calendars!
YES! We are doing it again! Opening the brewery for food, fun and beer! This time with the canning line running (from 2 to 5)! You can buy beer as its packaged! Be the first to get this years offering of El Dankerino too! pic.twitter.com/oYAFieFwbQ

— Odd Side Ales (@OddSideAles) May 17, 2018
---
Just a quick Public Service Announcement.
REMINDER: Due to construction, the Summit Beer Hall will be open for very limited hours this week and next. Please enjoy some Summit Boundary Waters Box beers in the meantime, and we'll see you soon!
Updated hours available at https://t.co/XRQ6bUcrq9. pic.twitter.com/othPHy7Lqj

— Summit Brewing (@summitbeer) May 17, 2018
---
Mmmmmm. Lamb…
Join us for a celebration of all things lamb. We'll be pouring Curieux at Lamb Jam Boston, a huge gastronomic experience/cooking competition. You can grab a ticket right here: https://t.co/b4Yg2sVAQj pic.twitter.com/4VSHsjnGWE

— Allagash Brewing Co (@AllagashBrewing) May 17, 2018
---
Is this dumb Internet debate over yet?
Forget #yanny and #laurel. Do you hear "The Hook" or "Delicious Grapefruit Session IPA"? Either way, you're right.

— Starr Hill Brewery (@StarrHill) May 17, 2018
---
Have you made plans for Illinois Craft Beer Week yet?
@ILCraftBeerWeek officially starts tomorrow w/Beer Under Glass!

+ our week starts real strong on 5/22 at 5pm w/our release party for 2 NEW HAZY collab beers w/@ForbiddenRoot!https://t.co/Va3rkGuNCy#forbiddenroot #corridorbrewery #hazyipa #hazybeer #icbw #icbw18 pic.twitter.com/AodUHdB2Mt

— Corridor Brewery (@CorridorChicago) May 17, 2018
Join us and @lagunitasbeer from 4-6pm today as we kick off #IllinoisCraftBeerWeek with our 3rd Annual Puppy Patio Party benefiting @aliverescue! No tickets needed. Raffle, drink specials and Alive pups will all be part of the fun! 🍻🐶☀️#ICBW #lagunitas #lagunitasbeer pic.twitter.com/hXKVn8O4IV

— Sweetwater Chicago (@SweetwaterChi) May 17, 2018
One of the tropical-inspired flavors to look for at #GoodLibations next Fri. is mango. Hard to find in a single hop, some brewers say the characteristic comes from combining hops. Look for beers with combos including Amarillo, Simcoe and even Citra! https://t.co/ayH4oppyQx #ICBW pic.twitter.com/OHmxP1q35n

— IL Brewers Guild (@IllinoisBeer) May 17, 2018
We're only 2 days away, so we figured you might want to start plotting out your booth stops for Friday 🍺 Who's on your list as a MUST visit?
See a PDF version here: https://t.co/ZnaxlFdmvG#BUG #ICBW @gpconservatory @IllinoisBeer pic.twitter.com/697ZYQzMBo

— IL Craft Beer Week (@ILCraftBeerWeek) May 16, 2018
At our Suburbs event with @PorchDrinkChi on Tuesday 5/22, we'll be featuring beers from @PollyannaBrewCo of Lemont and Roselle. We'll have the coffee variant of their popular Fun Size Milk Stout series, plus Summerly Wheat Ale w/raspberry!https://t.co/HIhxi6FdZa …#ICBW pic.twitter.com/2oQtFREzs3

— Beermiscuous (@Beermiscuous) May 16, 2018
Ah yes. Our annual ritual of summarily humiliating our friends. Has it been a year already? #icbw #chicagobeer pic.twitter.com/C85Mufkmof

— Metropolitan Brewing (@MetroBrewing) May 15, 2018
TASTINGS & EVENTS THIS WEEK: @VirtueCider @newhollandbrew #codyroadwhiskey @UHDistillingCo & NEXT WEEK #icbw Bitter Pops 2nd Annual #newbiesandfreshies event! pic.twitter.com/sEGts2T693

— Bitter Pops (@BitterPops) May 15, 2018
---
Do you have what it takes?
https://instagram.com/p/Bi4gmFOllWa/
---
It's official!
https://instagram.com/p/Bi2bujZhfwR/
---
Gather 'round, weird hippies!
https://instagram.com/p/Bi13sZwBVB4/
---