No Comments
Firestone Walker Brewing | Easy Jack IPA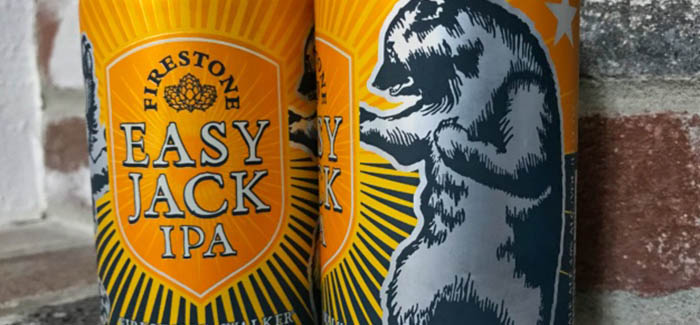 Whether you're critiquing someone's beer selection at the local store or researching overall beer sales, you will quickly notice lighter beers lead the pack in sales. The top 10 beers in overall sales are littered with light beers. Beers that are lower in alcohol and calories are not new, but now craft beer is starting to taking notice and looking to capture some of that market share.
So, why can't hoppy beers be light? Low-calorie beers have been traditionally Lagers and Pilsners. It's great to see hop forward beers now starting to enter this space. After all, it's not the hops that are adding calories to your beer. You don't even want to know how many calories are in that pastry Stout.
Firestone Walker's Easy Jack IPA received a recipe makeover that lowered the ABV and calories. When Easy Jack launched around 2014, it came in at 4.5% ABV and with an impressive listing of hops: Bavarian Mandarina, Hallertau Melon, blend of New Zealand and American Mosaic. The new formulation has lowered the ABV to 4% and the calories come in at 120. For reference, Firestone Walker's Union Jack is about 100 calories more per 12 ounces. What the brewery is not telling us in the reformulation, is if the hop profile has changed. I'm guessing the answer is no. The hops are full on IPA. Lower alcohol doesn't mean less flavor.
The beer pours crystal clear and has a light golden color. The head is fluffy white. The aroma is full on citrus with grapefruit being the big standout. There is also a general citrus pithy bitterness. The beer is light in body and very crisp. The bitterness and carbonation level fill any voids in the body that the lessened malt bill might have left, This has west coast IPA bitterness that finishes dry with just a bit of hop flavors lingering on the finish.
https://www.instagram.com/p/BuKK9NvA9sf/?utm_source=ig_web_copy_link
While your friends might be going all "Rosé all day", Easy Jack might be your perfect counterbalance. This is a great addition to your crushable summer beer lineup. At 4% ABV, you probably should stock up. Fire up the grill, dust off the beach chair and enjoy Easy Jack IPA as you welcome summer.
---