No Comments
Ultimate 6er | Pairing Six Revolution Beers with White Castle Menu Items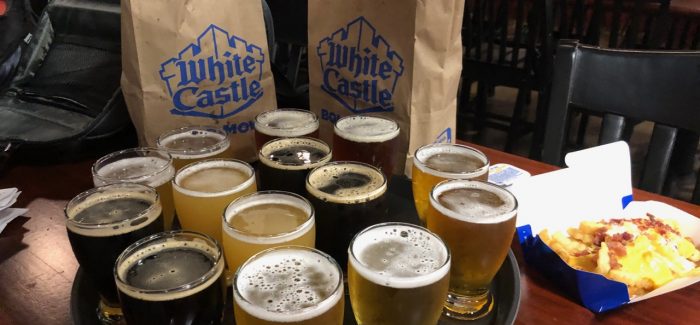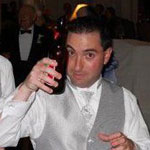 I'll never forget waiting in the drive-thru lane of a White Castle at 12:45 a.m. after immediately seeing Harold and Kumar Go To White Castle. It wasn't my first time, but it was my most memorable time eating those delicious little sliders with onions that really do pop with flavor.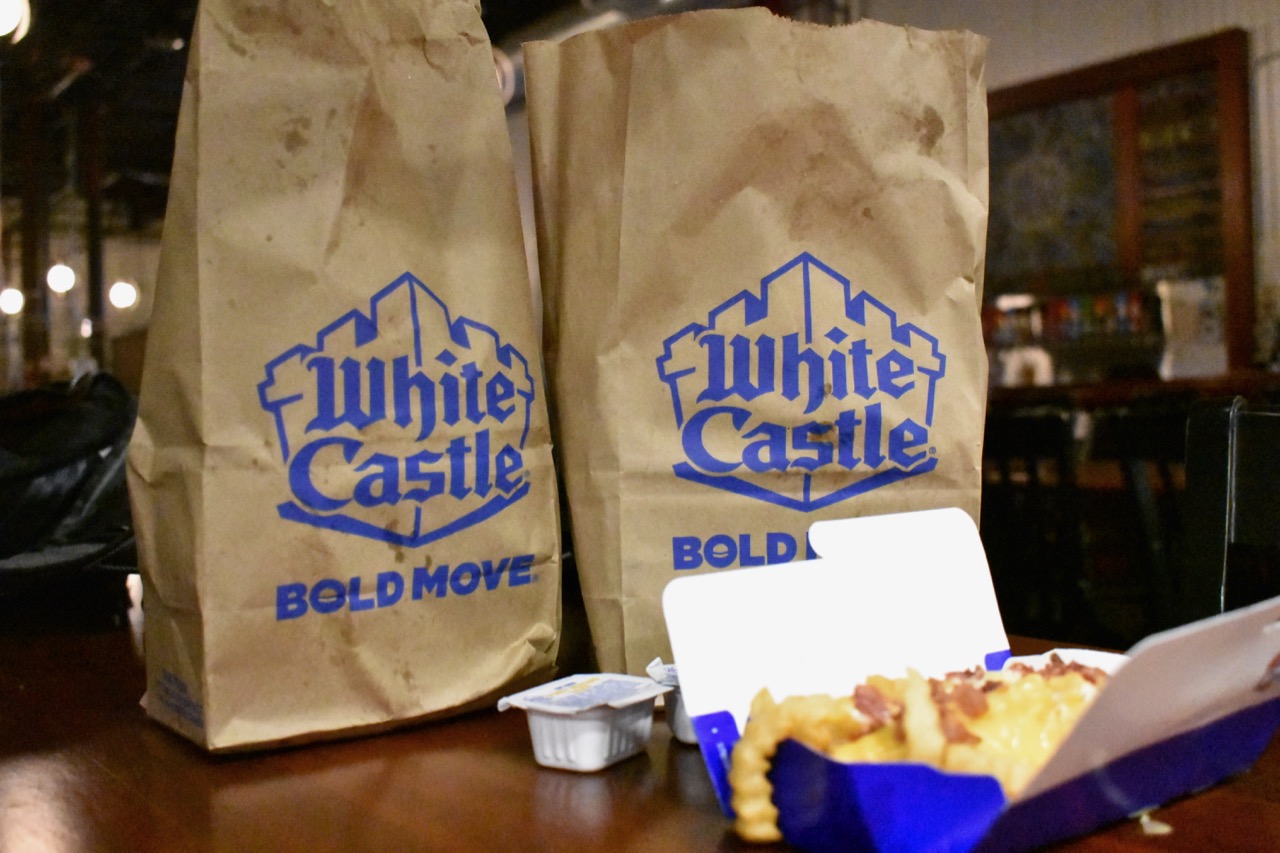 Like in the movie, the craving for White Castle is real. While it gets the reputation of being only a late-night drunk or stoner food (which it totally can be), there's actually a lot of history behind the restaurant chain including some that connect it back to Chicago.
White Castle is considered to be the first fast-food style restaurant chain in America. Started in 1921, the company is also credited with making the hamburger a popular and more mainstream sandwich. Prior to White Castle, the hamburger was considered more of carnival food, but at five cents a burger and sold in a sack, it started to become an acceptable meal outside of the fairgrounds. In 2014 Time Magazine named the slider from White Castle the most influential burger of all time.
The castle-like architecture of the building should look familiar to Chicagoans and those that have visited the city. Its design is based on the famous Water Tower downtown.
Since it's stayed independently owned with no franchises, White Castle has remained small. There are only five locations in the city area and those are more around the outer neighborhoods of Chicago.
But there is one that is just a seven-minute walk from Revolution Brewing's taproom and that's when I approached John Carruthers with an idea. Carruthers, who works at Revolution, has written two cookbooks and contributes articles for The Takeout, is also a huge fan of White Castle. I asked if he wanted to pair Revolution beers with White Castle. The answer was an emphatic yes.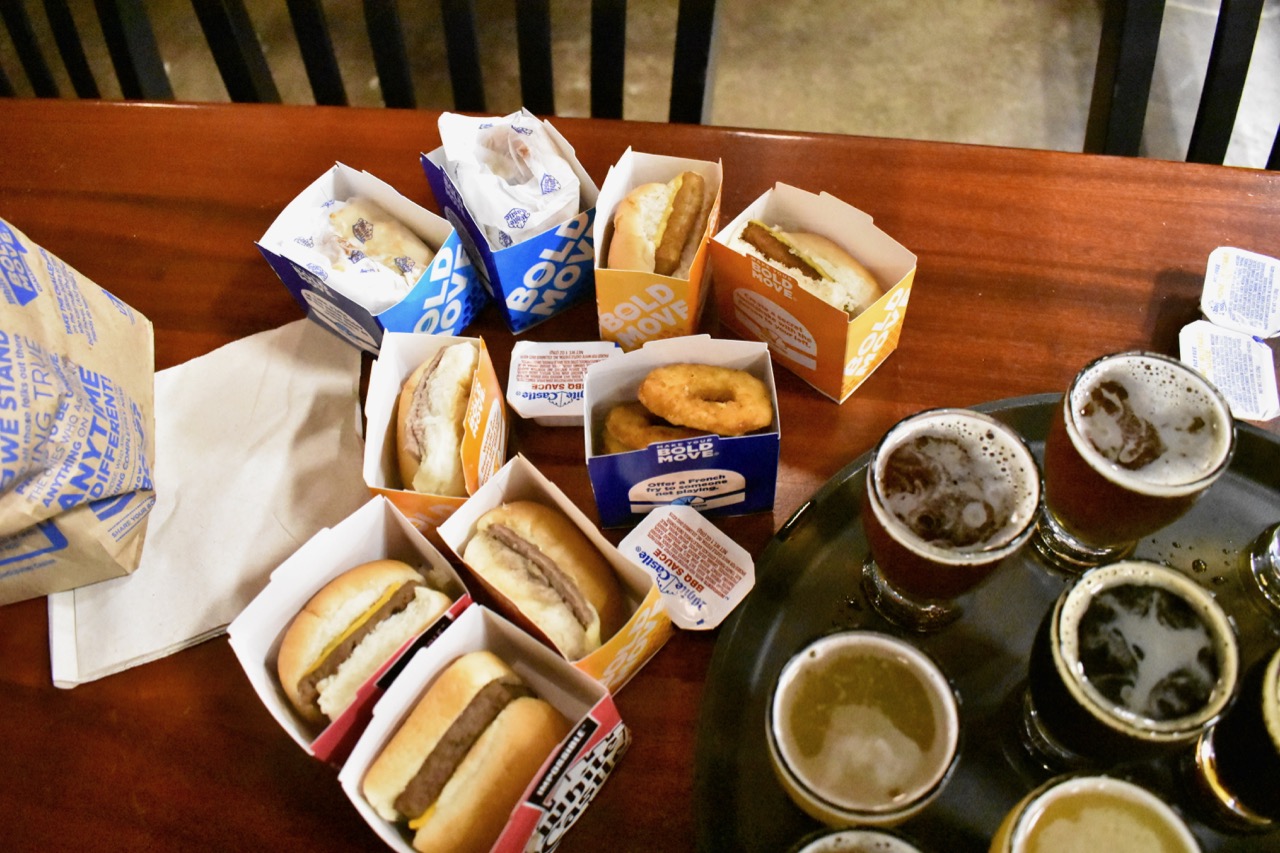 Today we try to pair high-end food with wine, and while we're seeing people take more of an interest in pairing food with beer, think Moody Tongue, it's far from the norm.
I asked Carruthers to walk me through six different White Castle products and pair them each with a different Revolution beer. Knowing how seriously he takes food and beer, I expected him to prepare a good variety, but his level of preparedness and thoughtfulness for each pairing we did, impressed me.
Loaded Fries & El Hefe Loco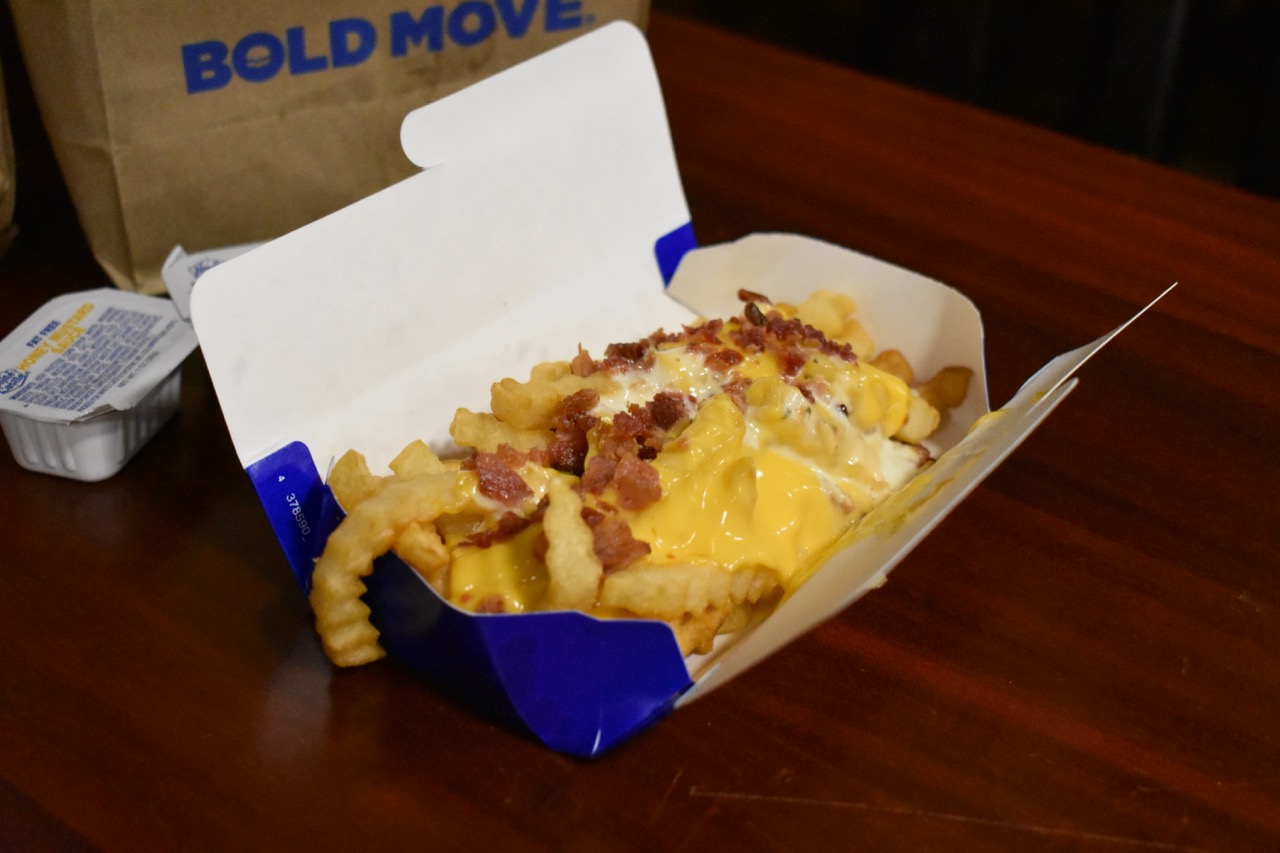 Think of the loaded fries as an appetizer to our tasting. White Castle's standard crinkle-cut fries are covered with bacon, cheese sauce, and ranch. Carruthers chose to use Revolution's hefeweizen here because it helps lighten up a pretty heavy food dish. El Hefe Loco is a more clove forward Hefeweizen, so you're not competing with banana flavors that might make this pairing seem odd.
The dryness of the clove went well with the creaminess of the cheese and ranch. The contrast of light and heavy between the beer and the food did this pairing justice.
Chicken Rings & Eugene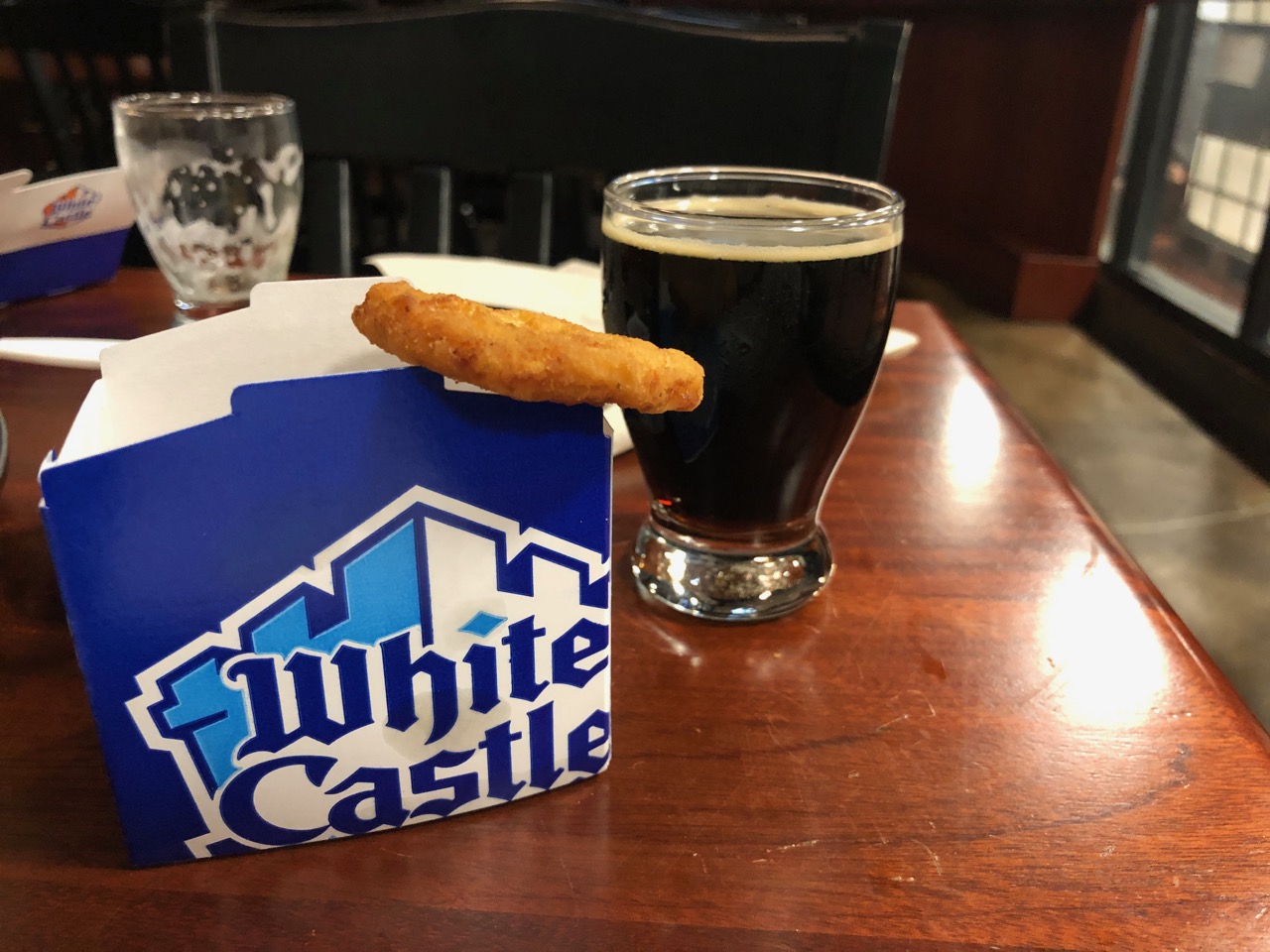 The choice of Porter in this pairing is critical. If you have a chocolate-forward porter it's going to be a mess of a taste unless you're a fan of chocolate-covered chicken. Eugene is a lighter, but still roasty Porter that worked well with this pairing.
For me, the highlight was actually pairing the BBQ dipping sauce with the Porter. The smokiness of the sauce went great with the roasted dark malts of the porter. We also had honey mustard and while the slight tang didn't hurt the pairing, it was the BBQ sauce that was the star for me in this one.
Fish Slider & Rev Pils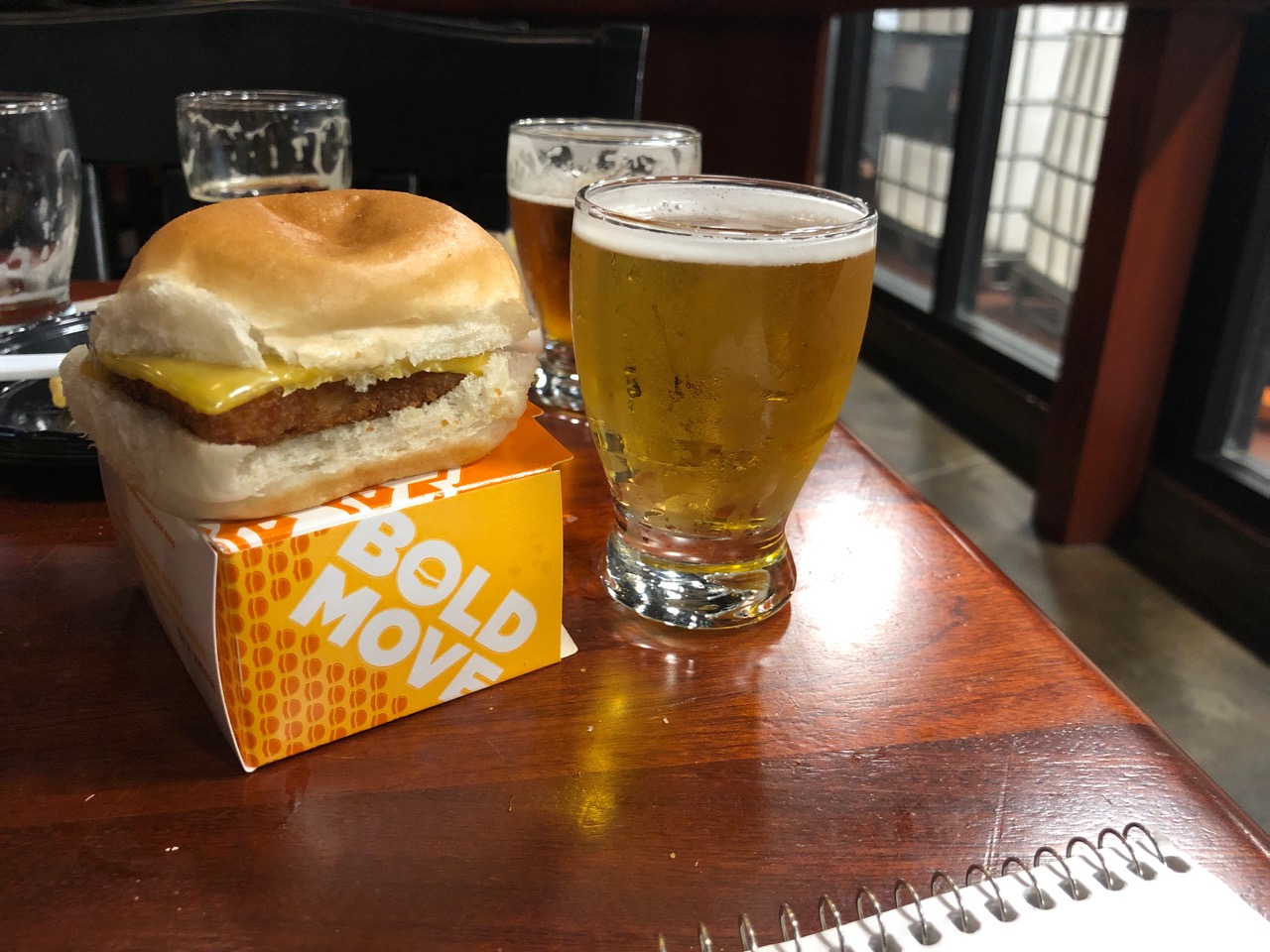 "Pilsner is the white wine of beer," Carruthers said during our pairing. It was also probably the most eloquent thing you could say during a pairing of beer and White Castle, but it makes sense.
White wine goes well with fish because it's light, can vary in acidity, doesn't have the strong tannins that red wines typically have, and contains some sugar that goes well with fish no matter how it's prepared.
While I wouldn't call a traditional Pilsner sweet, it is a light and pretty neutral beer that went absolutely perfectly with the fried fish slider from White Castle. Think of a Pilsner as a clean beer and fish that is pretty light itself and the two went hand-in-hand so well. Carruthers chose to make the fish and Pilsner pairing third in our lineup because it was also a good palate cleanser before moving onto some of the more intense pairings.
Some people shuddered when they saw we were eating fish from White Castle, but the slider itself was delicious. A thin piece of Alaska Pollack fried and topped with a piece of American cheese, don't knock it until you've tried it.
Jalapeño Cheese Slider & Fist City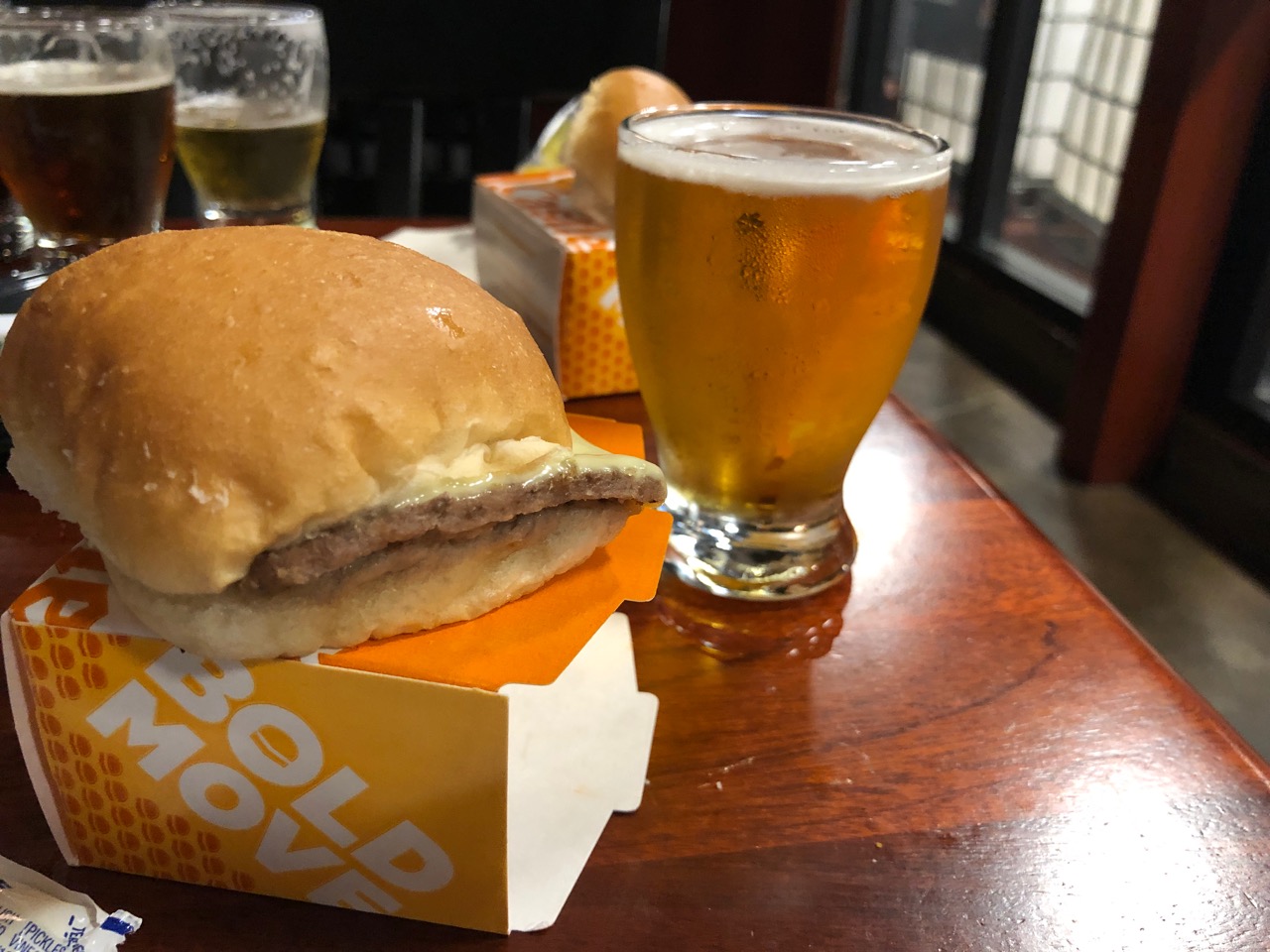 Before Carruthers began at Revolution, Fist City was the beer he bought and consistently kept stocked in his fridge. Once he started at Revolution he thought he might start bringing home other beers from the brewery, but Fist City is still the one that sustains. To him, it's his "absolute perfect everything" beer.
"I hold the love for Fist City as I do for White Castle," he said as we began the fourth pairing.
Keep in mind Carruthers said that while you could pair Fist City with any of the White Castle burger sliders, he went with the Jalapeño Cheese Slider because it's one of his favorites. He called it his desert island slider.
The burger and beer combination is as classic as it gets. Revolution's Pale Ale worked well here because of the balance between the malt and the hops that paired well with the meat and cheese. A fruit bomb of a beer with a cheeseburger doesn't sound great, so the balance was critical here and the pairing was one of my favorites. The jalapeño cheese definitely gives the slider a late kick that comes in slow and lingers. My thought is a very hoppy beer, think West Coast IPA, wouldn't do well with the heat.
Impossible Slider & Hazy Hero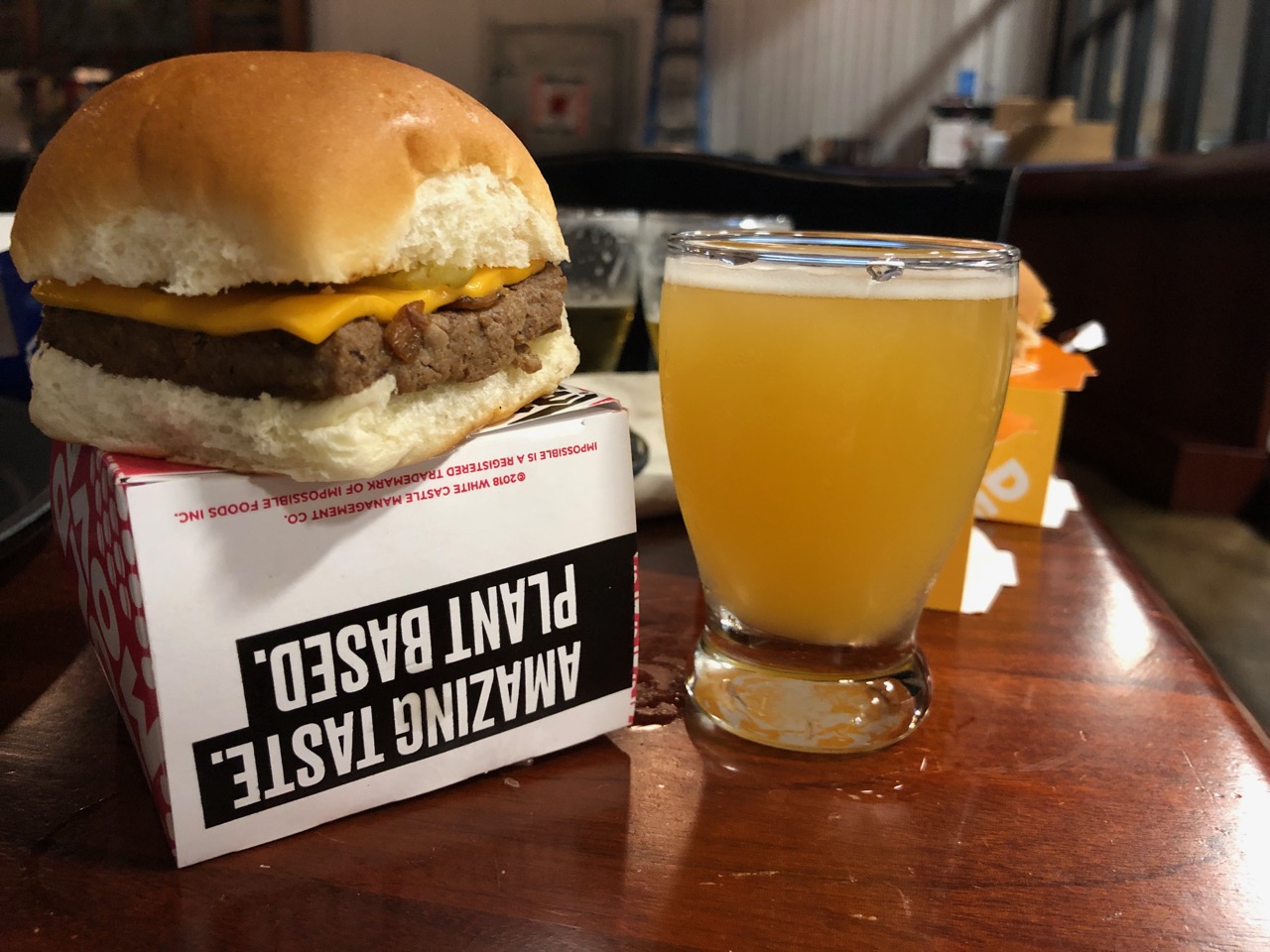 By far my least favorite of the beer and food pairing, but Carruthers' story and reasoning behind combining these two probably made the most sense of any of the six we had.
Both the ideas of plant-based "meat" and hazy IPAs were not common in either industry just a few years ago. In fact, if you had suggested either of these a while back you'd probably be laughed at. Just eight years ago I walked into a brewery and they boasted about how they have the clearest IPA in the city.
But both the plant-based craze and the hazy IPA craze have swept the country. The hype started more local for both, but now we see national chains carrying an Impossible Burger and hazy IPAs being distributed from coast to coast.
No, I didn't like the Impossible slider and it didn't go well with a hazy IPA, but you can't argue with Carruthers' reasoning for bringing them together. Their stories are so similar when you think about it that the pairing makes perfect sense.
Chicken & Waffles Slider & Working Mom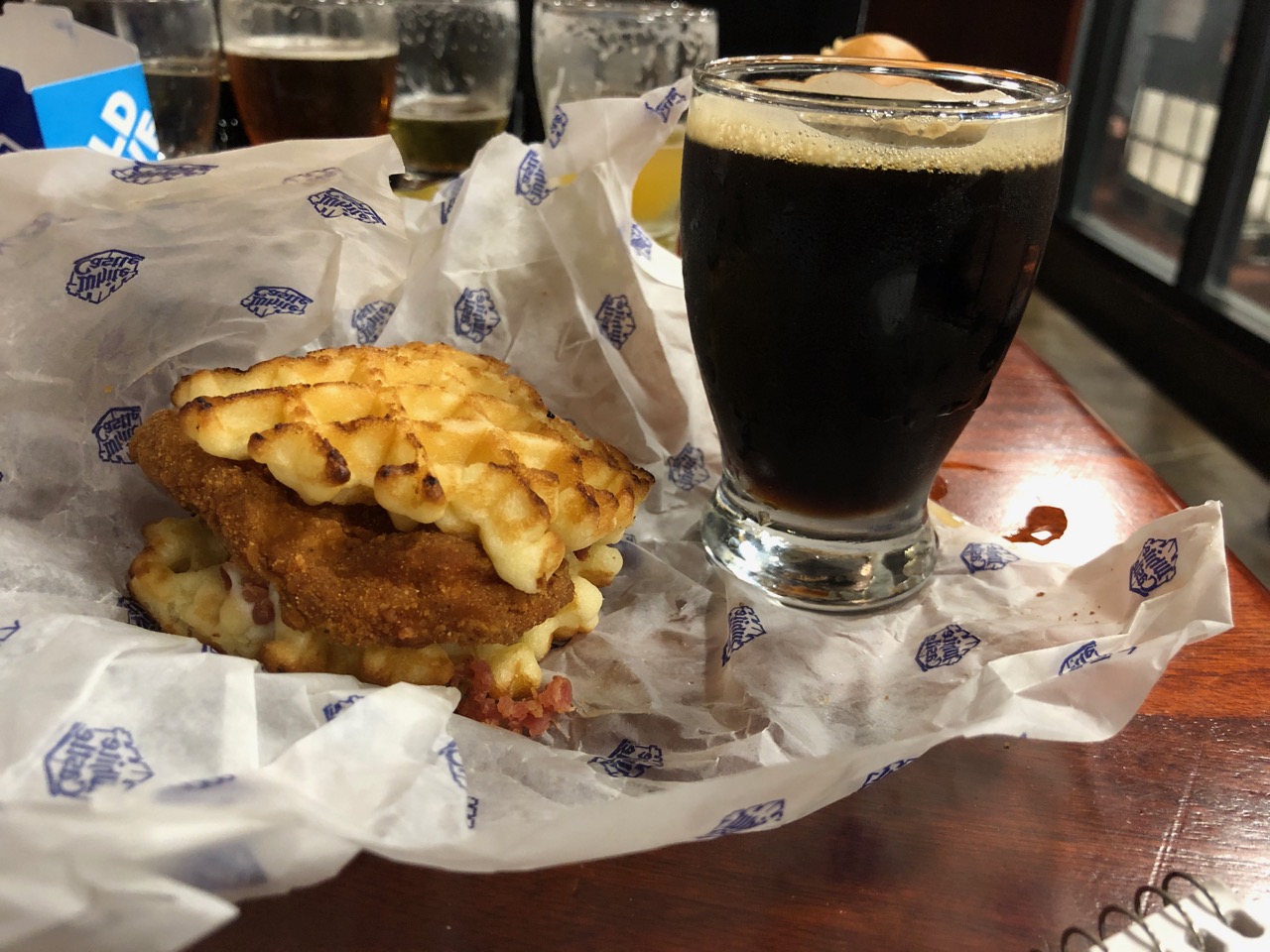 Of course, there has to be a barrel-aged beer when you're doing a Revolution beer pairing. The brewery's barrel-program has skyrocketed in popularity over the past few years.
For Carruthers, a big sandwich deserved to be paired with a big beer. By far the Chicken & Waffles slider was the biggest sandwich we ate all night. A fried chicken breast with bacon, covered with gravy between two waffles is the equivalent to a fireworks show's grand finale. Leave nothing on the table and go all out.
What really worked here were the maple flavors from the waffle pairing with the heat of the barrel in Revolution's Barrel-Aged Brown Ale. We know that maple is a widely used adjunct in barrel-aged beers already today so the combination worked well.
Carruthers mentioned that any barrel-aged beer would probably do well in this pairing and as we were talking about the different options that could be done for next time…well, it led us to a seventh bonus pairing.
Chicken & Waffles Slider & Straight Jacket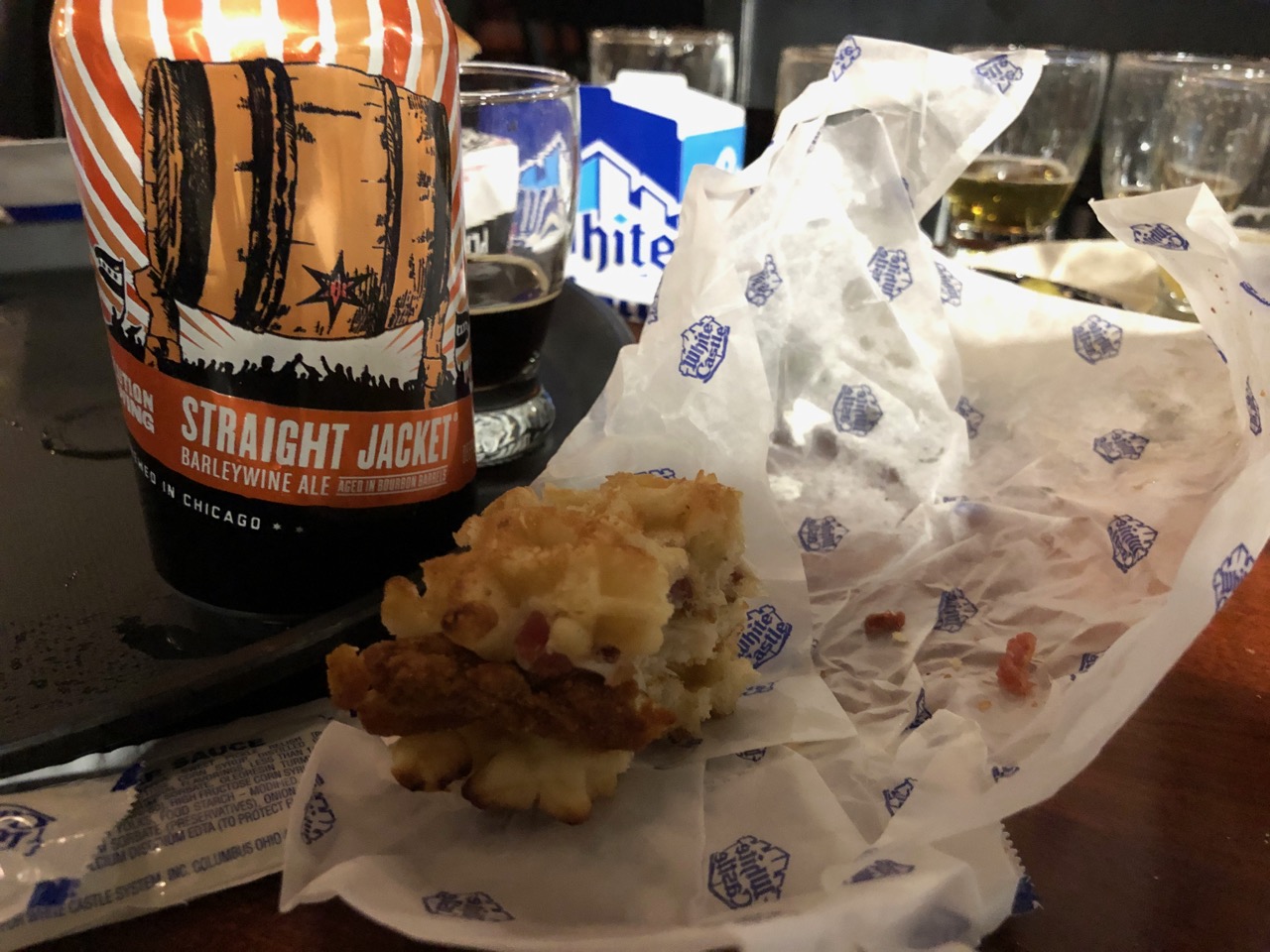 We both agreed that Straight Jacket would be an amazing beer to try with the Chicken & Waffles slider. A more pronounced barrel flavor would do well but it was the idea of getting the salty and sweet contrasting flavors from everything that would be incredible.
There was so much going on with this pairing that it was almost overwhelming. The saltiness from the bacon and the gravy combined with the sweetness of the waffle and the Barleywine itself tied together with the heat from the barrel and you get a great understanding of how beer and food can play off one another.
Recap
Beer is fun and doing a pairing like this is a great reminder of that. The pairing we did can be replicated at Revolution or any brewery whenever and you can change out the beers for whatever style you want. The total for the food for two people was just over $20 and we ate very well.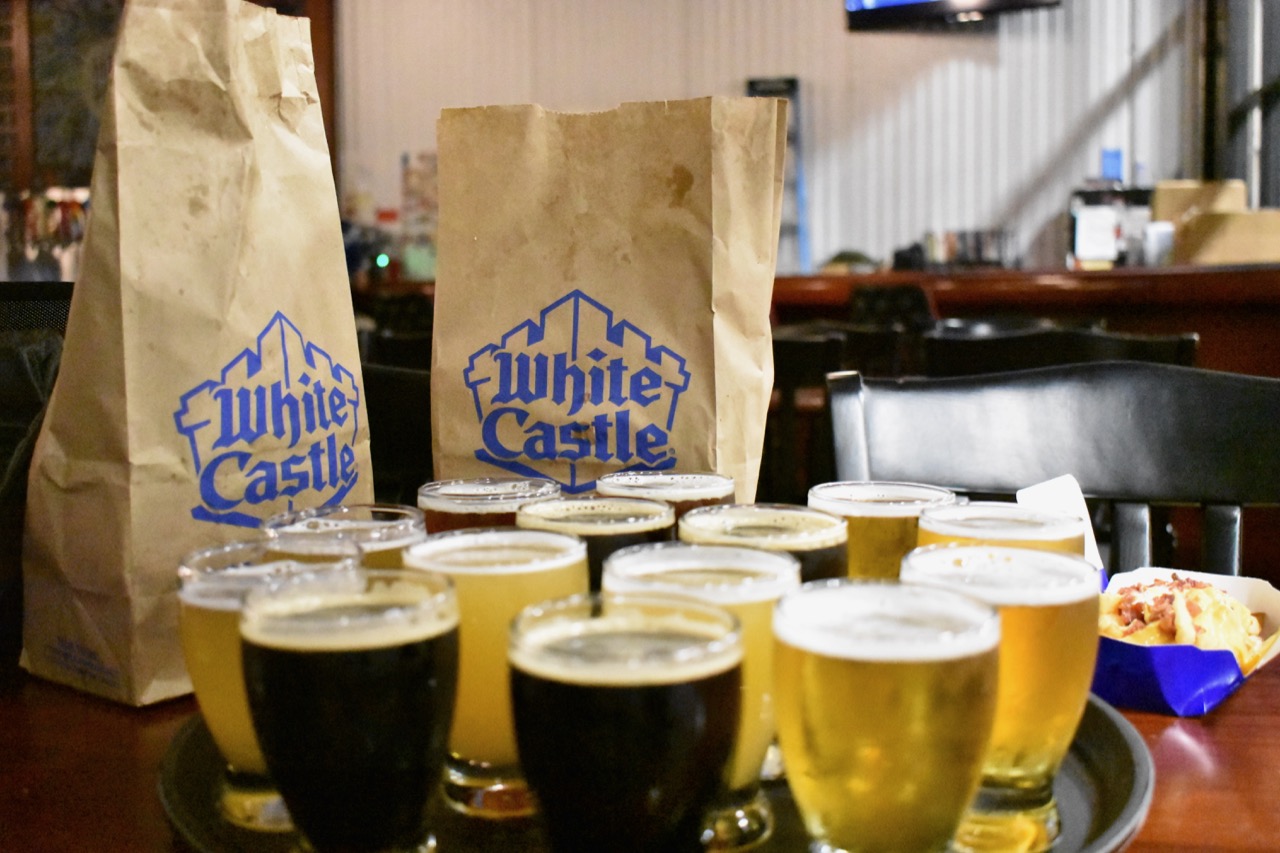 Here are my rankings of the pairings we did:
1) Jalapeño Cheese Slider & Fist City
2) Chicken & Waffles Slider & Straight Jacket
3) Fish Sandwich & Rev Pils
4) Loaded Fries & El Hefe Loco
5) Chicken Rings & Eugene
6) Chicken & Waffles Slider & Working Mom
7) Impossible Slider & Hazy Hero
After doing this pairing, I definitely have a new most memorable White Castle experience.
---