No Comments
Maplewood Set to Release First Barrel-Aged Cuppa Beers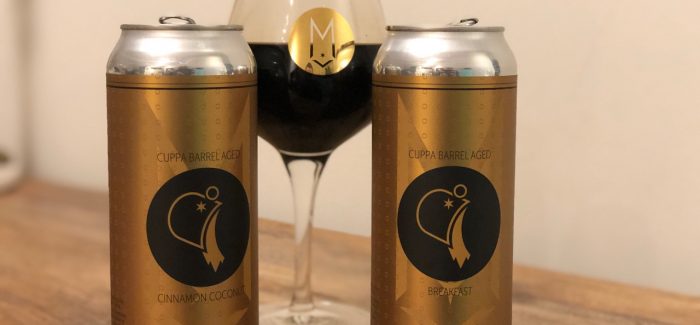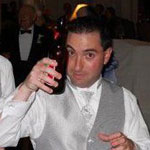 Known for their thick body, heavy adjuncts and deep flavors, the Cuppa beers from Maplewood Brewery and Distillery enter a new chapter tomorrow with the release of their first barrel-aged versions in the series.
The series has seen a wide variety of ingredients. From Cuppa Oreo to Cuppa Mexican Hot Chocolate, Untappd lists 11 different non-barrel-aged Cuppa beers. Two new ones, Barrel-Aged Cuppa Breakfast and Barrel-Aged Cuppa Cinnamon Coconut will be released at the taproom starting tomorrow at 11 a.m.
Using a blend of Heaven Hill, Buffalo Trace, and Woodford Reserve barrels, both beers feature signature ingredients used in past versions of the Cuppa series and feature an elevated ABV of 14%.
The big question I had would be how these big pastry stouts would do when they met barrels for the first time.
Barrel-Aged Cuppa Breakfast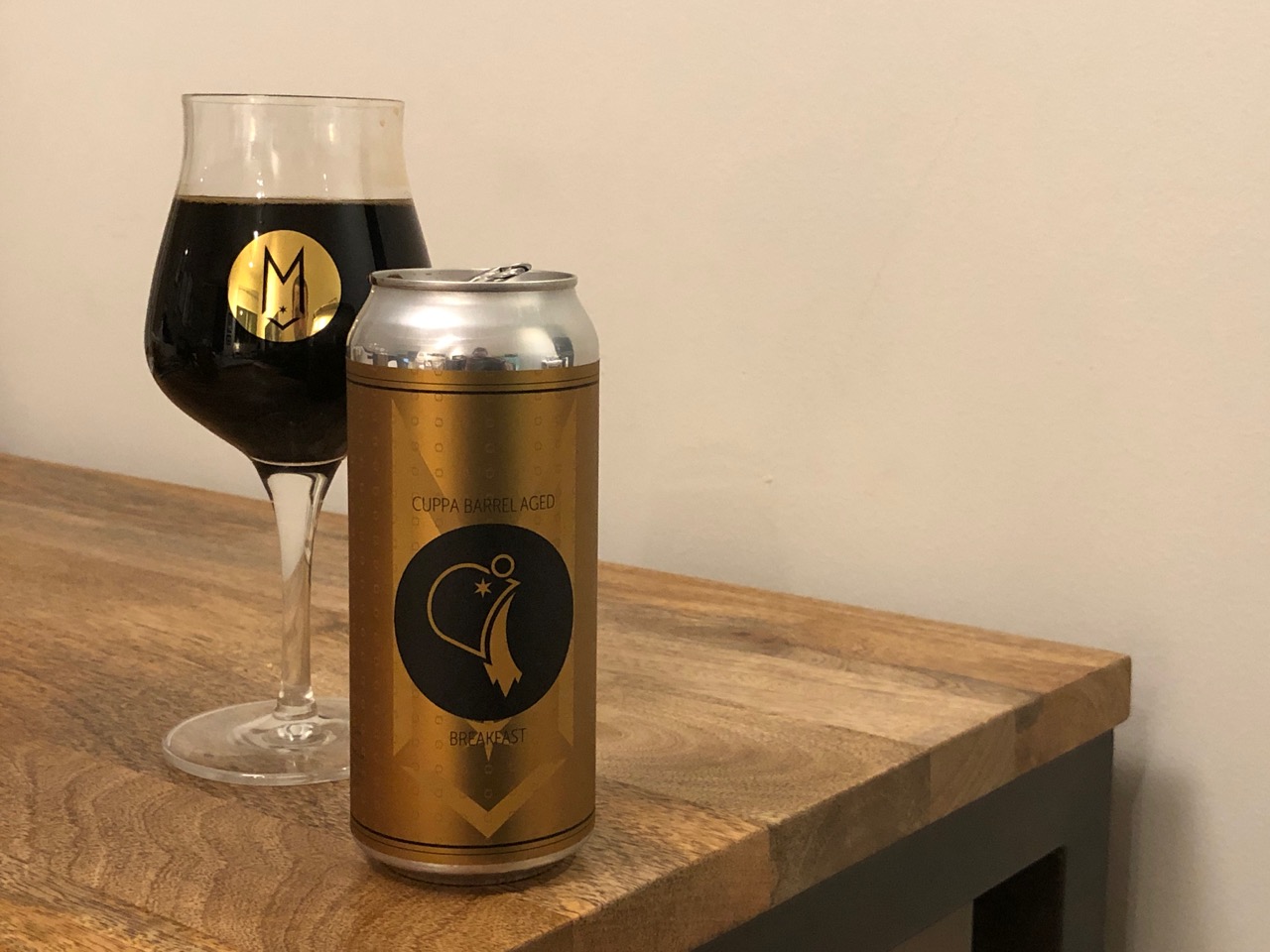 The first barrel-aged Cuppa is your classic breakfast stout with maple syrup, coffee, chocolate and vanilla. Like its non-barrel-aged companions, this beer is thick like motor oil and jet black. Its consistency reminds me a lot of the Abraxas beers from Perennial.
On the nose, you'll get big maple notes with coffee in the background. The first flavor was (not surprisingly) maple, but I was pleasantly surprised with how the vanilla was able to shine through in a sea of big adjuncts. The chocolate flavor is present throughout, and those who are fans of pastry stouts will enjoy Barrel-Aged Cuppa Breakfast.
As for the barrel characteristics, they're there but they come late. While some barrel-aged beers will hit you with those bourbon notes of molasses, tobacco and oak, this beer isn't going to feature that upfront. Instead, the barrel will make itself known in the back of your throat. But it will definitely be present. The beer starts out sweet but then is cut by the barrel to round it out.
With four main flavors, it was nice to see each one have a place in this beer and each one be noticeable in the taste. Big adjuncts like maple syrup tend to mask the barrel notes early on, and that is what happened here with Barrel-Aged Cuppa Breakfast. But it is a very tasty beer. At 14% ABV, it's dangerously easy to drink.
Barrel-Aged Cuppa Cinnamon Coconut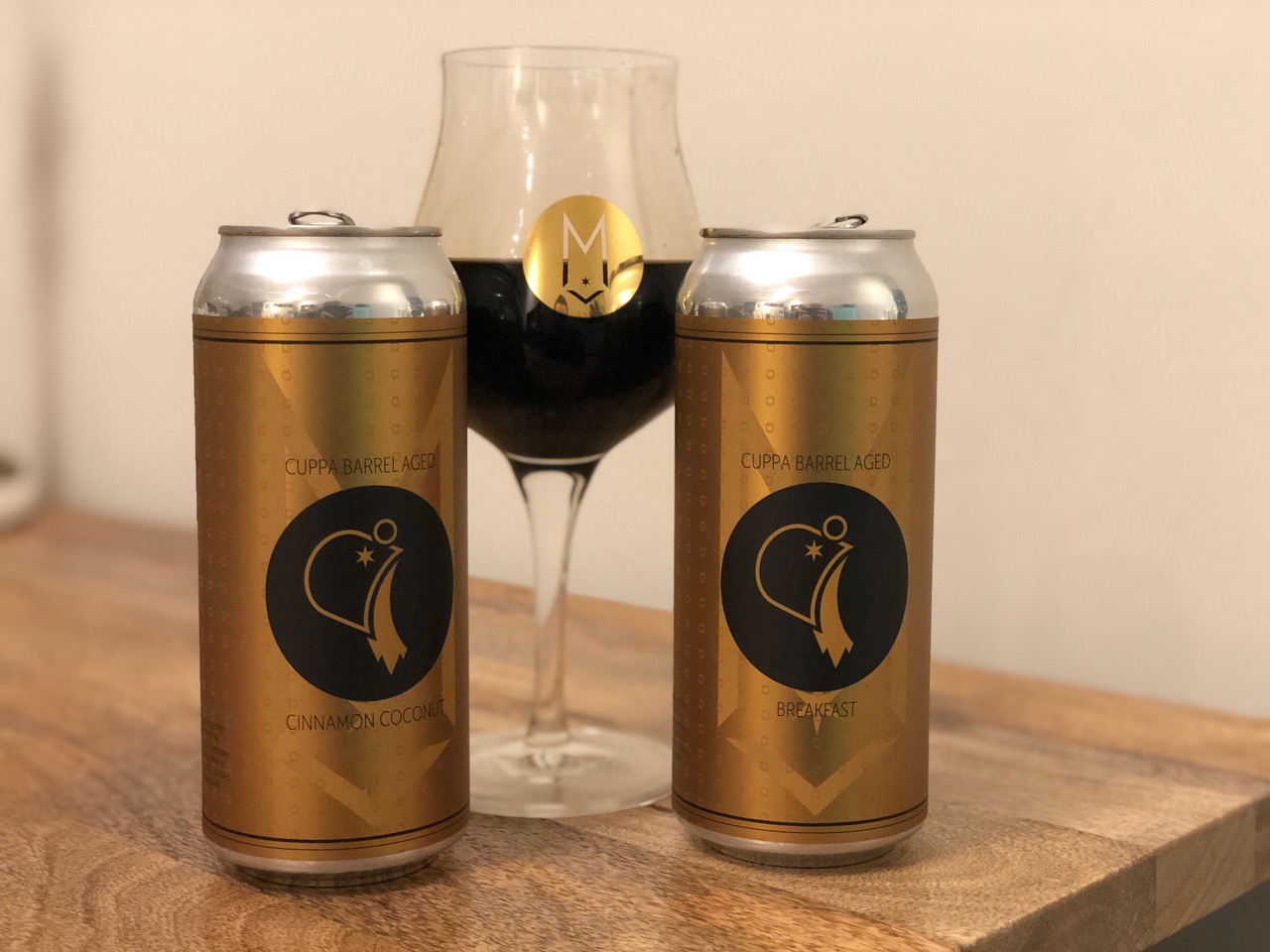 The second barrel-aged beer mimics the first in appearance with the thick consistency and jet-black color. But the nose, as you would expect, is cinnamon-forward but not pungent. Cinnamon is one of the easiest adjuncts to take too far in a stout, and Maplewood shows restraint here. It's the perfect amount for this beer.
My favorite part about this beer is how the flavor transitions seamlessly from the cinnamon to the toasted coconut in one sip. Like the aroma, cinnamon is upfront but by the end of the taste, its pleasant coconut notes are a delight.
I had this beer right out of the fridge and the barrel wasn't there. After letting it warm up for about 10 minutes, the barrel comes out and blends well with the cinnamon and coconut. I'm a huge fan of coconut in stouts so I was probably biased going into this beer, but it's very well done. It also comes in at 14% ABV, and just like Breakfast, be careful with this one as it doesn't drink like that big of a beer.
How you prefer a barrel-aged stout beer will ultimately dictate what you think of these barrel-aged beers from Maplewood. If you want barrel-forward big stouts, these won't hit the mark. Pastry stouts are what's in right now (in case you didn't know) and the Cuppa beers are a great representation of the style and heavy in the adjuncts they use. I do think there is more barrel in these beers than you typically get in a barrel-aged pastry stout, so this might please both sides of the fence.
---