No Comments
Blue Owl Brewing | Professor Black Sour Cherry Stout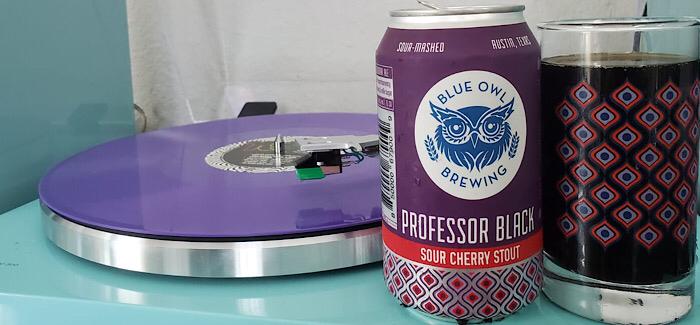 They say that everything in Texas is bigger, and while true, here in Austin everything is more specialized. Austin is a city where folks aren't afraid to deep-dive into their passions and drill down to create precisely what they love, be it music, food, art or beer. Professor Black is brewed by Blue Owl Brewing, one of the only breweries in the US to both Kettle Sour and sour-mash all of their beers. That's right, all of them. The brainchild of Jeff Young, formerly of Austin's Black Star Co-op Brewing, Blue Owl's unique philosophy of sour-mashing any and every style of beer has made them local legends, especially because they are just so good at it.
Blue Owl Brewing Professor Black Sour Cherry Stout is a beer whose memorable taste is easy to conjure up, even after a long absence. The cool, slick body of this Stout rolls off the tongue, providing a fresh, moreish sour cherry that's so juicy you could easily be biting into one picked straight from the tree. The flavor and quality of the cherries are crucial to the success of Professor Black, and Blue Owl sources theirs from King Orchards in Northern Michigan, a family farm specializing in sour cherry production, to ensure the exact right flavor balance. The cherries in question are Montmorency, chosen for their warm, complex cinnamon and nutmeg flavors that complement the firm, roasty base Stout and weave elegantly into the souring process. Professor Black's rich, deep maroon-black color is deceptive, as this beer is light enough to drink on the warmest of Texas evenings. One sip will swiftly lead to another, and before long you may begin to wonder how anyone could suggest that Stouts be reserved for the colder months only.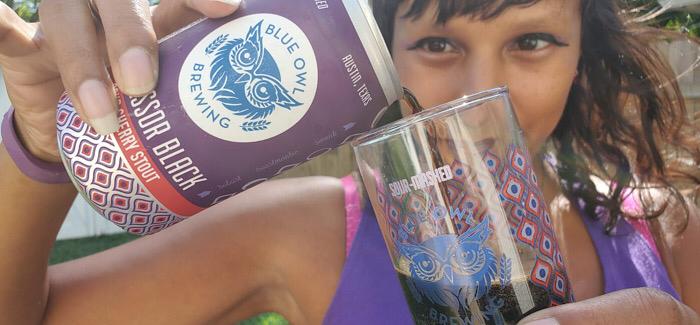 Professor Black was one of the first beers that Blue Owl designed, and it was also the first of their beers to pass my lips as a newbie Austinite three years ago on my first visit to Blue Owl's gloriously eclectic azure taproom. Sipping on a Professor Black while reclining on their sumptuous red velvet sofa or relaxing in the fuzzy glow of their fairy-lit beer garden was a regular feature of living in Austin until the pandemic struck. Fortunately, Blue Owl has already been canning their beers for some time so fans can bring the experience to their backyard with cans and growlers of velvety tart cherry delight. At a gentle yet probing 6%, you can sip and savor or glug and slug a Professor Black. Either way, it's a drinking experience to remember and certainly repeat.
---