No Comments
Noon Whistle Brewing | Papaya Gummy Vortex Northeast IPA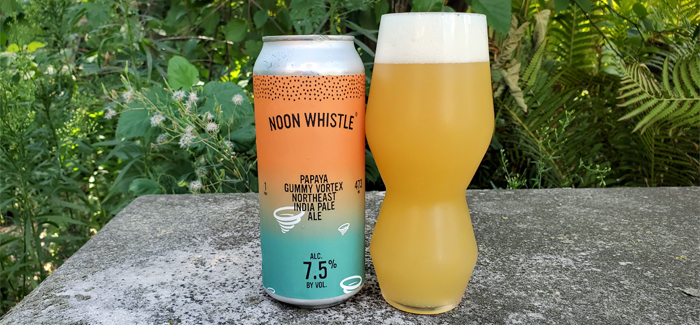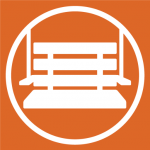 Noon Whistle Brewing Co. has become one of Chicagoland's go-to breweries for IPAs, especially hazies. The brewery, located in suburban Lombard, Illinois, does IPAs so well that even Planters – a massive global brand – wanted to collaborate with them to create a peanut IPA. However, Noon Whistle is most known for its Gummy Series, a set of hazy, super juicy Northeast IPAs.
One of the latest releases in that series is Papaya Gummy Vortex. This version uses the brewery's Gummy Vortex base (brewed with Citra and Simcoe hops) and tops it off with loads of papaya. At  7.5% ABV, a four-pack of 16-ounce cans runs $18.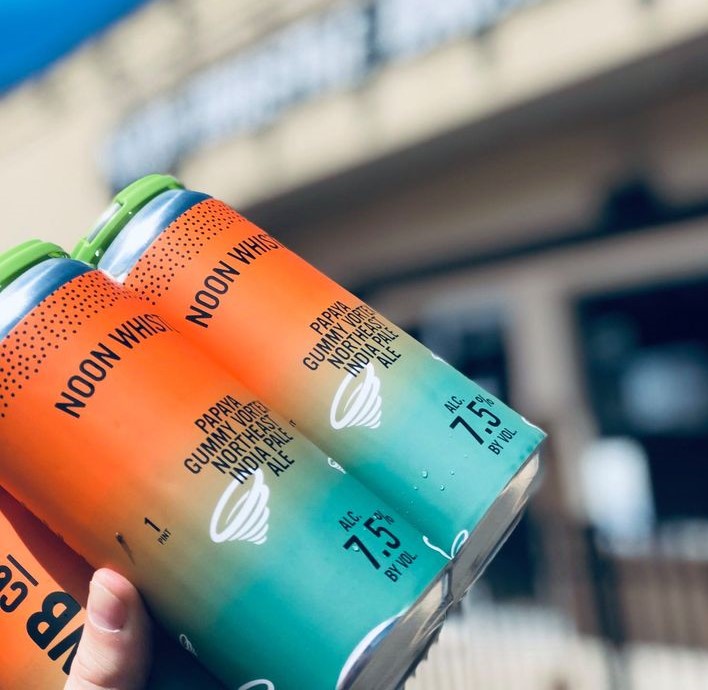 Appearance
This beer certainly was hazy. It poured a bright, albeit cloudy, orange straw color, with just over two fingers of pure white head topping it off. The somewhat dense foam slowly disappeared, leaving some spotty lacing around the glass as it departs.
Nose
Massive notes of papaya and citrus filled the entire room—this was an incredibly potent beer that could be smelled from multiple feet away. The aroma was 100% juice, dominated by massive amounts of sweet papaya with some hints of mango, passion fruit, and guava. There was no distinct hop profile to speak of—nothing other than super juicy tropical fruit.
Taste
Papaya Gummy Vortex sadly wasn't as juicy as it smelled. It starts off with a flaked oat and wheat grain flavor that reminds the drinker that this is indeed a beer and not juice. The mouthfeel is slightly thick and very creamy.
After a moment or two, the papaya pushes the grist aside and hits with the sweet/juicy aspects the aroma had foretold. There was a slight hop twinge that appeared towards the back of the tongue but it was quickly squashed by another wave of juicy flavors.
While the papaya certainly led the way, those other tropical fruits were able to peek through at points, giving off brief encounters with mango, guava, and even a dash of grapefruit.
Towards the end, the grapefruit built even more. From that, a pithy resinous feeling covered my taste buds with a sticky, dry feeling. That dryness slowly fades away, lingering for a bit after everything else had vanished.
Conclusion
While Papaya Gummy Vortex wasn't nearly as juicy as it smelled, it was still incredibly tasty and easy to drink. It's crushable. It's juicy as hell. And, most importantly, it's delicious. If you're a fan of papaya or juicy IPAs, this beer will not disappoint.
---