No Comments
Alternative Beverages | Hard Sodas and Micheladas at Chicago's District Brew Yards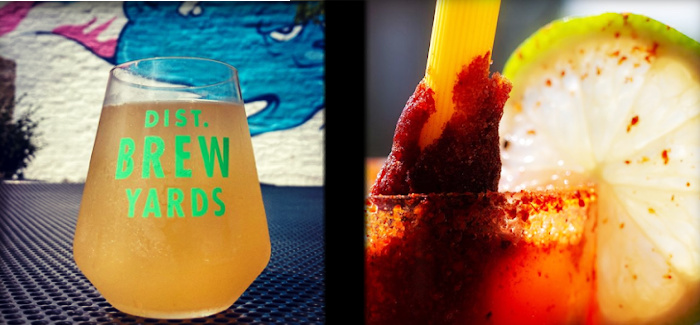 It's certainly well-known that there's been an explosion of breweries and distilleries offering alternative beverages such as hard seltzers, ready-to-drink cocktails, hard sodas, and malt-based fruited drinks the past few years—and COVID19 has helped boost that category. Craft breweries have not been shy in cashing in on that trend, and finding their patrons to be quite receptive to their efforts. Two examples of how diverse that trend has evolved comes from Chicago's Burnt City Brewing and Casa Humilde, two of the four breweries that make up the city's unique District Brew Yards. They now offer their patrons a hard soda and a michelada-inspired beverage.
Burnt City produced its first hard soda (5% ABV) featuring real mango and key lime juices with turbinado sugar last month. By using pure juices and ingredients, hard sodas and seltzers appeal to drinkers dedicated to health & wellness lifestyles, as well as those just looking for something tasty to drink. The brewery offered it on draft in the District Brew Yards beer hall and received positive feedback. As a result, the brewery has been inspired to produce more hard sodas (available in the beer hall).
"The hard soda has been selling quite well, and we're definitely going to make another one soon," Saller says. "We entertained this idea because we had customers asking about hard seltzers. We don't own a filter, so it would be difficult for us to make a seltzer—and it's also hard to make a clear, dry seltzer without adding artificial flavors—so I figured let's try a soda."
https://www.instagram.com/p/CC_v7mhllNf/?utm_source=ig_web_copy_link
Meanwhile, the newest resident of the Brew Yards, Casa Humilde, partnered with the Chicago-based, Mexican-American-run company Big Mich Michelada to create Pa' La Casa, a 4.7% ABV tamarindo michelada built on a Belgian-style beer base.
For those unaware, a michelada is a well-known, Mexican-inspired spicy beer cocktail with beer and lime juice that usually includes tomato-juice, hot sauce, and various other spices and flavorings. The beer cocktail usually gets served in a glass lined with salt and chili powder. Though it can be similar to a Bloody Mary, and even serve as a good hangover cocktail, one should not confuse one with the other. And the Casa Humilde version demonstrates just how diverse the style can be.
"Pa' La Casa is what a michelada should be: a celebration of exceptional products for the culture," Co-Founder/Brewer José Lopez explained.
It took only one weekend in July for Casa Humilde to sell out of its first 15 BBL batch of Pa' La Casa, so the brewery decided to drop a new 90 BBL batch. While most of the second batch is headed for distribution, those coming to the Brew Yards can also enjoy Pa' La Casa on draft in the beer hall (or pick up a 4-pack in the to-go shop).
The world of alternative beverages has really been born from a growing community of imbibers who increasingly want more variety, and both distilleries and breweries are increasingly ready to meet those needs. At the Brew Yards, there's already 40 taps on hand full of almost every type of beer imaginable; so why not throw in a beer cocktail and some hard sodas, too? So far the response has shown that this trend may grow into a standard offering.
https://www.instagram.com/p/CEpZW6YBdmj/
---