One Comment
Ultimate 6er | Autumn Brews and Views in Wisconsin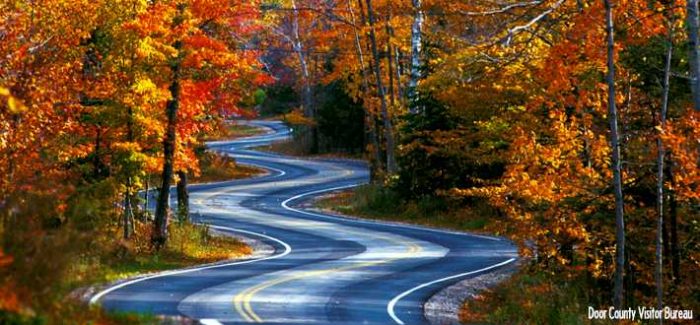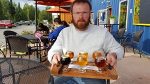 There are only a few short weeks left until the beauty of the fall has faded away and the realization that a Midwest winter is on the horizon. While many states in the Midwest still struggle with high cases of COVID-19 outbreaks, that doesn't mean there aren't opportunities to safely enjoy Wisconsin's autumn brews and views before brisk fall weather and and its beauty gives way to winter's chill.
Wisconsin, with its northerly location and scenic, rural settings that offer a great option for those looking to get away and enjoy colors that rival those found in New England. Wisconsin is dotted with charming small towns with breweries that provide outdoor seating, where visitors can take in some lovely autumn brews and views. It goes without saying that no one should drive while under the influence, so any Wisconsin beer journey should be done in numerous stages (during different days) or with a designated driver — and be sure to give that DD plenty of to-go beers to enjoy when you return home!
The ultimate October pumpkin beer, Whole Hog Pumpkin ale is the Great American Beer Fest, gold medal-winning pumpkin beer straight from the heart of Wisconsin. The perfect beer to accompany your mid-October, Wisconsin experience. Whole Hog is brewed out of Stevens Point, and the surrounding area offers great foliage and many off the beaten path roads which provide a perfect spot for a fall picnic. Aromas of savory pumpkin spices, cinnamon, pumpkin, nutmeg titillate the nose and accompany a full-bodied, smooth flavor that masterfully balances the flavors of fall.
View this post on Instagram
---
The area surrounding Steven's Point offers several great spots for house-brewed beer, but Central Waters might just offer one of the best fall beers out of Wisconsin this year. They take the milkshake IPA craze and usher in that craze to the colder months by offering their take on the classic pumpkin beer. Brewed with coffee, pumpkin, and pumpkin pie spices, the smooth, hazy ale pours a dark orange haze that perfectly brings the look and smell of the Fall. The balance is perfect. The flavors of pumpkin pie are the most pronounced at first sip before combing with the sweetness of your favorite coffee shop latte towards the end.
View this post on Instagram
---
Kenosha, Wisconsin needs a lot of love right now. With many local businesses damaged during the recent civil unrest, there is no better place in Wisconsin now to go and spend your hard earned dollars to support local businesses. They need it. Luckily, there are some great spots do just that while taking in the sights and sounds of the fall on this beautiful small city on the shores of Lake Michigan, less than an hour from Chicago.
Rustic Road Brewing is a great spot not far from the lake in downtown Kenosha. They offer a wide selection of house-brewed beers and food in a beautiful taproom. Hazlenut Harvest is year-round but pairs best with flannel shirts hayrides. An amber ale that pours a dark brown, hazelnuts are the star of the show, obviously, and it doesn't disappoint. Aroma's of vanilla and hazelnut abound and lead to a smooth, sweet, finish highlighting those flavors, which are used late in the brewing process. The vanilla sweetness does not overpower the hazelnut flavor and this continues to be one of their most sought after year-round offerings.
View this post on Instagram
---
There can be no beer list of Wisconsin beers without including one from the boss of Wisconsin beer, New Glarus Brewing. The fall offering, Staghorn Oktoberfest, is as solid as any other offering in their lineup and is widely available anywhere you driving in the state of Wisconsin. While the brewery is closed temporarily due to COVID-19, New Glarus, the town, offers a quaint small-town feel with ample restaurants and coffee shops ready to serve you. The surrounding area offers beautiful views of the vast countryside perfect for as you soak up fall in Wisconsin.
Staghorn Oktoberfest compliments the crisp weather by offering 100% natural Midwestern and European malts, yeast from Germany, and Wisconsin water to bring you a light copper ale that doesn't fill you up. The clean crisp mouthfeel provides a great base to showcase the subtle spice from the malts that linger on your tongue after the first sip.
View this post on Instagram
---
Painted Ladies Pumpkin Spice Ale | Tyranena Brewing
Located in between two cities, Madison and Milwaukee, Tyranena Brewing offers a wonderful view, vastly different than those two urban areas, and beautiful setting for taking in the fall colors. It's one of Wisconsin's best-kept secrets. The taproom has a large patio for outdoor seating and always have a solid and diverse lineup of house-brewed beer. But if you're in a mood for a seasonal beer that reminds you of all that you love about fall, you'll find no better choice than their seasonal offering: The Painted Ladies pumpkin spice ale.
Painted Ladies is a pumpkin beer that keeps it simple. The pumpkin pie spices balance well with the amber ale base and provide a balanced ale that doesn't overpower the senses with too much cinnamon or nutmeg. The addition of pumpkin puree adds a touch of sweetness on the finish.
View this post on Instagram
---
While not actually located in Wisconsin, Galena, Illinois is a stone's throw from the border and offers the small charm of a Midwestern town with some great shopping and restaurants, to boot. There is also one hell of a great distillery. A walk through Galena's downtown in October invites you to take in the sounds and scents of autumn weather. Galena Brewing Company offers outdoor seating where you sit back, relax, and enjoy the day with a glass of their own award-winning Oktoberfest, a German amber lager with a bright clean copper color. Flavors of biscuit, toffee, and toasted walnuts bring a dry, clean finish perfect for sipping outside or next to the campfire.
View this post on Instagram
Feature image courtesy of: TravelWisconsin.com
---