No Comments
Ultimate 6er | The Bounty Hunters Hunt Down Great Beer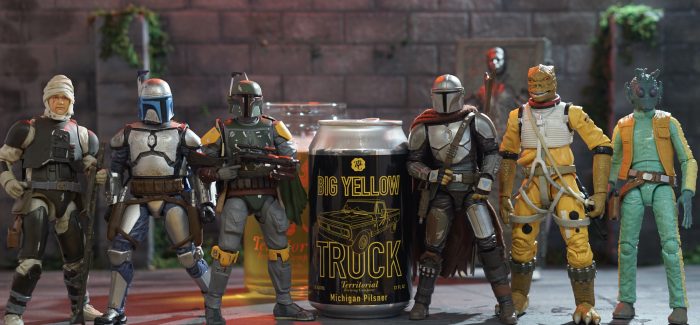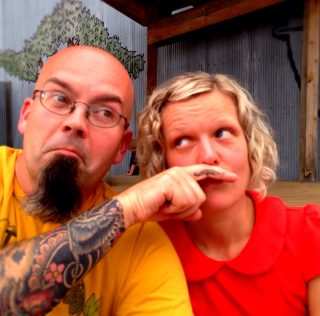 Bounty Hunters may like to consume more than Blue Milk. It's also possible they enjoy some mystical ale fermented on Endor with its unique natural yeast and microbiota that must add a unique flavor to the ale not seen on planet Earth. The Bounty Hunters fill Star Wars lore and their stories have given us fantasy and fascination with the likes of characters such as the Mandalorian. Freelance Bounty Hunters must enjoy our planet's exquisite craft beer on special occasions (never when piloting their aircraft!) and this is what we have chosen based on their backgrounds and personality. For the uneventful weekday an easy-drinking Lager, such as the Big Yellow Truck by Territorial Brewing, might commonly be found in the bounty hunter ships in the beer fridge or cooler.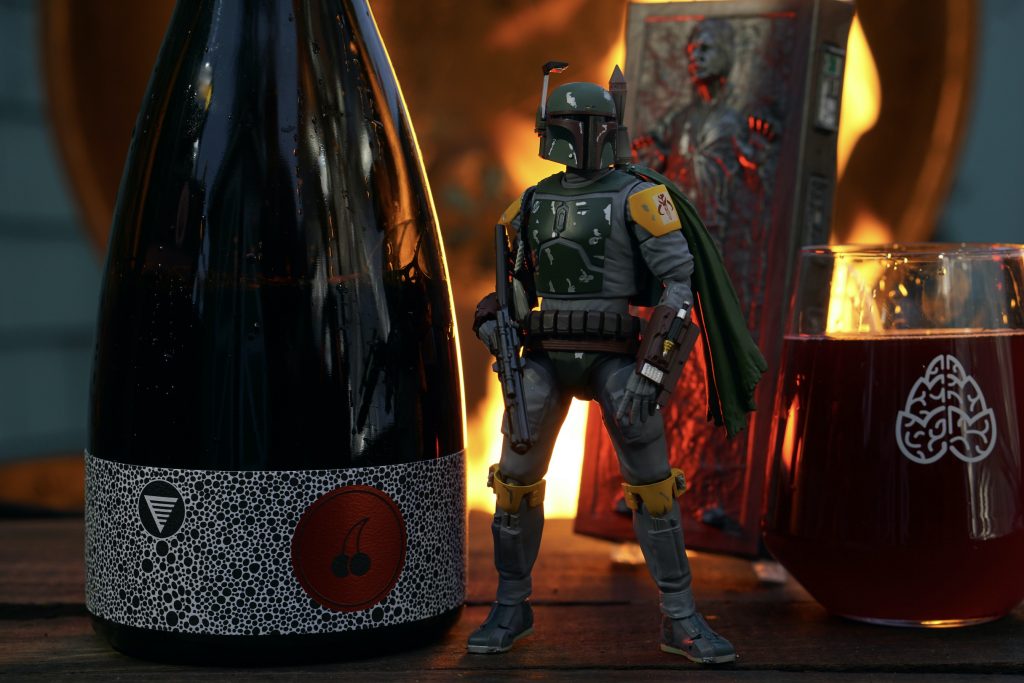 The first Bounty Hunter is one known the Galaxy over for his determination, his cunning ways and advanced skill level. Boba Fett, who filled our childhood minds with excitement, would likely choose a flavorful beer that took its time to create. He must appreciate a beverage that was artfully open coolship fermented and aged over time in oak providing maturation and complexity. The HOMES Coolship Kriek is a great choice to be enjoyed on Slave One while celebrating a bounty. This is a tart and sweet cherry blend with a hint of funk that provides a subtle oak character both in aroma and taste. It showcases an impressive use of barrel character on beer. Boba Fett exemplifies amazing feats by surviving the Sarlac pit and escaping closely after a battle against the Dark Lord himself Darth Vader. He revels in the complexity and flavor of this Kriek, and the beautiful complimenting deep red color certainly has appeal by reminding him of victory.
---
Our second hunter on this journey is Boba Fett's father, Jango Fett. A foundling from the planet Concord Dawn, he was the original template used to build the clone army for the Empire. He was survived by his aforementioned son after a Jedi removed his head in battle. In his life, he was strong and likewise enjoyed the tradition and taste of a strong flavorful ale made out of hard work and time-honored traditions. For him, the choice is the Cinderlands Brick Top. This is a Belgian style Quadrupel ale brewed in the Belgian tradition with the addition of coffee. The aroma of roasted coffee and raisin is noticed first, with this taste chased down by brown sugar, tamarind, ginger and light cocoa with just a hint of chicory. In keeping with the traditional style, this brew finishes dry. This is a beer to savor after a long journey or a tough day hunting down enemies of the Empire.
---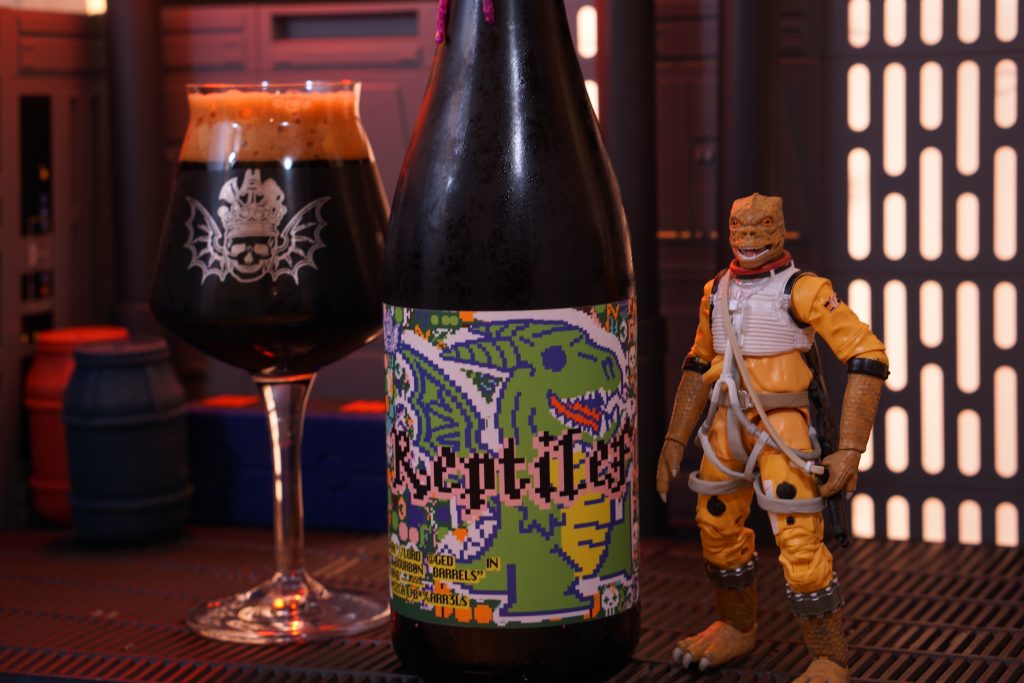 Our next beer is one that may be found tucked away aboard the Hounds Tooth, the ship used by Bossk. This is 3 Floyds Dark Lord variant Reptile Fund (2019). It is a Russian Imperial Stout aged in both Bourbon and Mezcal Barrels. Bossk was dangerous immediately from birth as he is known to have devoured all of his siblings. He is infamous for being ruthless during his reign as a Bounty Hunter working for the Empire. He hunted down wookies, tried to overthrow the Bounty Hunters Guild, and had an amazing ability to regenerate his body's limbs and regain strength. This drink pours a deep black with the immediate taste of baker's chocolate. The taste palate quickly turns smokey with tobacco. This flavor is left behind along with a hint of beef jerky. Paying homage to the Original Dark Lord, this variant is also smokey and heavy which is perfect for our dangerous red-eyed Trandoshan Bossk.
---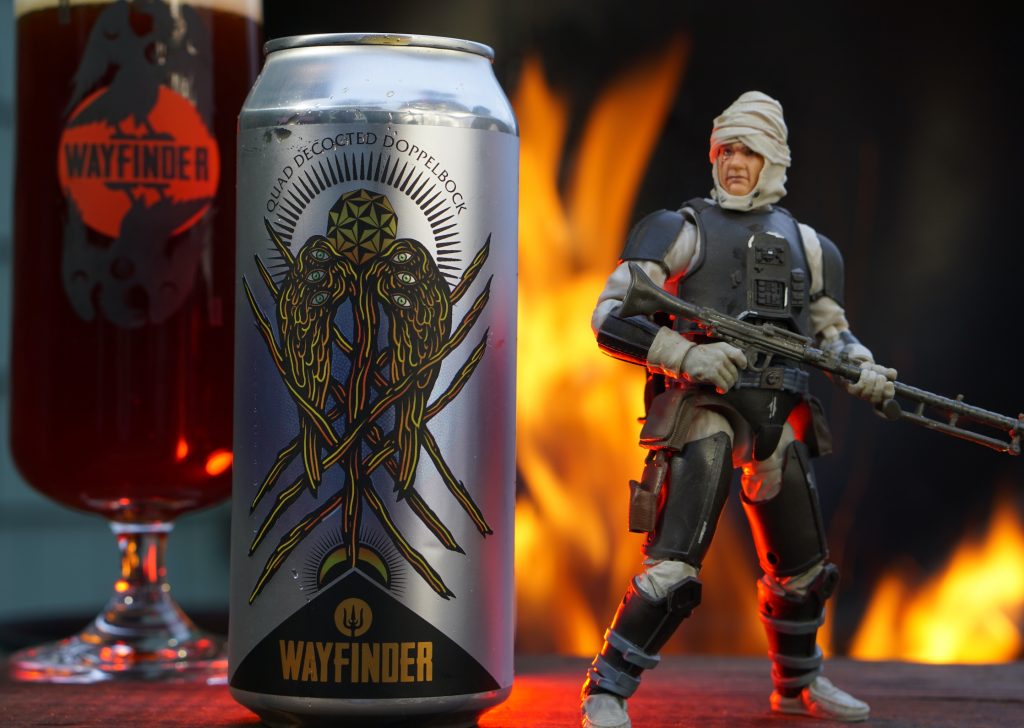 Dengar is a Carillion bounty hunter and ex swoop bike racer and his choice is beYOB Quad Decocted Doppelbock by Wayfinder. He worked as security for the Hutts and helped Boba Fett recover after his Sarlac Pit incident. He enjoys the deep bold flavors of this ale with a dark brown color tinted with red highlights. The nose is wonderfully deep and richly layered, with scents of a wheat bread made with a mild rye-like spice. Its layered smell also has a sweet caramel character that leads into a buckwheat honey scent like a lightly charred crust from a hearth-baked loaf. A mild dark fruit character is also present. The palate opens with a burnt sugar bitterness to temper the sweetness from the heavily toasted Munich malt-like bready notes. The mid-palate has mild hop bitterness, earthy and lightly leafy with figs. It is dry on the finish with a lingering burnt sugar note. Carbonation is on the lower end, allowing the malt flavors to shine. Dengar can often found drinking this while relaxing aboard his ship the Punishing One.
---
 Ale Apothecary | The BeerMongers Anniversary Ale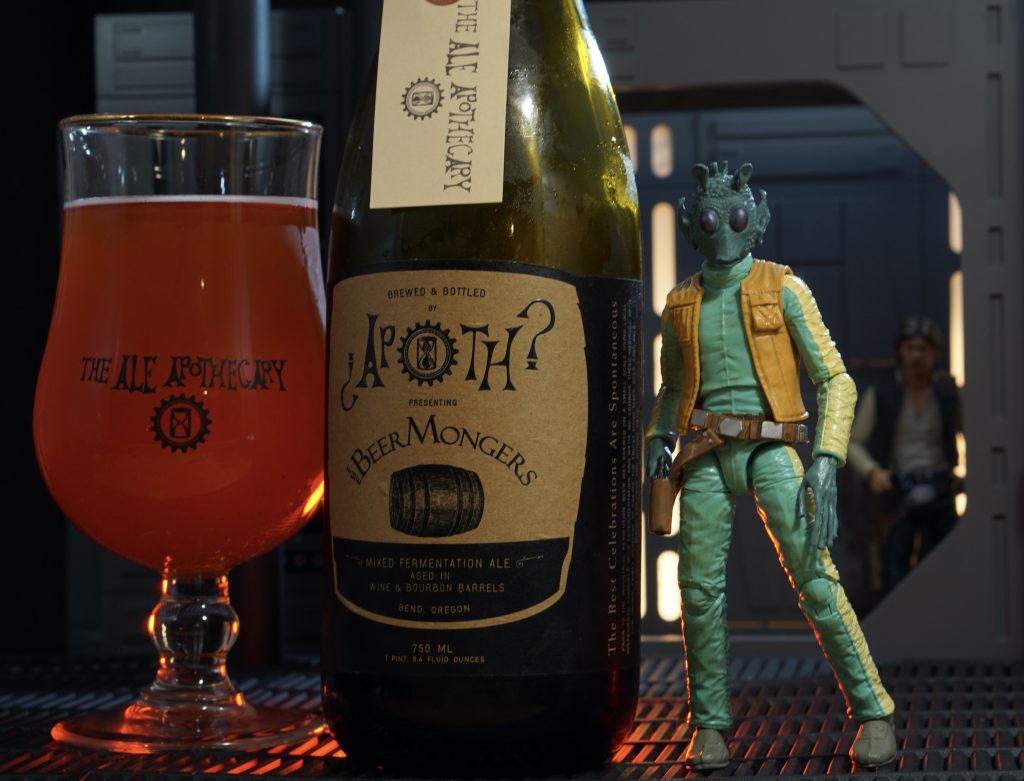 There are a great many taprooms and cantinas throughout the galaxy for these bounty hunters to meet to trade secrets and talk shop. Greedo, a Rodian Bounty Hunter from the Tetsu Clan known to work for Jaba the Hutt, would enjoy this beer selected for him.  Brewed by Ale Apothecary for The BeerMonger' s anniversary. This drink was made to celebrate a unique Bottleshop in our galaxy, located on Earth in The United States. Specifically the SouthEast neighborhood of Portland, Oregon. Greedo always wanted to prove himself to his father and was a determined bounty hunter that met his fate at the hands of Han Solo. This beer has a Cloudy amber pour with very little carbonation. Originally aged five years in Elijah Craig barrels and then an additional year in the cellar, the green apple and cherry flavors shine with honey funk and strong oak tannins. It is sweet yet tart with a modest pucker and a light tart acidic finish. A hearty toast to you, Greedo! Though your time ended abruptly, this beer pours well for many years.
---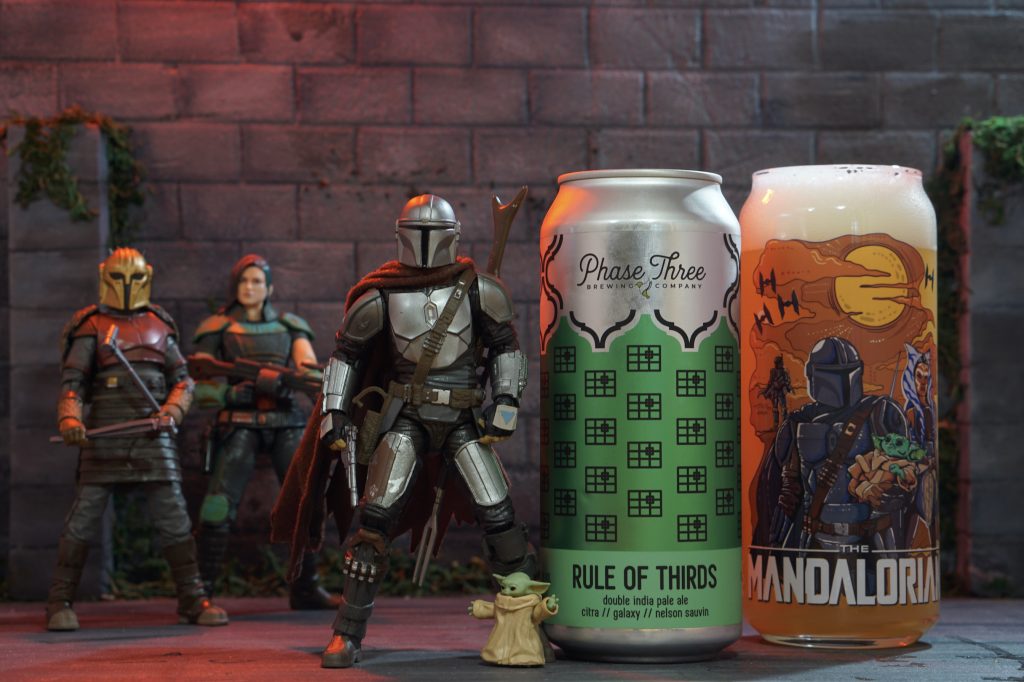 And with that, we have come to the Mandalorian, also known as Din Djarin, or simply Mando. As he spends his time living life by the Mandolarian creed, he has honor and dignity and always commits to his word. He has chosen the Phase Three Brewing Rule of Thirds because of Phase Three's commitment to a high-quality craft. This double dry-hopped New England style IPA is loaded with oats and wheat. It is hazy, with an aroma of white grape, grapefruit and berries. Flavor notes are bright citrus and mango, with some dank resinous hop to balance out the tropical fruits. The Use of Citra, Nelson Sauvin and Galaxy hops are well played in this bounty. Although Mando might bring in his bounty warm or cold, this beer is best enjoyed cold and fresh.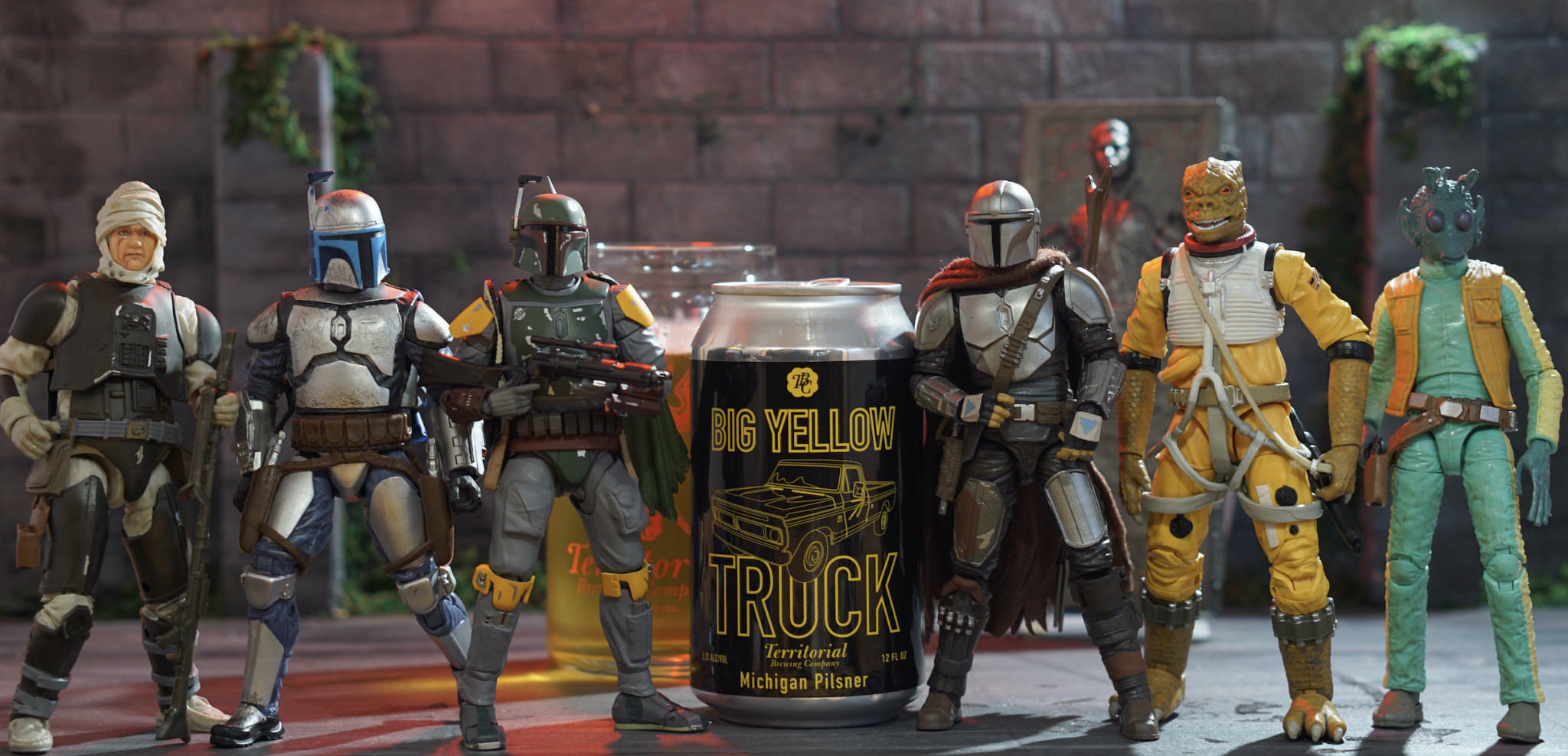 As a lifelong Star Wars fan and current craft beer drinker, these beers are best enjoyed with friends and family. It is encouraged to grab your favorite beer and a movie that sparks your own imagination within the Star Wars franchise. These action figures are not meant for children under legal drinking age. "This is the way."
---