No Comments
Black Bottle Brewery | Friar Chuck Kölsch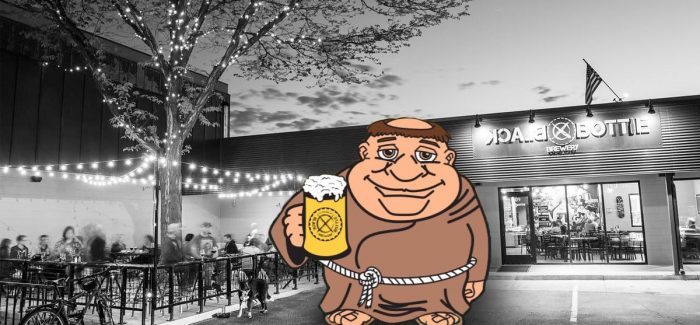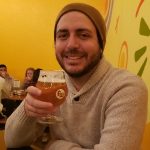 Black Bottle Brewery has been cranking out a wide variety of beer in Midtown Fort Collins, Colorado since they first opened their doors in 2012. One of those beers — a local favorite and one of their top selling brews — is their year-round Friar Chuck Kölsch. In addition to having their beer on tap, they are also a full service gastropub with a full bar and guest beverages that round out their 40 line tap list. Before we pop the top on Friar Chuck Kölsch, let's briefly unpack the Kölsch style.

Kölsch: Ale, Lager, Hybrid Beer?
Originally from Cologne(Koln), Germany, Kölsch has enjoyed an increase in popularity in the American craft beer scene over the past decade or so, yet what exactly makes Kölsch a Kölsch is sometimes hard to pin down. While it is comparable to both German Pils and Cream Ale, it is an entirely unique pale, German Ale. These distinctive qualities of Kölsch, commonly labeled a hybrid beer, come from its history, culture and brewing process. The term hybrid beer is used to describe Kölsch because it is fermented with Ale yeast at cooler — almost Lager-like — fermentation temperatures. The appeal of the style rests in its delicate balance of hops and yeast derived fruit, spice and bitter notes paired with its sheer drinkability.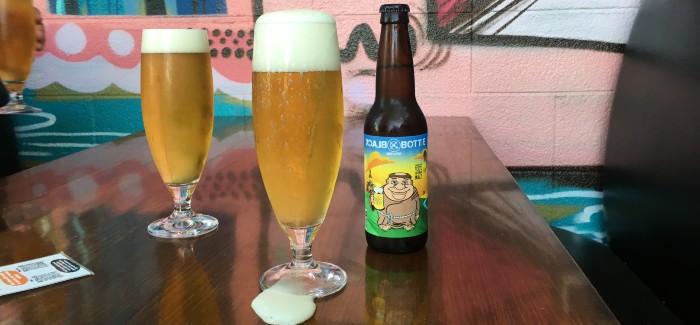 The Merry Adventures of Friar Chuck
When Sean Nook opened Black Bottle Brewery, he wanted to brew radical beers with unconventional ingredients. Their trailblazing series of breakfast cereal beers, called Cerealiously, is proof of their fun, unorthodox approach to brewing non-traditional beers. While they may not take themselves too seriously, Nook and Tom Moseman — head brewer since 2013 — still have a strong appreciation for straightforward, traditional styles. They knew they would need a bill payer, as they call it on their website, to appeal to macro drinkers and folks simply looking for a classic, easy drinking beer.
Specifically, Nook was interested in crafting a beer that his father, a long time macro drinker, could enjoy. They settled on Kölsch because it checks all those boxes and it's "an ale that drinks like a Lager", according to Moseman. Nook's father and the beer's namesake, Chuck Nook, put his seal of approval on it after they brewed the first batch in 2013. Then in 2015, Friar Chuck Kölsch brought home a bronze medal at the Great American Beer Festival, which was the first GABF medal for both Moseman and Black Bottle Brewery. The recipe for Friar Chuck remains the same since the first batch, and they have no plans to change it in the future.
Ingredients and Process
The grist for Friar Chuck Kölsch is 100& Pils malt, and Moseman is adamant that they always use imported German Pils malt. This is not only for tradition and authenticity, but also because it imparts a uniquely German character. On brew day, they add German Hallertauer Tradition hops to the brew in their 100 percent copper kettle. These hops contribute a classic, German flavor profile of earth and spice with some fresh floral and hay notes in the mix.
As previously mentioned, this is commonly considered a hybrid beer, so the choice of yeast and fermentation temperature are somewhat unusual and incredibly important when it comes to nailing the style. Black Bottle uses a German Kölsch Ale yeast that was originally sourced from a small brewpub in Cologne, Germany. Moseman pushes the lower temperature limit of the yeast by fermenting at an exceptionally cool 52 degrees fahrenheit, which is well within the range of normal lager fermentation and contributes to the crispness in the final product. Then the beer is cold conditioned for a minimum of ten days.
The precise ingredients and process result in a true to style rendition of a Kölsch while pushing the boundaries of what a Koslch can be with an ABV of 5.3% and an IBU of 30. When Friar Chuck Kölsch hits your glass, you can expect an authentic Kölsch that is as intensely Kölsch-like as a Kölsch can be, while still remaining a subtle and exceedingly drinkable beer.
How and Where to Get It
After you order a Friar Chuck at Black Bottle, their Cicerone Certified Beer Servers will bring it to you in a 16-ounce, footed pilsner glass, which showcases its pale golden color and brilliant clarity. Subtle honey sweetness quickly gives way to herbal, bitter hops. Then it finishes crisp and dry with delicate, pome fruit aromatics. They also offer it in flights and to-go in growlers and six-packs. If you can't make it to the brewery, you can find six-packs of Friar Chuck Kölsch along with their Scuba Steve IPA and Music City Cold Beer Amber Lager in stores throughout Northern Colorado and the Western Slope.
Feature Image: Black Bottle Brewery
---