No Comments
Brewery Showcase | Best Day Brewing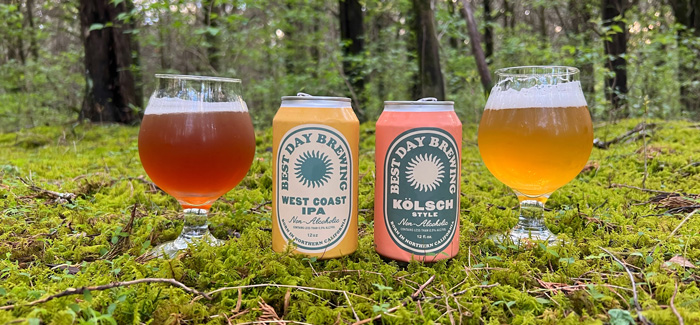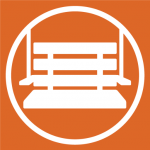 San Francisco-based Tate Huffard is an avid outdoorsman with a passion for craft beer. The two typically go hand-in-hand quite well – what better way to finish off a bike ride or a day on the slopes than stopping at a local brewery afterwards? However, over time, he noticed that the "question of a hangover" started to get in the way of the things he wanted to do.
Tate's next step was to try cutting out alcohol during the week. "It wasn't fun – you can have a sparkling water, kombucha, or whatever, but it still doesn't taste like drinking a beer. For me, it was more about the ritual of cracking open a beer that tastes good, as opposed to the alcohol part of it."
The wheels really started turning when Tate's father-in-law, who doesn't drink alcohol, came over for a visit. "I knew absolutely nothing about non-alcoholic beer, and so I went to the store and picked up some O'Doul's. Talk about an underwhelming experience!"
"This journey started when I opened my fridge, saw some unwanted bottles of O'Doul's sitting next to the craft beer I love to drink, and wondered 'why couldn't non-alcoholic beer taste just as good?'"
And with this, Best Day Brewing was born.
Tate's journey with starting a brewery is a bit different than most – he doesn't come from any sort of brewing background. However, that didn't stop him – his dream of creating great-tasting non-alcoholic beer propelled him forward, and he started talking to people in the alcohol industry and learning more about the technologies behind non-alcoholic beer production.
Then, a lucky rendezvous turned into an incredible asset when Tate connected with Ron Lindenbusch, who had worked at Lagunitas Brewing alongside founder Tony Magee from the very beginning. After working at Lagunitas for over 20 years, Ron retired, and at the same time, he also quit drinking alcohol due to medical concerns.
It was a perfect match – when Tate asked Ron if he'd like to be involved in this non-alcoholic brewery, Ron was all in. Now, Ron serves as Best Day's head brewer, where they operate out of a third-party production facility.
The Lagunitas influence is quite apparent in Best Day Brewing's flagship West Coast IPA, featuring Cascade hops and a caramel-forward malt backbone, "the tribute to where this all started." Notes of pine are very apparent in this surprisingly full-bodied IPA, with a hop bitterness that lingers on the palate and a slightly dry finish that keeps you reaching for the next sip.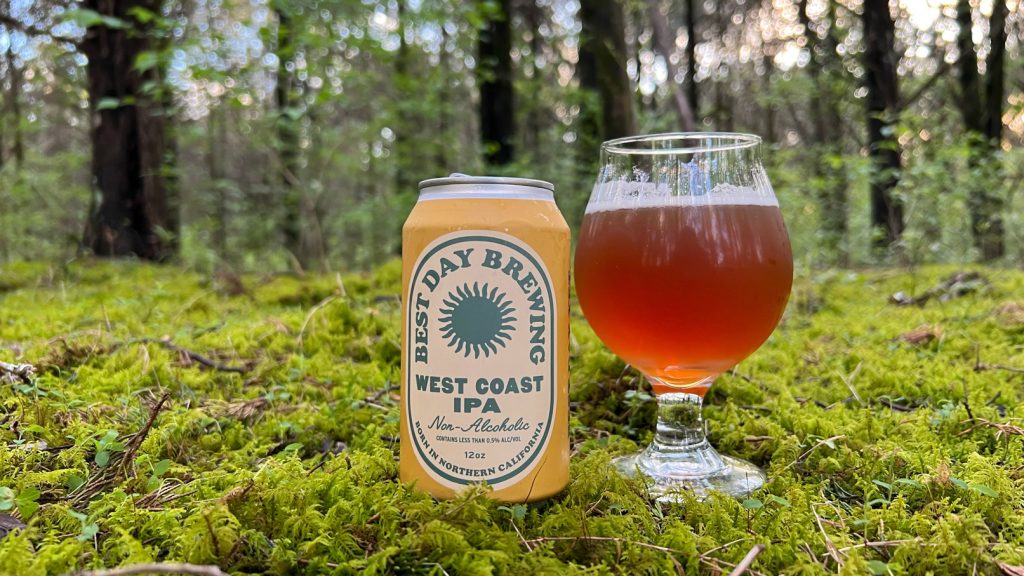 Best Day Brewing's second flagship is a Kölsch, as a tribute to another famous Bay Area brew:
"Kölsch has a special place in my heart – I didn't know a thing about Kölsch when I moved out here, but Fort Point has a beer called KSA (Kölsch style ale), and it took the Bay Area by storm – it went from a limited release to the #1 SKU by far – everyone was drinking it, daytime and nighttime, restaurant, bar, it didn't matter – no one could keep this stuff in stock…..the Kölsch style just has that unique flavor profile – it's got something a little different but maintains that light, refreshing, crisp flavor profile you're looking for."
Best Day's Kölsch is a brilliant take on the style, featuring a light, crisp body with notes of honey and freshly baked bread – it's flavorful and smooth all the way through.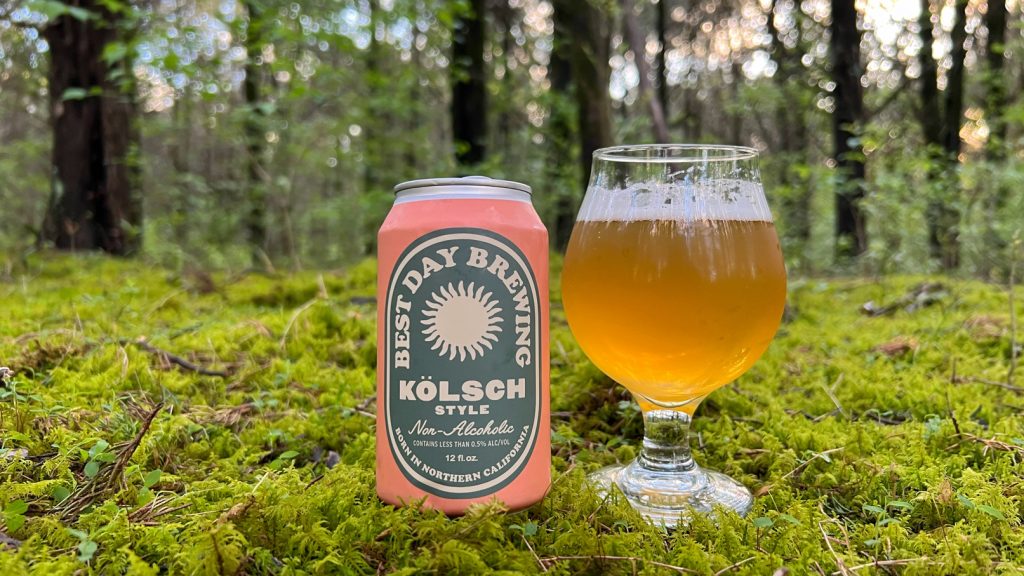 Looking ahead, Best Day Brewing plans to add several more brews to their lineup over the coming months, including a Hazy IPA, a Witbier, and more.
As for the name, 'Best Day' comes from a conversation Tate had at a wedding – an attendee's family member had a favorite phrase – "best day yet" – which not only celebrates the present but also optimistically looks ahead at what is still to come.
"I just loved that mentality, and it became a motto for my life. That's the reason I surf before work, or when I come home at the end of the day I take my whole family for a hike. If you could have that mentality, things are going to be good. It just felt like the right thing to call this."
Tate also incorporated this into the packaging of the beer. "If you look at the side of our can, it's got a laundry list of people – it's an amalgamation of characters that have somehow entered my life and have inspired me to wake up and get going on the day. Non-alcoholic beer has its place in that. Whatever floats your boat, just do it, and have a good time doing it."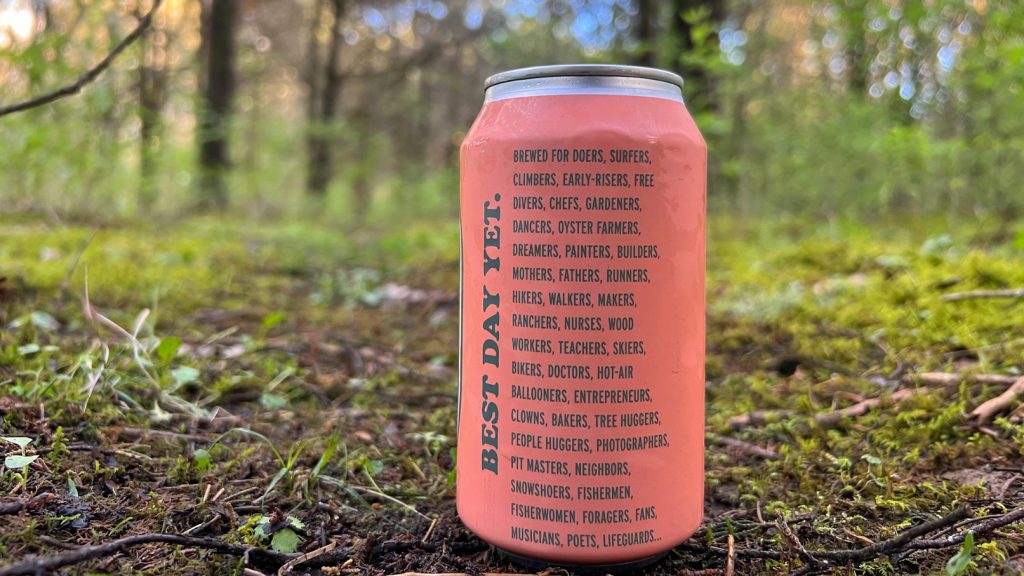 Once an industry with few choices and low demand, the non-alcoholic beer market has truly exploded over the past couple years – now, scores of breweries are jumping in, and sales are skyrocketing. While it's impossible to identify exactly what's causing this massive industry shift, Tate provided some input on potential drivers.
"Everyone comes to it from a unique perspective, from "I'm sober and this is an interesting good-tasting alternative", "I want to have a beer with breakfast", or, like me, simply want to cut out alcohol during the week. There are a thousand versions of that story. What you realize is that you aren't giving anything up in doing that – you're actually getting more because you can have a beer and drive home, or you can have a beer and then go for a run, or you can have a beer on a Saturday afternoon and not have to take a nap. It's cool to see how different people approach it, and it's very fulfilling to watch."
"I also don't know many people who are actively trying to drink more. It sounds silly (and it is) but it's true. I also think of it generationally – Baby Boomers are drinking less because they're interested in sticking around for a few more decades, Millennials have a lot going on in their lives right now, they're having kids, their careers are getting more serious, and they want to wake up feeling good and be healthier. The Gen Z thing though, I don't get it – to see this demographic that's like 'nah, alcohol sucks' – it's really fascinating."
"Also, the last two years taught us a lot – I think there is a mentality of 'don't take things for granted' – you can't afford to just waste days anymore, and if you're going to live those days and feel fulfilled, you might as well feel great while you're doing it."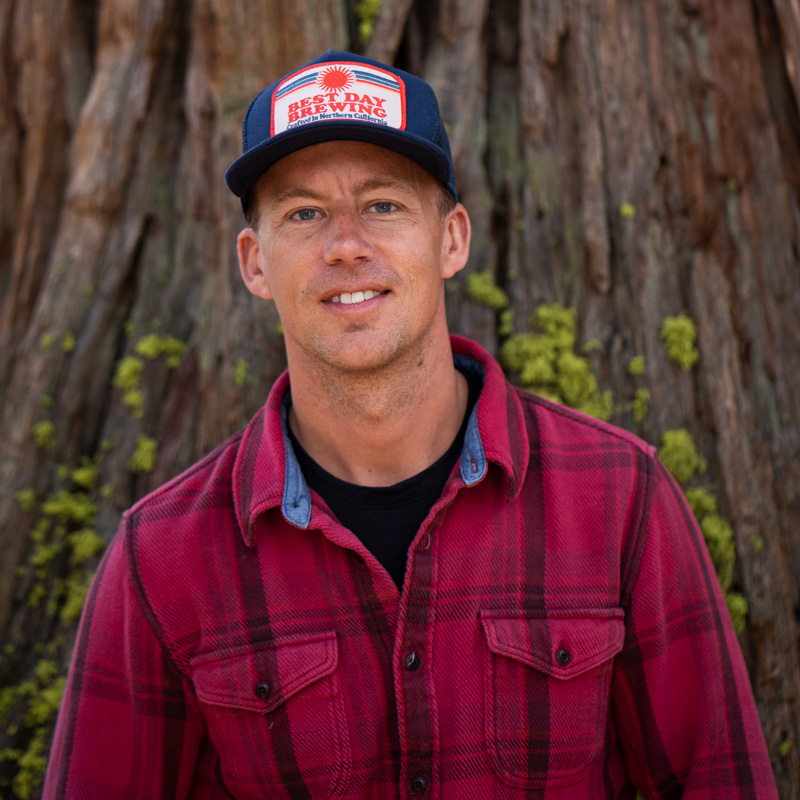 While some shifts in the craft beer market are simply a flash in the pan (read: Brut IPA), the non-alcoholic beer movement seems like it's here to stay, especially because it involves a significant lifestyle shift overall.
Tate weighed in on this, stating "Once you incorporate this into your life, it's hard to go back – I don't see people saying 'actually, you know what, I'd like to wake up with hangovers again!'"
In terms of Best Day Brewing's next steps, Tate explains that "90% of the equation is educating the customer that this is a good option in their life and that this stuff actually tastes like a Kölsch or an IPA – it doesn't taste like an O'Doul's or a Clausthaler or any of the 'old guard'. Right now, we're really focused on getting cans in people's hands, for us that's everything from meeting people on the trailhead to the ski slopes to a Total Wine or Whole Foods."
"When I talk to people who haven't ever tried a non-alcoholic beer, I hand them a Best Day and they're like 'Wow, this actually tastes like a beer!' – there's nothing more exciting than that. We're just starting, and I can already tell that it's going to be a pretty good run."
Ready for your best day yet? Find Best Day Brewing in bottle shops around Northern & Central California or in the state of Colorado, or order 6-packs online for direct shipping across the US.
Featured image courtesy of Jesse Bobick
---