No Comments
Event Recap | 2015 Mmmixer: Craft Cocktail + Culinary Pairing Event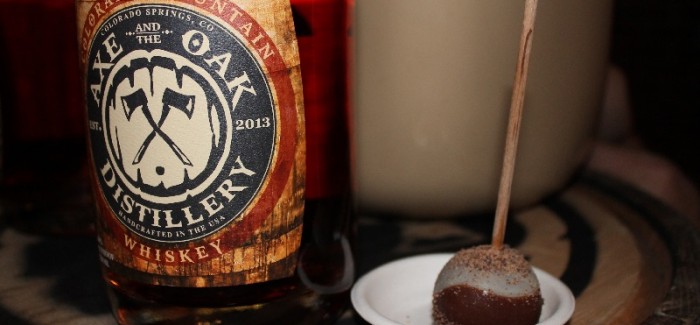 Defining the collaboration of mixology & the culinary arts in Colorado.
The MMMixer: craft cocktail + culinary pairing event featured more than 30 expert mixologists & top chefs from the best local eateries collaborating on unique pairings. Teasing and pleasing the prowess of your epicurean senses, the first gala event in this series featured paired cocktails made with the finest Colorado small batch whiskies/whiskys/whiskeys. The MMMixer took place at Mile High Station on Friday, November 20th from 6pm–9pm.
On November 20th, the inaugural autumn MMMixer will feature some of Colorado's finest whiskey distillers expertly paired with top chefs from some of the Front Range's best local eateries.
Here is what we sampled: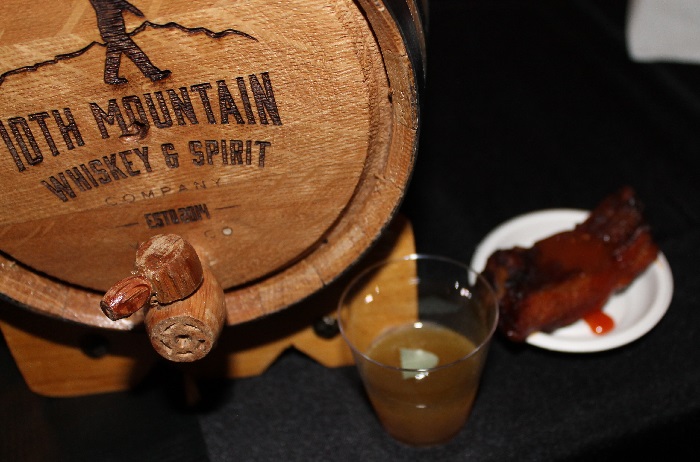 "Grilled Peach and Sage Old Fashioned" 10th Mountain Bourbon, grilled peach and sage puree, Fee brothers peach bitters, fresh orange, fresh sage PAIRED WITH Smoked Baby Back Ribs with peach bourbon BBQ sauce (GF)
"14er" Colorado Mountain Whiskey, coffee liquor, heavy cream, cinnamon stick PAIRED WITH whiskey Infused Cake Pop dipped in marble chocolate with candied bacon fudge crumble (pictured in the featured image)
"Huntsman" Benchcraft Whiskey, simple syrup flavored with cinnamon, bay leaf, and ginger, touch of orange, and an apple stick PAIRED WITH Roasted Kuri Squash Soup: shio koji, roasted apple, vinegar powder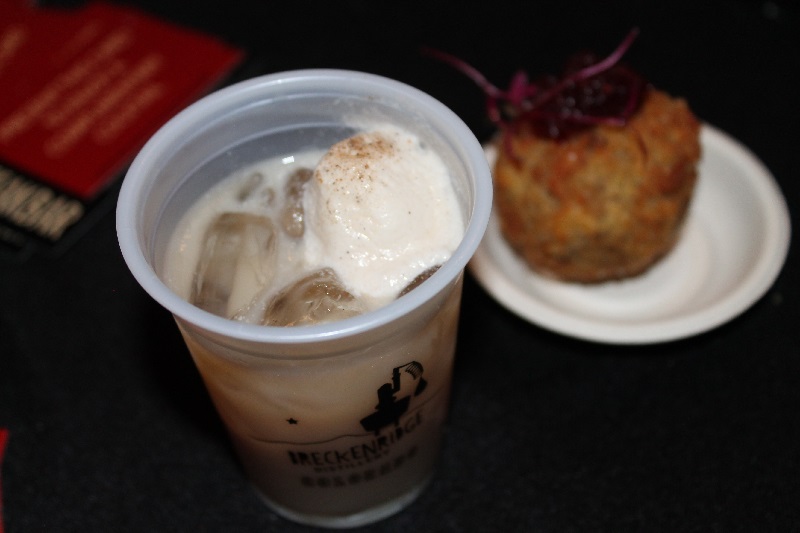 "Bourbon Whiskey Punch" Breckenridge Bourbon, Breckenridge bitter, ghost pepper sarsaparilla, almond milk, nog, maple pecan foam, pinch of cardamom sugar PAIRED WITH Wild Rice and Spiced Short Rib Arancini
"Whisky Piccante" Rye Whiskey, gin, Campari & chai liqueur PAIRED WITH Parmesan & Chive Bombolino (Italian Donut) wrapped in prosciutto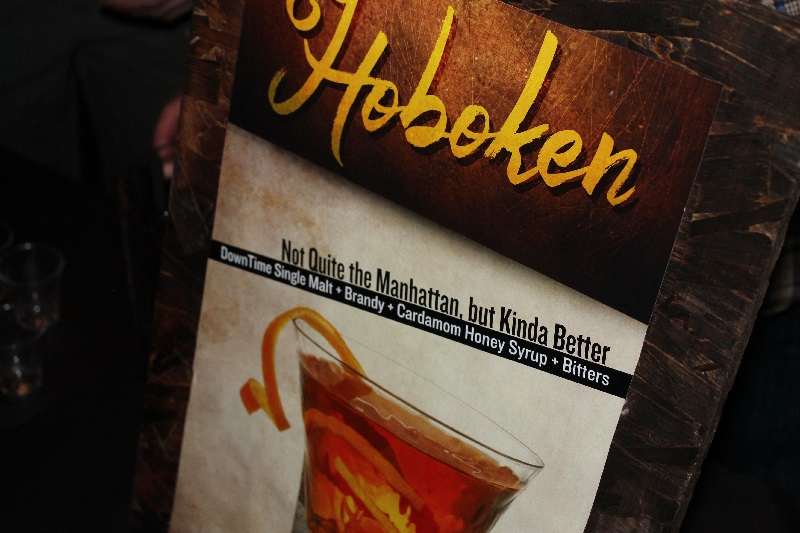 "Hoboken" DownTime Single Malt Whiskey, cherry infused brandy, cardamom honey syrup, angostura bitters, orange peel garnish PAIRED WITH Bison Tongue Pastrami Ruben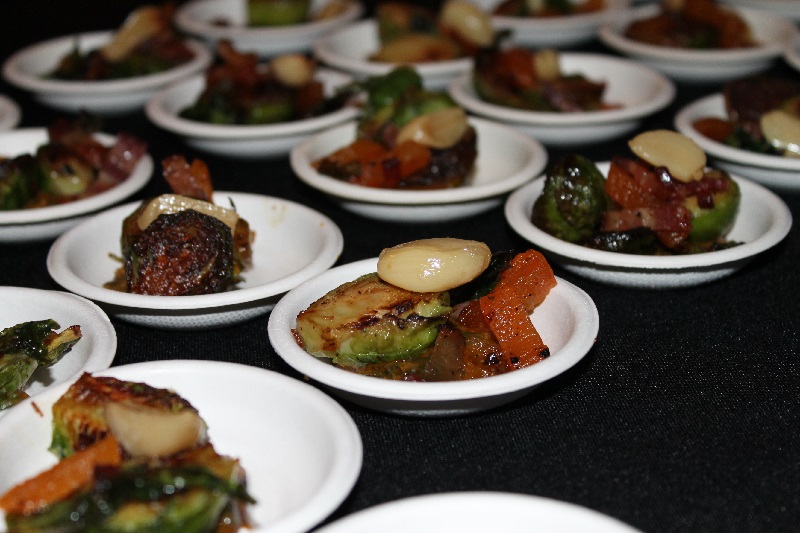 "Manhattan" Downslope Whiskey, Strongwater bitters, sweet vermouth and a house brandied cherry PAIRED WITH Caramelized Brussels Sprouts with garlic confit, dried apricots and Moroccan chimichurri (with optional bacon) (GF, VV)
"Plane to Spain" Blue Corn Bourbon, sherry, Contratto Aperitif and freshly squeezed lemon PAIRED WITH Braised Local Goat on Ras el Hanout Carrot Hummus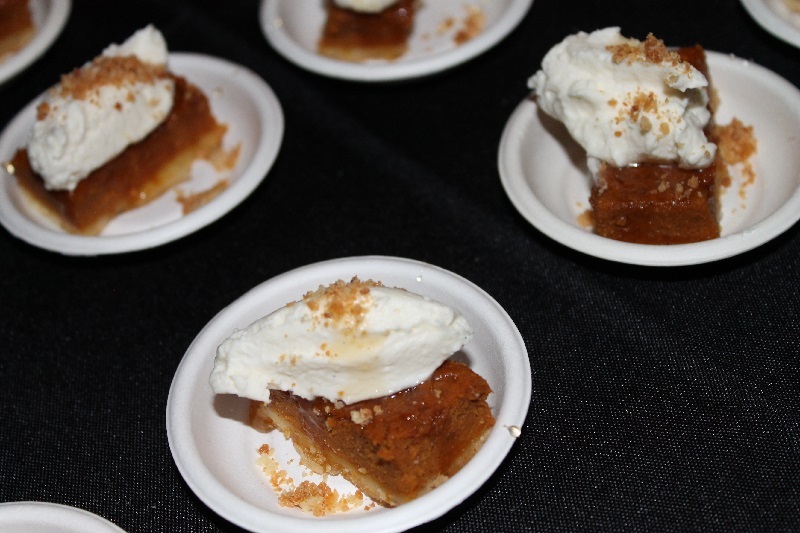 "Autumn Punch" Golden Moon Applejack, Gun Fighter Bourbon, orange oleo saccharum, Roobios tea, fresh citrus, fall spices PAIRED WITH Maple Bourbon Pumpkin Pie Bites– sweet maple, malty bourbon and savory baking spices (V)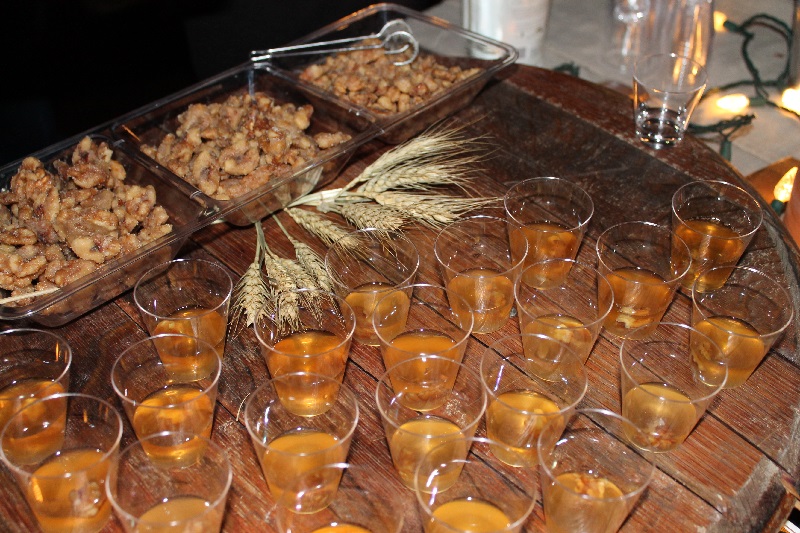 Cinnamon and walnut infused white whiskey (Dead Drift) topped with a homemade simple syrup and chilled black tea PAIRED WITH Espresso Rubbed Duck Breast, polenta crostini, grilled radicchio, parsley+walnut gremolata (GF)
"Black Manhattan" LAWS Four Grain Straight Bourbon, Amaro and a splash of bitters over ice garnished with cherry PAIRED WITH Braised Pork Belly, apple jicama kimchi, cilantro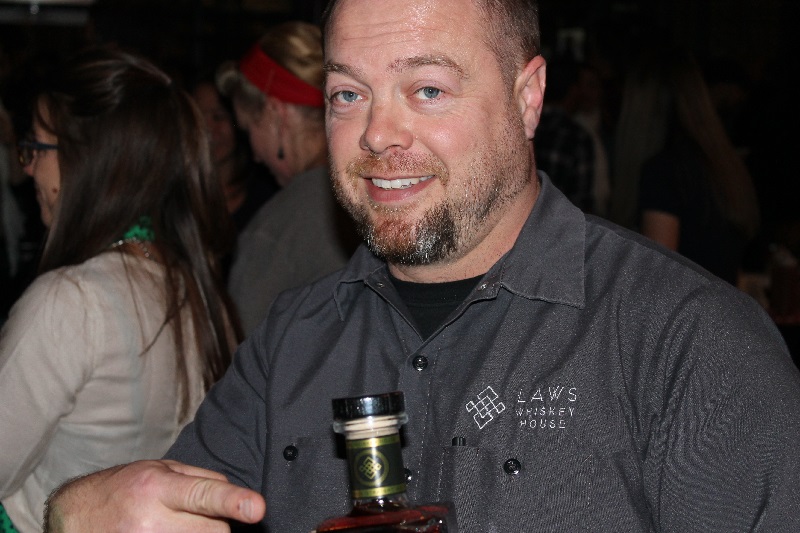 "Silence of the Lamb" Laws Secale Straight Rye Whiskey, mint tea, walnut bitters, maple syrup. garnished with sprig of rosemary PAIRED WITH Fennel Pollen Maple Fig Glazed Lamb Riblettes, goat cheese, roasted walnuts
"Cranberry Old Fashioned" Leopold American Small Batch Whiskey, Leopold Cranberry Liqueur, Angostura and orange bitters, orange peel and sugar PAIRED WITH Smoked Beef Short Rib, jus, citrus creme fraiche, fried sage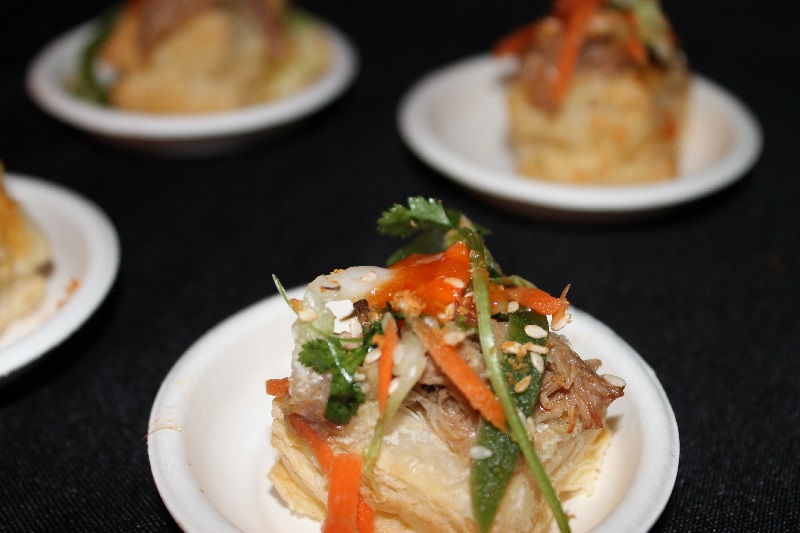 "Son of a Peach! Old Fashioned" Fireside Peach Whiskey, house made simple syrup, vanilla/chamomile/orange blossom bitters, fresh orange slice PAIRED WITH Bahn Mi Bite: Beef braised in Thai curry and chamomile tea, asian slaw, puff pastry, sweet Thai chili gastrique, sesame seed and pork skin garnish.
"Liquid Swords" Old Standard Rye Whiskey, Campari, Green Chartreuse, Orange Curacao PAIRED WITH Herb and Honey Cured Pork Belly, pickled citrus, and an aged Westcombe cheddar mornay sauce
"The Tongue-in-Cheek" Wood's Tenderfoot Whiskey, Wood's Fleur de Sureau, elderflower liqueur, cranberry simple syrup, allspice dram, chamomile bitters PAIRED WITH Cured Beef Tongue Tartare, fresh cranberry, pickled quail egg, chestnut cracker and satsuma oil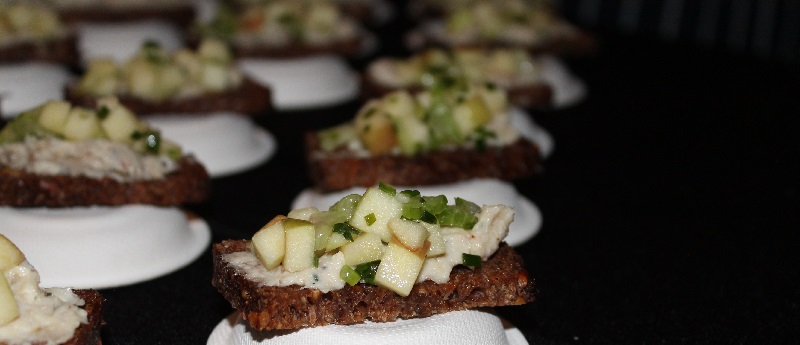 "To "Rye" For" Colorado Straight 100% Rye Mash Whiskey, Cynar, Tupelo honey and orange bitters PAIRED WITH Smoked Mackerel Pate with apple, celery & rye bread
GF = Gluten Free
V = Vegetarian
VV = Vegan
Our Favorite Bites:
That Rueben goodness from Blackbelly and the cake pops from the Corner Office.
Our Favorite Libations:
Breckenridge's Bourbon Milk Punch and Leopold's Cranberry Old Fashioned. The Grilled Peach and Sage Old Fashioned may have been the best quaff we had all night.
Cheers to ye and may eternity find us in as good company as this! Stay Thirsty and Keep Denver Beer'd!
Again, with plenty of room and space in Mile High Station, Mmmixer showcased lots of friendly vendors peddling their delicious wares. I look forward to attending this event in the future, and I highly encourage you to do the same and to keep an eye out for events planned by the Idea Trading Company/Culinary Pairings in the future. We definitely left with full bellys and full hearts again. Thanks John and Myriah for having us again!
The 3rd Annual BrüFrou is scheduled for Saturday, April 30, 2016. Find more information about the festival here.
---