No Comments
Anderson Valley Brewing Co. | Briney Melon Gose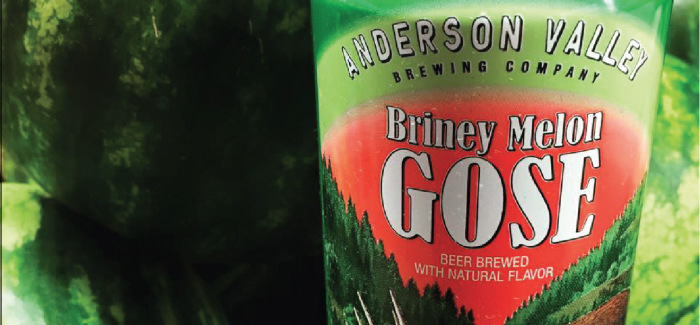 ABV: 4.2%
Last summer was my introduction to the gose style, and my first one was Anderson Valley's Blood Orange Gose (also a beer I highly recommend). I immediately became a fan, and started seeking out others in the gose style. That soon led me to another from Anderson Valley, the Briney Melon Gose. At the time, it was only available in bombers, but this year they started distributing it in six-pack cans… and we're all better off because of it. With a fun, easy-drinking summer beer like this, cans that you can throw in a cooler and take to a barbecue to share with friends are the only way to go.
Now, about that beer…
It pours a clear, crisp, straw color with a slightly fizzy head that fades pretty fast. And as expected, there isn't much of an aroma. I got some tartness and a little bit of grain and sea salt, but it's all pretty faint. The taste, on the other hand, is a different story.
When I took my first drink, the flavor that initially hit my palate was heavy watermelon, but not a sweet, bubble gum or candy flavor you often find in other watermelon-flavored beers. It was natural and juicy, and it was great. But this is a gose, after all, so the watermelon very quickly gave way to a refreshing punch of sour, and the result was more like when you get to the tart rind of a watermelon. The finish is a lightly grainy saltiness that makes you want to take another drink. And another. Aaaaaand another. It's a good thing this is a low ABV beer.
The idea of a sour and salty watermelon wheat beer may sound peculiar, but when you try it, it makes perfect sense. I promise. It's the beer equivalent of walking barefoot in fresh-cut grass… minus the green feet bottoms. So grab a six-pack (thank you, Anderson Valley!) and get outside to enjoy the glorious start of beer drinking in the sun with this refreshing gose.
https://www.instagram.com/p/BDBdGn5Nt1i/
---