No Comments
Outlander Brewery | Holy Basil Pale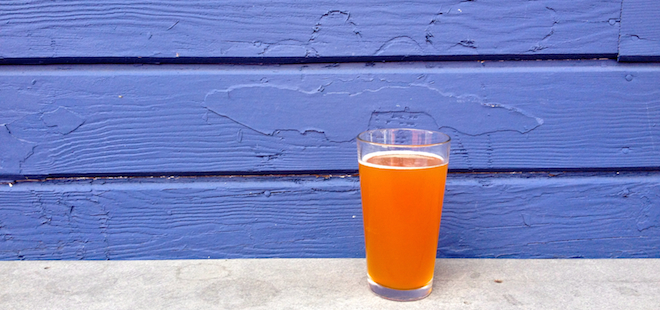 ABV: 5.6%
I love a little quirkiness with my beer, because with so many craft breweries in Seattle, a unique character is really what sets each establishment, and brew, apart. The Holy Basil Pale Ale by Outlander Brewery fits this measure well—it strikes just the right balance of eccentric and uniquely delicious.
Located in Seattle's Fremont neighborhood, Outlander Brewery operates out of a 100+ year-old converted house, with a brewing system in the basement, shelves of ceramic beer mugs for the regulars, funky furniture and a stack of random board games for everyone to enjoy. Outlander's low-key atmosphere lends itself to an unpretentious, non-fussy vibe, and the friendly tenders are always poised and ready to recommend the best new beer on tap.
Operating on a very small, 3.5 barrel system, Outlander is known for its specialty ales and experimental brews—and for using wacky ingredients like lavender, ginseng, dragon fruit, peanut butter and chili peppers. Because Outlander's brewing operation is so small, the microbrewery has a quickly rotating tap list—a beer could be available one week and replaced the next. Lucky for us, the Holy Basil Pale is on frequent repeat, and for good reason.
https://www.instagram.com/p/9KTRmqBupu/?taken-by=outlanderbrewing
The Holy Basil Pale is an easy-drinking beer, with an inviting golden-amber color and an earthy, herbal aroma. Upon first sip, the basil flavor is more subtle than expected—its delicate sweetness and twinge of spice enhances the ale rather than dominating it. With a medium-body, the Holy Basil Pale coaxes the palate with a balance of soft wheat, honey and light malt. Sure, it's unconventional, but it's also delicious.
For a quirky brew with a flavor character all its own, try the Holy Basil Pale. You'll have to stop by the brewery though—this, along with most Outlander beer, is a taproom-only release. Challenge your Seattle neighbor to a game of dominoes (on a set that's missing just a few essential tiles) while you sip this refreshing beer in Outlander Brewery's new beer garden. See you this summer!
---