One Comment
Ultimate 6er | Seattle Growler Fills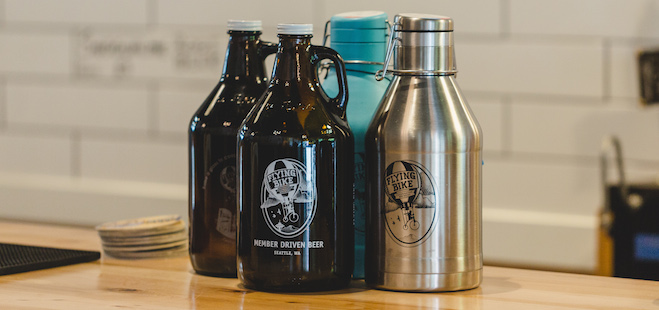 Draft beer almost always tastes better than bottled or canned beer.* It's fresher and hasn't been exposed to heat, light, or oxygen—elements that can have a major negative impact on the beer's taste and aroma. Despite the superiority of draft, we don't always feel like going out for a pint. As a self-proclaimed introvert, I'm a prime example of a beer enthusiast who sometimes just wants to chill at home and watch a movie. Or read. Or drink a few beers while I cook dinner. This is when growlers come in handy. Typically 64 fluid ounces (the equivalent to 4 pints) or 32 fluid ounces (2 pints) breweries and taprooms will happily fill growler jugs with fresh, tasty, draft beer and allow patrons to grab quality beer to go.
*Although draft is almost always best, there are a couple of cases when bottles or cans are better. Some high alcohol beers are better after aging in bottles. And if tap lines are dirty, the same brew will likely taste better from a bottle or can.
In Seattle, getting your growler filled is easy if you know where to look. Here are six excellent beer choices from local craft breweries.
ABV: 4.8%
Holy Mountain has quickly made a name for itself in the Seattle brewery scene for its top-notch saisons, sours, and barrel-aged beers, and for its departure from the region's IPA-dominated tap lists. The White Lodge is a refreshing Belgium-style witbier brewed with coriander and orange peel, resulting in a light and flavorful beer with bold aromatics. This beer is easily drinkable, slightly tart, with a hint of spice, making it a uniquely delicious growler choice. Growler fills available at Holy Mountain Brewing Company, 1421 Elliott Ave. W, Seattle.
https://www.instagram.com/p/BJGXm5TAJDO/?taken-by=holymtnbrewing
---
ABV: 5.2% | IBU: 20
The brewers at Rooftop created the Gateway Pale as an introductory (or "gateway") beer for people who don't like hoppy beers. The pale ale ignites the senses with an upfront burst of delicate, floral, hop aroma, leading to a light hoppy flavor—and it ranks low on the bitterness scale. Notes of citrus and tropical fruit flavor lend a juiciness to this sessionable beer. Newbies will be surprised by how gentle and inviting hops can be. Growler fills available at Rooftop Brewing Company, 1220 W Nickerson St., Seattle.
https://www.instagram.com/p/BG2q7bmlLrR/?taken-by=rooftopbrewco
---
ABV: 6.5% | IBU: 17
With an eclectic tap list that often includes beers like Blood Orange Honey Wheat, Raspberry Blonde, and Habanero Amber, Bad Jimmy's consistently embraces the unexpected. The Cocoa Vanilla Porter, on its own, warrants a trip to this Ballard brewery. The smooth sipper delivers aromas and flavors of soft roasted malt, warm vanilla and plenty of chocolaty decadence. A growler of this brew on a crisp Seattle night will warm you to the core. Growler fills available at Bad Jimmy's Brewing Company, 4358 B Leary Way NW, Seattle.
https://www.instagram.com/p/BJE07OwDDgD/?taken-by=badjimmysbrewingco
---
ABV: 6.3% | IBU: 25
Originally brewed by one of Flying Bike's member-owners, the Bike Rye'd Saison is among the brewery's most popular beers. This traditional French-style, farmhouse ale is bright and refreshing. The brewers use plenty of rye to infuse the medium-bodied beer with a slightly peppery aroma, rounded out with flavors of lemon and rye-ginger spice to finish. Pair the saison with a few savory picnic snacks and enjoy it outdoors in your favorite neighborhood green space. Growler fills available at Flying Bike Cooperative Brewery, 8570 Greenwood Ave. N, Seattle.
https://www.instagram.com/p/BGcrulpiIGl/?taken-by=flyingbikecoopbrewery
---
ABV: 5.9% | IBU: 50
This complex IPA showcases the citrus power of Citra hops, and is, hands down, one of my personal favorites. This beer has a tangy sweetness, gentle undercurrents of toasted caramel and musky tropical fruits, and a full hop kick. Stoup's Citra IPA is light and bright in both color and body and strikes a great balance of earthy hops and luscious grapefruit. Grab a growler of this brew for love at first sip. Growler fills available at Stoup Brewing, 1108 NW 52nd St., Seattle.
https://www.instagram.com/p/BIX5vxwjFiT/?taken-by=stoupbrewing
---
ABV: 5.0% IBU: 17
Reuben's taproom offers an impressive selection of over 20 beers on draft, including a bunch of rotating brews and several mainstay award-winners. On frequent repeat is the Cream Ale—a pale, light-bodied beer with hints of creamy vanilla, smooth malt, and a sweet, clean finish. More unique than a classic lager, this cream ale is so smooth and easy to drink that you may need an extra growler fill by the end of the evening. Growler fills available at Reuben's Brews, 5010 14th Ave. NW, Seattle.
https://www.instagram.com/p/BBivzaZxpgn/?taken-by=reubensbrews
---