No Comments
Odell Brewing | Elephunk Imperial Wild IPA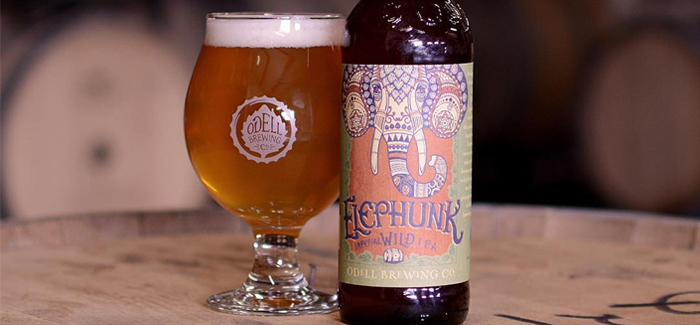 ABV: 9.9% | IBU: 33
Funky doesn't begin to describe Odell Brewing Elephunk Imperial Wild IPA. This delicious boozy palette puncher is indeed a wild ride. It's weird. It's complex. It's funky with a "p-h." Yep, it's PHunky.

Elephunk follows in the footsteps of other fantastic Colorado wild IPAs, like Crooked Stave's Hop Savant series, Trinity's Red Swingline, and, of course, New Belgium's Le Terroir. But Elephunk really ups the ante by bringing the ABV up to nearly 10% and the funk up just as high.
Elephunk pours a bright amber with a shallow but thick white head. The smell hits you from a distance; expected sour smells like vinegar and sweet tarts. Dive your nose in and those sour smells give way to peach, apricot and strawberry. The taste gets a bit more tropical with a big hit of pineapple. Don't forget though, this beer is barrel-aged. Hence, you get the barrel too. Oak, vanilla and brown sugar round out a really complex and layered beer.
Don't let these descriptions of sugar and pineapple fool you though; this beer is sour. Not too sour, but sour enough to make you sit up and take notice. It's that tart flavor that sticks around just long enough for you to take a pause before thinking, "Man, that sure is PHunky."
Odell Elephunk is a seasonal release. It's available in limited quantities in 12 oz bottles and draft.
https://www.instagram.com/p/BNzlUMjh2zw/?taken-by=odellbrewing&hl=en
---