No Comments
National IPA Day | Midwest Region Roundup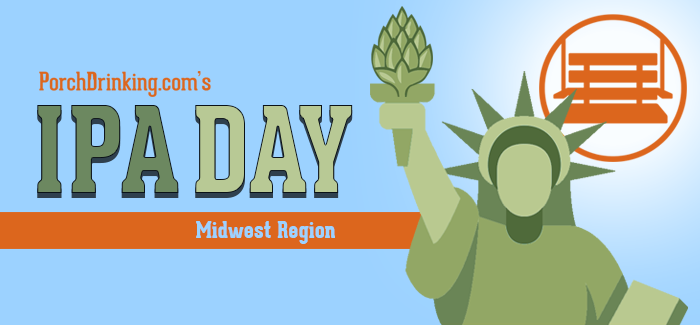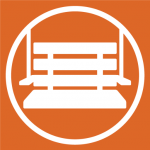 West Coast, East Coast, New England… Midwest? Yes, here in the land of tornadoes, Great Lakes, major rivers, sweeping winter cold fronts, barbeque, corn, wheat and sausage, we like our IPAs, too. Heck, hops are even grown here in abundance. In the Midwest, as in every other region, IPAs remain the most prominent form of craft beer served, and there are many worthy of having them over and over again.
The difficult part is picking only a few that represent the Midwestern IPA scene. We can't name them all, but we at Porchdrinking.com can provide a small taste — pun intended — of what the Midwest offers.
Check out the rest of our #IPAday regions:
ABV: 6.6% | IBU: 100
Big hops balanced by a big malt grain — that's Surly Brewing Furious in a nutshell.  With every big dose of American hops and its citrus and pine notes, there arrives an equally robust Scottish-malt sweetness offering toffee and caramel notes. The name says it all; there's nothing subtle about a beer called Furious. It's a world class IPA that's perfect for all the true hop heads out there and a great beer to celebrate National IPA Day.
https://www.instagram.com/p/BVkkuExF_fk/?taken-by=surlybrewing&hl=en
---
ABV: 7% | IBU: 55
To have a list featuring any Michigan IPAs and not include Bell's Two Hearted would be entirely blasphemous. Named Best Beer in America by American Homebrew Association's Zymurgy Magazine in 2017 and Best Beer in The World by Ratebeer.com in 2014, this American IPA is one of the most sought after, and talked about, in the U.S. Craft beer industry. If you don't know about Two Hearted, you might be new to craft beer, and you're definitely missing out.
Named for the Two Hearted River in Michigan's Upper Peninsula, Two Hearted is known for its tangy grapefruit notes and the mild hop flavor. Soft, fresh and solid, it is what they say it is – the best around.
https://www.instagram.com/p/BXHKavHDQT2/?tagged=twoheartedale&hl=en
---
ABV: 4.7% | IBU 42
Celebrating 20 years in business in 2017, Founders is a Michigan institution, and the amount of quality beers they have released over the years has continued to impress. When it comes to their IPAs, we could list all of them if we had the time and space, however, since we don't, we're featuring one of their best – All Day IPA.
Whether relaxing at the beach, hiking the trails, or drinking all night long, All Day IPA is the most sessionable of session IPAs available. Hop forward but solidly balanced, it will please hop heads and malt lovers alike.
https://www.instagram.com/p/BVn8I5-D0iw/?taken-by=foundersbrewing&hl=en
---
ABV 7% ABV |IBU 68
Often forgotten by outsiders, but beloved by yoopers and trolls alike, Michigan's Upper Peninsula is also often overlooked for beer. Enter 51K IPA from Marquette, Michigan's Blackrocks Brewery. Golden colored, light and hoppy, this smooth IPA sticks to your tongue and finishes nice and dry, making it the perfect companion for a day on the trails.
Named for Marquette's Noquemanon Ski Marathon, which took place the weekend the beer was first brewed in 2011, a portion of sales from 51K go to building and maintaining the recreational trails of the Upper Peninsula, adding a philanthropic reason to drink this tasty brew.
https://www.instagram.com/p/BISOhuRBzVz/?taken-by=blackrocksbrewery&hl=en
---
ABV: 6.8% ABV | IBU: 65
New England IPAs are currently all the rage, and that can, and has, led to a few not-so-great beers within the style. What other breweries do wrong, Old Nation Brewing Company in Williamston, Michigan has done absolutely right with M-43 New England IPA. An excellent amalgamation of ingredients including gooey malt and lemony citrus could possibly make this one of the best of the style.
https://www.instagram.com/p/BXJmYLBhfpF/?taken-by=oldnationbrewing&hl=en
---
ABV 9.65% | IBU 81
Illumination provides abundant hoppiness, both in aroma and flavor. One will notice plenty of citrus on the nose consisting of orange, grapefruit, lemon, and mango — to name a few; it's a tropical island's worth of great scents. The flavor follows the aroma's lead, although a little piney nature comes along for the ride, too. A big hop presence requires a strong malt backbone, and Illumination doesn't fail to provide.
https://www.instagram.com/p/BB2r9LAvVfd/?taken-by=cwbrewing
---
ABV: 9.5% ABV | IBU: 100
One of the best places to drink beer in Indiana is 3 Floyds Brewing Company. The atmosphere is oddly familial while also being rock and roll, with cartoons on the television, and wild art on the walls. The beer is also stellar, and Dreadnaught Imperial IPA is no exception.
Despite what the name implies, Dreadnaught is not nearly as heavy as other Imperial IPAs. A smooth, delicious, malty body gives way to a crisp, clean finish, dangerous when considering the style. Try and limit yourself to one, or you might end up swabbing the deck.
https://www.instagram.com/p/29kbKwk6sZ/?tagged=dreadnaughtipa&hl=en
---
ABV 7.7% | IBU 70
Three World Cup medals and an homage to a 1812 war here — it's a decorated IPA! The British-style IPA features Simcoe hops, as well as Cascade and Willamette, which allows Commodore Perry to provide drinkers with plenty of bitter punch. Commodore Perry is an old fashioned, good, quality, craft IPA. Perfect for National IPA day!
---
ABV: 7.5% ABV | IBU: 87
Head Hunter IPA, made by Ohio's Fat Head's Brewery has a reputation for winning. As the winner of the World Beer Cup Silver in 2012, GABF Silver in 2010, GABF Bronze in 2011, and National IPA Championship Winner in 2010 and 2012, this IPA is considered one of the best in the country, not only by experts, but the average craft beer drinker.
Hoppy, piney and complex, Head Hunter is a West Coast Style IPA with fruity notes of grapefruit, pineapple, and citrus, as well as a kick in the teeth of Columbus, Simcoe and Centennial hops. If you are a hophead with a penchant for tastebud crushing IPAs, this one's for you.
https://www.instagram.com/p/raMORWrcM_/?taken-by=fatheadsbeer&hl=en
---
ABV: 6.8 ABV | IBU: 70
Hop forward, refreshing and fruity, Brew Kettle's White Rajah American IPA is one of the top IPAs in Ohio, and probably the United States. With a bitter finish, this assertive brew will keep you happy after a long day of yard work, or just a long day. Malt-loving beer drinkers beware.
https://www.instagram.com/p/8PDtvuS3FT/?tagged=whiterajahipa&hl=en
---
ABV: 7.2% | IBU 75
Cincinnati's Rheingeist Brewery has a reputation for making good beer, and Truth is no exception. A solid IPA made with Amarillo, Citra, Simcoe and Centennial hops, this Truth will certainly set your tastebuds free. Whether sitting around the basement, warming up at the camp fire, or checking out a baseball game, Truth is one of those beers for any time, and every time, you crave an IPA.
https://www.instagram.com/p/BK12sC4Dw4h/?tagged=rhinegeisttruth&hl=en
---
ABV 10.1%  IBU 95.5
Though South of Eleven enjoys copious amounts of hops and comes in at 10.1% ABV, the juicy, sweet marmalade nature balance the flavor nicely. It's a bit West Coast, a bit New England. The beer is fairly easy to describe, but the brewery is a not. It might be best to watch this video on Hoof Hearted.
https://www.instagram.com/p/BS4f4inhfIh/?tagged=southofeleven&hl=en
---
ABV 8% | IBU 45
Corridor and Dryhop in Chicago co-exist as sister brewpubs, though both have their own identity. Still, one can expect great food, a plethora of collaborative projects with other breweries and juicy IPAs. The creamy beer known as SqueezIt possesses loads of Mosaic and Citra hops, but the beer is all about the flavor; the bitterness is subtle while the orange-citrus notes take center stage.
https://www.instagram.com/p/BW8Fa0cjJW2/?taken-by=corridorchicago
---
ABV 7.3% | IBU N/A 
The award-winning It Takes Two West Coast style IPA offers a pronounced hoppiness, but the perceived bitterness is kept at bay. Flavor notes consist of tropical fruits such as passion fruit and melon, along with some hints of bubblegum.
https://www.instagram.com/p/BWYf-p1BzOA/?taken-by=ontourbrewing&hl=en
---
ABV: 7% | IBU: 70
Usually arriving every summer, Beer Hates Astronauts is, "A collaborative brew with graphic novel genius Ryan Browne – stripped down to nothing but Citra hops and Vienna malt, this brew is likely to move you crooked," notes Half Acre. Though the beer may hate those roaming space, those roaming Chicago certainly don't hate Half Acre. Its 2008 space, spanning 13,000 square feet proved vastly insufficient. So, in 2015, Half Acre opened its second location that measures 60,000-square feet.
https://www.instagram.com/p/BVGT6kUh1cG/?tagged=beerhatesastronauts&hl=en
---
ABV 9.8% | IBU 65
Empirical Brewery has a thing for history and science; a perfect brewery for both beer geek and erudite. The Double Helix Imperial IPA demonstrates the advancements in brewing with its ability to be both a high ABV beer and one that's exceptionally easy to drink. Flavor notes include a big dose of citrus, tropical fruits, and  pine all playing nicely with the roasted grain flavor.
https://www.instagram.com/p/BUc0jMNj2_X/?taken-by=empiricalbrew
---
ABV 6.2% 
Honestly, Pipeworks says it best. "Glaucus is the mythological existence of a being, both man and fish, a deity amongst mere mortals. The only beer fitting of such a name marries bold, spicy Belgian yeast with bright, citric American hops in a way even the gods adore. This golden brew can calm even the harshest seas."
Well said. We can only add that it's delicious. Don't worry, it's okay to go Belgian on National IPA Day.
https://www.instagram.com/p/BLRJFovD-vc/?taken-by=pipeworksbrewing&hl=en
---
ABV 7.5% |  IBU 60
The added dimension of rye enhances the grain that plays against the hops, but not every brewery can pull it off with the success of Crystal Lake Brewing. The aroma alone could satisfy, but Slalom King's big, bold hops are the perfect compliment to National IPA day. Although this beer is perfect for a passionate hop-head, the sweet malt and addition of rye are not hidden at all. With every taste, one gets floral and citrus hop bitterness, spicy rye, and sweet malt.
https://www.instagram.com/p/BFpu17DrOC2/?taken-by=powers_mathew&hl=en
---
ABV 6%
What makes an IPA better? Brett, of course. It looks hazy, but this is no NE-IPA. Crank it Funk spends about four weeks in the brewhouse before finally making its way to the glasses of happy beer geeks; it's long enough to get sour, but fast enough to make sure the hops continue to shine. The IPA portion involves Citra and Mosaic (dry hopped) while the Funk comes from a Brett blend. It's just sour enough, notably on the nose into the first sip, to give it a bit of depth. However, the hops kick in quickly and it finishes dry and a touch bitter — the personification of a craft beer.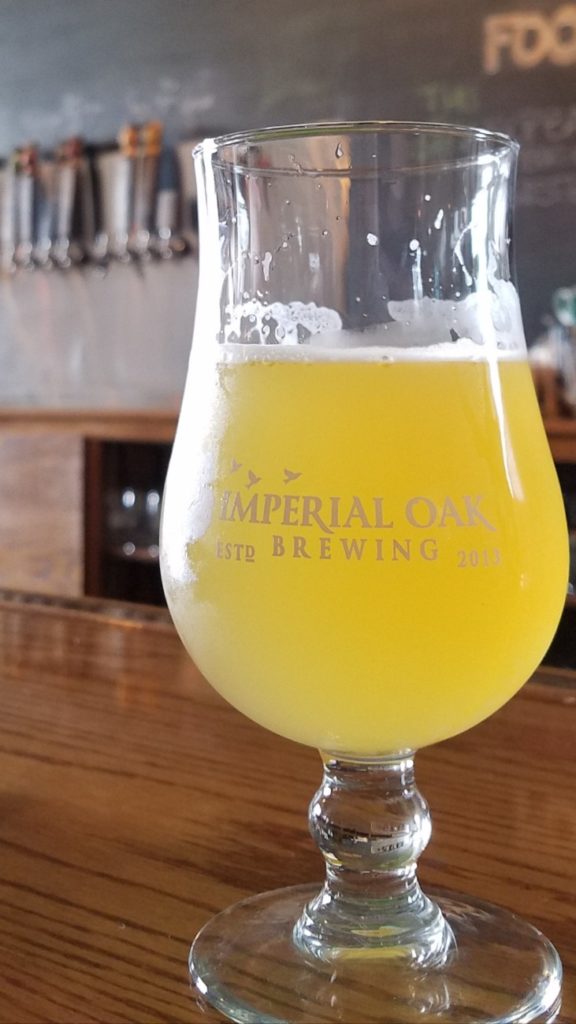 ---
ABV 6.5% |  IBU 35
Brickstone Galaxy Down Under is part of Brickstone Brewery's Single Hop Series. Its Down Under name alludes to its existence as an Australian-style ale showcasing Galaxy hops, which offers drinkers floral notes, as well as passion fruit and citrus flavors. It won't knock you over with hop bitterness, resembling more of an American Pale Ale, but there's flavor abound.
https://www.instagram.com/p/BWnmRleHMNM/?taken-by=brickstonebrewery&hl=en
---
ABV 6.9% | IBU 75
"The brewery is itself a confluence of [the co-founders'] love for Iowa and craft beer. The result is a microbrewery that shares Iowa's attributes of honesty, humility, hard work and a sense of humor. Confluence also has Iowa's knack for being a delightful surprise to those who actually experience it," notes Confluence Brewing. What better way to experience Iowa than with a crafted beer that bears the name of the state's biggest city and capital? The Des Moine IPA channels the Yakima Valley spirit with its citrus and piney hop characteristics, but in true Midwestern-fashion, the malt enjoys a strong presence.
https://www.instagram.com/p/BRRPu85DsIV/?taken-by=confluencebrew
---
ABV 6.5% | IBU 65
Located in Springfield, Missouri, SBC has been brewing beer and serving it in bottles adorned in slick label artwork for twenty years. Its Greene Ghost is a West-Coast style IPA that's perfect for hopheads — hops up front, in the middle and it lingers throughout the aftertaste. But, like any quality IPA, with every hoppy sip comes a big malt flavor, too. Pairs well with camping, canoeing and hanging out with friends by a fire.
---
ABV: 7.0% | IBU: 75
Omaha's Lucky Bucket has been brewing beer since 2008. Its Stupefy IPA pours burnt orange and embodies the West Coast style, offering citrusy-pine aroma and flavor abound in grapefruit, pine and orange citrus notes. The mouthfeel is smooth and creamy. Great aroma. Great flavor. Creamy texture. That's a good IPA!
https://www.instagram.com/p/BWsonwihsfM/?taken-by=luckybucketbrew&hl=en
---
ABV:7.8%
Central Standard Brewing in Wichita, Kansas offers patrons one of the cooler venues around, with plenty of open-air seating and stellar beer. When available, Mango Reinhardt is brewed with an immense amount of oats and offers notes of mango, pine, and tropical fruits. Hops are noticeable upfront, but then it gets super juicy.
https://www.instagram.com/p/BVqA9wFBZHt/?taken-by=drinkcsb
---
ABV: 6.7% | IBU 70
If you love the movie, and you love IPA, this is the one for you. The website's description says it all: "This classic American IPA showcases an aromatic, bold hop flavor. Horizon hops and oats provide a sleek, velvety body and balanced bitterness while two pounds per barrel of dry hopping offer initial waves of citrus and pine. We'd give our left foot for another pint!"
https://www.instagram.com/p/jm4Lc2vmod/?tagged=woodchipperipa&hl=en
Check out the rest of our #IPAday regions:
---