No Comments
National IPA DAY | Northeast Region Roundup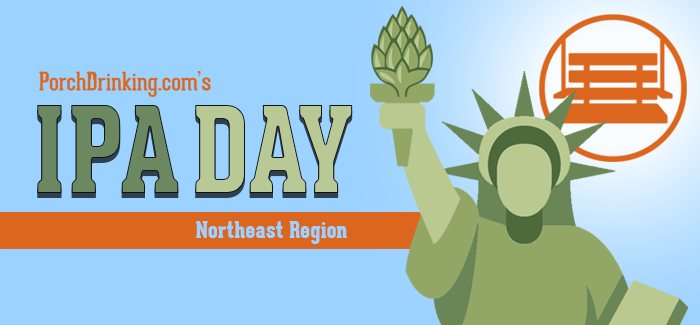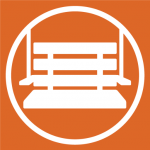 As a civilization of internet-savvy beery drinkers, we have no shortage of seemingly random, unofficial holidays to celebrate, but there is none more vital to our palates than National IPA Day.
Falling on the first Thursday of August, National IPA Day gives us all a chance to hoist a glass in remembrance of our favorite Single, Double, Imperial, Triple, Session and New England-style hop bombs. This day also affords us the opportunity to seek out new hop-forward variations to enjoy.

In honor of IPA Day, PorchDrinking.com's Northeast Region editors have compiled a list of tasty IPAs from the northeastern United States. Take copious notes because you won't want to miss a single beer on this list. Have suggestions? Tweet at us at @PorchDrinkingCO.
Check out the rest of our #IPAday regions:
7.25% ABV
Heavy Seas is a mainstay in the Maryland brewing world and they bring forth enough innovation and experimental brews to keep their audience's interest.
Loose Cannon is their flagship beer, available both in cans and bottles, and nets a 7.25% ABV. It's an American IPA with Simcoe, Palisade and Centennial hops. It's actually hopped 3 ways: in the kettle, in the hop back and then dry hopped.
It pours with a golden hue, is solidly crisp on the palate and carries just enough fruity-sweetness for balance.
https://www.instagram.com/p/BWIgxsEFbbN/?taken-by=heavyseasbeer
7.3% ABV | 62 IBU
Ponzi is "criminally hoppy" American IPA, Atlas says, and carries a 7.3% ABV. It's made with five hops varietals: Cascade, Chinook, Centennial, Mandarina and Ahtanum. Atlas Brew Works is located in the District of Columbia, in the growing, industrial Ivy City neighborhood. Ponzi is one of their flagship beers, along with District Common and Rowdy.
The beer pours quite a yellow-to-orange hue. It carries some citrus on the palate, enough to add some diversity, in addition to pine and light caramel notes. Beyond its hop profile, this isn't necessarily a bold IPA, rather a solid choice to have on the menu and enjoy in some beautiful cans.
https://www.instagram.com/p/BTjFRB-gFTO/?taken-by=atlasbrewworks&hl=en
7.5% ABV
You may feel less-than-hardcore ordering a beer called "Orange Whip." After all, IPA drinkers are supposed to avoid the sweet, like the bite and head toward the feisty flavors.
If you pass on the Orange Whip, you'll be missing out on a fantastic brew.
This IPA is from Mad Fox Brewing Company in northern Virginia. Bill Madden, the company's head brewer, is one of the founding fathers of the modern DC-area craft brewing scene. His team knows how to scale up a successful brewing and food operation in the region, appealing to audiences of all palates. Orange Whip is a fine example, with a 7.5% ABV, it's very citrus heavy, but balanced enough to find its way into any classic IPA lover's heart. This beer can be found throughout the DC region and been enjoyed on hot summer days at Nationals Park. Embrace the orange essence and sip this yummy IPA on a summer day.
https://www.instagram.com/p/BWylH43BwA5/
6.0% ABV | 60 IBU
60 Minute IPA was born in Delaware in 2003. It may not be the oldest IPA in the Northeast, but it is definitely one of the most recognizable. This was the second beer to be developed using Dogfish Head's continual hopping process. A "boatload of intense Northwest hops" are added 60 times over the course of a 60-minute boil. Since hops release different amounts of bitterness, flavors and aromas depending on how long and hard they are boiled, this hopping process creates a unique layering of citrusy, grassy and piney flavors without being overly bitter.
Dogfish Head suggests pairing its 60 Minute IPA with spicy foods, pesto, grilled salmon or pizza. This brew is widely available in 12-ounce bottles and cans, so it should be no trouble finding it on shelves near you.
https://www.instagram.com/p/BVr85NBBgFW/?taken-by=dogfishhead
9.0% ABV | 69 IBU
Tröegs Independent Brewing has long been staple of the Pennsylvania craft beer community, and their elusive, once-a-year Double IPA was such an hit when it debuted in 2016 that production was doubled for the 2017 release. Nimble Giant is nearing the end of its availability, but you can still find clues to its whereabouts by searching the hashtag #findthegiant on Twitter and Instagram.
Nimble Giant pours a deep orange color and features Azacca, Mosaic and Simcoe hops, which supply hefty amounts of citrus and tropical fruit flavors with some resiny pine notes. This DIPA can complement bright summery foods, such as pineapple, citrus and shellfish, and can also be served alongside BBQ chicken or roasted root vegetables.
https://www.instagram.com/p/BWQBetBhR2k/?taken-by=troegsbeer
7.0% ABV
Brewed by the self-proclaimed "oldest brewery in Emmaus, PA," Citrus is a West Coast-style IPA that is brewed with grapefruit juice to create an explosion of refreshing citrus flavor. A crisp, clean malt profile allows the juice and hops to take the lead in this refreshing, aromatic beer. Once the citrusy and piney hop notes commingle with the juice on your palate, you'll immediately want to take another sip.
Funk Brewing Company opened in Emmaus, PA in 2014 and has since opened a second taproom in Elizabethtown, PA. Citrus is brewed nearly year-round and is one of their most popular beers. It can be found canned in local shops, but it is best to go right to the source.
https://www.instagram.com/p/BWLiMiRD3pD/?taken-by=funkbrewing
6.0% ABV
René Descartes believed that the pineal gland is the "principal seat of the soul." Pineal from Tired Hands is definitely good for the soul. Tired Hands states that this beer is "transcendentally hopped," which is also fitting because the pineal gland is also known as the third eye.
Brewed with oats and honey, this beer has a turbid, yellowish-orange appearance. ]Hopped with Mosaic, Amarillo and Simcoe, this beer features grassy, melon and citrus flavors. Since there are also oats in the mix, Pineal feels a bit thick and weighty in your mouth, but is surprisingly drinkable; Pineal is a perennial favorite at Tired Hands for a reason.
https://www.instagram.com/p/BW23-ByAiFT/?taken-by=tiredhandsbrewing
6.8% ABV
In the suburbs of Pittsburgh, a brewery of monocle-wearing, mustache-twirling gentlemen concocted a beautiful IPA. While the stories of their fashion choices may be exaggerated, the deliciousness of this IPA is not. General Braddock's IPA pours an opaque orange color. The flavor is dominated by citrus and tropical fruit but is finished off with a piney hop bite. This beer is also available year-round, which means you can go get some without standing in a ridiculous can release line.
This is one of the easiest drinking IPAs you will ever have, so you should plan your day accordingly. It won't be easy to walk out of this brewery.
https://www.instagram.com/p/BTXRBURhwL_/?taken-by=brewgentlemen
8.6% ABV | 130 IBU
With Softly Spoken Magic Spells, Queens brewery SingleCut Beersmiths has conjured a fine Imperial IPA. At 8.6% ABV and 130 IBU, this beer is mythical in stature. Even though these numbers imply a boozy, bitter beer, a masterfully cast incantation cloaks both of these qualities from the palates of mere mortals.
Softly Spoken Magic Spells pours a nearly opaque orange. The nose conveys powerful citrus and sweet malt aromas. A sip reveals bright and juicy citrus hop flavors, which are balanced out by a slightly sweet malt backbone and a slight piney bitterness. This IIPA is surprisingly drinkable, so be sure to pace yourself.
https://www.instagram.com/p/BUShkfKlq00/?taken-by=singlecutbeer
6.5% ABV
Tree House's Julius is a ridiculously popular offering in up-and-coming New England IPA style. Crafted in Massachusetts, Julius has the bright orange color and hazy appearance that is typical of NEIPAs. Brewed with 1.6oz per gallon of American hops, this beer is jam-packed with grapefruit, orange, mango and other fruit flavors. As maligned as the word "mouthfeel" can be, it is hard to describe this beer without mentioning its soft, almost creamy texture.
It is a common opinion that the NEIPA style is mostly hype, but that is not true of Julius. This beer is a wonderful bit of brewing. This is a juice bomb of epic proportions, and, apart from actual fruit juice, you would be hard pressed to find a juicier, fruitier beverage.
https://www.instagram.com/p/469_3SgjdB/?taken-by=treehousebrewco
7.2% ABV
Trillium Brewing took their already delicious Congress Street IPA and kicked it up several notches by putting it through two additional rounds of dry-hopping. Galaxy and Columbus hops imbue this yellow-orange ale with off-the-charts pine, citrus and tropical fruit aromas. Those same fruits, along with grassy hop flavors, are present in every sip you take. A swallow reveals a bit of lingering hop oiliness and a subtle bitterness.
Although this beer has been canned in the past, your best bet to taste it is by visiting Trillium's Canton Massachusetts taproom. This beer is both refreshing and drinkable, and it is worth the effort to seek it out.
https://www.instagram.com/p/BWXk6qchhdZ/?taken-by=trilliumbrewing
8.0% ABV
Over the past decade, a few IPAs from Vermont have reached near cult status among craft beer drinkers, and Sip of Sunshine IPA from Lawson's Finest Liquids is a very deserving member of that group.
Sip of Sunshine pours a delightful golden orange hue. If you get a good whiff, you will pick up citrus, tropical fruit and floral hop notes. The scent of malty bread is hiding in there, too. The taste of this beer follows the nose, revealing floral notes as well as juicy mango, pineapple and orange flavors. Lawson's Finest Liquids says that this beer is like a "tropical vacation in a glass," and we are inclined to agree.
https://www.instagram.com/p/BWEIVAQlWxS/?taken-by=lawsonsfinest
7.0% ABV
Focal Banger may not get quite as much attention as its sister, Heady Topper, but it is a world-class IPA in its own right. Brewed in Stowe, Vermont, this American IPA is carefully brewed with Citra and Mosaic hops.
Because The Alchemist suggests drinking directly from the can, getting a visual is tough. If you want to be naughty and pour it into a glass, you will discover a hazy, yellow brew. Your nose will quickly detect a lot of dank hops, citrus and orange zest. Up front, this brew has lots of piney notes, which give way to tropical fruit and citrus. Some lingering bitterness on the finish begs you to take another sip.
https://www.instagram.com/p/37sIyOBmuV/?taken-by=alchemistbeer
7.2% ABV
On the New Hampshire side of the Piscataqua River, which forms the southern border with Maine, you'll find the home of Stoneface Brewing, Newington. Here, Stoneface Brewing Company brews one of the tastiest India Pale Ales in the state. They simply call it "IPA."
Stoneface's IPA is packed full of juicy citrus flavors, which are balanced by a subtle, piney hop bitterness.The key to this IPA is in the nose. Stoneface dry-hops this ale with "irresponsible amounts of American aroma hops" to achieve this magical smell. If you find yourself driving through New England, you should definitely keep an eye out for this one.
https://www.instagram.com/p/BPsaTrQFjq_/?taken-by=stonefacebrewing
7.0% ABV
After a stressful brewery expansion in 2013, creative juices at the Maine Beer Company were running low, until the brew team decided to have "another one" for inspiration. The resulting IPA was brewed with Cascade, Citra and Simcoe hops, which provide Another One with a beautiful combination of grapefruit, tangerine and resinous hop flavors. Layer all that upon a clean malt backbone, you end up with a beer that pairs perfectly with Maine's singularly beautiful and rocky coastline.
Although Another One is distributed to many parts of the northeastern US, it is one of those beers that is best enjoyed fresh from the brewery in Freeport, ME. There's a reason that Maine is known as "Vacationland." It is worth the trip for this beer alone.
https://www.instagram.com/p/BUP2RWHBPaA/?taken-by=mainebeerco
6.6% ABV
Bissell Brothers Brewing doesn't label The Substance as an IPA. In their words, this beer "threads many needles." Despite the branding, this hazy yellow ale ticks many boxes in the IPA column and is well sought after by hop-heads.
Flaked wheat and flaked oats contribute to The Substance's haziness and creamy mouthfeel. Hefty doses of Falconer's Flight, Apollo, Centennial, Summit and Chinook hops create a complex and juicy hop profile, which includes citrus, tropical fruit and pine flavors. The finish features persistent hop oiliness and bitterness, begging for another sip.
https://www.instagram.com/p/BWz_aRNgXHF/?taken-by=bissellbrothers
Check out the rest of our #IPAday regions:
---