No Comments
Founders Brewing's Stevens & Engbers Cap Off Massive 20 Year Anniversary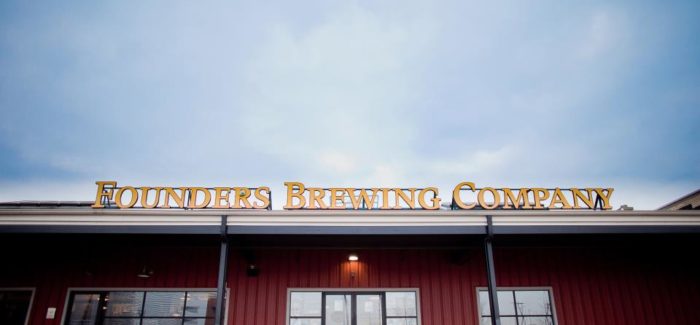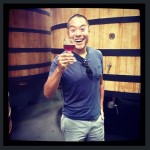 Calagione, Avery, Jordan, Oliver, Koch, Grossman, Cantwell, Bell, Maytag, Firestone, Bouckaert, Cilruzo. Over the past 20 years craft beer has experienced its greatest boon, and with that explosive growth, there have emerged figures so iconic and influential, that they have risen to become household names. However despite their steadfast ascent to becoming the 16th largest brewery in the country, Stevens and Engbers don't command the same celebrity as their fellow industry luminaries.
Despite flying under the radar for most of their storied careers, Mike Stevens and Dave Engbers, the brains behind Founders Brewing, have quietly built one of the largest, most successful breweries in the Midwest.
"Midwesterners tend to be a bit more humble," laughs Engbers. But after a moment Engbers answers more intently, "If a brand is more about the figurehead, what happens if that figurehead goes away or gets into an accident? There's a reality that we employ hundreds of people, and they have families. It's not about our egos, people are buying the liquid, they're not buying Mike and Dave."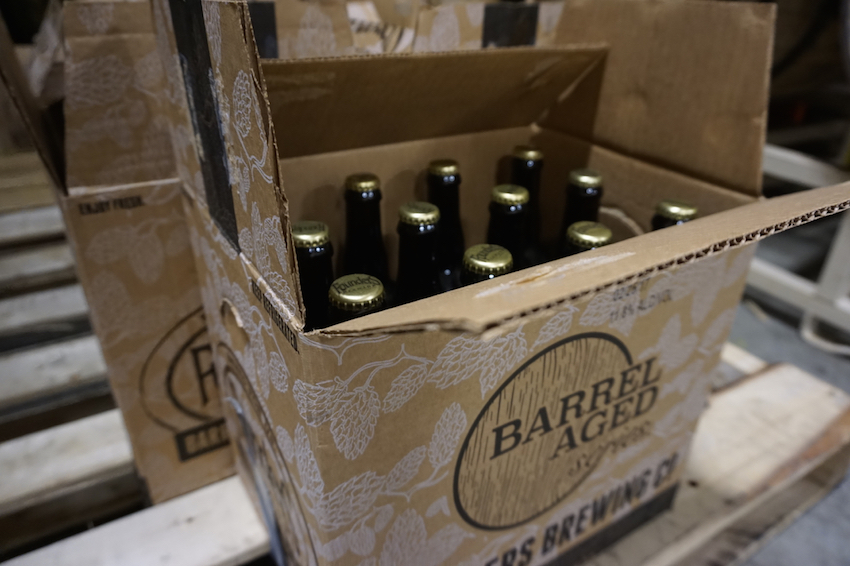 It's been a big year for Stevens and Engbers. They just recently celebrated Founders' 20th anniversary through a reimagined barrel-aged series, that culminated with last Friday's re-release of its most hyped beer ever created in Canadian Breakfast Stout (CBS). Additionally Founders rounded out their two decade milestone by opening a Detroit brewery and taproom on Monday. But it wasn't always instant success for Stevens and Engbers, who at multiple points flirted with bankruptcy.
No Honeymoon Phase
The two Grand Rapids natives first met while attending Hope College. Stevens, who fell a couple credits short of graduating, was a serial entrepreneur, who like Engbers, fell in love with the hobby of homebrewing. Engbers taught elementary education for the Grand Rapids Public School system and quickly realized a need to follow his passion. "I worked with a lot of teachers, some great, but many that were tired of teaching," said Engbers. "They weren't enthusiastic, they constantly talked about spring break or the weekend. And I realized I didn't want to spend the rest of my life not loving what I do, just waiting to get away from my job."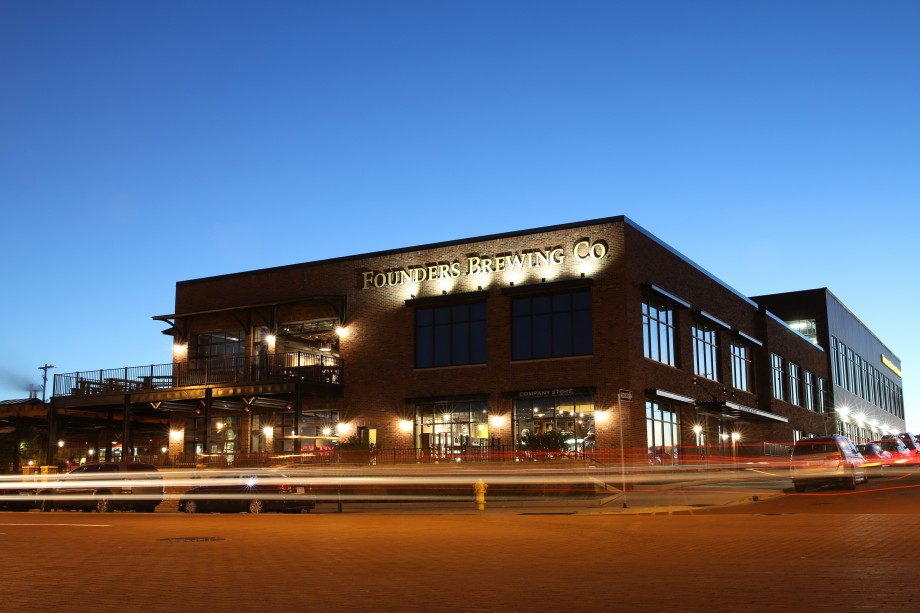 The two eventually decided to take a chance in following their dreams of becoming their own bosses and Stevens borrowed the last $400 from his at the time girlfriend, and now wife's college fund, in order to incorporate, what began as Grand Rapids Brewing Company.
They would go on to raise around $450,000 before securing an SBA loan and immediately got to work. "We had never worked in a brewery before, just home brewed," laughs Stevens. "So we ordered a bunch of equipment that we found in ads in the back of New Brewer Magazine, but we had no idea how to use it or how to assemble it."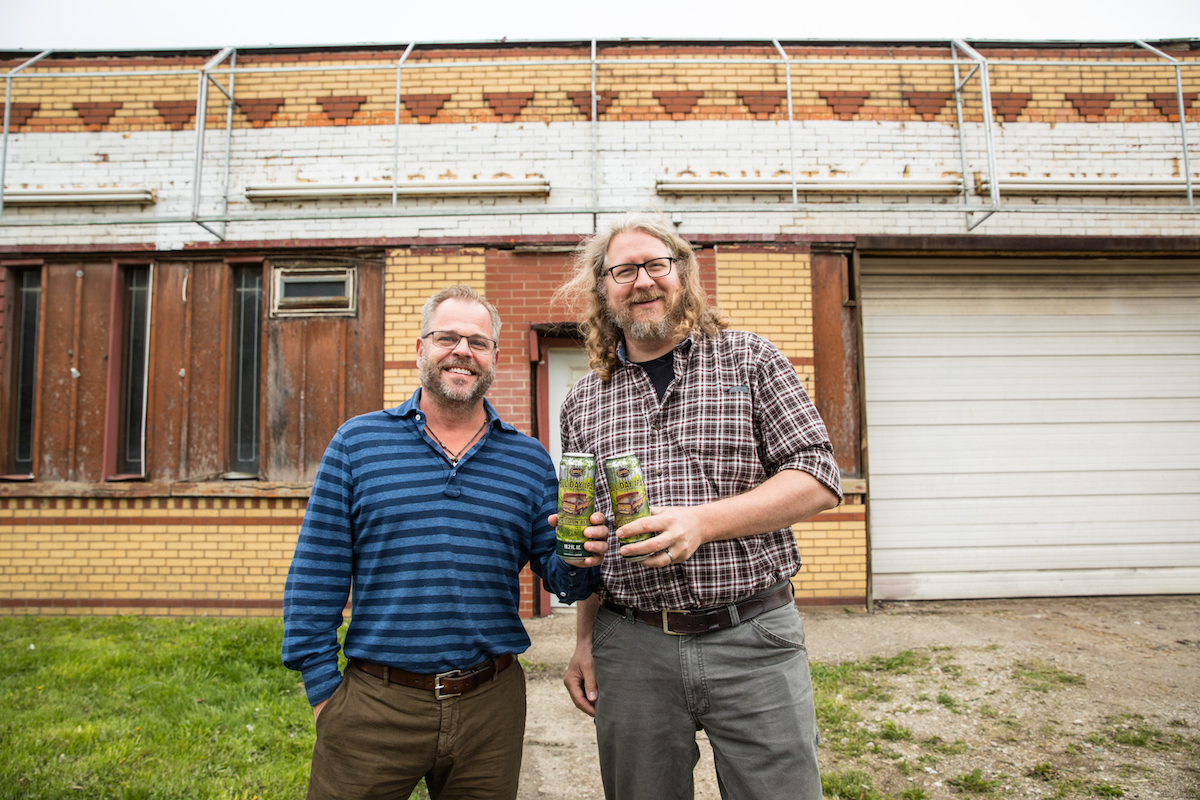 However those early years were anything but a honeymoon period. The two quickly realized that they would need to distinguish themselves to  make an impression in a market that wasn't yet fully developed.
"When we started the company in '97, Ambers and Pales were king, so we made just another Amber and another Pale," said Stevens. "It wasn't an overcrowded market, but the consumer just wasn't there. The bigger problem was that we were making the same Fat Tire and Sierra Pale that everyone else in the industry at the time was doing and so it was difficult to get ourselves noticed."
"People hadn't acquired the taste for hops yet. We had an IPA, but people said it was too bitter, we wanted to do something that was big and something that was malt forward," said Engbers.
During those early years, Founders met with bankruptcy attorneys on multiple occasions and even dodged paying the federal excise tax for three years before getting caught. It wasn't until 2008 that the company would finally break even. "The basic theme is that a little under 75% of my working career has been under water, so Founders is a great success story 15 years into it," laughs Stevens.
Throwing Out the Guidelines to Save the Company
Stevens and Engbers realized that they would need to make a bold statement in order to break through in a market dominated by classic style profiles. So they swung for the fence with the release of Dirty Bastard, a big malt forward Scotch Ale with an American yeast strain and notable hop presence, that disrupted BJCP guidelines, and in turn garnered attention from the growing group of fervent beer fanatics. "You get to a point where you say, let's brew beers we want to drink," noted Stevens.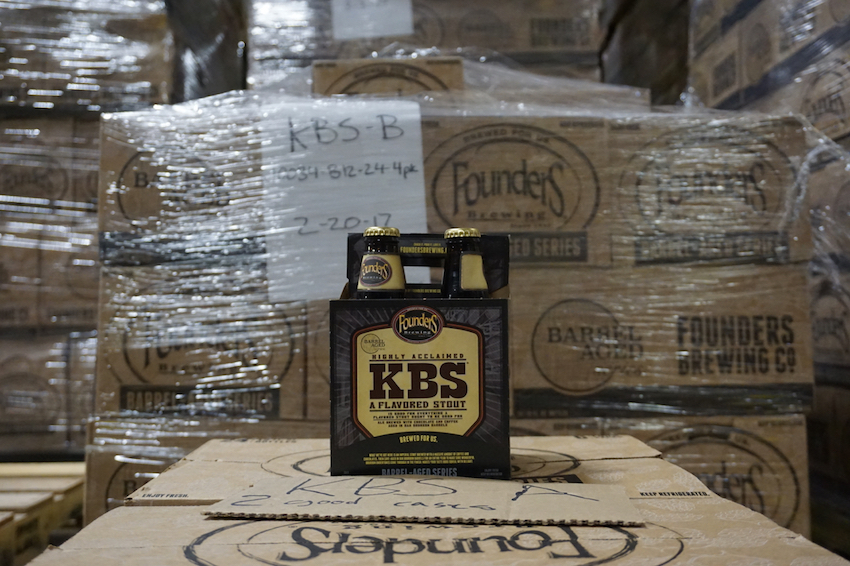 Founders would build upon the success of Devil Dancer with the introduction of Breakfast Stout and Curmudgeon, to further establish themselves as prolific producers of inventive, high gravity beers. Ironically years later, Founders would experience its second renaissance at the helm of their 4.7% All Day Session IPA.
While the Session beer category is now one of the fastest growing styles in America, at the time of All Day's introduction, big beers were still all the craze. But Founders' philosophy toward brewing what they love helped the company stay ahead of the trend. "We did it simply because we were trying to challenge ourselves," said Stevens. "We went after the whole big ABV thing and asked, can we do something that still has really kick ass Founder's style flavor, but ring in under 5%?" After three years of development on All Day, the answer was an emphatic yes. All Day IPA now accounts for 63% of Founders' total production.
Over the past 10  years, Founders has seen its most dramatic growth from the production of just 6,100 barrels of beer in 2007, to nearly 445,000 in 2017. This significant surge in production was made possible with the move to their current 200,000-square-foot Grand Rapids facility in 2008. Now Founders also employs the use another 190,000-square foot off-site production and barrel-aging facility known as "The Barrel House", as well as a nearby gypsum cave located 90 feet below ground, that houses some 7,000 barrels, accounting for approximately 16 Founders brands.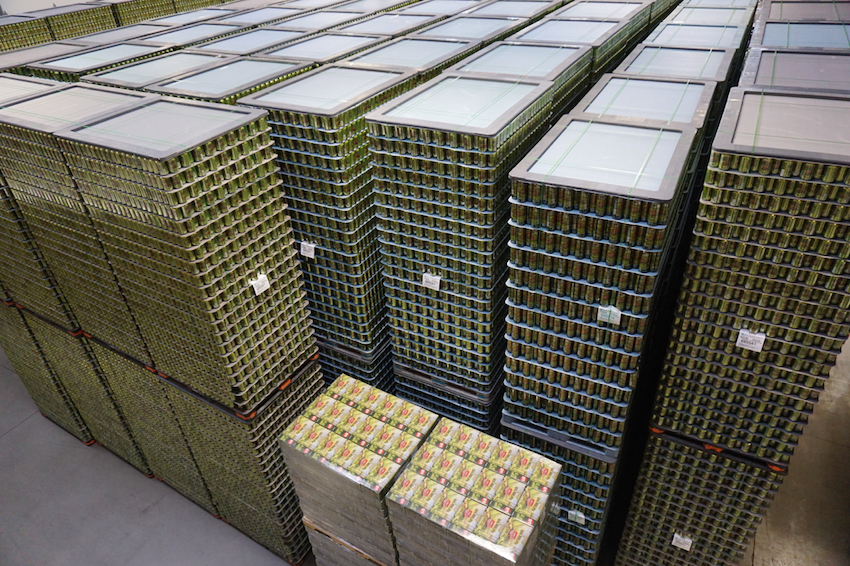 Founders would also welcome the support of family-owned and operated Mahou San-Miguel in 2014, by selling a 30% stake in the company to the 125 year old Spanish brewing family. The strategic alignment has helped position Founders for international growth and they have since expanded to 26 countries in addition to their US footprint across 46 states. "They can help us internationally. They have breweries globally and they have distribution globally, that's where we see future growth with them," said Stevens.
"This is a true partnership," said Engbers on their partnership with Mahou. "They are learning from us we're learning from them, and using the strength of each of our companies to help each other grow. "They're brewers first, when they came over to meet us, they didn't bring their MMA attorneys, they brought their brewers."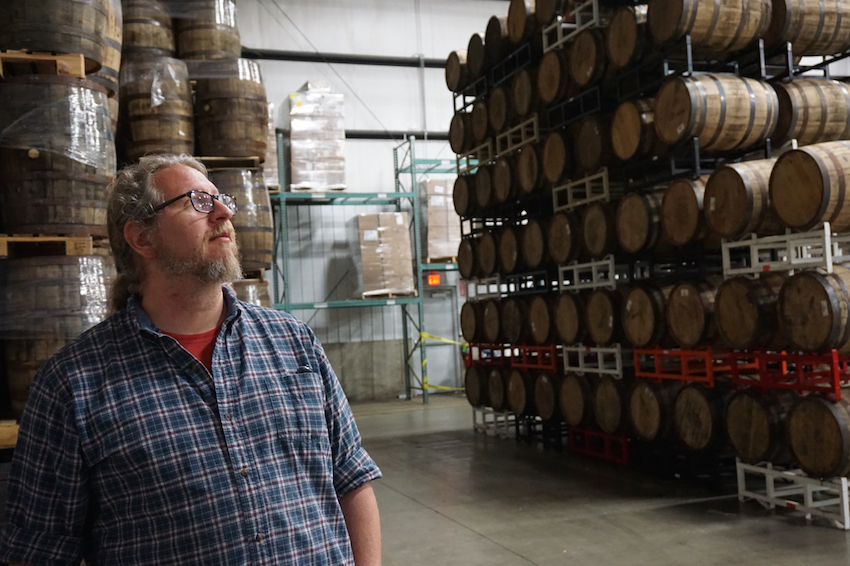 While the partnership with Mahou provided financial support, expanded resources and a strategic partnership for international development, the sale also resulted in criticism from craft beer purists. Because the sale accounted for more than a 25% stake in the company, The Brewers Association, craft beer's governing trade organization, no longer considers Founders under the small independent craft brewer designation. This exclusion from the very brewing community that Founders helped shape since their inception does frustrate Stevens. "We need each other, we're fighting the wrong war. I get it, you may want Bud, Miller, or Coors in that Association, but you want us, and you want Ballast Point and you want Lagunitas, because we're the ones that can move that needle against that real war. And to not allow that to happen to me as an association is anti growth," said Stevens.
The Next Chapter: Detroit's Got Grit
Less than 24 hours removed from announcing the next big evolutionary phase for Founders Brewing, Mike Stevens is upbeat, energized and a touch nostalgic. It's late April 2017 and just 12 hours earlier Stevens was crammed into an un-airconditioned van riding back with his team after spending a whirlwind day meeting with Detroit-area community groups and media outlets after breaking ground on Founders' upcoming second brewery and taproom facility in downtown Detroit.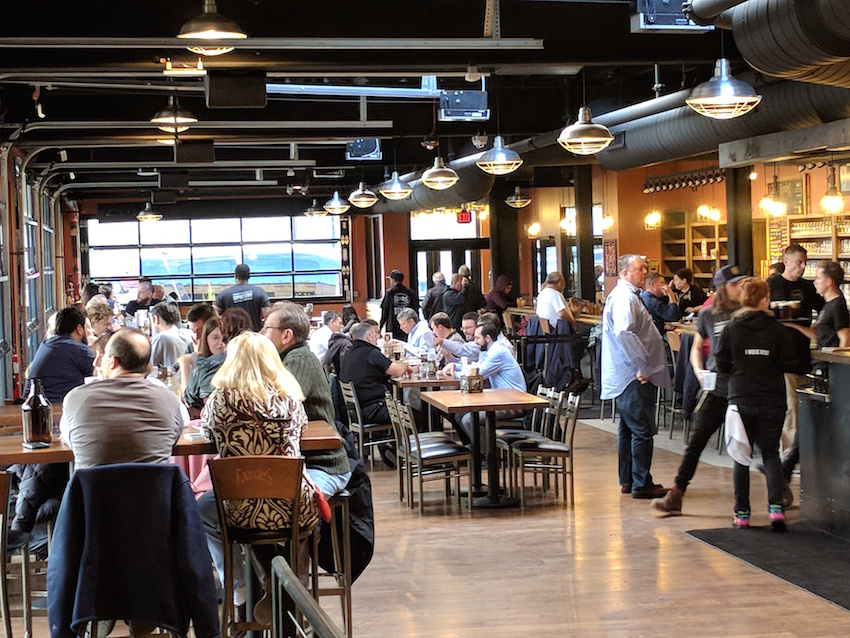 While a second taproom was never intentionally in the cards, the Founders team saw something in Detroit, that called upon them to be part of the city's rebirth.
"There's a spirit that's completely alive in Detroit that's really badass," said Stevens. "We really started to respect and fall in love with this culture that exists in Detroit and that's what finally drove us to thinking, maybe it would be pretty neat to bring Founders into that kind of environment, one that we know very well."
Located in the Lower Cass corridor of Detroit, at 456 Charlotte St., Founders' Detroit 14,000 square-foot taproom and brewhouse is still surrounded by an area that's a bit rough around the edges, a quality that mirrors Founders' original location during its formative years. Yesterday's opening of Founders Detroit in many ways brings the brewery full circle. Rather than following the trend of other large to midsized breweries, who have opened satellite locations in other regions of the U.S. Stevens and Engbers chose to remain true to their Midwestern roots, to help rebuild in their own back yard. Founders Detroit brought on 94 employees hired from the Detroit area, with another 8 transplants from Grand Rapids.
"It's a city that got knocked down, but it's got a fighter's mentality. It's gritty, it's an all-out warfare, survivalist mentality. And it really started to resonate with us, because it's very much how our upbringing was," said Stevens.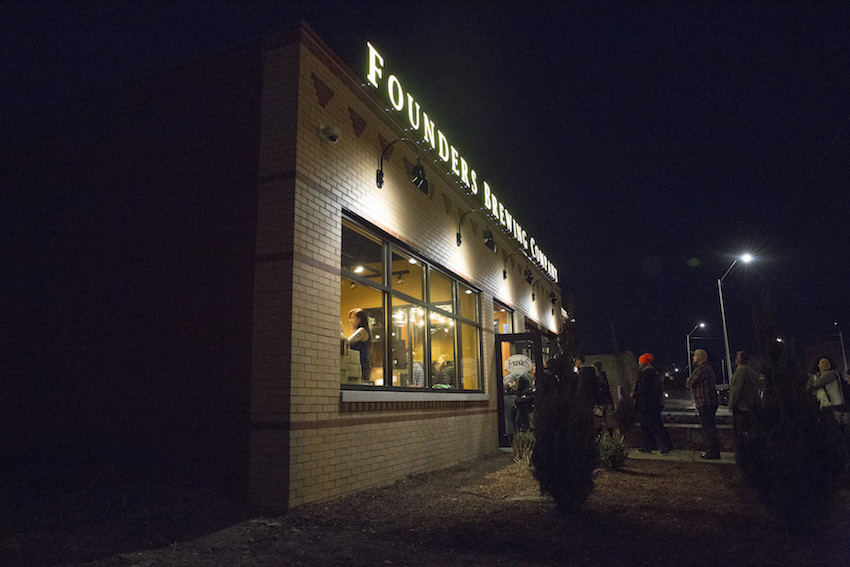 "In last few years a lot of people lost their jobs and a lot of people left the city. But there's a palpable energy in that city. These are strong Mid-Westerners pulling themselves up by their bootstraps and getting the job done," said Engbers.
Stevens and Engbers have come a long way from their humble beginnings, but they're finally able to look back two decades later and take a moment to celebrate their successes. With last Friday's long heralded re-release of Canadian Breakfast Stout, their cult-following Imperial Stout brewed with chocolate and coffee, aged in bourbon barrels that previously held maple syrup, and Monday's opening of their Detroit taproom and brewery, Founders has been able to put the exclamation point on the culmination of twenty years of pulling themselves up by their own bootstraps and getting the job done. But in true Founders fashion, even when Stevens and Engbers take a moment to acknowledge their successes, they're quick to recognize the entirety of their family that has helped to make all of this a reality.
"Our first brewery had 16-17 employees and now we employ 527 people. We've grown our facility from 2500 sq ft, to 350,000 square-feet across multiple facilities. All of things things are things we should celebrate, and it's been quite a ride. By no means did we do this alone, all of this is possible because of these folks we hired and our wholesaler partners, they're the ones that made Founders who we are today," said Engbers.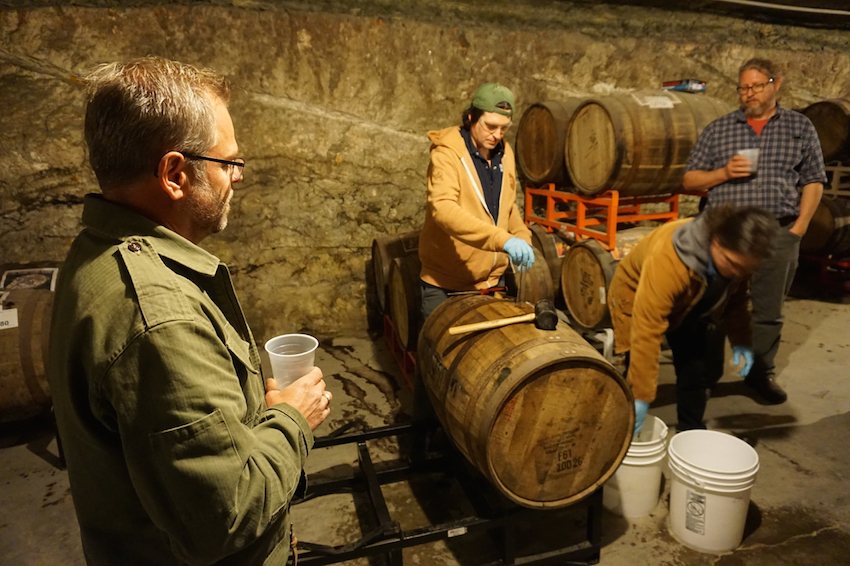 ---