No Comments
4th Tap Brewing Cooperative | Kung Fu Robot IPA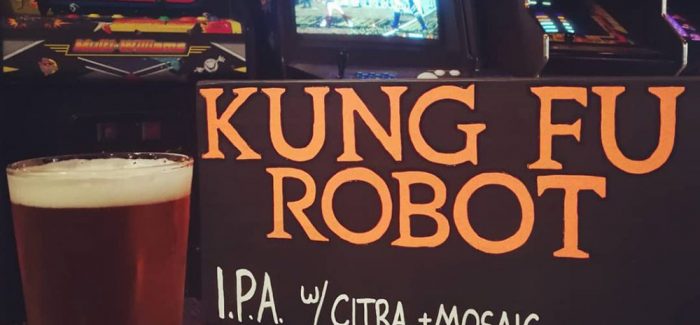 4th Tap Brewing Co-operative is one of the most interesting breweries in Texas because they are the only worker-owned cooperative brewery in the state. Founded in 2015, the brewery has taken an inspired, unique approach to their beers and just released their personal take on a new IPA, a Citra and Mosaic hop blend with a touch of flaked oats for a smooth mouthfeel. I caught up with co-founders Erin and John Stecker to find out more about Kung Fu Robot IPA.
What was behind the decision to add a new beer to the year round line up? Why another IPA?
We consider Kung Fu Robot to be a completely different style of IPA from Long Walk. We've always been very proud of our Long Walk Grapefruit IPA; it has become a beloved beer of many fruit IPA fans, but we were eager to keep pushing ourselves. We were looking to make a super juicy, bright, deliciously aromatic IPA that was also extremely crushable… thus, Kung Fu Robot was born. It took us about six months of experimentation before we started sharing KFR with people in our tap room. We love the profile of Citra and Mosaic hops together, and the bouquet on this beer is outstanding! We also recognize that there are many similar beers in the market, so we knew we had to knock this one out of the park. Kung Fu Robot had to be stellar beer from day one. Making it a mainstay was kind of just a reaction to how much we loved it, and how much our guests were digging it. It is quickly on its way to becoming our flagship.
How would you describe the difference Long Walk IPA and the new Kung Fu Robot IPA?
The difference between Long Walk and Kung Fu Robot is significant. From the fruit addition in the Long Walk to very different hop profiles, these two IPAs drink very differently. Long Walk has Cascade and Columbus hops, with a touch of real Texas grapefruit to amplify that grapefruit character. Kung Fu Robot is focused on what Citra and Mosaic hops can bring to the table.
I understand you are canning Kung Fu Robot; how widely available will the beer be both packaged and on draft?
Yes! You'll currently find Kung Fu Robot in our cans, featuring new artwork from local artist (as well as PWR wrestler and friend) Rory Blank all throughout Austin and Houston. It is available in our Taproom as well as cans and draft in both cities.
What's next for 4th Tap?
2018 is going to be and already has been a big year for us. We are in our third year, and are really gaining momentum. Our core beer line up is strong, and we are brewing some really exciting and unique seasonal beers this year. Our Sun Eater brand is growing, first with the Strawberry Sun Eater. We are very pumped about both Gruits. Look for more Gruit flavors to come in 2018! For us, the philosophy is simple. Brew, share, party and repeat. It is what we've been doing since the very first batch of beer we ever brewed almost a decade ago. We will continue to do fun, unique, and exciting events inside and outside of the taproom, and to be a great community partner to our hometown. Ultimately, we believe that as long as we keep putting genuine passion into our beer and our culture, everything else will simply fall into place.
ABV: 7% | IBU: 43
Keep up with 4th Tap events on Craft Beer Austin and follow them on Facebook, Twitter and Instagram.
---
[mc4wp_form]