No Comments
Collabapalooza Beer Fest Returns to San Diego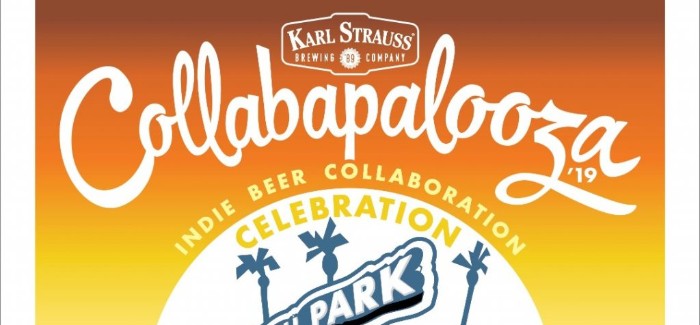 Collabapalooza is one of the top-rated beer festivals in southern California. On Saturday, October 19, more than 30 breweries will overtake the backlot of NorthPark Observatory to showcase a plethora of collaboration brews. The beer industry is in itself a very tight-knit community, often sharing techniques, recipes and collaborating on beers together. Karl Strauss started this festival several years ago with the intent of having nothing but collaboration beers on tap at the event, grabbing a ton of local breweries and having them work together on a vast selection of great beers. This famed festival has been called San Diego's Best Festival by West Coaster for the last two years! 
We got to talk to a few of the breweries involved in the collaboration process for this year's event. As the host and originator of Collabapalooza, Karl Strauss was able to do a variety of collaborations. A spokesperson from Karl Strauss stated, "Chris and Matt (co-founders), KARL's brewmasters (Paul Segura and Matt Johnson), and entire brewing teams have been super on board with participating in these collaborations. They are all big believers in the ethos of the industry."

One of the collaborations they were able to work up is called Blink of an IPA, with AleSmith Brewing, an IPA fermented with Kveik yeast—a traditional Norwegian yeast strain that works its magic in days instead of weeks! Tasting notes from Karl's team describes the beer brewed with "Simcoe, Citra, Ekuanot, El Dorado, and BRU-1 experimental hops lend flavors of pear, watermelon, and pineapple. Kveik produces stone fruit and citrus esters, making it the perfect strain to use for this bright, juicy IPA. This beer fermented fast and will be gone fast." For more information see the full press release [here].
One of the participating breweries is also Black Plague Brewing out of Oceanside, which was able to collaborate on two beers. The first was SLO Death, a hazy IPA in collaboration with SLO Brewing (San Luis Obispo) at 7.1% ABV. Brewed with El Dorado, Waimea and Azacca hops, this IPA delivers an Intense tropical fruit-forward aroma, with mild bitterness. The other beer is called 
Little Hef of Horrors, a Hefeweizen in collaboration with My Yard Live coming in at 5.5% ABV. Little Hef of Horrors is brewed with grapefruit and sweet orange peel, with hints of banana and clove flavors, some dry tart edge spiciness, and notes of citrus fruit and bubblegum.
When asked about the collaborations, Jordan Hoffart of Black Plague said, "Both were similar processes…We have actually never brewed a Hefeweizen before, so we were excited to get one in the mix. The hef is an ode to the Little Shop of Horrors movie. That's the theme for our Halloween party this year October 26, so it made sense to collaborate with another local brewery (My Yard Live) that we can host two parties around. 'Tis the season after all."
"As for the hazy IPA, SLO had access to some hops we've been wanting to get our hands on (El Dorado, Azacca and Waimea). So, it was a great style to utilize each of those hop profiles and really get a burst of aroma. SLO Death was in talks for a while. We've been wanting to collaborate with Slo Brew for a while, so with Collabapalooza, the opportunity finally presented itself."
Another exciting addition to the expansive draft list that will be available is a collaboration between San Diego's Pink Boots Society chapter and Wild Barrel Brewing in creating an Imperial Pastry Sour, specifically for Collabapalooza. At 8.8% ABV, this beer was made with strawberry, lactose and vanilla beans. Wild Barrel normally uses Pilsner wheat for their kettle sours, but these ladies shaped out red wheat instead to simulate a little bit of the graham cracker flavor in a cheesecake. Fio, who works at Wild Barrel, got together with her sister Romina (Romi), a new Pink Boots society member (and also maker of Bountiful Bags– bags made from old grain bags), as well as other Pink Boots members to brew up this complex and delicious beer! "The brewing process was led by Wild Barrel's Lead Brewer Lance McCoy," says Romi. "He is an awesome and knowledgeable guy and is extremely supportive of women in the beer industry. He was really excited to share this experience with us and teach us the Wild Barrel way."
We finally were able to chat with Jeff and Brandon from Bagby Beer in Oceanside, about their collaboration with Arizona Wilderness. The beer is a German-style Festbier called It's Festastic! As Brandon states, "The planning process wasn't much more than hanging out over some drinks, and a few exchanges of emails/phone chats. We figured we'd time out a Festbier for a proper release of when the actual Oktoberfest in Munich was going on." The collaboration is a deep amber color, with bready an toasted malt character, and mild hop bitterness. A perfect drink for a fall day like what we will be expecting at Collabapalooza!
October 19 will be bursting with creative and unique brews that you'll only be able to find together here at Collabapalooza! For the full list of breweries (which is extensive!) go the Collabapalooza website, where general admission is $40 and VIP is $60, which includes early admission and a t-shirt. We hope to see you all there!
---