No Comments
Event Preview | San Diego Beer Week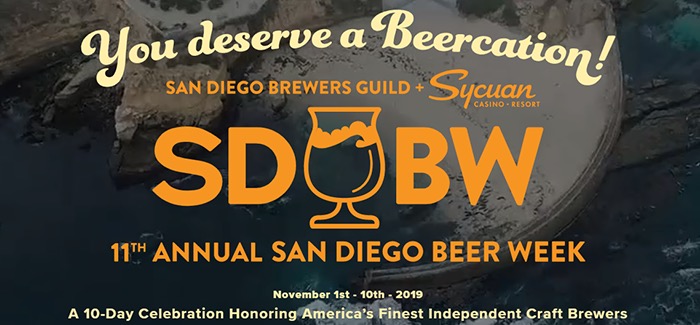 There is nothing better for the local community of beer lovers in San Diego than San Diego Beer week! Although advertised as a "week," this year it will take place over the course of 10 days, November 1-10, all throughout San Diego. For the most comprehensive list of events, pairings, beer releases and dinners, go to the SDBW website, but here we're going to be talking about some of the cool events happening, where they will be and then you can decide which ones you are going to try and make! Be sure to check if events are ticketed, shown by 🎫
Friday, November 1st
Pure Project, 12 – 10 p.m.
Beer Release: BA Breakfast Stout called Graham Slam
Beer Slushies at the Balboa Location only—COCOSAURUS REX with Ice Cream, Imperial Stout with Coconut & Vanilla Beans and BLOOD MAGIC with Fruit, Sour Double IPA with Blood Oranges & Milk Sugar
California Wild Ales, 12 p.m.
Kilowatt Brewing, 5 p.m. – Midnight
Forbidden Cove Grand Opening: Head over to the Kearny Mesa Tasting Room on the 1st night of San Diego Beer Week and experience the unique lighting and decor of our hidden Tiki lounge, along with their undistilled tropical elixirs like Lona's Extra Delight, Lava Flow, Hidden Puka, Washed Out at Sea, and Captain Kreslee's Bounty. Roots Reggae vinyl will be spun by DJ Axionpact
https://www.instagram.com/p/B3nldeHF8j6/?utm_source=ig_web_copy_link
Deft Brewing, 
5 – 9 p.m.
Thorn Brewing,
5 – 9 p.m.
North Park Brewing, 6 -11:45 p.m.
Second Chance Brewing, 7:30 p.m. – 1 a.m.
San Diego Beer Week County Wide Kick off toast. A live stream event that will take place on both online and at the brewery to kick off San Diego Beer Week! For this and only events through Second Chance view the full list here!
Saturday, 11/2 – *National Learn to Homebrew Day!
2019 Guild Fest, 11:30 a.m. – 5 p.m.🎫
Join the San Diego Brewers Guild and more than 60 independent breweries for 2019 Guild Fest, taking place at a new location—Embarcadero North in Downtown San Diego. This annual event celebrates SD Beer Week and the independent brewing community that makes it all possible. Tickets can be purchased here
https://www.instagram.com/p/B37nimkj4N4/?utm_source=ig_web_copy_link
White Labs
, 12 p.m.
Burning Beard, 12 – 10 p.m.
Protector Brewery, 2 – 10 p.m.
2-Year Anniversary: Protector is offering 25% off everything! For the first 140 guest that purchase a beer you will receive a custom pint glass. (Limit 1 per customer, first come first serve)
Thorn Barrio Logan, 4 -10 p.m.
2nd Anniversary Party: Celebrate Thorn brewing, Barrio Logan Location, 2 year anniversary with taco and cupcakes! More information here.
Sunday, 11/3
Abnormal Beer Co, 1 – 3 p.m. 🎫
Beer and Cheese Pairing  for SDBW. A fantastic pairing featuring Abnormal Beer and cheese selected by Venissimo Cheese. There will be 5 beers, 5 cheese, and a few surprises along the way. Buy tickets here
Thorn Brewing, 1 – 4 p.m.
Dixie Pops and Beer Pairing: Thorn is collaborating with Dixie Pops for a pop and beer pairing! You will get to choose from three different pairings when you come in so bring a friend to try them all!" No tickets necessary, for more information click here
Pure Project, 12 – 8 p.m.
Sour Sunday – At the Balboa Park tasting room you have the chance to keep the glass along with trying a wide variety of rare and sour beer! For more details and tap list click here.
North Park Beer Co, 5 – 7 p.m.
Official Cicerone & BJCP Mixer: The Cicerone® Certification Program is co-hosting their annual Mixer during Beer Week with BJCP, the Beer Judge Certification Program! Meet other individuals who hold certifications, network with other beer professionals, and learn about what it takes to become a Certified Cicerone®, Advanced Cicerone®, or Master Cicerone®. ALL ARE WELCOME even if you're not certified. Don't forget to wear your pin!
https://www.instagram.com/p/B4DwucUF9Pu/?utm_source=ig_web_copy_link
Monday, 11/4
North Park Beer Co, 6 – 9 p.m.
QUAFF 'Homebrewers Turned Pro' Meet-Up: As a decorated homebrewer, proprietor and Head Brewer, Kelsey McNair, has helped pave the way for new beer dreamers to someday have their own brewery." More information here
Second Chance Brewing, 6 – 10 p.m.
SDBW Water4Life Fundraiser: Free to attend and proceeds go to the Water4Life Foundation.
Abnormal Beer, 6pm 🎫
Abnormal Dinner Series with Wild Barrel and Lionfish, for more information and tickets see their page here.
https://www.instagram.com/p/B3f7CDEnkAW/?utm_source=ig_web_copy_link
Tuesday, 11/5
Duck Foot Brewing, 6 – 8 p.m.
MAC & CHEESE PAIRING (East Village)
🎫 GRILLED CHEESE PAIRING (Miramar)—tickets required! To get yours click here.
Home Brewing Co, 6 – 8 p.m. 🎫
Off Flavors Workshop: Learn about the beer off flavors, how to identify them, and how to correct them. *6* Off-flavors, 1 control beer, Guided tasting/instruction. Tickets for this may be purchased here
North Park Beer Co, 6:30 – 8:30 p.m.
Lumpia & Beer Pairing: Mastiff Kitchen will be firing up lumpia to order to satisfy your beer and food pairing desires. Be sure to arrive early! These tasty bites go fast! Available while supplies last. Full event link.
Thorn Brewing, 7 – 9 p.m. 🎫
Venissimo Cheese & Beer Pairing- Tickets available here
Wednesday, 11/6
11th Annual SDBW Fling, 8 a.m. – 3 p.m. 🎫
Registration/Breakfast opens at 8 am, tournament begins at 9 AM sharp, After-party at Hamilton's! Get your tickets here
Pure Project, 12 – 9 p.m.
SDBW Sweet & Savory Tasting: A Sweet & Savory tasting experience of beer infused food featuring Scoops On Tap and a local restaurant which will be revealed soon.
AleSmith Brewing, 11 a.m. 🎫
Speedway Grand Prix: The event will feature over twelve different specialty Speedway Stout variants broken into three flights (aka Laps) AND a VIP Lap featuring Barrel-Aged versions. In addition to these sixteen Speedway Stout variants, we'll also be releasing a very limited number of Vietnamese Speedway Stout 16 oz cans on Wednesday, November 6th. Tickets available here
https://www.instagram.com/p/B3SHBKQlBMa/?utm_source=ig_web_copy_link
Thursday, 11/7
Kairoa Brewing, 5:30 – 10 p.m.
Second Chance Brewing, 5 – 9 p.m.
SDBW Dog Costume Contest: Bring your pup dressed to impress, because this costume contest is going to be pawsitively fab! Prizes for crowd favorites. Second Chance Dog Rescue will be on hand with adoptable pups, and accepting donations.
Ketch Brewing, 6:30 – 9 p.m. 🎫
6 Course Beer Week Dinner, tickets to be shortly posted here
Friday, 11/8
Circle 9 Brewing, 12 – 10 p.m.
Churchill's Pub and Grille, 5 – 10 p.m.
Battle of the Guilds: There will be 15 beers from each of the three guilds; San Francisco, Los Angeles, and San Diego, directions here.
Thorn Brewing, 5 – 8 p.m. 🎫
Cupcake & Beer Pairing with Daniela's Cupcakes: A gourmet cupcake and beer pairing that will tantalize your taste buds and satisfy your sweet tooth, Tickets available here
Stone Brewing, 7 – 11 p.m. 🎫
DRK 2019: A beer event highlighting dark and delicious beers. Admission includes 15, 3 oz tasters, commemorative glass, and a compelling selection of rare beers from Stone and many other guest breweries. For tickets and more information, click here
https://www.instagram.com/p/B3fEq_Fp1r3/?utm_source=ig_web_copy_link
Saturday, 11/9
Pure Project, 10 – 11 .m. 🎫
SDBW Coffee Cupping with James Coffee: Guests will be guided through a cupping session of various coffee offerings including the newly released Log Cabin Barrel Aged Breakfast Blend. Tickets available here
Kilowatt Brewing, 12:30 – 2:30 p.m. 🎫
Make Your Own Pumpkulent Workshop: You get the chance to decorate a small pumpkin with succulents and dried florals! Tickets available here.
Thorn Brewing, 12:30 – 2:30 p.m. 🎫
Nomad Donuts & Thorn Beer Pairing: They will be pairing three of Thorn's craft beers with three of Nomads tasty donuts which were created specifically to pair with each beer. Tickets are limited, purchase your tickets here.
Coronado Brewing Co, 1 – 4 p.m. 🎫
Beer and Cheese Class: CBC's own Head Brewer, Mark Theisen, and Certified Cicerone, Mel Crisp will be taking guests through 6 rounds of beer and cheese pairings.This intimate event will be limited to 25 guests so get your tickets early. Limited tickets available here
TapRoom SD, 11 a.m.
Best of the Beer Week & Outdoor Beer Garden: Some of the best beers we've tried throughout the week. From barrel-aged imperial stouts to Triple IPA's, we'll have it all to sample.. outdoors! No tickets needed.
Sunday, 11/10
SDBW Beer Garden, 12 – 3 p.m. 🎫
The closing event of San Diego Beer Week than the Arroyo Terrace of the Lodge at Torrey Pines. The Beer Garden brings together the best of San Diego's breweries and local chefs to celebrate the craft beer movement. With 28 breweries and 14 chefs, the Beer Garden is a truly unique and delicious food and beer pairing event. Each admission includes unlimited tasters of beer and food. Tickets for the event can be purchased here.
https://www.instagram.com/p/B4FgWHfloDO/?utm_source=ig_web_copy_link
Second Chance Brewing, 12 – 2 p.m. 🎫
SDBW Hands-On Sauerkraut Workshop & Beer Pairing: Pickled foods are great for the gut. Come detox from Beer Week, and learn how to do it at home—because, well, we drink a lot, and good bacteria helps balance. Tickets available here.
Various Breweries, 12 – 5 p.m.
Miramar Makers Market & Brewery Tour: Shop 75 makers while exploring five local breweries and wineries. 

Vendors will be set up at 

32 North Brewing Co.

, 

Duck Foot Brewing Company

, 

Saint Archer Brewing Company

, Ballast Point Brewing and 

AleSmith Brewing Company

.

​This is a family friendly event, however alcohol will be present due to the nature of the venues of the event." Details here
We hope you all get to enjoy the most out of San Diego Beer Week and please drink responsibly, Cheers!
If you are a San Diego Brewery participating in SDBW and would like to talk to us about upcoming events, please send us an email!
Feature image courtesy of the San Diego Brewers Guild.
mc4wp_form]