No Comments
Old Irving Brewing Set to Release Barrel-Aged Krampus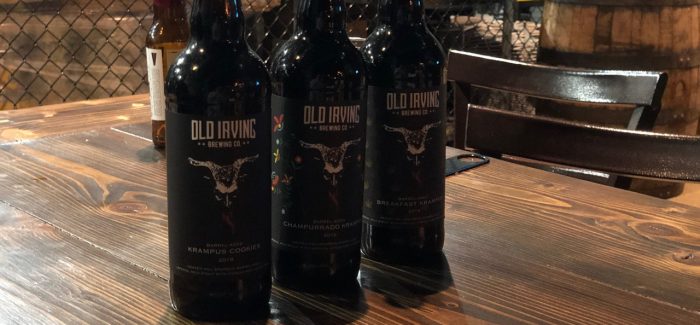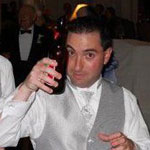 The brewery that took gold in the hazy IPA category at the Great American Beer Festival is getting ready to release its barrel-aged series this week as Old Irving Brewing's Krampus is out of the barrels.
For the first time, the brewery is releasing the variants in bottles after only releasing the base barrel-aged beer last year. This year's Barrel-Aged Krampus series has three different beers. The base beer loaded up with vanilla and cocoa nibs, Champurrado which includes cinnamon and chilis, and a Breakfast version with maple and coffee. Each beer was aged in Heaven Hill barrels for 11 months and have an ABV of 12%.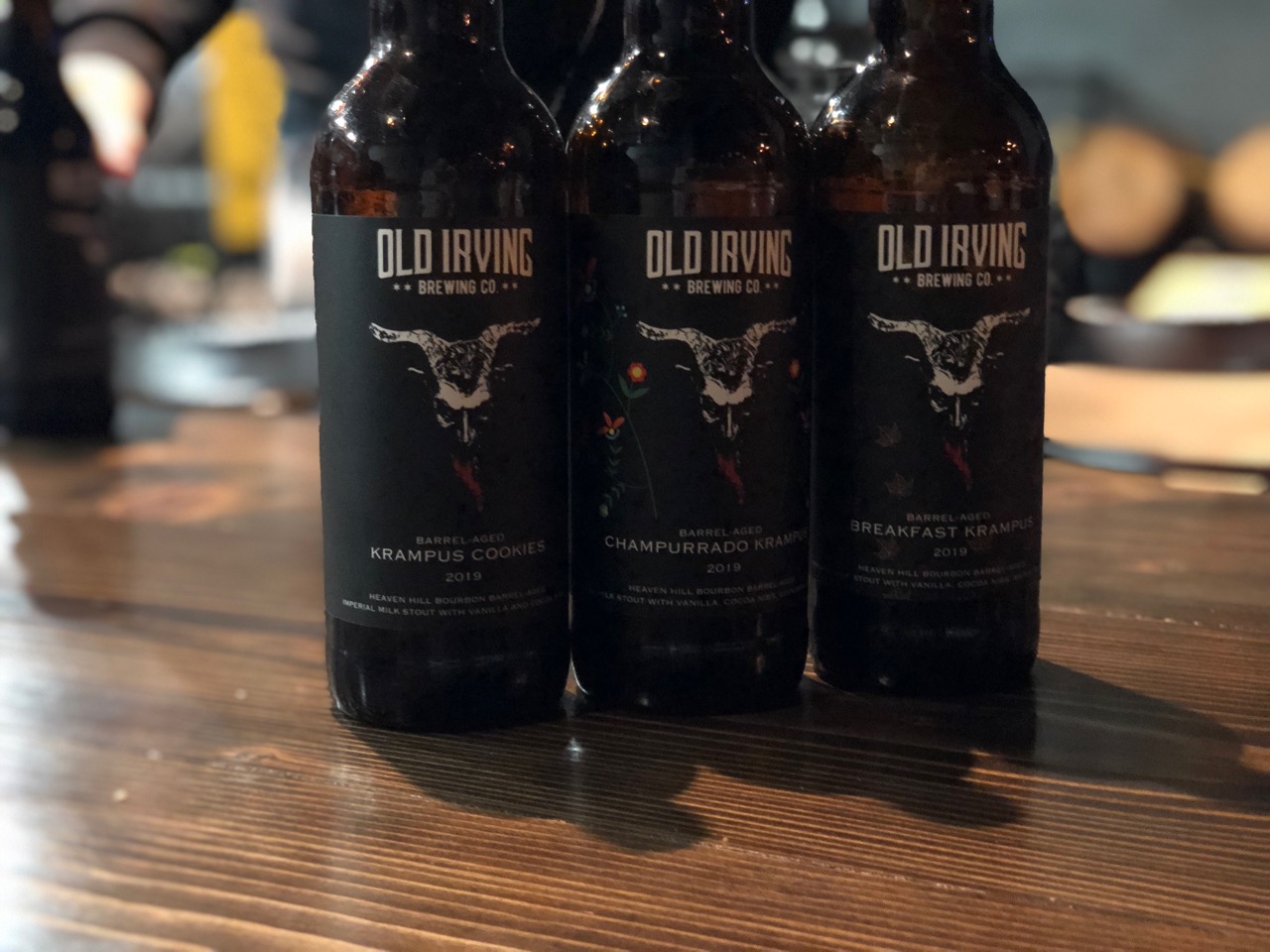 To make the release as easy as possible, each Barrel-Aged Krampus is available to pre-purchase online with the pick-up window at the brewery starting 11/26 and running for eight days. Customers are able to purchase up to two bottles of each beer. Each bottle is 750ml and goes for $20 plus fees. There are 750 of each beer available to the public and at the time of this story being written Old Irving was about 80% sold out of the allotment.
The labels for each of the beers are done by Tim Broyles who has a past in graphic design but is also an assistant brewer at Old Irving. Mathew Powers and myself got to sit down with Head Brewery and Co-Founder Trevor Rose-Hamblin and drank through each of the beers in this year's lineup. Here are our thoughts.
Barrel-Aged Krampus Cookies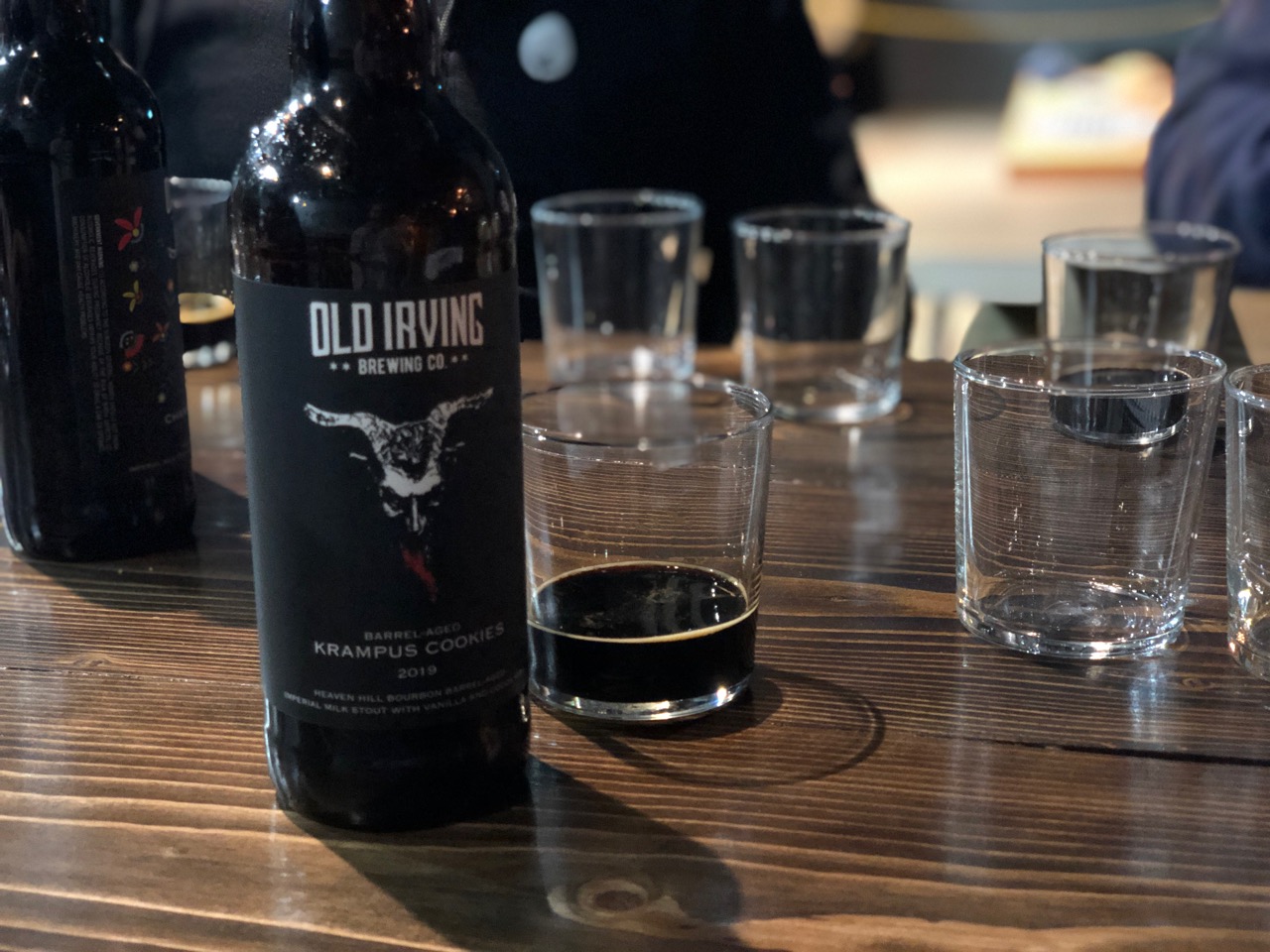 MZ: This is the OG beer. It's significantly thicker than last year's release with more chocolate on the nose but the bourbon isn't lost on the aroma, it's just floating in the background. When you taste this beer for the first time you'll instantly notice how smooth it is. The chocolate isn't overpowering or chalky. It's a fudgey brownie delight with nice notes of bourbon coming through.
It's sweet but I wouldn't describe it as overly sweet. You'd probably categorize this as a pastry stout but it's very well balanced. There's some vanilla present but it's subdued and mostly staying in the background. The chocolate in here is the star and it's delicious.
MP: As Mike noted, this year's Barrel-Aged Krampus Cookies base beer is much thicker than last year's and velvety smooth. I love the chocolate in this, much like a cake or brownie, but presents much more savory than sweet. The barrel character, both in terms of a kiss of oak and the presence of whiskey, does not get hidden, either. In short, there's plenty of complexity and depth of flavor that should please both beer geek and the person who simply wants to open a good beverage without all the fuss of analyzing it. 
Barrel-Aged Champurrado Krampus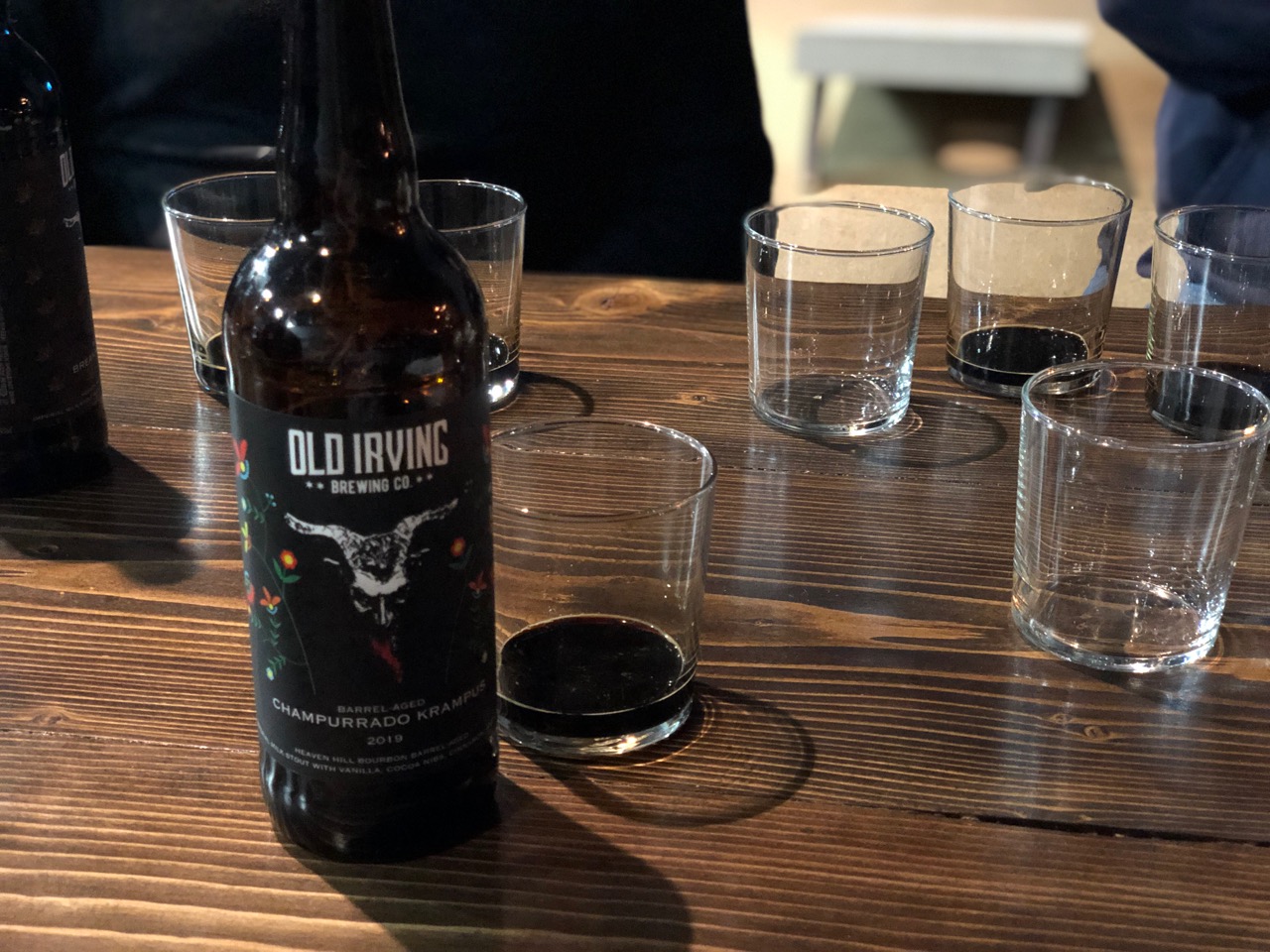 MZ: This beer is not only the standout of the Krampus lineup, it's one of the standouts of any barrel-aged beer I've had this year so far. It's a Mexican hot chocolate with great usage of Saigon Cinnamon which exhibits a more earthy tone to avoid being overly sweet.
Cinnamon always carries the potential to be an overpowering adjunct that can destroy your palate. Champurrado starts with a nice light cinnamon aroma that translates to the taste. With the base beer being chocolate forward, this beer could have gotten away from Rose-Hamblin fast but it stays together so well.
The chocolate, with the earthy cinnamon, and then the gentle spice of the chilis is phenomenal. It's three flavors playing off one another and each brings something to the beer that is necessary to the balance. There is a late heat that tingles the tip of the tongue but the beer isn't overly spicy and there's no steady burn you might get with other chili stouts. After we drank through all three beers I kept pouring Champurrado in my glass – I couldn't get enough.
MP: Mike isn't kidding. This ranks as one of my favorite BBAs of the year, and that's coming off a year where Mike and I have tasted a multitude of releases and attended that little fest at UIC — you know, FoBAB.  You notice the cinnamon aroma as soon as you lift the glass, but the there's nothing cinnamon-sweet about this beer. The spicy/earthy cinnamon, the heat from the chilis, and the whiskey all work magically alongside the natural sweetness of the chocolatey stout. The little bit of heat at the end is sublime, and then fades away just in time for another sip. Easily one of my favorite beers of the year.
Barrel-Aged Breakfast Krampus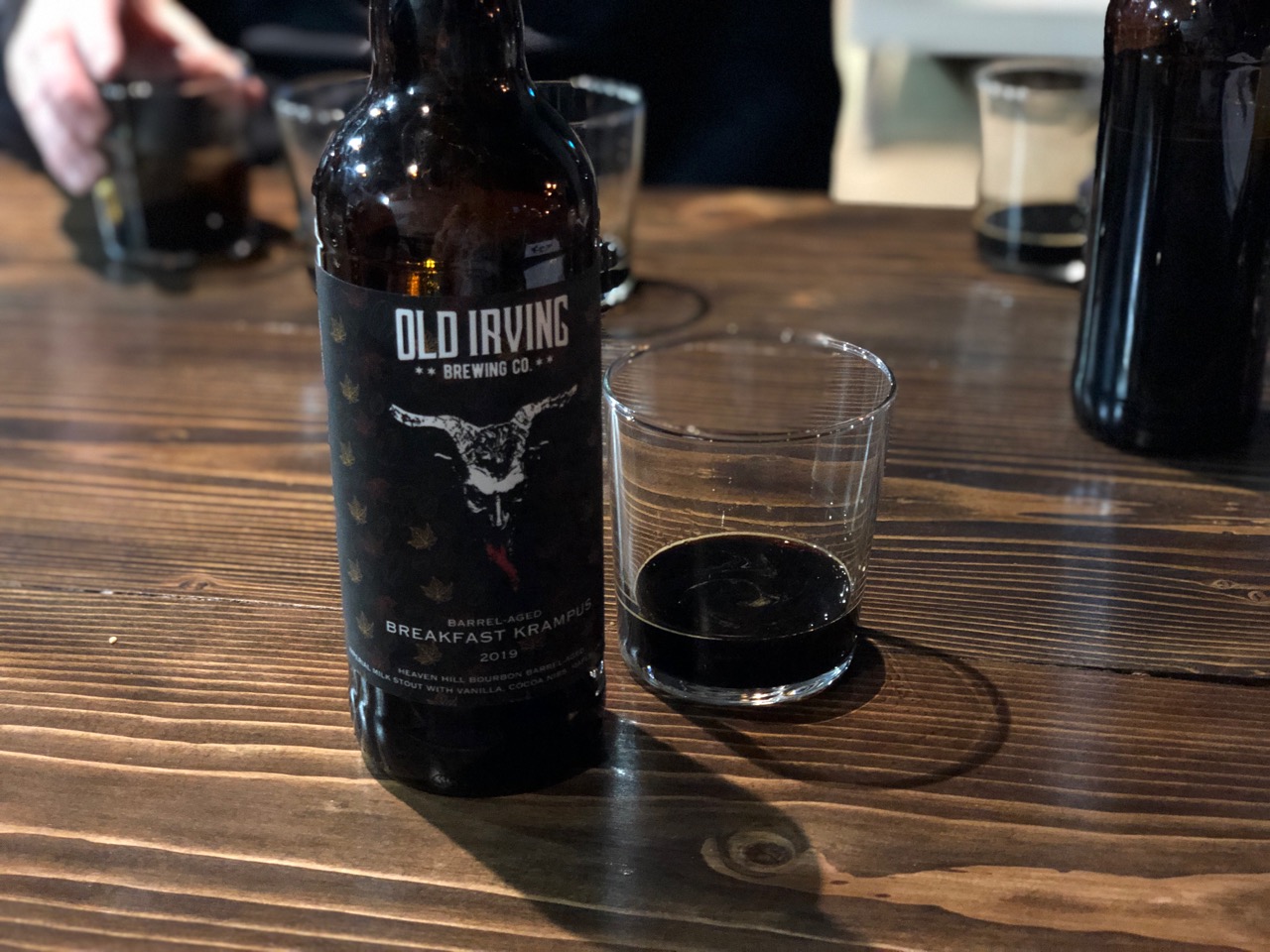 MZ: Champurrado worked because it was so well balanced. Breakfast didn't have that same balance and it missed for me. Maple, like cinnamon, can be a powerful adjunct and we see what can happen when it goes unchecked by other ingredients.
This variant was draft only last year and Rose-Hamblin said that he added more coffee and maple to this year's version that is now bottled. If you like maple, you'll enjoy Breakfast but for me the Dark Matter coffee was muted and didn't have enough presence to make an impact on the beer. Those nice chocolate notes that were stars in the first two beers also got overtaken by the maple.
I'd be curious to try this beer again in about six-eight months to see if the maple has gone down a bit and allowed the barrel or other ingredients to shine through. It might be an interesting one to watch in 2020.
MP: Sometimes BBA releases with variants appeal to certain crowds, but not others, and my guess is that Breakfast will enjoy that type of distinction. I also add, there's nothing wrong with that. I mean, have you ever been to a sizable party and asked everyone what they wanted on their pizza? Good luck finding a consensus!
I think for those that love maple — notably lovely Vermont maple in Breakfast, and beers on the sweeter side of life, Breakfast Krampus will be highly satisfying. To be sure, like the other two beers, Breakfast is not abundantly sweet like some of the pastry stouts on the market. But, it's maple forward and the coffee, while adding a layer of elegant chocolate notes, would be a touch better (in my humble opinion)  if it gave a little bit of roastiness just to cut through the maple a bit.  Much like a chef-prepared protein with a perfected sauce, if there's a bit of acidity or dose of herbs, it's that much better. So, maybe toasted coconut or aging it in a rye barrel would be good, too — just one more note and I'd love it.
Make no mistake, it's still a well-executed BBA and it is not a sugar bomb. Give me a bottle and I'll happily drink it. I really love the maple. But, I wanted just one more note..something to give it that little extra bit of depth. But, as I said, I'll guarantee you that someone reading this will think Mike and I are out of our minds for not loving this beer, and that's the best debate of all.
---