No Comments
PorchDrinking's Best in Beer 2019 | Mountain Region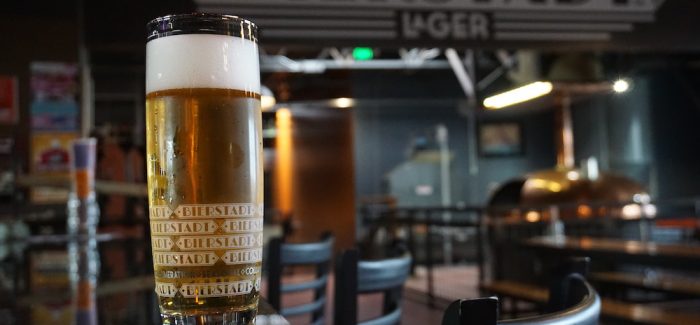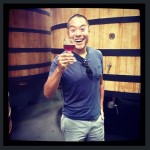 It's been an interesting year in beer to say the least. This year we set out to explore a wider array of breweries and beers and came back pretty surprised by what we discovered. And while it would be nearly impossible to break down the best beers from 2019, we looked back on some of our favorites from the past year as well as some of the most stand-out breweries, beer festivals and stories from 2019. Enough exposition, let's get straight to the honors.
Favorite Beers of the Year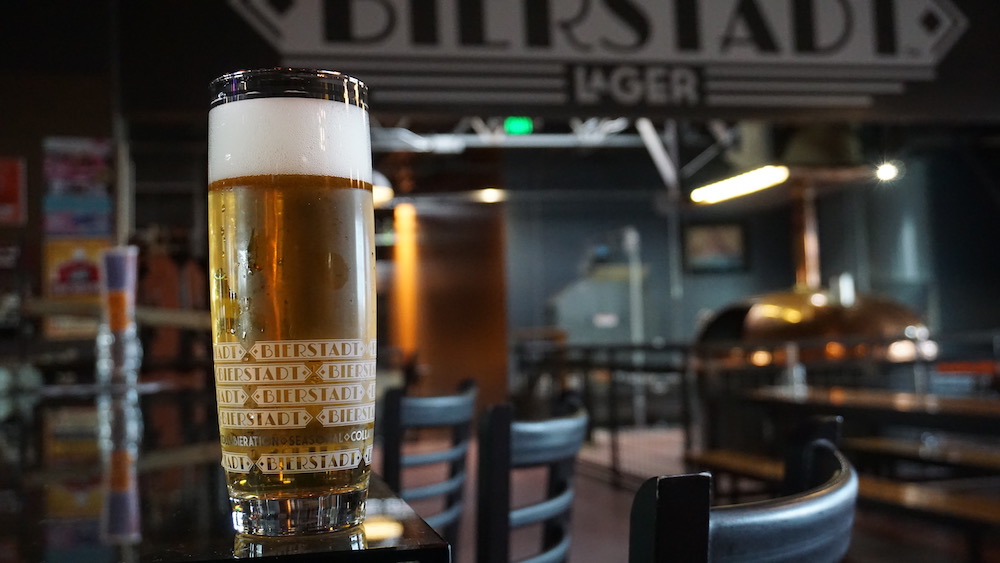 Tettnanger Spezial | Bierstadt Lagerhaus
Admittedly, I got some heat from Bill Eye and Ashleigh Carter last year for overly hopping on the hype train in my best of picks last year, and rightfully so. It's easy to become seduced by what the general populace deems trendy, so in 2019, I made it a goal to sample a wider swath of breweries, including ones I haven't visited in a while, to properly present a more thoughtful and well-educated selection of stand-outs for this past year.
Criticism and subsequent biases aside, I'm glad that the Bill and Ashleigh brought this oversight to the surface over shared beers, because along the way I discovered this year's standout coincidentally at Bierstadt. While already establishing themselves as one of the country's preeminent Lager producers with nationally acclaimed beers like their Slow Pour Pils & Helles, this year's Tettnanger Spezial, and Export-style Helles featuring Tettnanger hops was an absolute show-stopper. This collaboration made with Eric Toft of Schönramer in Bavaria celebrated the 175th anniversary of Tettnanger as a hop growing region.
The result was beautifully crisp, crusher of a beer with a beautiful bouquet of bitterness and floral notes to add just the right amount of depth to produce a well-rounded finish. In an age when the beer landscape is so easily dominated by bold flavor profiles found in adjunct Stouts and Hazy IPAs, Tettnanger Spezial was the crushable Lager I didn't realize I needed to re-invigorate my understanding of what's possible in more traditional styles of beer.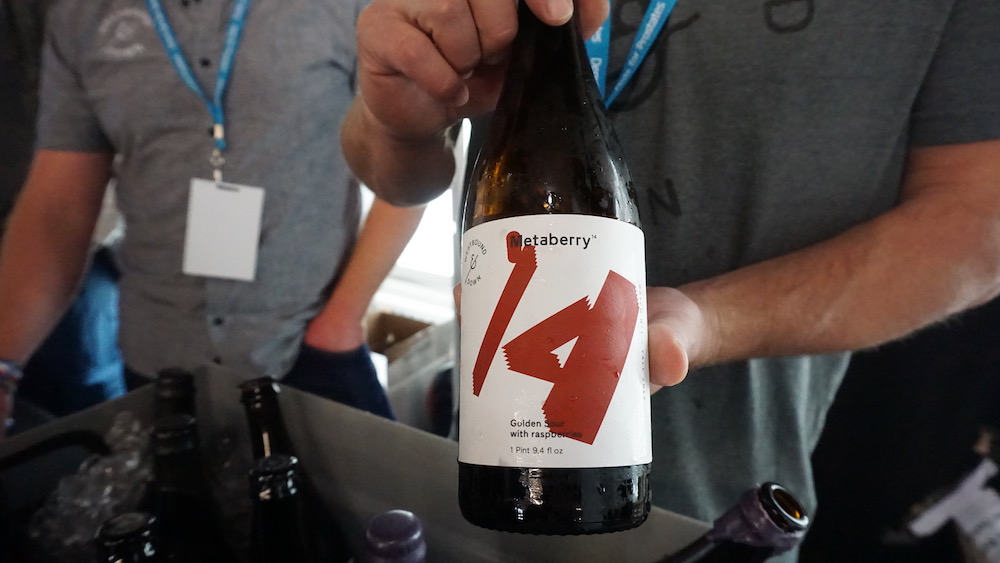 Gin Pyramids | Amalgam Brewing
Dancing with the Moon | Novel Strand Brewing
Perpetually Unimpressed Double IPA | Knotted Root Brewing
Gift of Time Heaven Hill Barrel-Aged Stout | Crooked Stave Artisan Ales
Ship of Theseus Bourbon Barrel-Aged Old Ale | Burns Family Artisan Ales
DDH Superpower IPA | Comrade Brewing
Rye Are You Judging Me | WestFax Brewing
A Bright Hello | Black Shirt Brewing
So Last Season Nectarine | Primitive Beer
Bourbon East Bank Preserves – Cherry & Vanilla | Casey Brewing & Blending
Coconut Brandy Medianoche | WeldWerks Brewing
Crispy Boi Pilsner | Mash Lab Brewing
Denomination of Origin | New Image Brewing
Other Realms Bourbon Barrel-Aged Stout | Amalgam Brewing
Let's Talk About Mex | Cannonball Creek
Vanilla Anonym | Wiley Roots Brewing Co.
Cryptic | Something Brewery
Seitan | Other Half & TRVE
Metaberry | Westbound & Down Brewing Co.
Vanilla Rye Here Be Monsters | Cerebral Brewing
Assimilation | Cellar West & Amalgam
Meet the New Boss | New Image Brewing & MORE
Citra Extra Extra Juicy Bits | WeldWerks Brewing Co.
Best Beer Events
Wibby Brewing's HoopLagers Lager Exclusive Beer Fest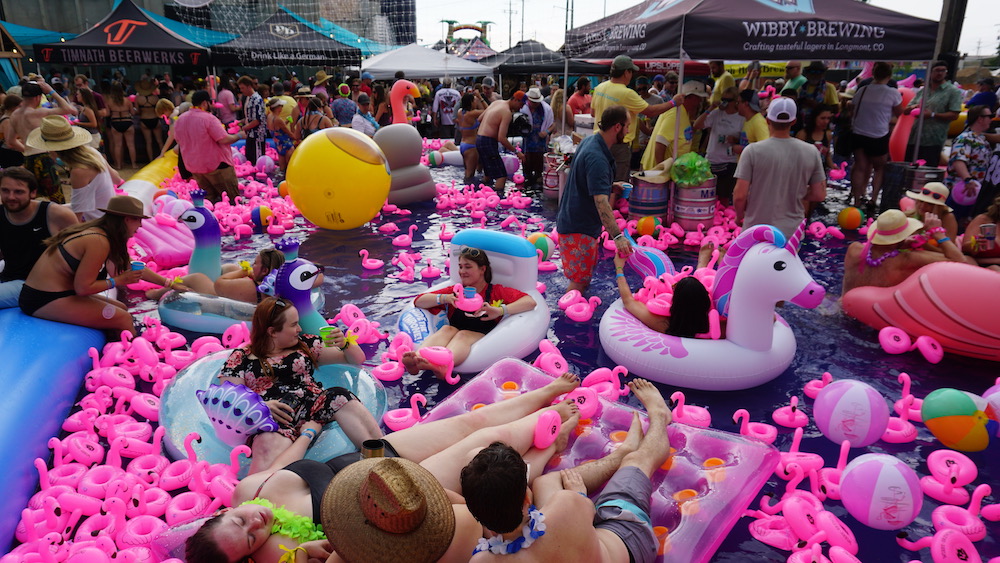 If 2019 was the year of Lagers, then Wibby Brewing's beer fest in Longmont, CO is certainly hitting its stride at the right place and the right time. Over the past 5 years, the beer festival landscape has seen explosive proliferation just as its brewery counterparts have continued to grow. As such its become harder and harder to find a festival that truly differentiates itself both in concept and execution. Enter Wibby Brewing's HoopLagers fest. Since it was launched in 2015, HoopLagers has evolved from a modest celebration of local Lagers, to a full-blown land-locked beach party celebrating some of the best Lagers in the country.
Replete with tons of sand trucked in for the event's beach-side feel, to 14 parking lot-sized inflatable pools outfitted with oversized floats that allow attendees to get served lagers while floating with their friends HoopLagers has thought of everything to create the most relaxing and generally fun festival-going experience to-date. On top of all of that, add in thousands of inflatable flamingo koozies, hammocks, a steel drum band, silent disco, and beers from the likes of August Schell, Chuckanut Brewery, Bierstadt Lagerhaus, pFriem and of course the Lager-only host brewery, Wibby.
WeldWerks Invitational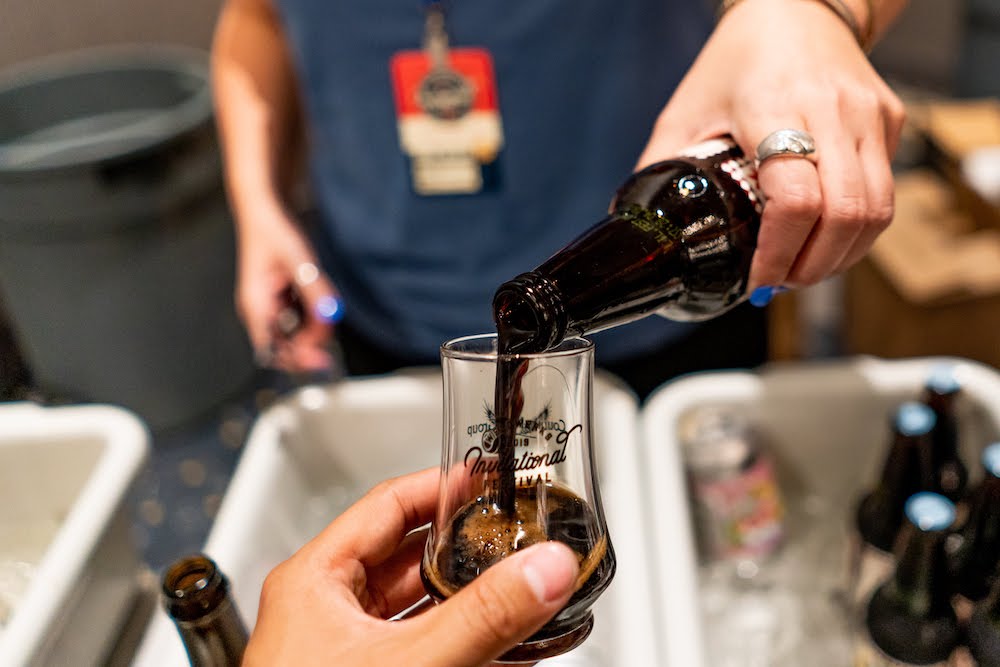 This year's WeldWerks Invitational proved that their tremendous debut was no fluke. Once again showcasing some of the country's rarest collection of beers such as Perennial's Maman, 3 Son's Barrel-Aged Double Scoop, Side Project Derivation #9, and Moksa's Deluxe. Attention to detail continues to be a prevailing theme for the WeldWerks crew, with this year's event including a silent auction for unicorn-worthy beers and also tying in releases back at the brewery across the street. Speaking of WeldWerks, the host once again utilized the event as a platform to show off some of their best including seven variations of Medianoche, with Coconut Brandy as our standout. Read our full recap, then be sure to mark your calendars. Next year's festival will be happening on June 20, 2020! – Karen Mills
Craft Brewers Conference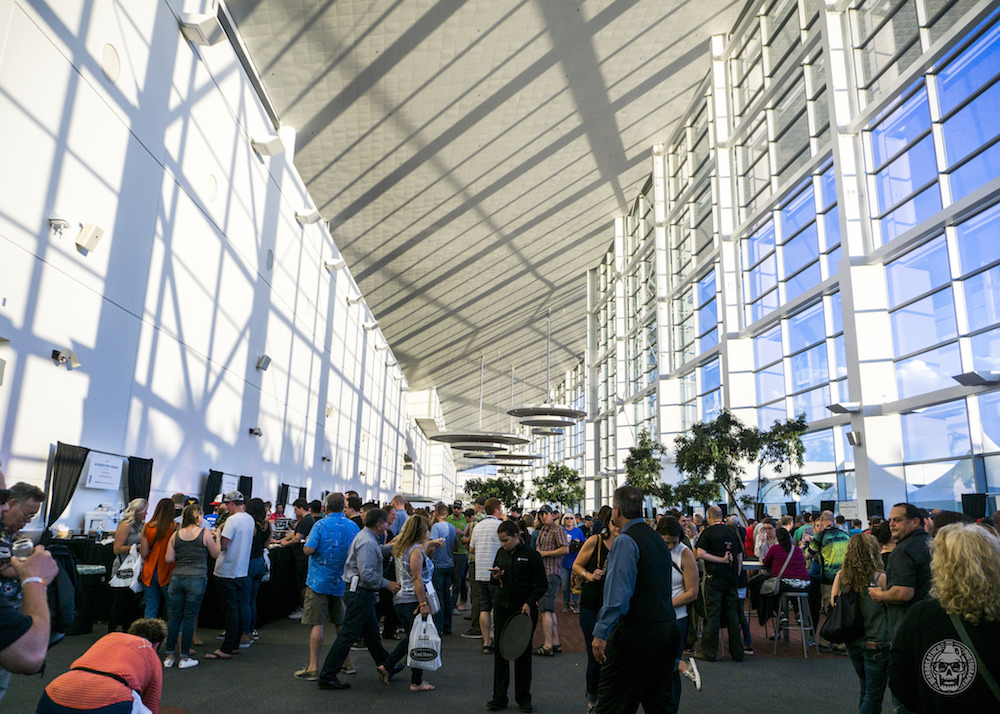 For about 18 months, Denver got the perfect storm of beer fests ranging from Shelton Brothers' The Festival last October to two GABF's and the opportunity to play host to the Craft Brewers Conference. After Indianapolis lost out on the right to host due to their discriminating same-sex bathroom policy, the conference got diverted to Denver and the Mile High City reaped the benefit. From beer releases, to mini beer fest, tap takeovers to brewery arm wrestling, CBC brought out the country's best breweries for a week of education, great beer and more.
Breweries Who Made the Biggest Moves
Westbound & Down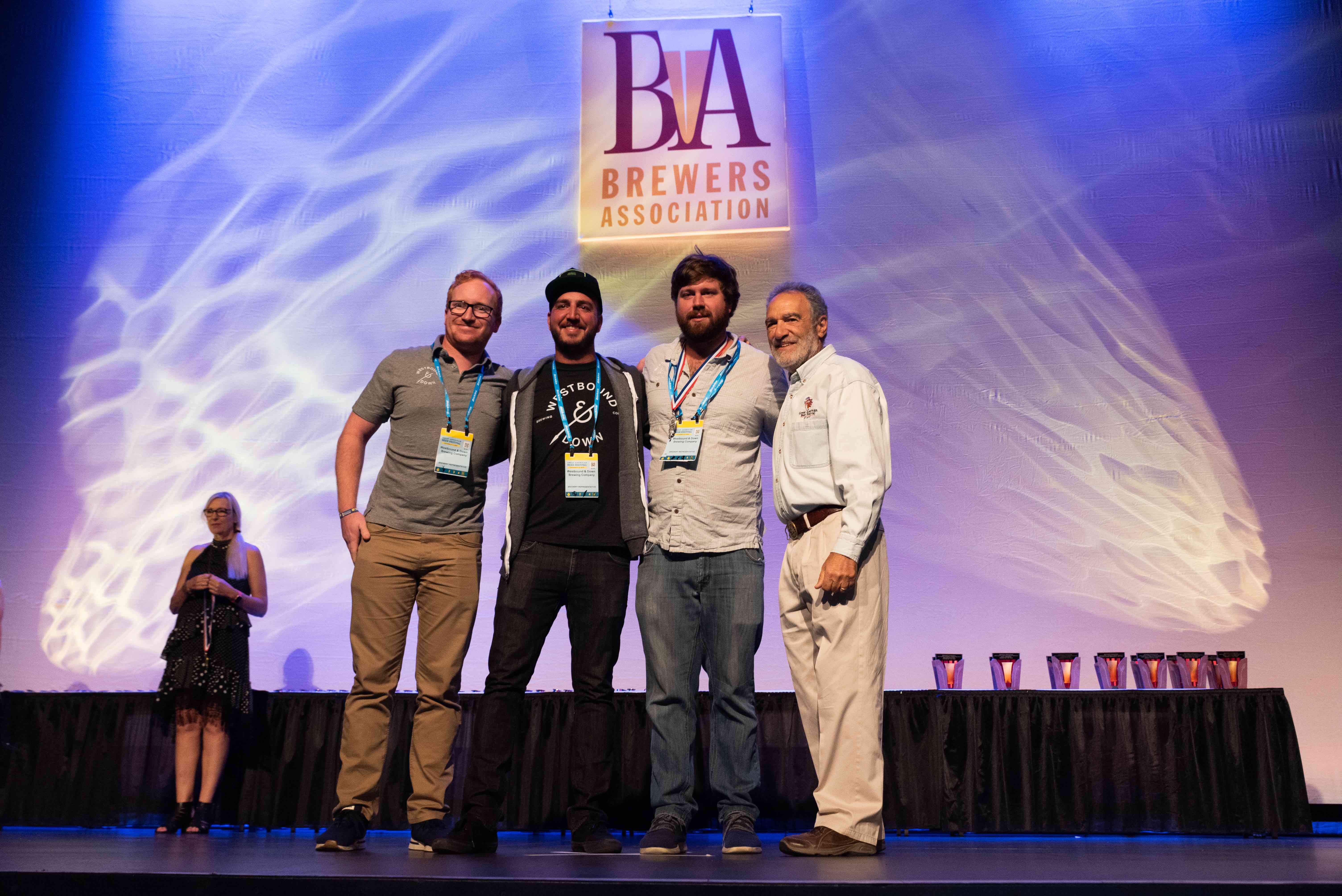 Last year we predicted that Westbound & Down and Amalgam Brewing would jointly be two of the rising breweries to watch in 2019, and apparently, we knew exactly what we were talking about. Westbound & Down won big at GABF this year earning Mid-Sized Brewpub and Brewpub Brewer of the Year, along with individual gold and silver medals.
Additionally, at the end of 2018, they officially opened The Cultural Center in partnership with Amalgam Brewing to focus on barrel-aged offerings and rarities. These releases have yielded incredible new experimental beers for the brewery including their Acid Jazz Vol 2. Metaberry, Solera Saison Variants, Blender's Insurance + Gin, Barrel Select: Woody Creek Rye Western Justice Imperial Stout and more. Their success doesn't look to slow any time soon as they continue to plan for a Denver taproom in the Santa Fe neighborhood in the coming year.
Wiley Roots Brewing Co.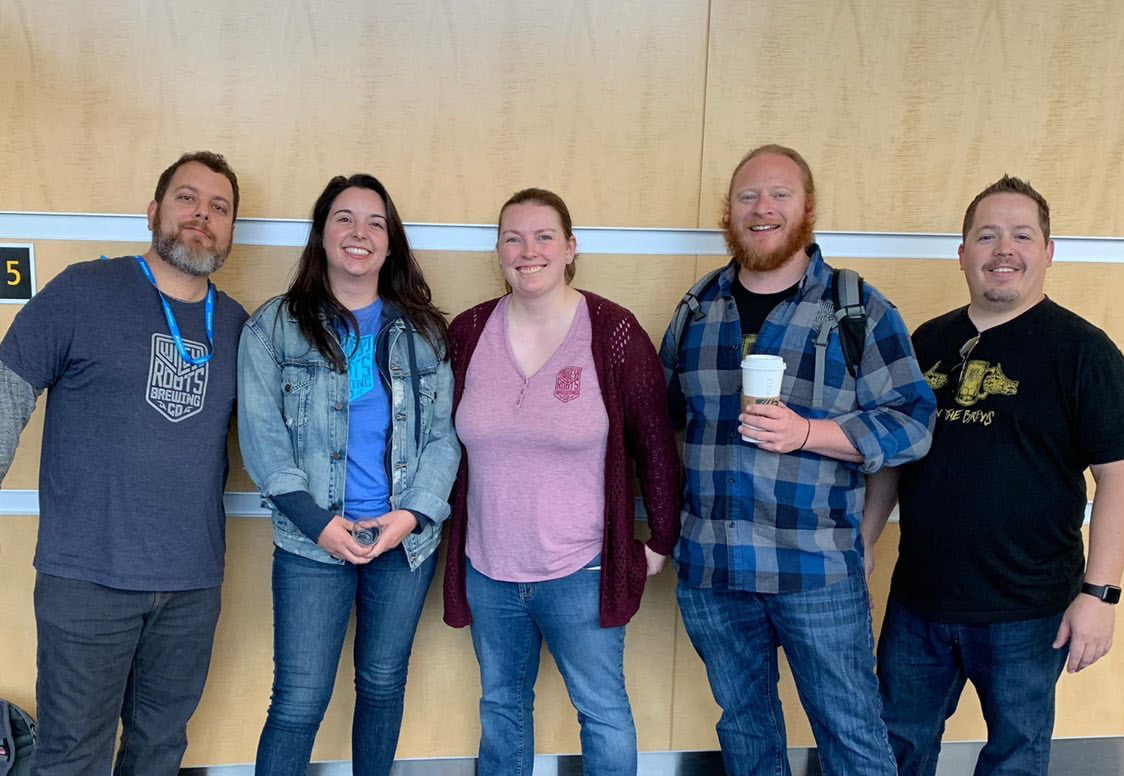 While the city of Greeley was first put on the map because of a little brewery by the name of WeldWerks, over the past two years, Wiley Roots has emerged to further make the small Northern Colorado town a true beer destination. Following on the heels of their neighbors up the road's accomplishment of producing over 100 SKUs of beer in a single year, Wiley Roots officially became a national name in 2019 with a similar model of offering a healthy variety of trendy styles.
However, Wiley Roots owners Kyle and Miranda Carbaugh, didn't intend to replicate the diversity of beers that WeldWerks set forth in 2017. "Honestly, we were really surprised that we produced so many beers this year, considering the number of recent changes to our brewhouse personnel and with the challenges of expanding the brewery," shares Kyle, "We had no intention to make so many different beers, but this definitely could not have been accomplished without the expansion, a dedication to production, and staying true to our 'Uniquely Crafted' motto."
Not known to many, in late 2018, the brewery faced operating with a skeleton crew of fewer than five employees for over eight months, including the two owners. Despite the difficulties faced, they didn't give up and spent 12-18 hour days at times to keep the operation growing. "It caused a lot of long days and sleepless nights, but looking back, we are incredibly proud of where we are now and the team that stuck with it and with us through it," shares Miranda. Since then they have exploded on the scene producing GABF medal-winning entries with two hopped version of Funk Yo Counc in 2017 and 2018 consecutively, bringing slushy beers to the forefront in Colorado, and producing a prolific portfolio of beers in 2019 including Pua Aloalo, Du Hast Cake, Guy on a Buffalo, Peaches and Cream County Fair Cobbler, Vanilla Anonym and more.
Mash Lab Brewing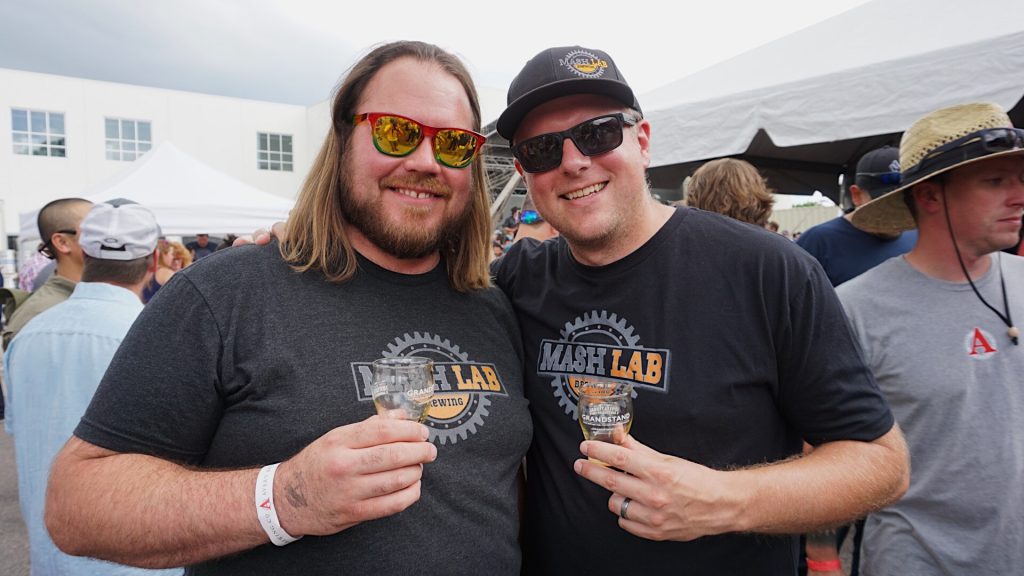 One of the biggest surprises to emerge of the past year comes from Windsor, CO in Mash Lab Brewing. Opened in 2016 by Eric and Cristin Perrat, who also own and operate the neighboring Pinkee's Rod Shop, a classic cars restoration shop, Mash Lab splashed onto the scene this year after a change in head brewers brought Ryan Joy over from his previous stints at Bootstrap Brewing and City Star Brewing.
Since Joy joined the team, they have introduced a well-rounded portfolio which includes an impressively well-built, delicate Pilsner in Crispy Boi, which utilizes Hallertau Blanc to blend new-age ingredients with a classic style. The lineup also includes an equally balanced and nuanced New England-style IPA in Fog Lamp, and this year's newly introduced Drive by Night Bourbon Barrel-Aged Stout and a Vanilla variant version of Drive by Night.
Much like WeldWerks and Wiley Roots, we anticipate Mash Lab to continue to build upon their impressive lineup of beers to put Windsor of the map in connecting Northern Colorado's beer scene with the rest of the Front Range.
Breweries to Watch in 2020
Ska Brewing
Ska Brewing out of Durango, CO may have just celebrated its 24th anniversary, but in the Front Range, they don't have the name recognition that other pioneers like Avery Brewing, Great Divide, Odell, and New Belgium carry… however that's all about to change in 2020. Ska recently announced they'll be taking over FATE's old location in the Boulder area and launching a Brewstillery, which combines their brewery with their partner distillery, Peach Street Distilling. Additionally, in the past year, the Ska-music inspired brewery has launched a hard seltzer and has begun dipping their toes in helping to produce CBC-infused seltzer as well.
Black Shirt Brewing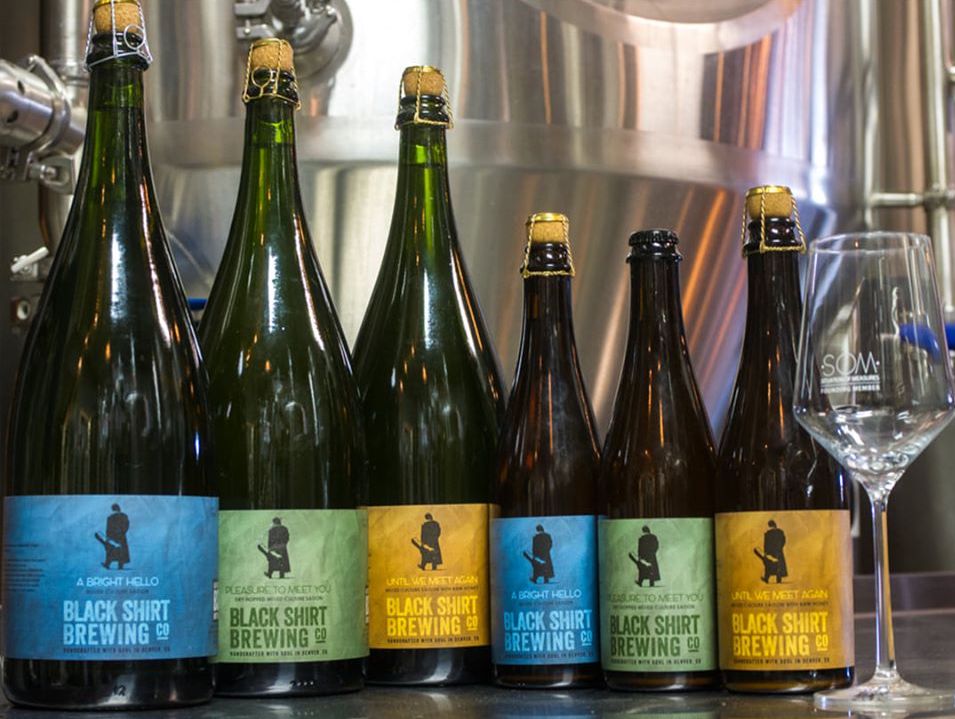 It has been a big year of change for one of the River North Art District's elder breweries. Beginning with the departure of co-founder Branden Miller, who has since gone on to work for Irwin Brewing in Crested Butte, Black Shirt also announced in November 2018, the introduction of David Sakolsky, who previously helmed and helped launch Deciduous Brewing in New Hampshire. Sakolsky's arrival has signaled a departure from the brewery's previous approach of only producing Red Ales.
With a desire to focus on Farmhouse-inspired Mixed Culture Saisons, Sakolsky has recently introduced three impressive entries already in A Bright Hello, Pleasure to Meet You, a dry-hopped version of that base Saison and Until We Meet Again, a version refermented with raw Oregon honey. These debut Saisons have displayed such a complexity of flavors while still yielding a delicately balanced profile reminiscent of the great producers like Sante Adairius, Holy Mountain and Transient Artisan Ales.
If Black Shirt continues to release more of these thoughtful and inventive Mixed Culture Saisons in the coming year, we expect great things for Sakolsky and owners Chad and Carissa Miller.
Primitive Beer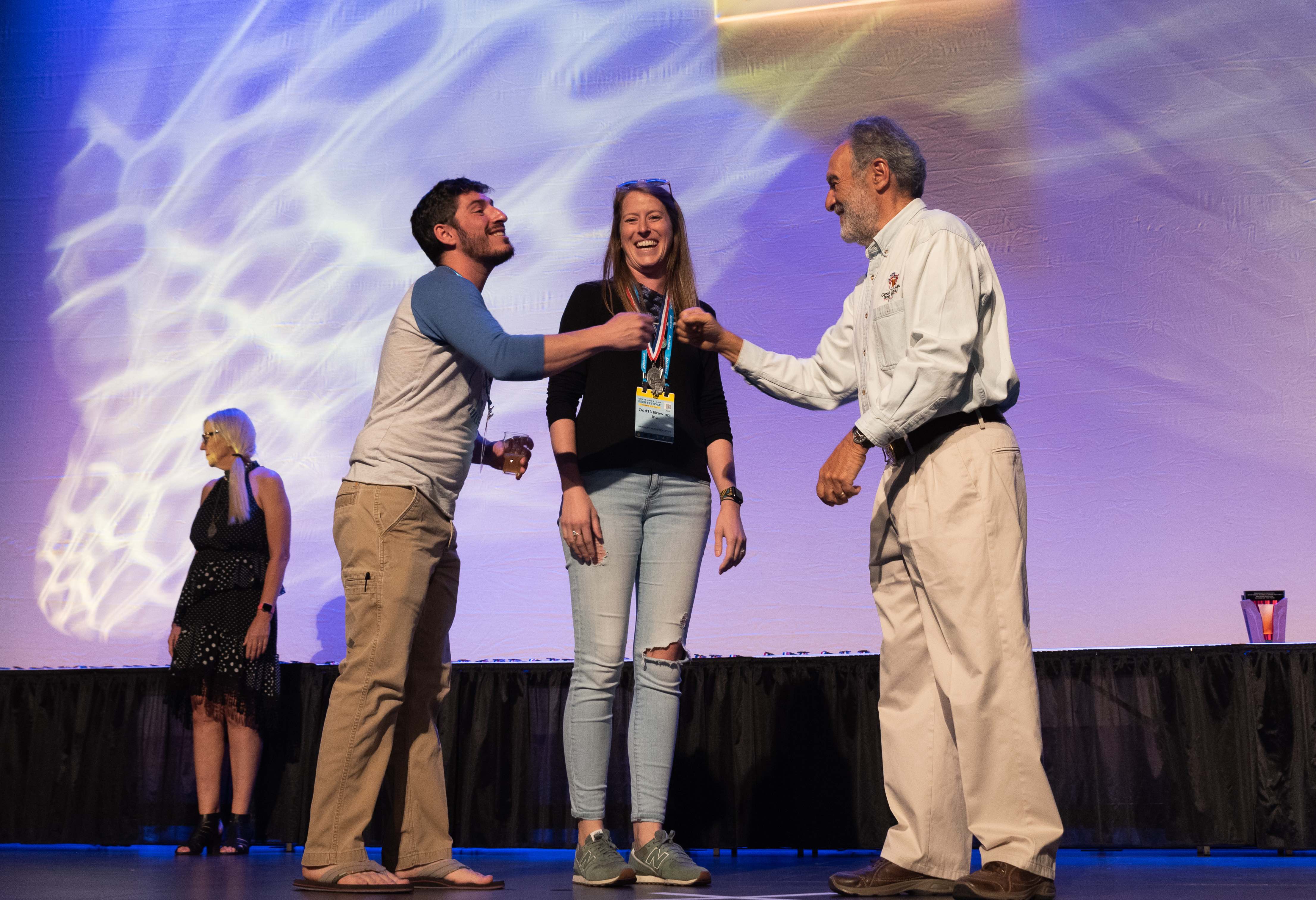 Primitive Beer is about to celebrate its second anniversary in April 2020, and already has a GABF medal under their belt. The Longmont brewery made a name for themselves last year debuting with boxed still spontaneously fermented beers. In 2019 they earned a silver medal at this year's GABF competition in the "Experimental Beer" category for ShibbleShabble one of their first in a growing line of bottle-conditioned carbonated spontaneous blends that have been released. 
Best New Breweries
Knotted Root Brewing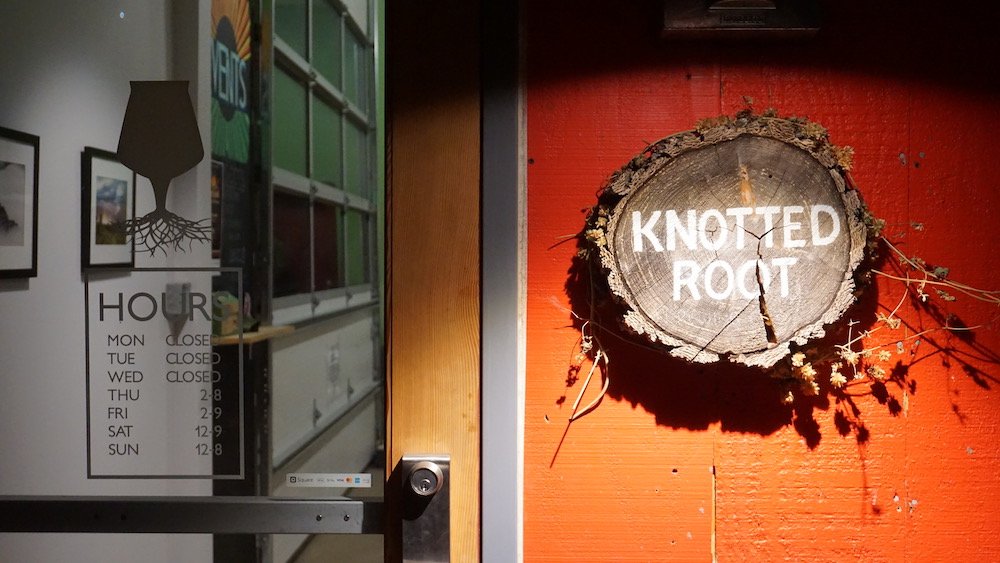 We've talked on PorchDrinking about how Colorado has become truly blessed to have some of the best sour/wild producers in the country in New Belgium, Black Project, Casey, Primitive, Cellar West, and more, as well as some of the country's best barrel-aged Stout producers in Cerebral, WeldWerks, Avery, River North, Liquid Mechanics, but now it's clear we also have some of the best producers of Hazy IPA's as well. Knotted Root joins the likes of Outer Range, Cerebral, Fiction, Odd13, Cerebral and more producing some of the more expressive and balanced New England-style IPAs in the state.
Located in Nederland, just outside of Boulder, Knotted Root is the brainchild of Chris Marchio, who brewed formerly at Joyride and Fiction before starting his own project. While most of their hazy entries do a tremendous job at showcasing a variety of hops with a balanced juicy profile, their Double Dry-Hopped Perpetually Unimpressed ironically has been one of the most impressive hazy IPA's we've encountered this year with a beautiful balance of flavors anchored by Nelson Sauv hops. To further entrench the proficiency of Knotted Root turn no further than their German Pilsner, Blue Light Rain. While this mountain town brewery has all the trappings of a trendy buzz-worthy brewery, the fanfare in this case is duly warranted.
Peak View Brewing
Across the state, we're beginning to see higher quality breweries crop up even in the most unlikely of places including small towns, back alleys, farming communities and even suburban strip malls. Such is the case with Peak View Brewing, a modest taproom tucked away in the Denver Tech Center which just a year in is already producing a complete lineup of impressive beers.
From their Grapefruit IPA to a Peanut Butter Porter, Peak View isn't exactly reinventing the wheel or chasing after flashy trends, but what they do brew, they brew so so well. Serving as the perfect neighborhood haunt, visitors will be treated to a diversity of styles all created at a high caliber.
Raíces Brewing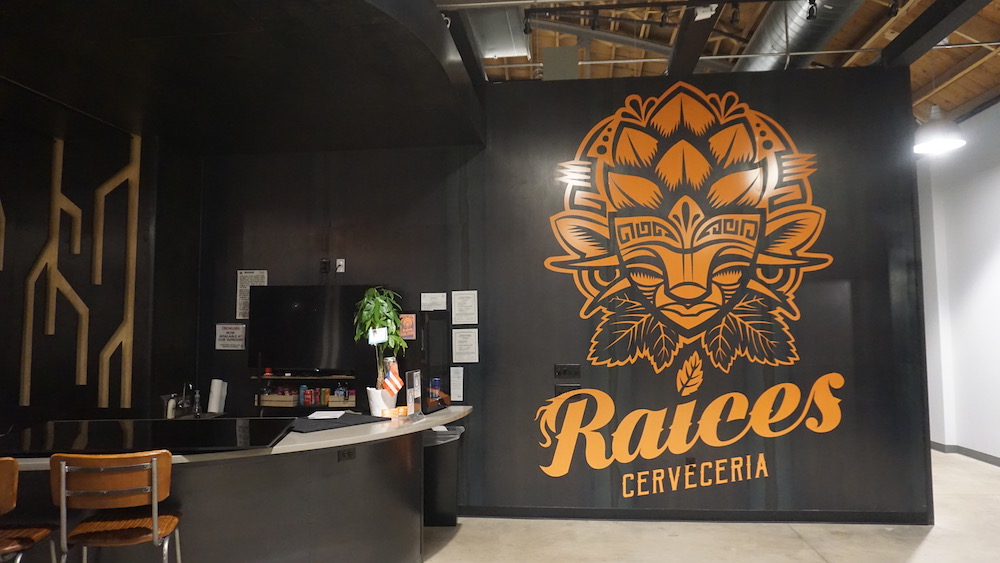 While only open for a few months, Raices Brewing is already the most impactful opening of the year. Founded by Jose Beteta, Tamil Maldonado, and head brewer, Martin Vargas, Raíces was born out of a shared vision to create a community space to celebrate and promote all Latin American culture.
Located in the Sun Valley neighborhood down the street from the Broncos' Empower Field, Raices has already hit the ground running with programming such as, live music and dancing, drum circle classes, community fundraisers and the debut of Suave Fest which was a beer festival that celebrated LatinX inspired beers, brewery owners, and culture.
Other Notable New Breweries:
Flyte Co Brewing
Empourium Brewing
Counter Culture Brewing
Biggest Beer Story of the Year
New Belgium Brewing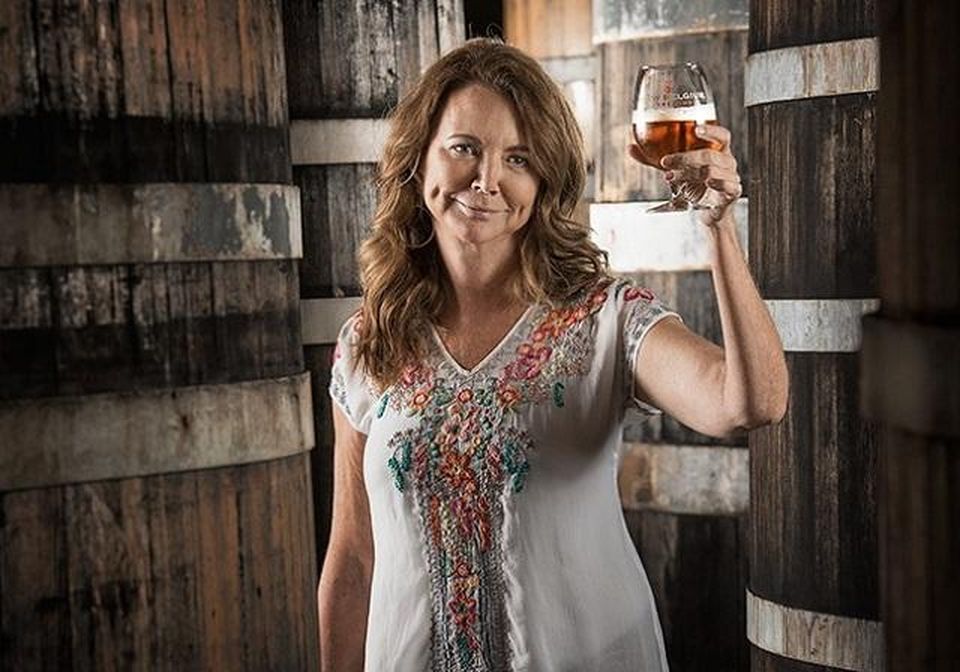 The biggest story to emerge from Colorado this year coincidentally may end up being the big national beery story of the year as well. First announced before Thanksgiving and finalized right before Christmas, New Belgium Brewing, long regarded as one of the original vanguards of craft beer's upstart independent movement, agreed to a 100% cash acquisition by Lion Little World Beverages, Kirin Holding's craft beer arm.
Last year, New Belgium Brewing produced 845,000 barrels of beer and was the fourth-largest craft brewery in the country, but with this acquisition will lose its designation as a craft brewery based upon the Brewers Association's definition. Additionally, the Fort Collins-based brewery drew criticism for moving forward with the deal when it was uncovered that Kirin had ties with Myanma Economic Holdings Limited or MEHL, a military-owned conglomerate that has been accused of committing genocide.
From the standpoint of the acquisition's effects on the future of craft beer, the move essentially signals that more of those consolidations will continue and that no brewery is safe. We break it all down in our post talking about what it really means to "Sell Out" as a brewery.
This piece includes contributions from Karen Mills & Tristan Chan
---