No Comments
Wheatland Spring Farm + Brewery Re-Imagines Timeless Brewing Traditions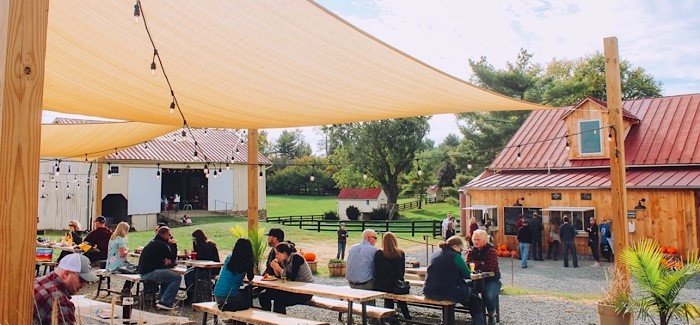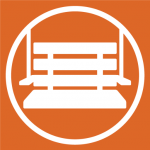 Wheatland Spring Farm + Brewery in Waterford, VA sits on 30 acres of rolling Virginia farmland approximately 50 miles west of the urban bustle of Washington, DC. This working farm is a beautiful spot to enjoy a pint in the repurposed, 200-year-old tasting room and century-old brewhouse barns nestled amidst the charming bucolic countryside. These are the parts of Wheatland Spring most guests experience, but they only hint at the revolutionary approach to brewing that is blossoming within these unassuming rustic walls.
Founders John and Bonnie Branding are pushing the boundaries of craft beer's "drink local" mantra to incredible and unique lengths. Their story begins with a conversation more than a decade ago in a neighborhood bar in Berlin, Germany. The Brandings lived in Germany for years, immersing themselves in Europe's highly regionalized beer culture. There are local breweries in almost every European city, town and village similar to craft breweries in the United States. However, one crucial difference is the tradition-bound way that many smaller European breweries source the ingredients for their beer. This difference is called "Landbier," which translates as "country beer" in German.
What the heck is Landbier?
In the Landbier tradition, brewers intentionally use local ingredients to shape the unique character of their beers. This makes their breweries a vital and fully integrated part of their local agricultural economy. It also imparts a "uniqueness of place" to the beer, which is quite like terroir in wine making. The industrial approach of brewing beer in the United States is vastly different, where craft beer is produced locally but is seldom made from ingredients that are wholly sourced locally.
Wheatland Spring is reimagining the Landbier tradition for the US and fittingly calls its approach Land Beer. They envision craft beer as an agricultural product bound and defined by regional ingredients. Because of this, they use estate-grown and regional ingredients in their beer–not just for a specialty beer or two, but for every beer that they brew.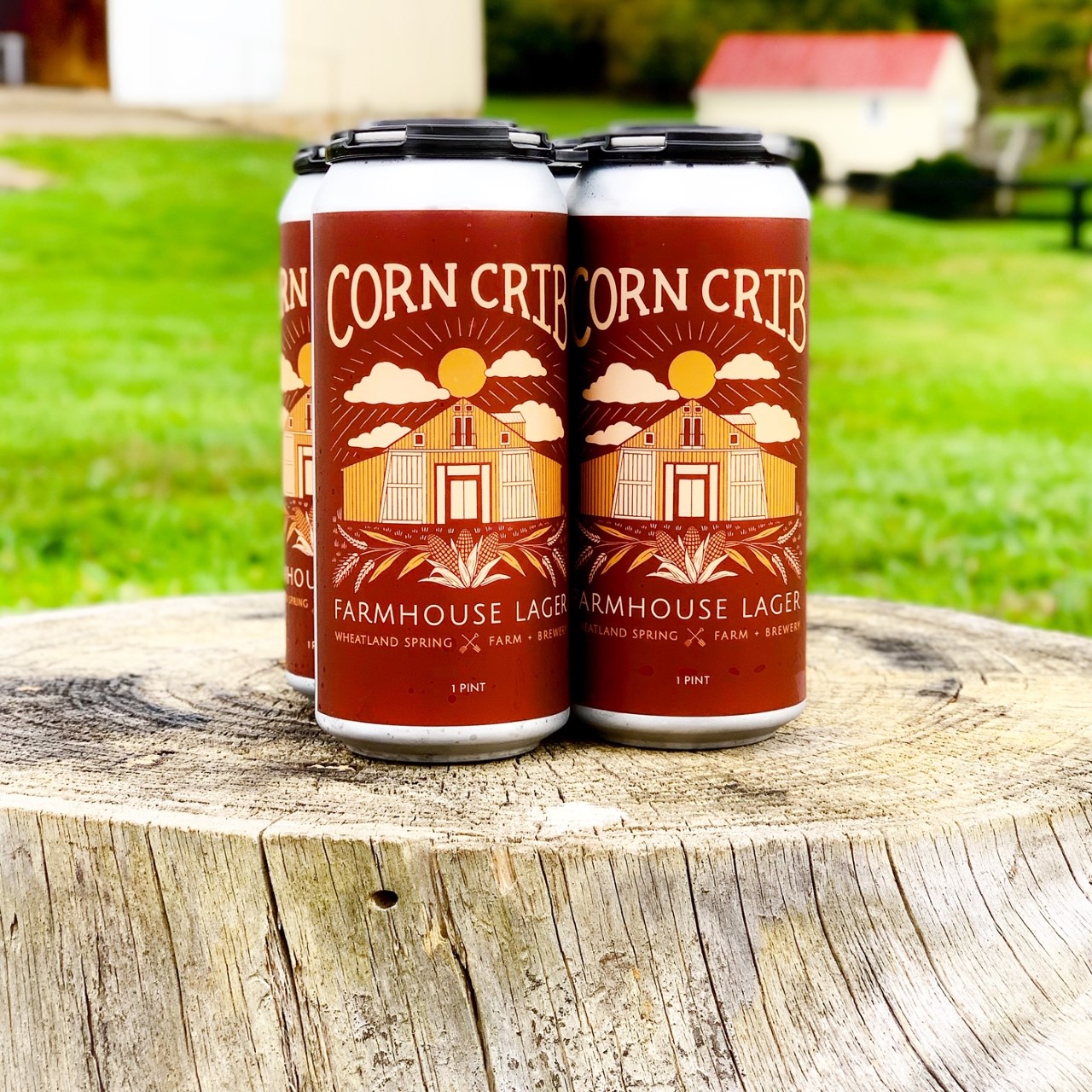 Land Beer at Wheatland Spring
Wheatland Spring uses grain from its agricultural growing region for its entire beer lineup. In fact, the brewery grows acres of grain and other ingredients right behind the brewhouse for the sole purpose of using them in their beer. This is in stark contrast to many farm breweries which are either "farm" in name only or are already large farms that tack on a brewery as a side business.
Wheatland Spring sets itself apart from those breweries by planting fields wholly dedicated to growing grain and other ingredients for making their beer, using water exclusively from their own well and even yeast captured on their own property. Very few breweries incorporate this approach with such a level of intention, thoughtfulness and commitment.
Drink local and grow local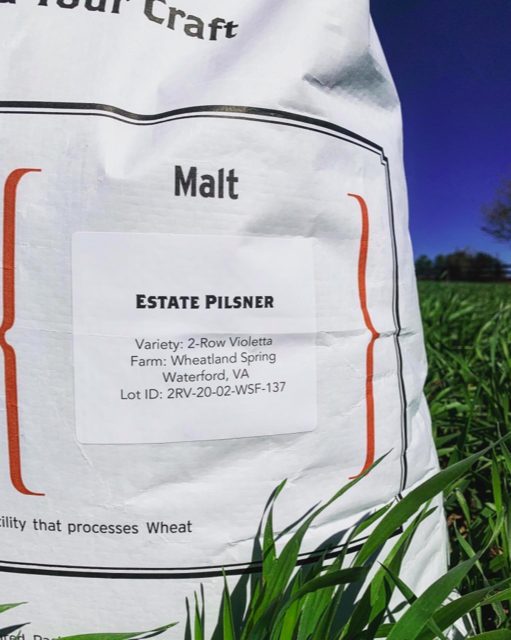 According to John, "Beer is an agricultural product. This is central to everything we do. We bring the land and beer closer." The rediscovery of that simple truth — a truth that's immensely challenging to realize — inspired the Brandings to open Wheatland Spring in the summer of 2019.
John stated that their original goal was "not to brew 'local beer,'" but to "brew the best beer we can, using the highest quality ingredients. Since beer is an agricultural product and we have access to the freshest and highest quality ingredients on our farm, neighboring farms and growing region, that's where we go.
"We know what's happening with our farm's grain, herbs, honey and produce during the entire lifecycle," he continued. "The same goes for fruits and vegetables from a neighbor's farm. If some ingredients don't grow in our region, we expand our search until we find a farmer or merchant who shares our approach and partner with them. For us, it's quality over proximity. Thankfully, we have some amazing farmers and partners in our growing region."
Good partners ensure success. Wheatland Spring's crucial partners are two small, artisanal maltsters in VA and NC. These partners malt estate-grown Wheatland Spring and other regional grain for their entire lineup. This infuses their brews with a unique character and quality that simply cannot be reproduced to their satisfaction in any other way.
The incredible power of hope
Wheatland Spring also uses wild-captured yeast from their farm in many of their beers. For example, they use the "Hope" yeast for some of their farmhouse ales. The Brandings captured it from a tree on the property a couple of hundred feet behind the brewhouse. It produces funky and slightly tart characteristics that are very reminiscent of Orval Trappist Ale.
Working with a mixed culture of Hope yeast and Brettanomyces, they brewed their recently released Gemut Reserve First Harvest 2019 Farmhouse Ale. It also includes estate-grown wheat from their first harvest in 2019 and blackberries from a neighboring farm. This beer is a glorious mashup of a funky Saison base with playful fruity counterpoints that is delicious and cannot be reproduced anywhere else in the world. In the wine world, this uniqueness of place is simply terroir. In the beer world, it is simultaneously revolutionary, timeless and truly remarkable.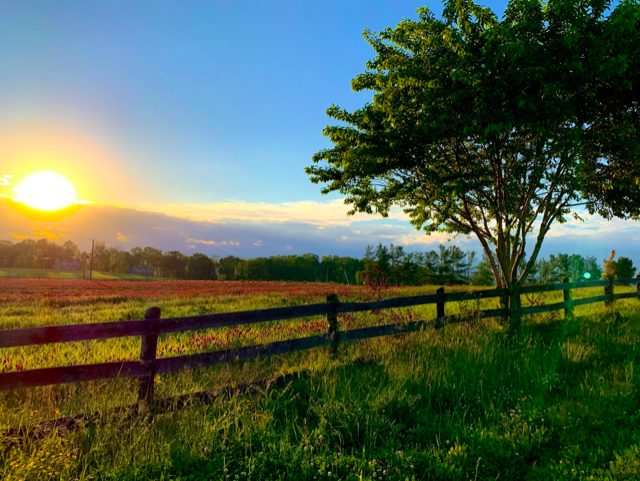 Excellent beers on a beautiful farm
Wheatland Spring's diverse beer line-up reflects the Brandings' time overseas and includes a variety of both traditional and modern styles. It features Farmhouse-style ales and Saisons, Lagers, IPAs, Stouts as well as seasonal and regional specialties such as Doppelbocks, Märzens and Altbier.  Their "Gemut Reserve" line of bottles are premium offerings and include some wildly creative and interesting brews such as the 2019 Farmhouse Ale in both its blackberry and botanical variants.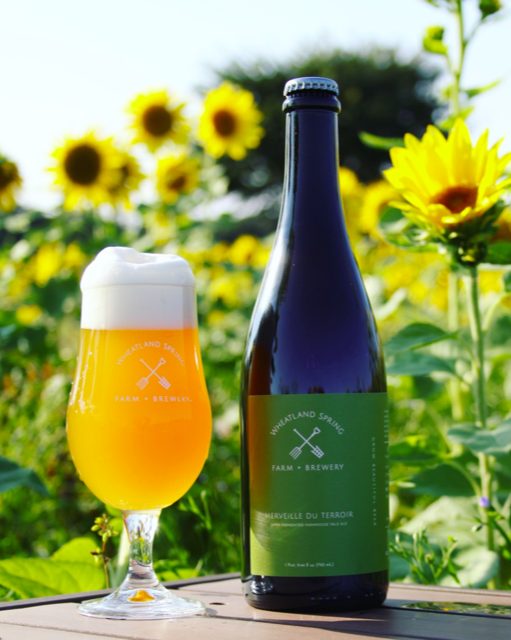 They brew their beer in a10 BBL brewhouse housed in a 100-year-old barn; they also have a coolship in the loft for open fermentation. All of their brewing equipment is fabricated in the United States, keeping with their ethos of sourcing the highest quality materials from local suppliers.
The grounds are peaceful and friendly with plenty of room to spread out. Enjoy outdoor seating at covered picnic tables and Adirondack chairs spread out across the property or, on a cold day, check out the tasting room in the 200-year-old Bank Barn. Patrons enjoy beautiful views of the surrounding farm and seasonal crops anywhere they sit. The Brandings have gone to great lengths adapting a venerable farm into a comfortable and unique experience for guests. But make no mistake: this is a working farm.
A labor of love and rediscovering the future
Making beer is a labor of love and that is front and center at Wheatland Spring. Brewing with estate-grown and locally sourced and processed ingredients is appealing and romantic. However, it's not easy and it is certainly not cheap. Wheatland Spring does not enjoy the economies of scale or discounts that a typical brewery would get by working with national brewing supply chains. Their ingredients are premium and cost a premium but that premium shines through in every glass of Wheatland Spring beer.
And though the beer certainly shines, it is the stories behind that beer that truly dazzle. The story of a craft maltster lovingly plying his ancient trade in Charlottesville, VA or Durham, NC or of a fruit farmer in Virginia tending to her crop through the long hot summers. The Brandings and their head brewer, Austen Conn, mix those ingredients with just a little bit of their Gemüt, or innermost spirit. The climax is a line of remarkable beers that are grounded and nourished by the land that surrounds them, beers that provide delicious witness to the importance of small agriculture in the United States and just a glimpse into the ancient Landbier traditions of Europe that are almost unknown in the New World.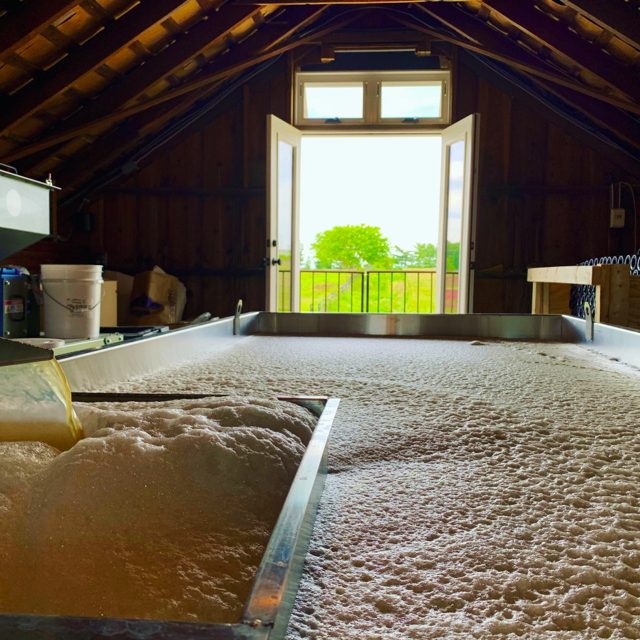 The Brandings fell in love with the "premium without pretension" vibes of the breweries that they frequented in Europe. The passion for regionally connected beer that they discovered there made quite an impression on them and this tradition anchors Wheatland Spring's brewing philosophy. It inspires them to create a new path for excellent craft beer in the U.S. that dares to suggest that perhaps craft beer's brightest future might indeed lie in the ways of its timeless past.
---