No Comments
V.S.O.J. Once Again Shines in Revolution's Summer Deep Wood Release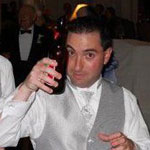 When Revolution Brewing opens its doors to the public Friday to launch the latest batch of Deep Wood beers, it will be the first no-restrictions in-person beer release event in the city of Chicago since the pandemic began.
A staple of previous Revolution beer releases, the taproom party featured drafts of the beers being released as well as some rare and special drafts for people to try. Over the past year and a half, the brewery had to settle for curbside pick-ups as the pandemic restrictions remained in effect.
Today V.S.O.J., Strawberry Jacket, and Supermassive Café Deth will be flowing at both the taproom and brewpub when they open. Those who placed orders online ahead of time will also be able to pick up their beers.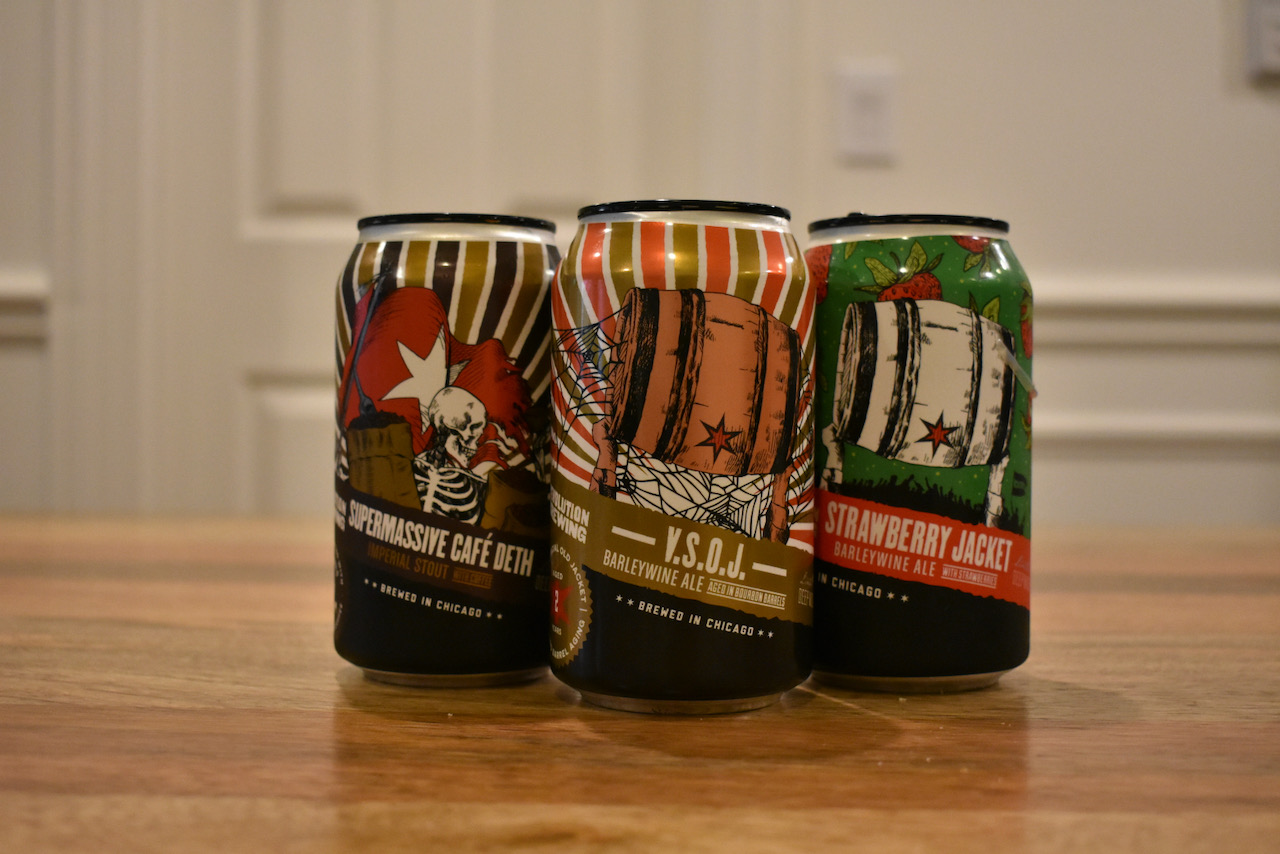 As for the beers, all three have been released by Revolution before, but this is the first appearance for V.S.O.J. since it first came out in cans in 2018. Supermassive Café and Strawberry Jacket were released last summer as well.
V.S.O.J. (Very Special Old [Straight] Jacket)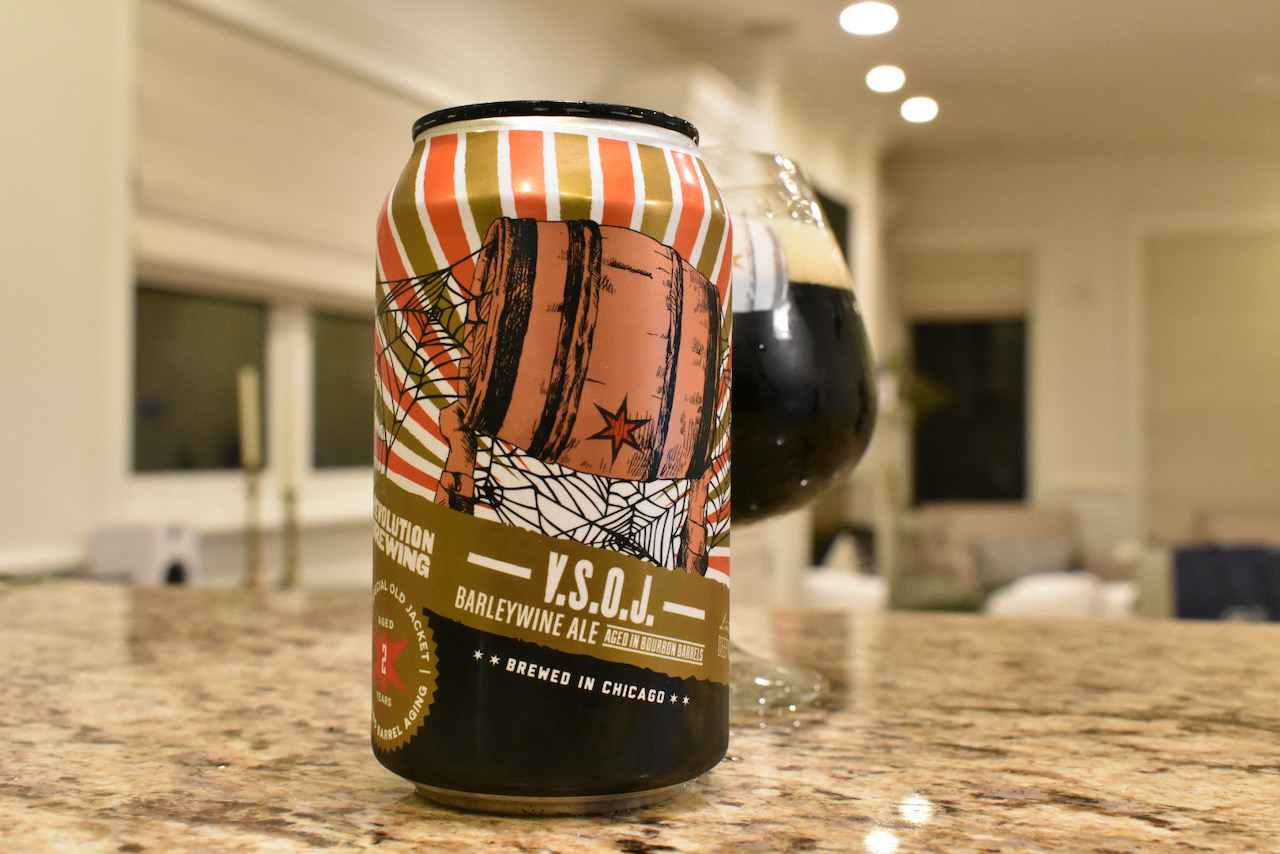 The darling of the release, V.S.O.J. has the craft beer community excited. This beer was a small-batch draft-only release in 2017 and first saw its way into cans in 2018. It didn't disappoint having some fans calling it one of the best Barleywines ever made. It ranked on many "Best Of" lists for 2018 including my own. It currently has a 4.6 rating on Untappd if you're into that kind of thing and so the 2021 version has big shoes to fill.
Easily the most common question I've gotten is how does the 2021 version compare to 2018. I'll be honest – I don't know. It's been nearly three years since 2018 came out and it was a phenomenal beer. Let me tell you this – 2021 is also phenomenal. There is something truly special about this beer and the hype around it is warranted.
A staple of Revolution's Deep Wood program has been their ability to perfectly blend their barrel-aged beers. V.S.O.J. is no exception as the team cuvéed their Straight Jacket Barleywine which had been aging between two and four years.
The result – a Barleywine that once again rises above all else. The toffee, butterscotch, and molasses aroma is sweet, but not overpowering. You'll get a nice underlying heat from the barrel but it's not too hot. At 15% ABV it's a beer you'll pour and enjoy slowly. Let this one warm up just a bit and the flavor profile gets deeper and deeper.
Those notes from the aroma translate nicely to the flavor as toffee and molasses start up-front and give way to the barrel boozy notes. I've heard this beer is fetching some insanely high prices per can and I won't go into the reselling side of beer but it's absolutely one to try. At the taproom party tonight you better believe I'm getting another pour of this one.
Supermassive Café Deth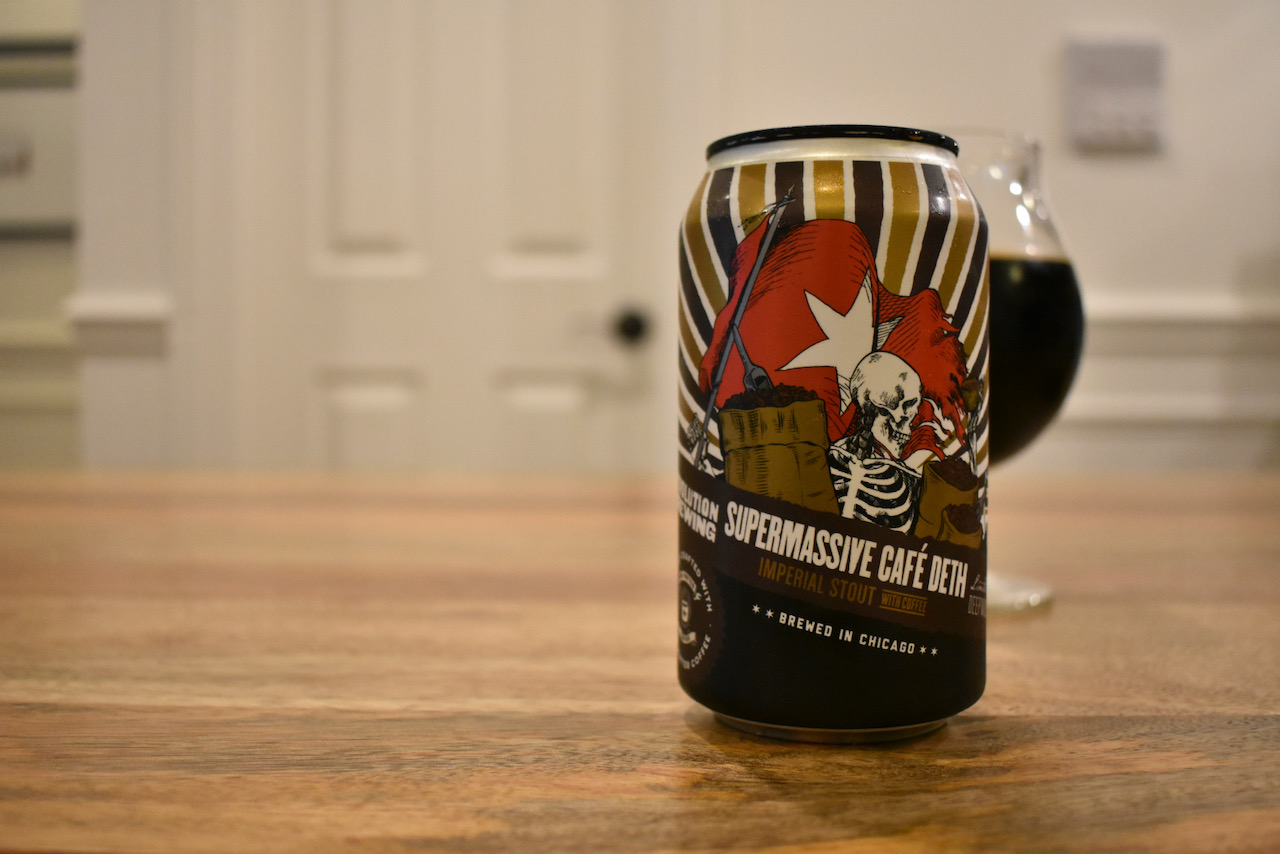 In any other release, the other two beers being released today would probably have top billing. Maybe it's a good thing that V.S.O.J. is getting all the attention because fans can swoop in and grab Supermassive Café Deth with little issue. 
I was a huge fan of last year's release and I can tell you I think I like this year's even better. When it comes to coffee beers, I want to be smacked in the face with coffee. Last year's version delivered, and the 2021 version continues the trend. 
Huge notes of coffee are present upfront, but what makes the 2021 version even more impressive, and maybe even better than 2020, is that it's more balanced than last year's version. Revolution added 666 pounds of roasted Dark Matter coffee beans to this beer and it's tasting great. While it's coffee-forward, and that might be an understatement, it's very drinkable. It clocks in at 14.3% ABV but there's not much heat at all. The coffee is the star and there's some slight barrel heat at the end that lingers in the top part of the throat.
The star of its release last year, Supermassive will take 2nd chair to V.S.O.J. this year but it's not one to sleep on.
Strawberry Jacket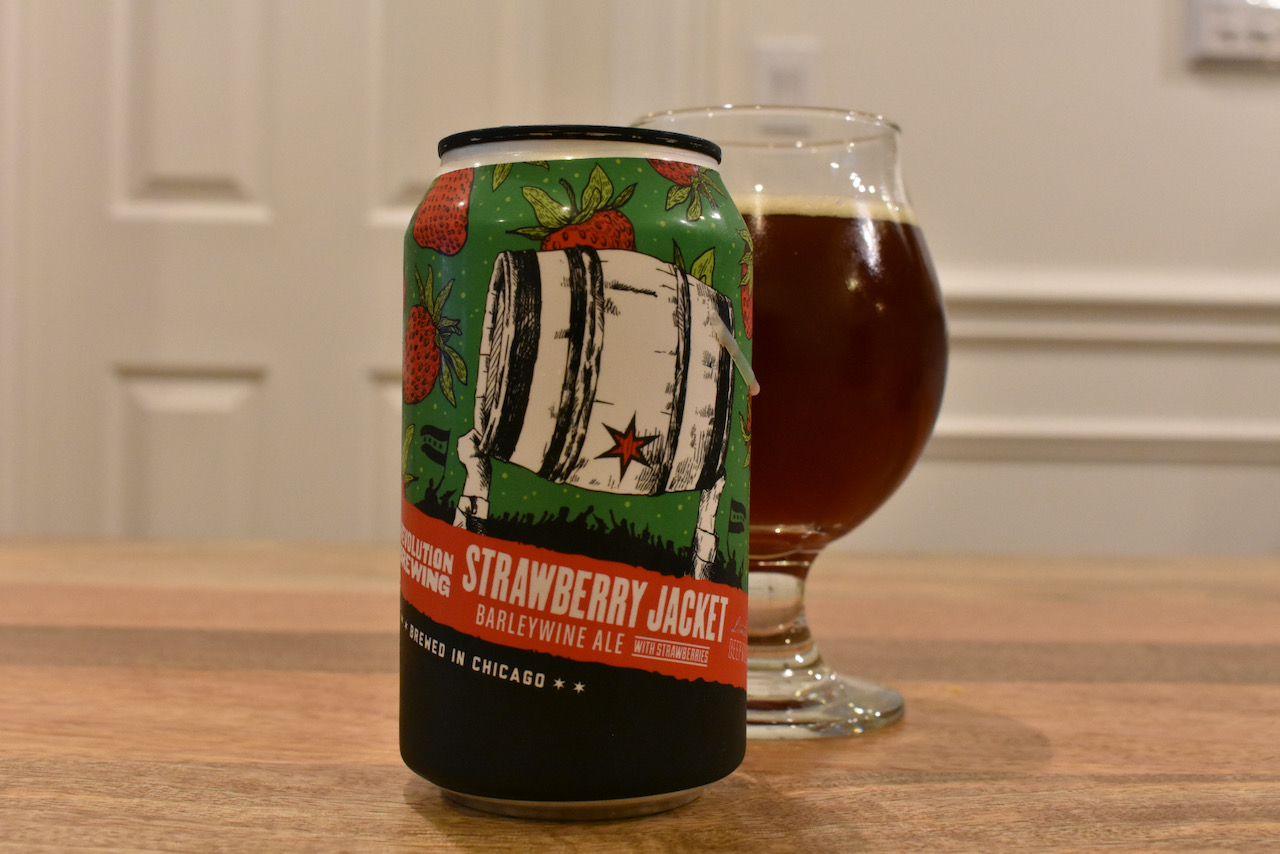 Like Supermassive Café Deth, Strawberry Jacket is a very well done beer but when you have the other two in the lineup it's simply not going to get talked about as much and that's a shame. 
In a way, it's the opposite of what V.S.O.J. is. It's much sweeter and fruitier, but that's to be expected when you add the strawberries to the base Straight Jacket beer. It's not spending as much time in barrels so there's little to no barrel heat as well.
If you're with someone who might not appreciate the intricacies of V.S.O.J., Strawberry Jacket is an excellent beer that would probably have more mass appeal. Even though the ABV is only slightly lighter than V.S.O.J. at 14.2% it feels like a much lighter beer if you have them side-by-side.
Those strawberry flavors start the taste but give way to caramel and toffee towards the end. It's a delightful beer but again, in a release like this, it doesn't get the attention that it deserves. People might forget that this beer won a medal at FoBAB back in 2019. Just saying.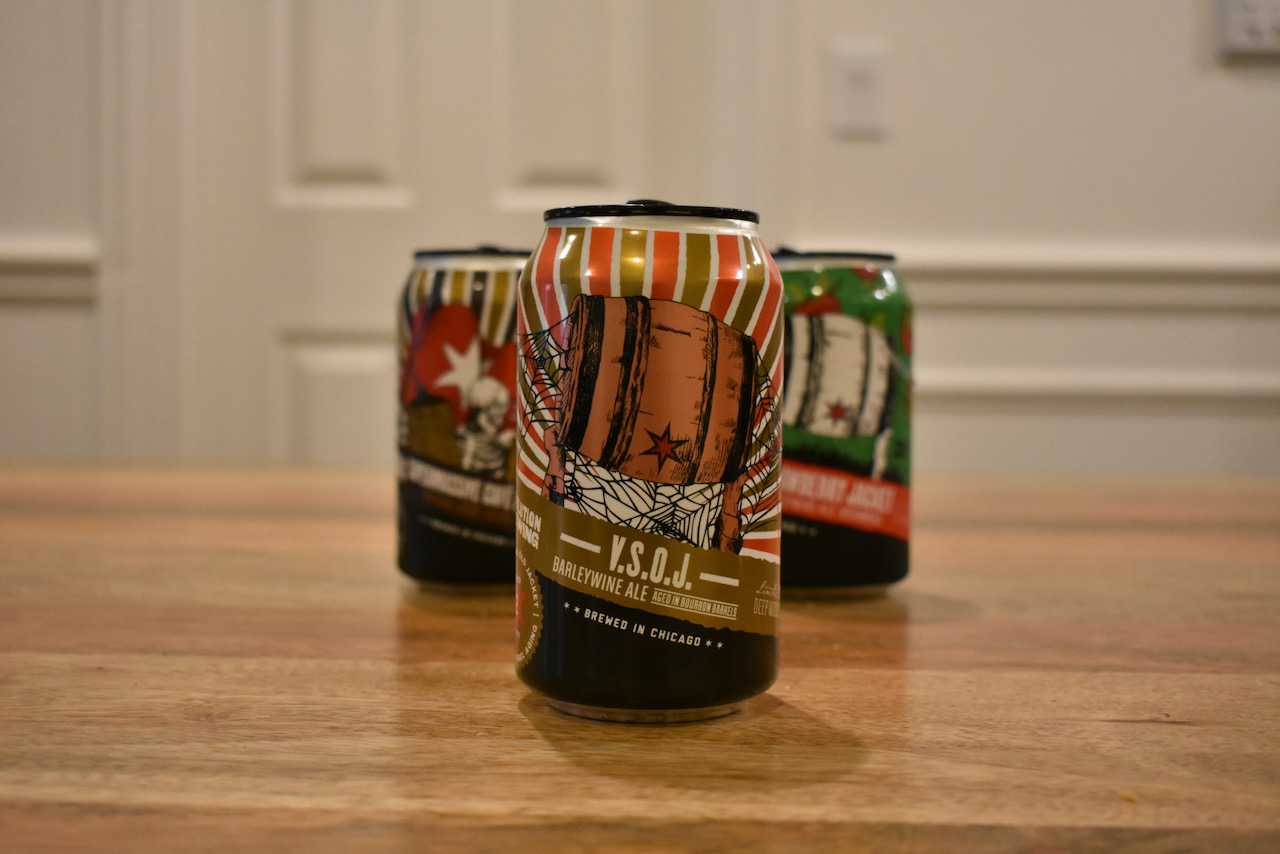 At the time of publishing V.S.O.J. has sold out, but Strawberry Jacket and Supermassive Café Deth were still available to order. While Strawberry Jacket will stay as a brewery-only release, Supermassive will get some regional distribution. 
---