No Comments
Barrel Room Spotlight | Moksa Brewing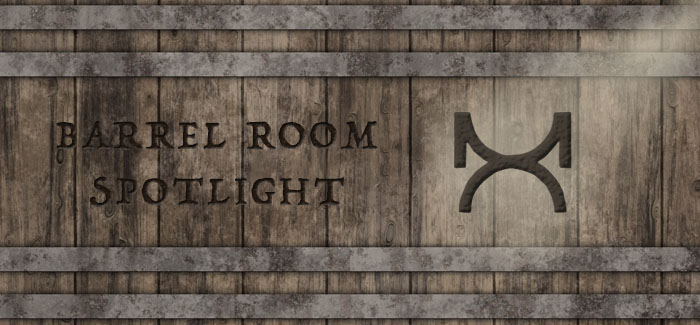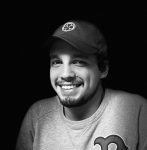 It's been long overdue to have another brewery join us in the Spotlight. So without further ado, enter Moksa Brewing Company out of Rocklin, CA. Established in 2017 and opening their doors in 2018, Moksa is another very young brewery that has had a lot of success in a very short period of time. Seeking to showcase beer and brewing as its own unique art form, Moksa has never hesitated to push the boundaries. We had the privilege of chatting with Head Brewer Cory Meyer, focusing on the growth and successes of their barrel program, some of the ins-and-outs of their processes, and their hopes for the future.
A Philosophical Approach
A question that is asked frequently about Moksa is the origin of their name. Moksa, or Moksha, is a term rooted in Hinduism and Hindu philosophy. Its translation is related to a release, or liberation in various forms. Its meaning is the whole foundation of what Moksa was built on. In short, it represents being free from constraints of traditional beer styles and philosophies; creating something truly unique.
Beyond that, Moksa recognizes that craft beer consumers today, more than ever, are open to trying new things. The combination of that level of receptiveness while trying to master the ability to leverage such a vast array of ingredients and processes is exactly the type of challenge that this small brewery thrives off of. And with only 5 years under their belt, they've got plenty of time to make their mark.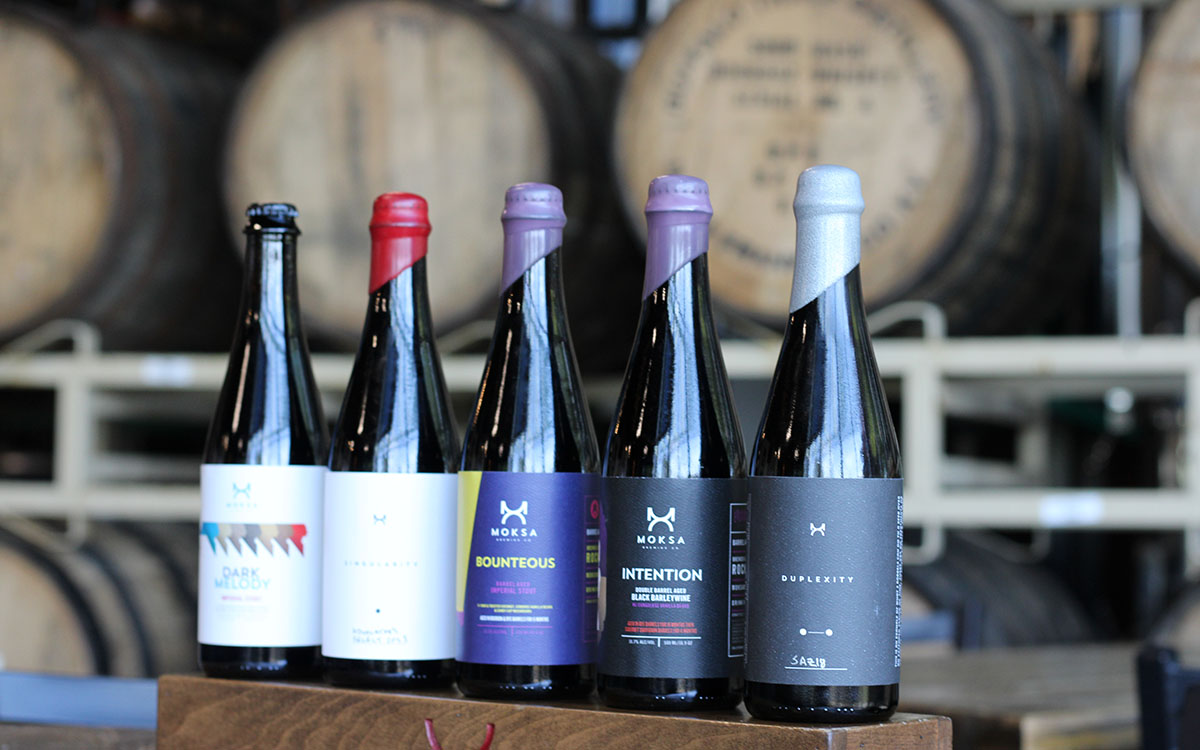 Defining the Moksa Program
With these types of interviews, the stage is always set by looking to find out how a brewery is able to set itself apart in an increasingly competitive industry. For Cory and the brewing team at Moksa, it's first and foremost a prioritization for real, authentic ingredients with no flavor shortcuts, no matter the labor or monetary costs involved. Additionally, knowing, caring, and trusting where the ingredients are coming from is of huge importance. Currently, almost all of the coffee, cacao nibs, and vanilla beans used at Moksa are Single Origin. Their suppliers know their product and are both trusted and respected.
While there are certainly other breweries sharing a similar approach, it's Moksa's dedication to hard work and creative perseverance that really is what is able to separate them from so many others.
Barrel Selection & Aging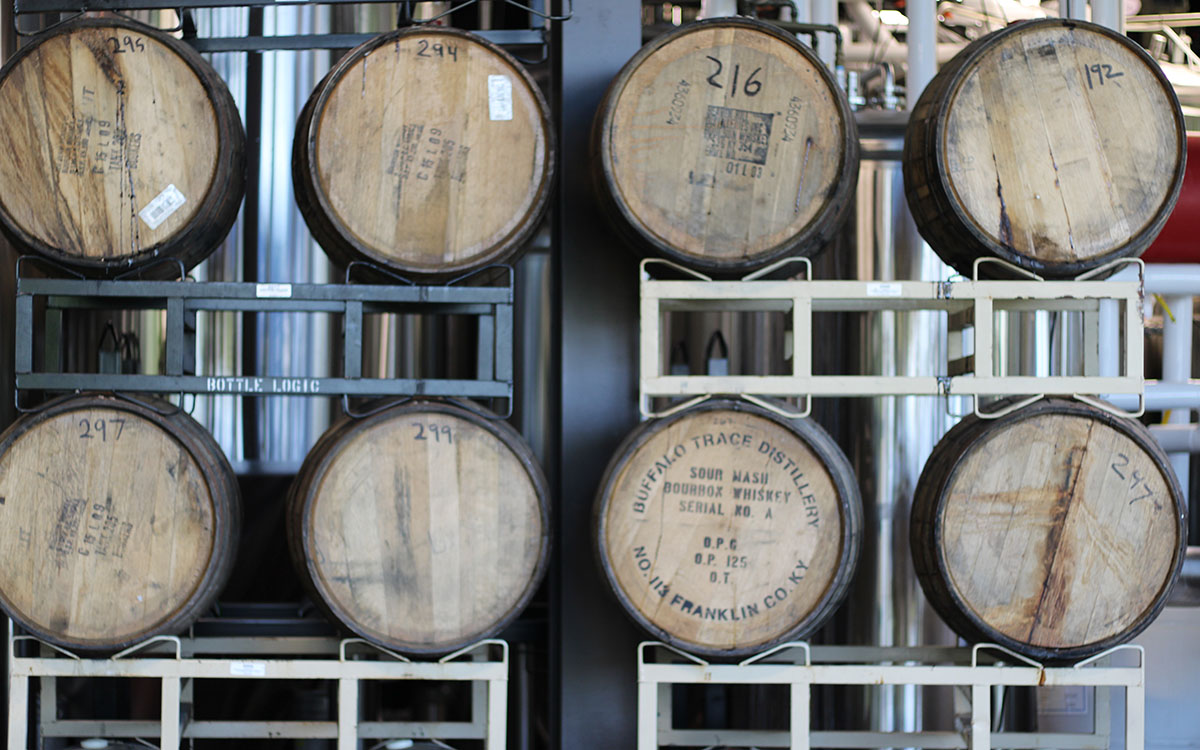 Shifting gears to focus more on the Barrel Program at Moksa, it's always important to first gauge where the focus is placed in the discussion of barrel selection / aging time versus adjunct selection. Cory stated that while some semblance of balance is always a factor, it does depend on the end goal. While there is a place for non-adjuncted BA beers just as much as "adjunct-hell" BA beers (trademark pending), the path to get there will obviously differ.
Finding Balance
When discussing Moksa beers, if they're barrel-aging it, they want to make sure that barrel is present. Designing heavily-adjuncted beers can be a lot of fun and the barrel component doesn't always need to be the forefront of the profile. However, Cory stated it perfectly when he said that if someone finds themselves looking for flavors or reaching for the label just to confirm it spent time in a barrel, then the adjuncting has probably gone too far.
"Something I'm always thinking about when adjuncting a beer is not just what to use, but how to get the most extraction out of that ingredient. Surface area, contact time, temperature, and agitation are all factors."
Another thing to consider when adjuncting a beer is not just what to use, but how to get the most extraction out of the ingredient. Cory went on to explain that things like surface area, contact time, temperature, and agitation are all factors to consider. He gave us a great example of a "never again" experience in which they were looking to maximize surface area by trying to infuse coconut flour into the beer instead of chips. While it imparted a lot of flavor, the beer itself became a coconut slurry with a less-than-appealing look. It took letting it settle out and centrifuging it 5 or 6 times before it became remotely sludge-free. There's no way of knowing how well or poorly something will work until it's tested!
Determining Aging Times
In terms of any set formula for the length of time a beer spends in the barrel, Cory told us that they do have a loose rule the team will adhere to. Generally they'll look to age a beer one month per degree plato finishing, with a minumum of 14 months. That said, and like is the case with other brewers we've interviewed, barrel-aged beers are ready when they're ready. According to Cory, they generally start pulling nails after about 14 to 16 months. This helps them to start getting an idea of where they are developmentally. Overall, they prefer longer aging times and never try to rush the process.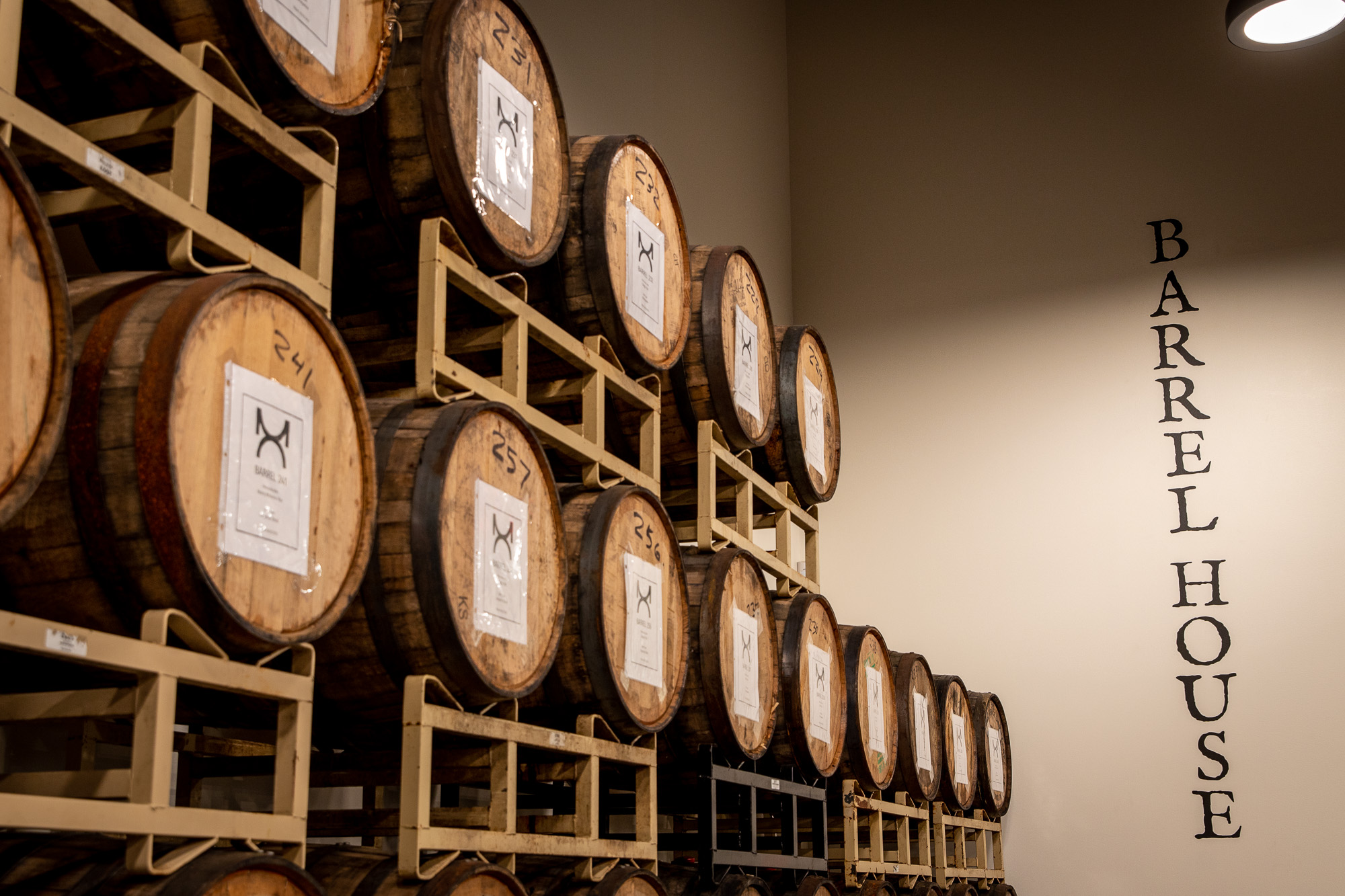 Obtaining Barrels
These days more than ever, it's important for breweries to develop relationships with both brokers and distillers. It helps to ensure both consistency and quality with the oak they receive.
At Moksa, Cory told us that they have relationships with a few different barrel brokers, and for the most part it's as simple as reaching out to see what's available when considering brewing a stout or high-gravity beer for barrels. Sometimes, brokers may even reach out to them if they've been able to obtain something particularly notable, or if it's an impossible-to-pass-up situation. There can always be exceptions that lead to squeezing another barrel-aged beer into the schedule. That, or a really special barrel could prompt a taste through some of Moksa's current stock to find potential candidates for double barrel-aging in order to take advantage of the exclusive opportunity provided by their broker.
Moksa's Singularity series is a great example of how partnerships can work into brewery barrel programs as well. Multiple beers from this series are aged in store pick barrels from their bar & liquor store accounts. For this process, they send the barrel over to Moksa after purchasing it, they fill it, and then when it's finished aging they have what Cory dubbed a "pseudo-collab". While there are not currently any direct relationships with distilleries, however, Cory mentioned that he's not opposed to the idea if the opportunity were to present itself.
Recognizing the Technicalities
There's no avoiding the fact that many aspects of the brewing process comes down to trial and error. For Moksa, one prominent example of this is deciding what base beer will be best for a certain type of spirit barrel or adjunct. Cory stated that while sometimes the results can be surprising, for the most part the goal is to achieve complexity and balance when the base beer and the barrel / adjunct components come together. With that being said, he did mention a few notable generalizations when selecting spirit barrels and adjuncts.
In general, wheated bourbon and apple brandy barrels are more likely to impart a subtle sweetness to the finished product. For that reason, they don't typically lend themselves well to sweeter base beers. Additionally, with beers that plan to see the inside of a cognac barrel, Cory may ease up on the roast intensity to make room for cognac's subtle smokiness. For adjuncts, things like vanilla, coconut, and maple would generally be used as sweetening agents, while additions like cacao, coffee, and nuts help to balance sweetness with their increased acidity, roast, bitterness, and/or tannins.
Another notable technicality that varies from brewery to brewery is the general temperature interval in which barrel beers are stored. At Moksa, all the aging barrels live in either the taproom or their restaurant, both of which are kept in the high 60s or low 70s throughout the year. As it is one of those variables out of anyone's hands, Cory noted that he likes to think of it as simply the "terroir" of their BA beers.
Letting the Liquid Speak for Itself
Cory and Moksa sent us a great array of beers to review for the Spotlight. Together, they showcase examples of combinations of barrel-aged and non barrel-aged beers, adjuncted and non-adjunct, as well as different barrel treatments and intervals. As is customary, this section is dedicated to allowing the beers to speak for themselves. Huge thank you to Moksa for making these reviews possible.
Duplexity: Saz18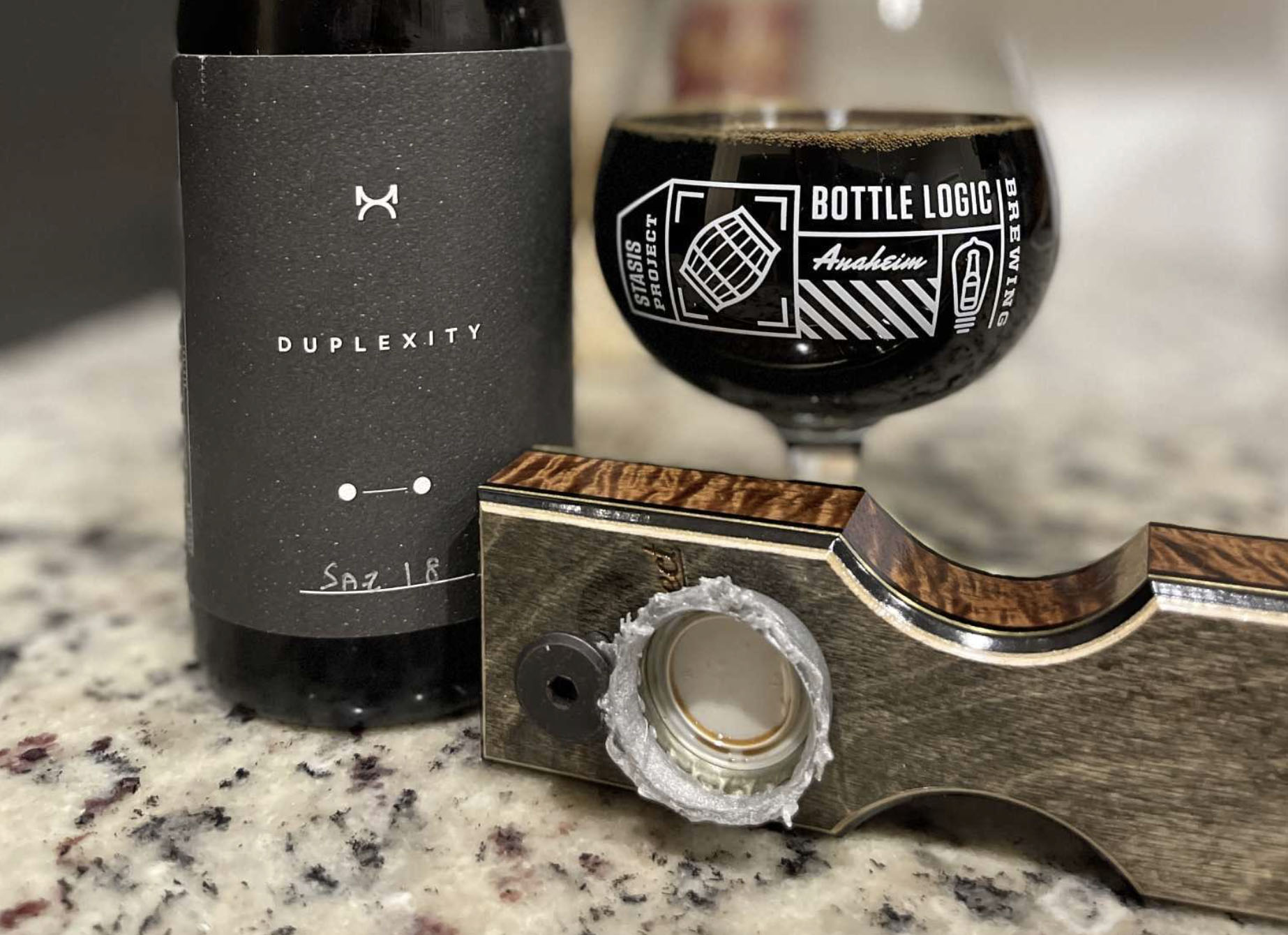 This beer is part of a new series of bottles created to showcase the marriage of two barrels, similar or different, in order to create a more complex finished product. Much like their Singularity series, these beers are also left without adjunct treatments to really emphasize the barrel character produced by the oak and the liquid previously held in the barrel.
Duplexity: Saz18 is an Imperial Stout aged in two 18-year Sazerac Rye Whiskey barrels for 21 months. 12.4% ABV.
---
The beer opens up dark and viscous, exuding notes of sweet rye and umami on the nose. There's a great underlying hint of charred oak that follows closely behind.
The palate brings loads of caramelized dark fruit, umami, and spiced rye barrel. Further integration of those smoky nuances trail on the nose.
The body of the beer is soft, with a comfortable carbonation that aids in a smooth finish. Overall, this felt like a very pure and complex expression of a rye barrel-aged Imperial Stout. The interplay of the base beer with the oak allowed each individual component to shine but also compliment the other.
Intention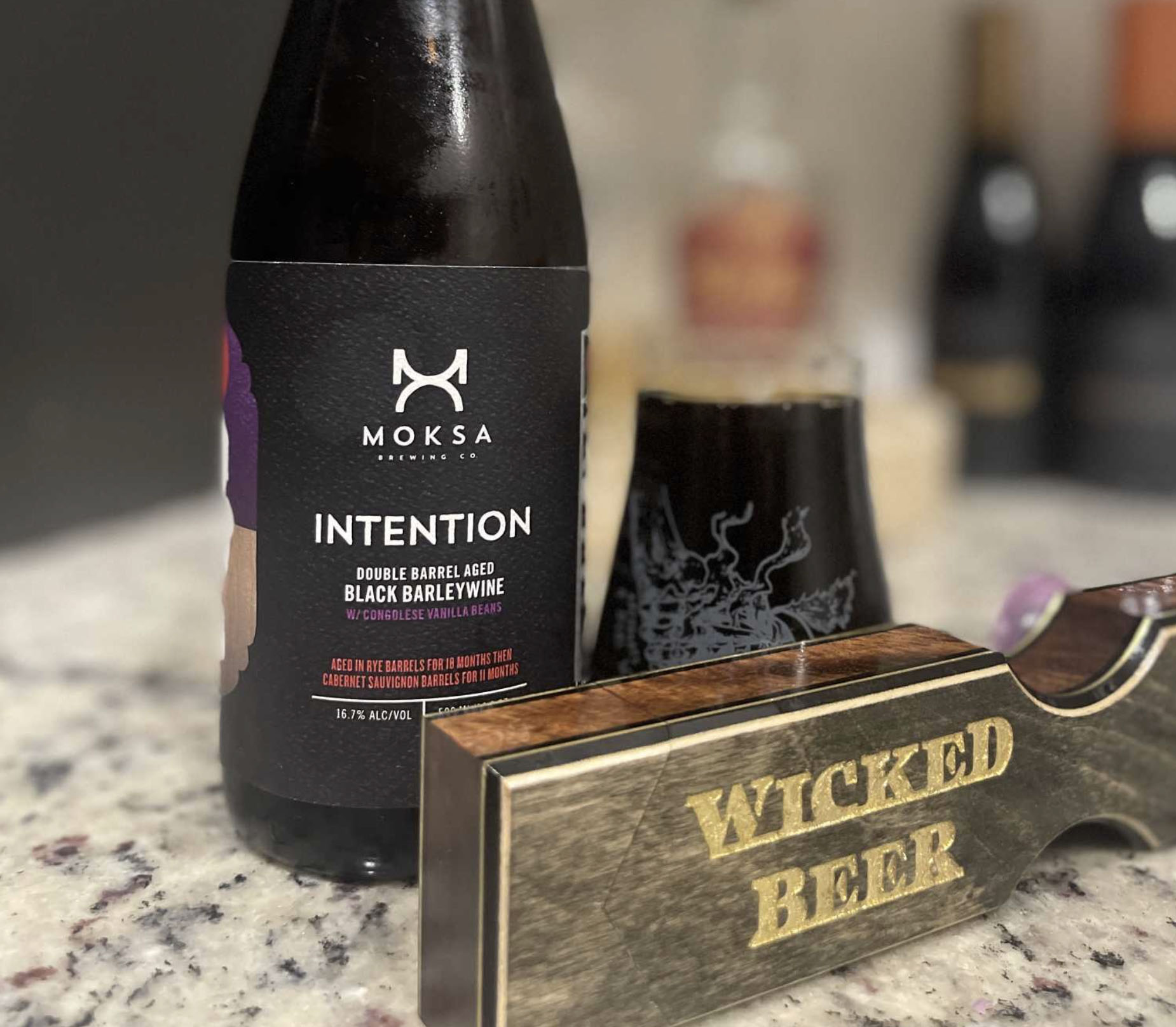 This barleywine-style ale is double barrel-aged, starting in Thomas H. Handy Rye barrels for 18 months before being transferred to Erosion Winery Cabernet barrels for an additional 11 months. The beer is also treated with vanilla beans, finishing at a staggering 16.7% ABV.
---
On the pour is a deep, brooding coloration, but without an abundantly noticeable viscosity. The carbonation is beige and builds to about a half inch in the glass, quickly receding.
The nose is a fantastic bouquet of brownie batter, cherry cordials, rum raisin ice cream, and Charleston Chew candy bars. With some time in the glass, more of the barrel becomes apparent on the nose. It brings with it a drying oak quality and hints of umami.
The palate contrasts nicely, really characterizing the Cabernet barrels. Flavors of burnt caramel, Raisinets, and roasty malt interplay with tobacco, dry red wine, charred oak, and a touch of rye spice.
While not huge and brooding in mouthfeel, there is a lightly syrupy viscosity that works with the profile. Big, boozy, dry, and mildly spiced has this big barleywine finishing with a lightly bitter drying sensation on the tail to accompany a long, warming finish.
Bounteous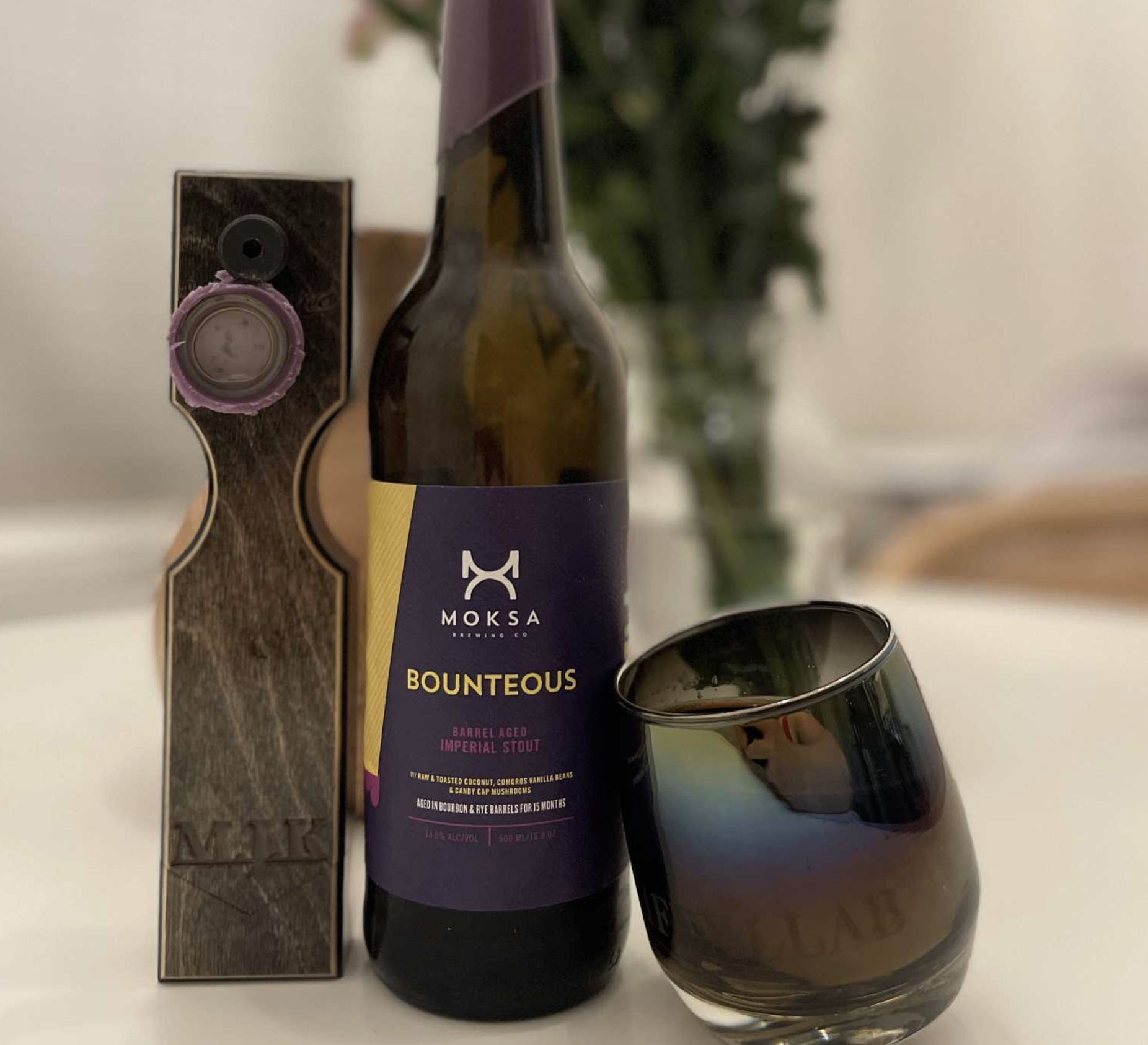 This beer is an Imperial Stout aged in Pikesville Rye and Weller 12 barrels for 15 months. It was then treated with Raw and Toasted Coconut, Comoros Vanilla Beans, and Candy Cap mushrooms. 13.5% ABV.
---
Bounteous pours pitch black in the glass. Minimal carbonation rises up, while small coconut flakes dance around the glass.
Caramel and vanilla open up the nose right away. Over-baked fudge brownies and toasty, boozy oak staves follow up with time and temperature. There's a really fantastic balance of adjuncts and barrel on the aromatics.
The palate strongly features the barrel treatment and those candy cap mushrooms. While we had never experienced candy caps on their own, they're known to impart strong notes of maple syrup, caramelized sugar, and malt, and that profile of flavors works perfectly with high-gravity, barrel-aged beer. The rye really comes through, bringing a great spicy kick. This balances those contrasting notes of baking chocolate, maple syrup, and coconut candy.
The mouthfeel is great; medium-full with a coating of the palate that doesn't feeling too syrupy. The carbonation is low but present, and the booze and warmth is alarmingly low for such a high-alcohol stout.
Singularity: Advocator's Select 2023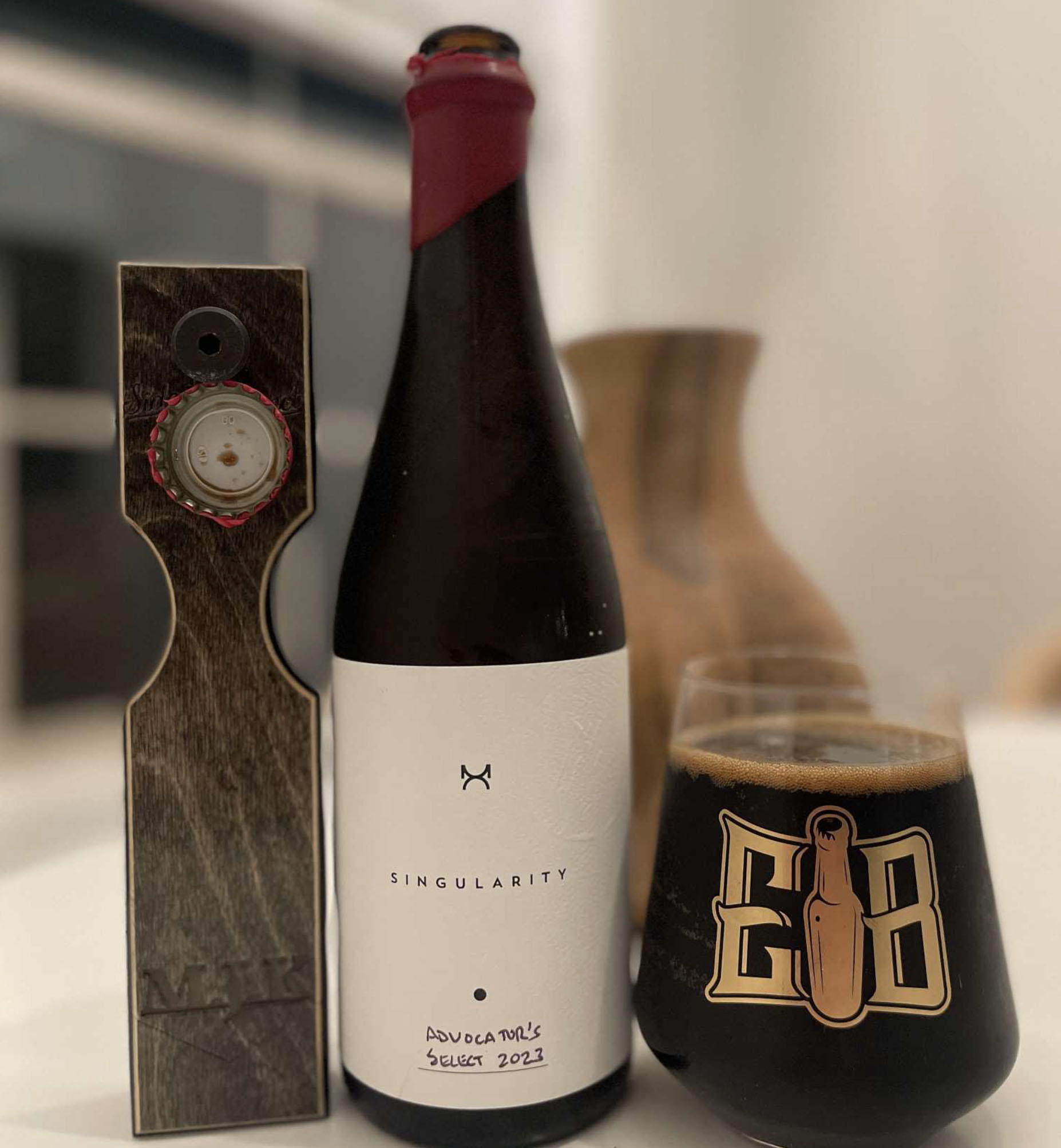 For the 2023 Singularity release, this Imperial Stout was aged for 19 months in a single Apple Brandy barrel. It has a finishing ABV of 13.4%.
---
While this Singularity release does pour with some viscosity, the overall appearance is rather thin. There's a hissing carbonation that fizzles out into a thin beige ring around the body of the beer.
The nose starts out noticeably Brandy-heavy. However, after giving a few minutes in the glass, notes of dried green apple accompanies caramel and hints of dry baking chocolate. Hints of vanilla bean follow closely.
The palate features a good bit of cocoa powder, clove and dried fruits. Citrus, dates, and apple come through on the forefront, while on the tail there's a bit more sweetness to accompany a noticeably boozy warmth. We get some nice smoky notes after about 20 minutes in the glass.
The mouthfeel is a little thin, but has decent coating. Dry and boozy, it finishes warm and a touch bitter. We agreed that a bit more body to the base beer could have helped to lift the barrel profile. That said, if anything this beer shows that they pulled it at the right time. Not only that, but it really speaks to the barrel room talent this brewery has.
Dark Melody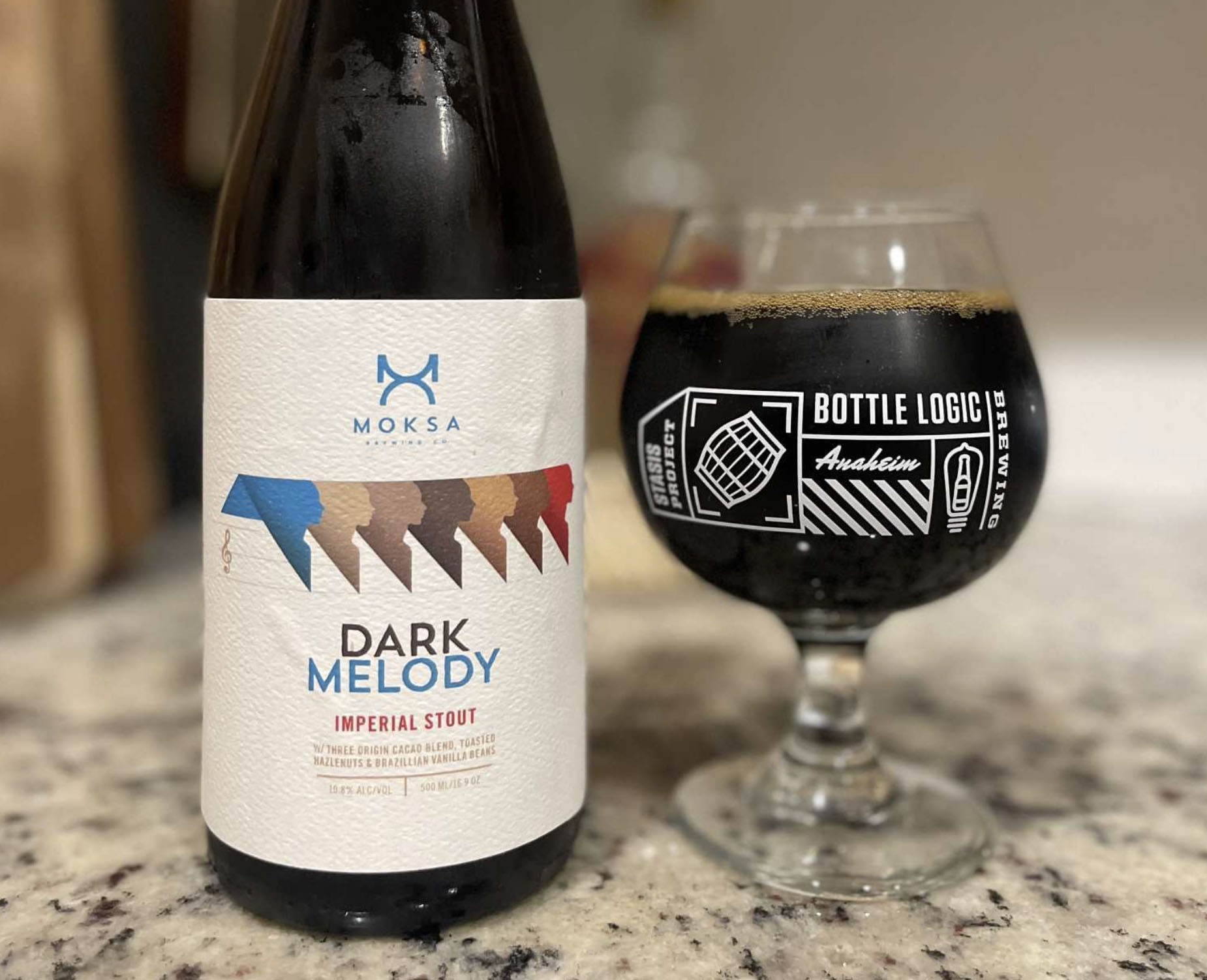 This beer was the only non barrel-aged inclusion in the review set. It looked to instead highlight the fantastic single-origin cacao that Moksa sources from Cru Chocolate, as well as a few other harmonious flavors. A pastry stout truly built from the ground up. Large additions of cacao husks were added in the mash, and after fermentation they added an infusion of a hand-picked blend of cacao nibs from Honduras, Guatemala, and Nicaragua. There was also a large addition of fresh-toasted hazelnuts and Brazilian vanilla beans. 10.8% ABV.
---
There's a deep, red-hued brown coloration to the beer. The Carbonation is fleeting, but settles in a ring around the body of the beer.
Loads of hazelnut and chocolate hit the nose immediately up front. The richness with the vanilla addition combined with the nuttiness almost brings out a peanut butter quality.
The palate again leads with hazelnut, but the potency from the vanilla really helps to pave the way for the cacao nibs to feature nicely on the back end. It drinks mildly dry, with a touch of earthiness and tobacco balancing that rich, baking chocolate base. A steady presence from the malt bill throughout the experience really helps to round everything out.
Viscosity initially felt thin, but with time in the glass the mouthfeel really evened out. It finishes with the slightest touch of bitterness, although still alarmingly smooth considering the ABV.
Looking Toward the Future
After talking with Cory and learning more about Moksa, it's hard to believe that they're only 5 years years old. In terms of their barrel program, he shared with us how much they have learned over the years. Specifically, characteristics they prefer in their base recipe designed for barrel-aging, and also about what they can come to expect from a particular type of barrel. Additionally, they've developed their methods to brew recipes exclusively designed for aging. This differs from early on when most of the stout or high-gravity beers going into barrels were split off from otherwise non-BA beers. It's also been hugely beneficial just having a lot more barrels to pull from. This offers much more opportunity for blending and finding the profile they're after for a particular beer.
Not only has Moksa seen huge developmental progress in their barrel program and processes, but there's also been a noticeable growth in their consumer base. While rising costs have caused Cory and the brewing team to become a little more cost-conscious than in years past, they're still putting more beer into barrels than ever before. Cory emphasized his trust and gratitude towards their customer in saying that if they decided to go out on a limb and brew a ridiculous or adjunct-costly beer, that they are lucky to have customers with enough faith in what they do to still trust the product and want to try it.
Leading the Charge
The future is undoubtedly bright for Moksa Brewing. Cory Meyer is now heading the brewery as Derek Gallanosa is helping build up GOAL Brewing in San Diego. He mentioned that no drastic changes are on the horizon, as him and Derek were always pretty like-minded in their approaches to brewing and the pursuit of big flavors. He's been a part of designing and brewing beers at Moksa since the beginning, and while he stated that Derek's moving on was undoubtedly a loss for Moksa, it's also an opportunity.
Cory's plan for the next year is primarily to double-down on beer quality. That, and continue to pump out the fun stuff that they've always loved to make. The team already has a number of exciting projects planned, including more barrel-aged beers than ever. It's an exciting time for this small brewery, and Moksa is surely one of the top programs to watch.
---