#5Questions – PorchDrinking.com
August 6, 2019 | Taylor Laabs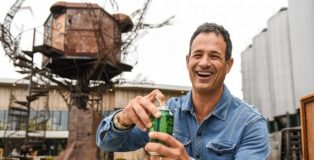 Avg. Reading Time:
3
min
It is still the biggest news to come out of the craft beer industry this year: Boston Beer Company purchased Dogfish Head Brewery for a reported sum of $300 million. The move merges the two brands under the collective roof of Boston Beer Company bringing together the 2nd (Boston Beer Co.) and 13th (Dogfish Head) biggest producers of craft beer in the U.S. It's a massive move that caused shockwaves throughout the craft beer industry and beyond. Craft beer is no longer in its startup phase: It is big business, which sometimes warrants massive moves that can shift the entire trajectory of the market with it.
Of course, Boston Beer Company bringing the Dogfish Head brand onboard also comes with the totemic leadership of its founder, Sam Calagione, who will sit on Boston Beer Company's Board of Directors. Calagione has always been an outspoken and vibrant voice in the craft beer community who frequently zigs where others zags and takes pride in the innovative spirit on which Dogfish Head has built its market share. With the new merger comes a new role for Sam and a new path for Dogfish. In the days following, beer drinkers have voiced valid concerns that the Dogfish brand might get diluted or complacent post-acquisition. True to form, Calagione thinks otherwise and is rather bullish on what the merger can do for his brewery.
I asked Sam five questions about what life looks like for Dogfish Head in a post-merger world, what beer fans can expect from the brewery, the collaboration opportunities that are now available with Boston Beer Company and more. Here's what he said.
June 28, 2019 | Mathew Powers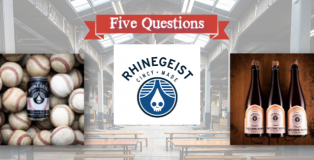 Avg. Reading Time:
5
min
Rhinegeist in Cincinnati is about the celebrate six years of brewing, and what a journey it has been. Three years ago, we featured the brewery's Streaker Rye IPA and I wrote, "Streaker Rye IPA from Cincinnati's up-and-coming Rhinegeist provides insight into why this Queen City brewery is enjoying such rapid success." Well, three years later, it is no longer accurate to describe Rhinegeist as "up and coming." They've arrived.
The brewery operating in the historic Over-the-Rhine Brewery District in Cincinnati (from whence the brewery name is derived), has grown into one of the nation's largest breweries. We had a chance to pose Five Questions to Bryant Goulding, Co-Founder and VP of Sales & Marketing for Rhinegeist, and ask about where the brewery is, where it's been and where it's going.