No Comments
Event Recap | Tip Top Tours Visits South Slope Breweries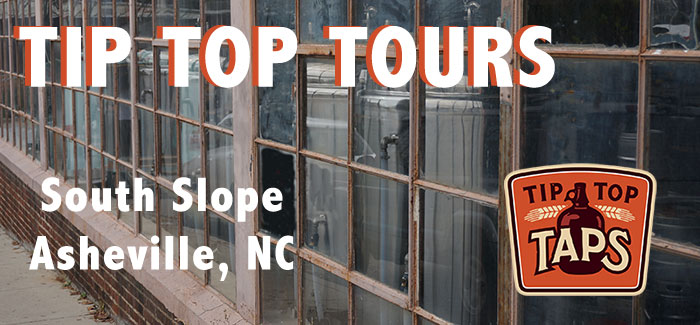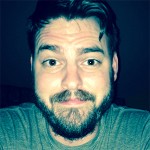 Craft beer is all about new experiences. The craft beer industry has taken a goods / commodities based enterprise and evolved it into an experience based business model. This is evident in brewery hosted events, taprooms/bier gardens and beers unbound by categories. This influence has extended past the brewers and imbibers to the retailers who are dreaming up new and innovative ideas to draw their customers into the door and encourage them to return many times thereafter.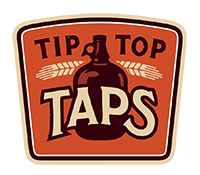 A local growler shop in Augusta, GA is showing people what it means to love craft beer. Tip Top Taps is one of a few local growler shops to have recently opened in Augusta. These growler shops are a new experience all together for a majority of locals and are changing the way people think of beer. Just a year ago, there was only one growler shop in Augusta. Now, with 4 local businesses filling growlers, the people of the Garden City are taking notice.
Georgia has a very serious beer scene that is steadily growing with 40+ breweries and brewpubs and counting. Breweries like SweetWater and Terrapin are enjoyed across the country, and smaller breweries, like Creature Comforts and Burnt Hickory, are the final destination of beer pilgrimages. Georgia's legislation and distributors are decades behind it's enthusiasm though. With an updated ABV limit, changes in brewery taproom regulations and the continued push for joining 95% of the rest of America in selling beer straight from the source, these is much reason for optimism. Combine this with a few other factors, best kept for a different article, and you start to see why "growler", "howler", or even "Scotch Ale" and "Gose" are becoming more common in Georgia's larger cities.
Growler: A 64oz. ceramic, glass, aluminum or stainless steel container that is filled with draft beer from a brewery, brewpub or growler station in order to take and enjoy at home; 32oz containers are called "howlers".
Marty Koger, owner of Tip Top Taps, said himself that the real struggle is finding the opportunities to educate and inform potential customers. Consumers don't know why they should be patrons of these shops or why there is much reason to shop for beer any other place than the gas station or grocery store (which have a selection that has grown by leaps and bounds compared to 5-6 years ago). Further, it can be overwhelming for someone to walk into a place with 20+ taps on the wall and ask to fill an unfamiliar vessel with draft beer to take home. Tip Top Taps understands this and has put in place a few different approaches to assist consumers in their new adventure into the world of specialty beers.
The newest and more unique of these methods was starting "Tip Top Tours", an educative program that takes patrons straight to the source of the beer they are enjoying. Koger wanted to put a face to the numbered taps on the wall and provide customers with a little background and a story for each one of those taps. The idea was simple; hire a bus, load it up with new and experienced craft enthusiasts and take a trip to any of the nearby brewery destinations. It has already been proven in sports that fans become more personally invested in their team after seeing them in action at the stadium/arena. The same concept applies to imbibers and breweries. Visit a brewery, take a guided tour to learn how your beer is made, and finish with that beer in hand straight from the source; it will be remembered forever.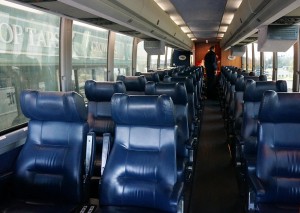 I was invited to go along on the inaugural Tip Top Tour. The destination was South Slope in Asheville, NC, little more than 3 hours from Tip Top Taps Growler Shop. Patrons were to meet at Tip Top Taps by 8:30a to start the journey north by 9:00a. This would give us a few hours of brewery explorations before heading to Sierra Nevada for dinner. The transportation was a luxurious coach bus with 27 comfortable reclining seats, plugins to listen to satellite radio, six monitors, outlets for USB and AC plugins for charging devises, Wi-Fi, a kitchenette, restroom and a small card table in the back. It was, certainly, traveling in style
We arrived at the center of South Slope, surrounded by a half dozen breweries with highly sought after names like Wicked Weed Brewing Co. and their Funkatorium, Burial Brewing Co., Catawba Brewing Co. and Green Man Brewery. It was overwhelming for some, but my guys and I had a plan. Being Sunday morning, most of us headed straight for Burial Brewing Co. to enjoy their amazing Sunday morning brunch. This is a donation-only experience with suggested donations for each meal. After a flight of all Burial Brewing had to offer, a delicious breakfast and a 4pk of BOLO Coconut Brown ale packed away for later, we headed for Green Man. That place was packed! I mean that bar was four-deep and all the seats in the house occupied, so we rounded the corner for Catawba. This was my first experience with them and OH MY LAWD, they have got a Brown Ale and a Stout to die for! They are known for their barrel aged program and it was, indeed, worth all the hype. Out of the 10 beers I sampled, the Black Dome Stout, Brown Bear Ale and Hooligan Scotch Ale aged in Contradiction Bourbon Barrels were my favorites.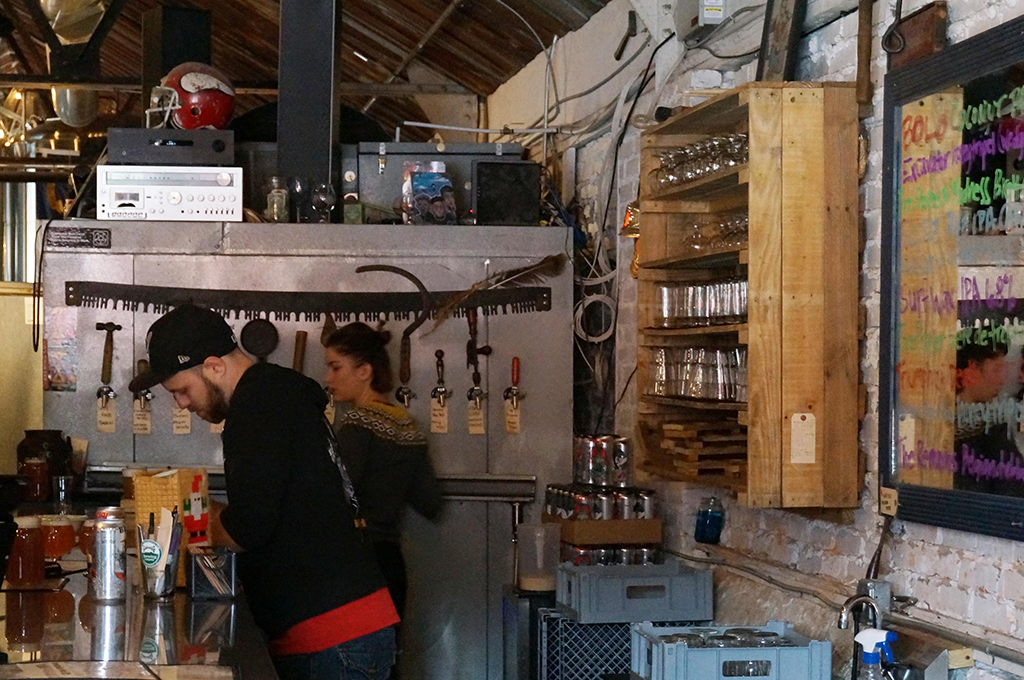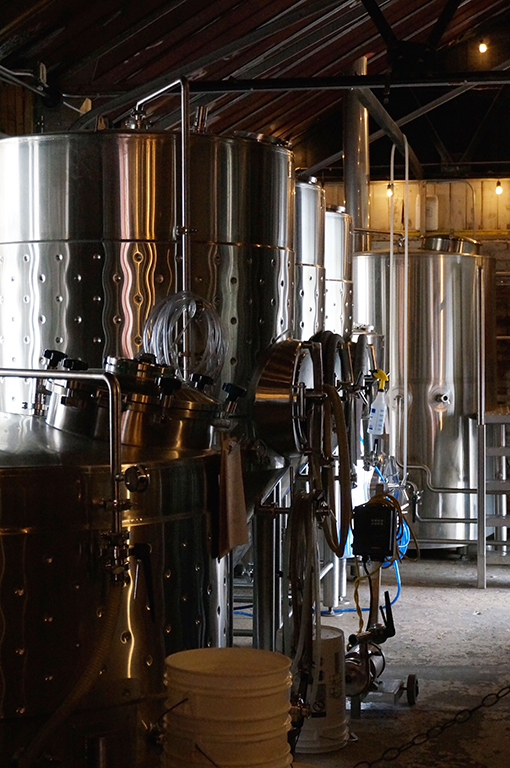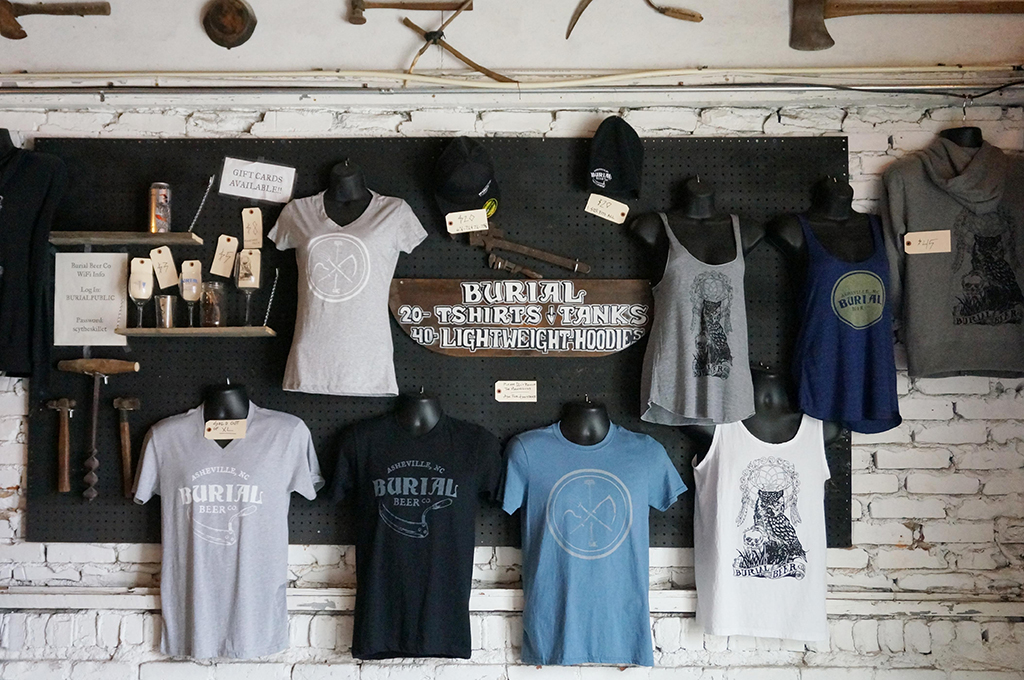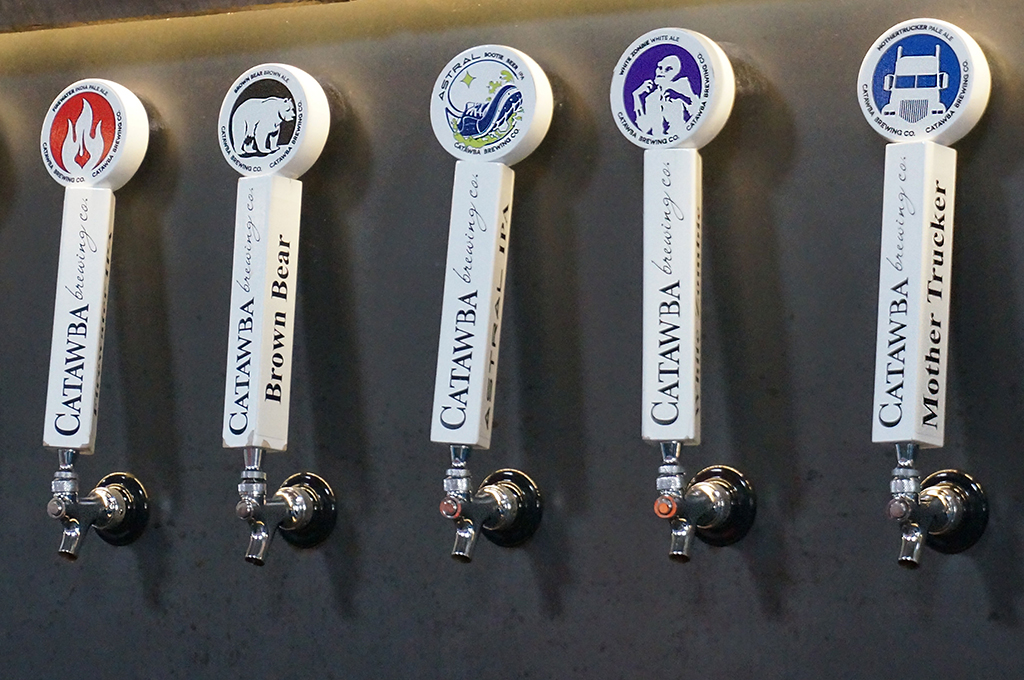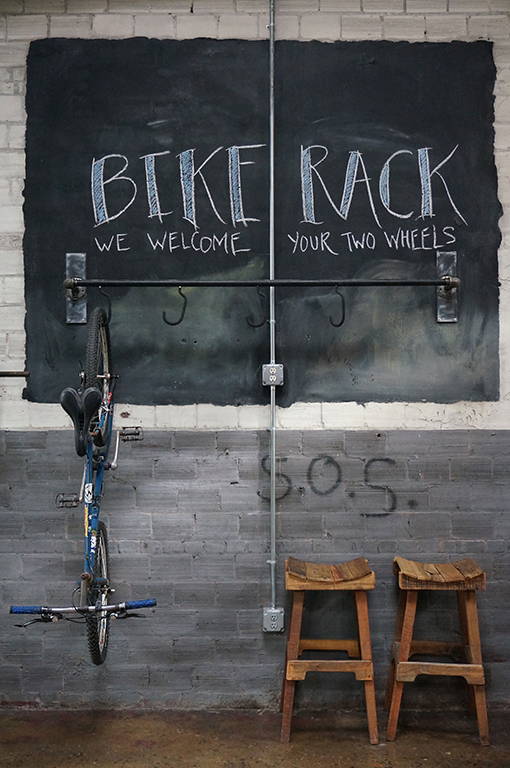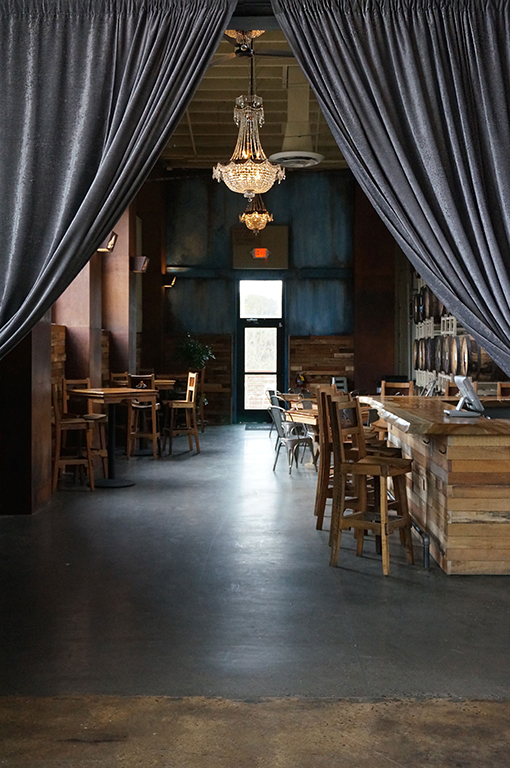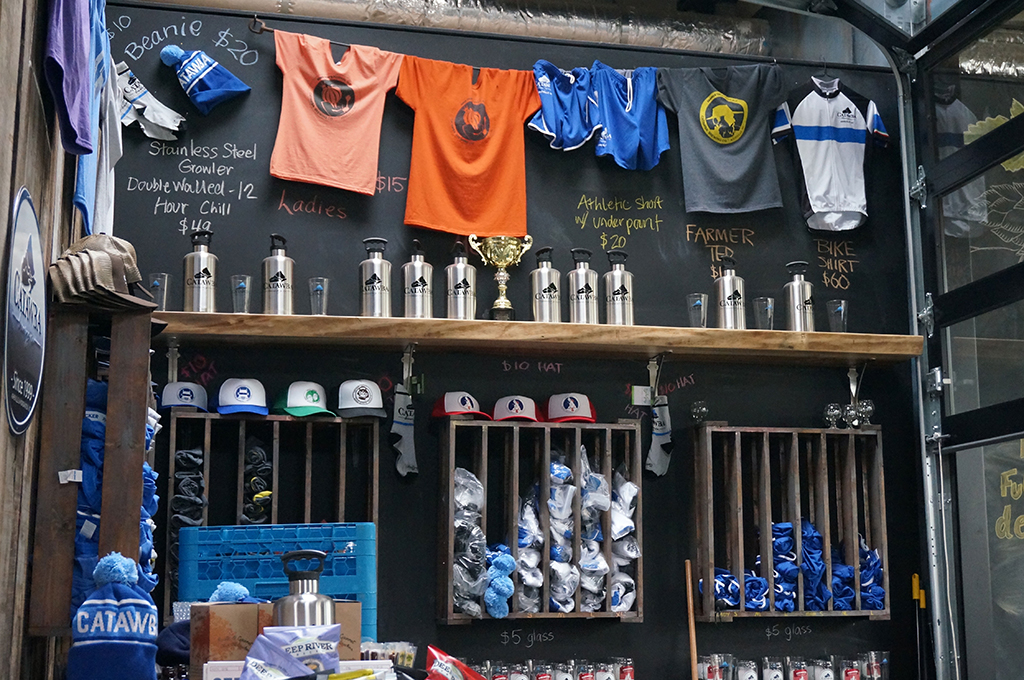 With limited time left, we said our goodbye's to the Catawba staff and made a break for the Funkatorium. This is a satellite location for Wicked Weed Brewing Co., where all their barrels rest in a warehouse attached to the taproom. The Funkatorium is beautiful. You walk in the door and are bombarded by the almost medieval village like tap room with all the modern amenities. The bar is to your left and tables to your right. Giant fetter tops anchored to the bar wall are cleverly used as chalk menus with all their available beers, bottles and draft included. Straight back is the barrel room with all their aging beers. This back area was immense and awe-mazing. The barrels stretch back into the warehouse and around the corner filling so much of it with glorious aging beers. Our time there was short because we were on a tight schedule (only on the South Slope can three hours feel like one hour). After a few tastes, we loaded up with about a dozen bottles to bring home from Wicked Weed with a Tasting Night for friends and family in mind.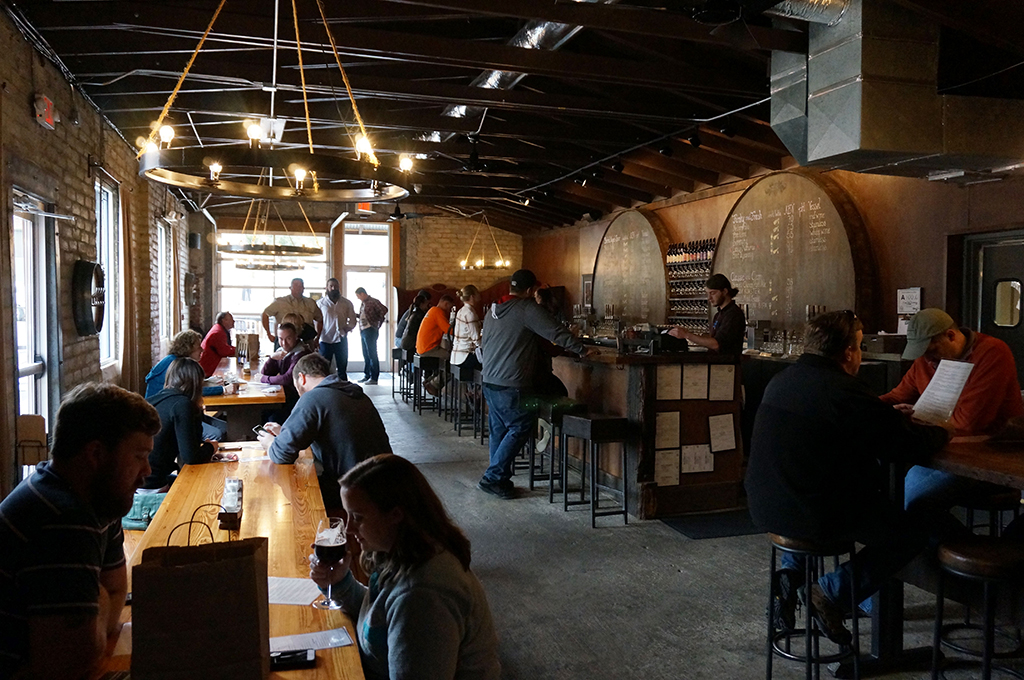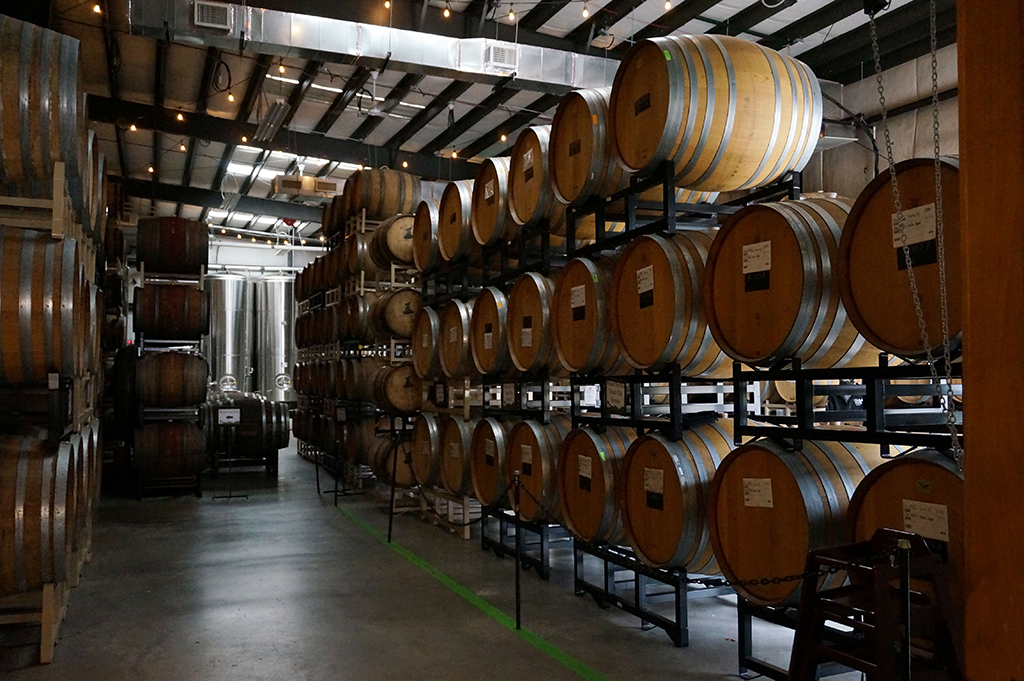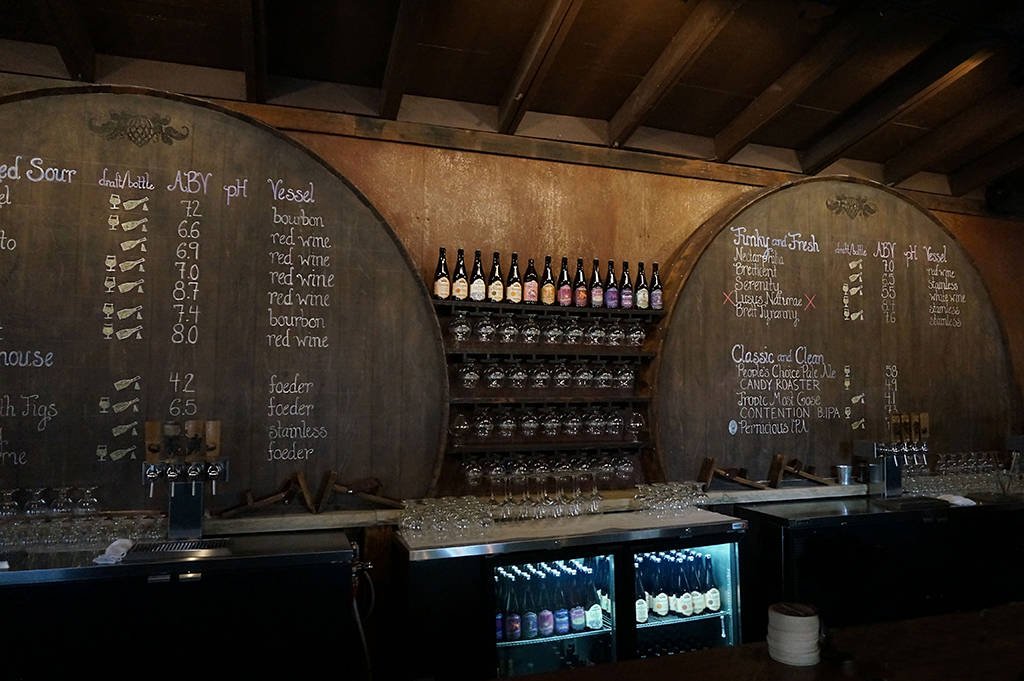 The South Slope was full of wonder, bliss and extraordinary beer. What was to come though, oh my, never in my life have I been so overwhelmed by a brewery. Sierra Nevada Brewing Co.'s North Carolina location is, rightfully, nicknamed the Biltmore Brewery, for its resemblance to the Biltmore Estate. Winding roads dotted with giant, extravagant lanterns lighting the path up to a ginormous brewery encased in cobblestone overlooking a parking lot with Mercedes, BMWs and a Bentley parked outside. This was to be our last stop before heading home, and it was a good one.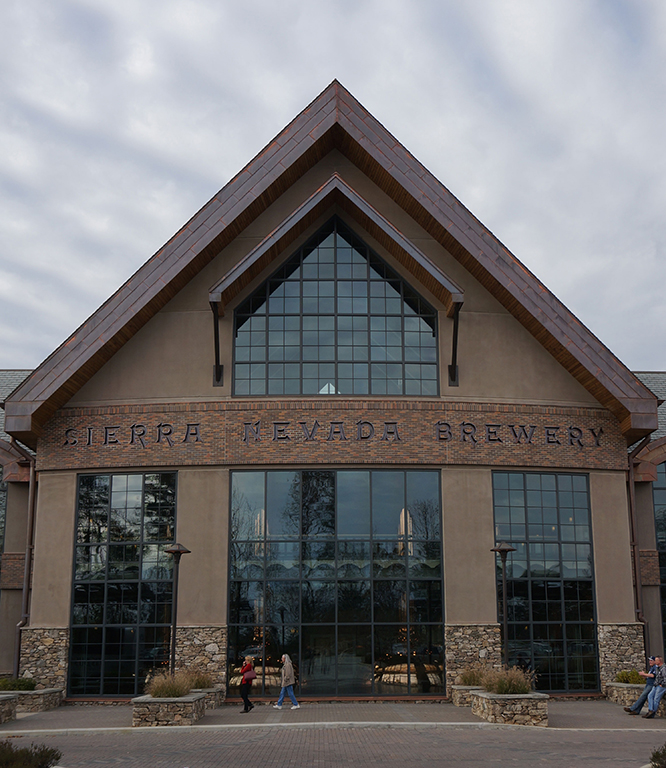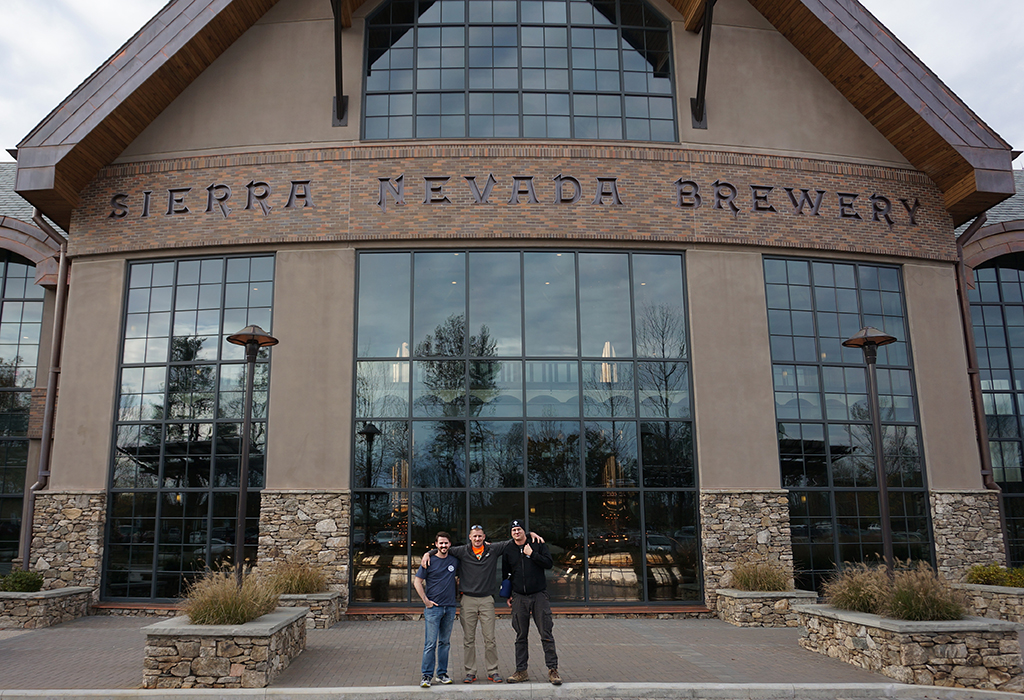 After picking my jaw up off the ground and finally walking into the place, I noticed open fermenters behind glass greeting us at the door. A hostess stand stood as a liaison to the gorgeous dining room beyond it. The dining room was expansive with a floating bar in the center and an open kitchen boarding it. The whole experience was far from the industrial park brewery visit that I was used to.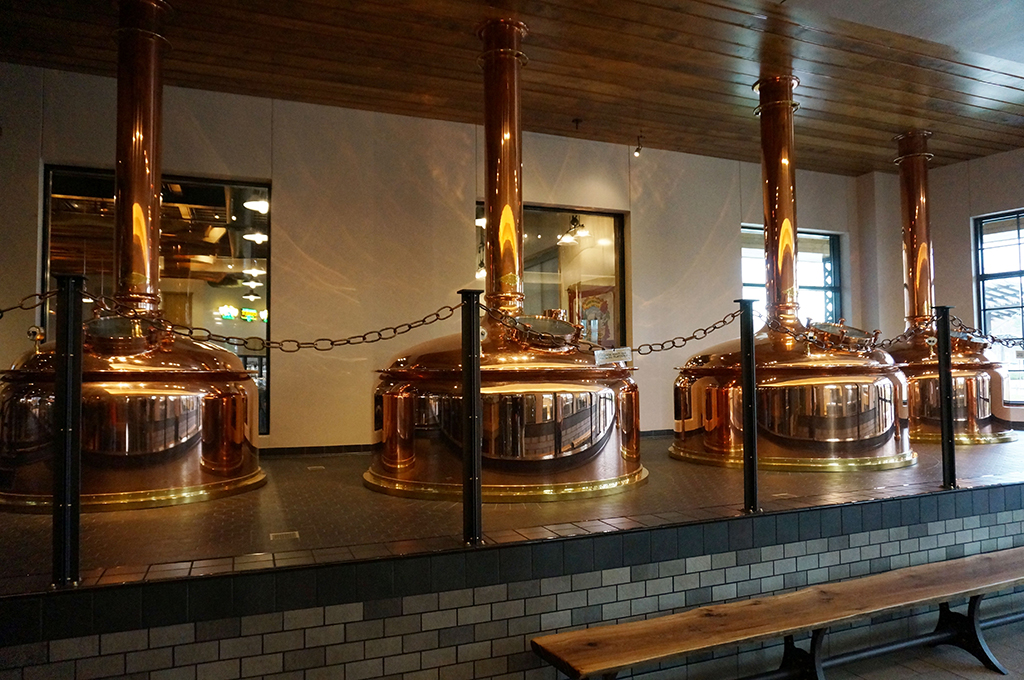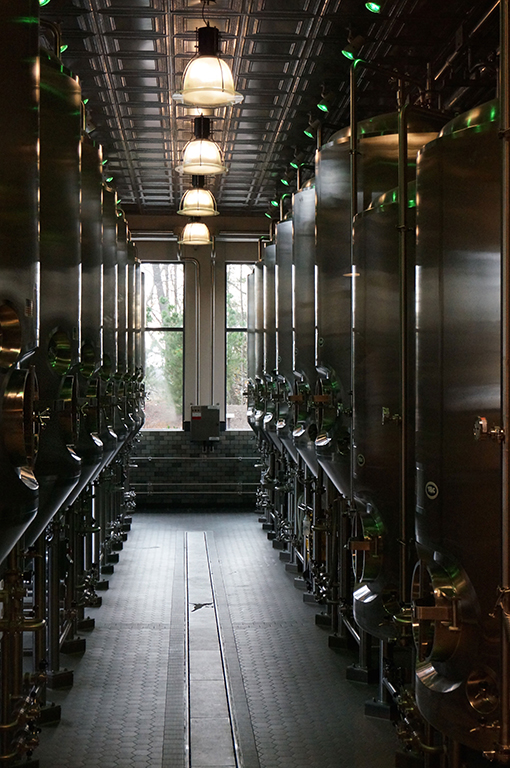 The hostess greeted us at the door and asked where we would like to begin our visit, with a tour, a flight or various beers, or a warm and filling dinner. After fully indulging ourselves on the South Slope, we decided food was in order and were sat down for a meal. Again, the Biltmore Brewery is not tongue in cheek. This place has a revolving gourmet menu that focuses on sustainment and seasonally fresh ingredients. We enjoyed a range of delicious plates, from Duck Confit to Barbacoa. Alongside dinner we enjoyed a flight of a selection of Sierra Nevada's beers, to include Rain Check and Big Foot, which are exclusively brewed at the east coast brewery now.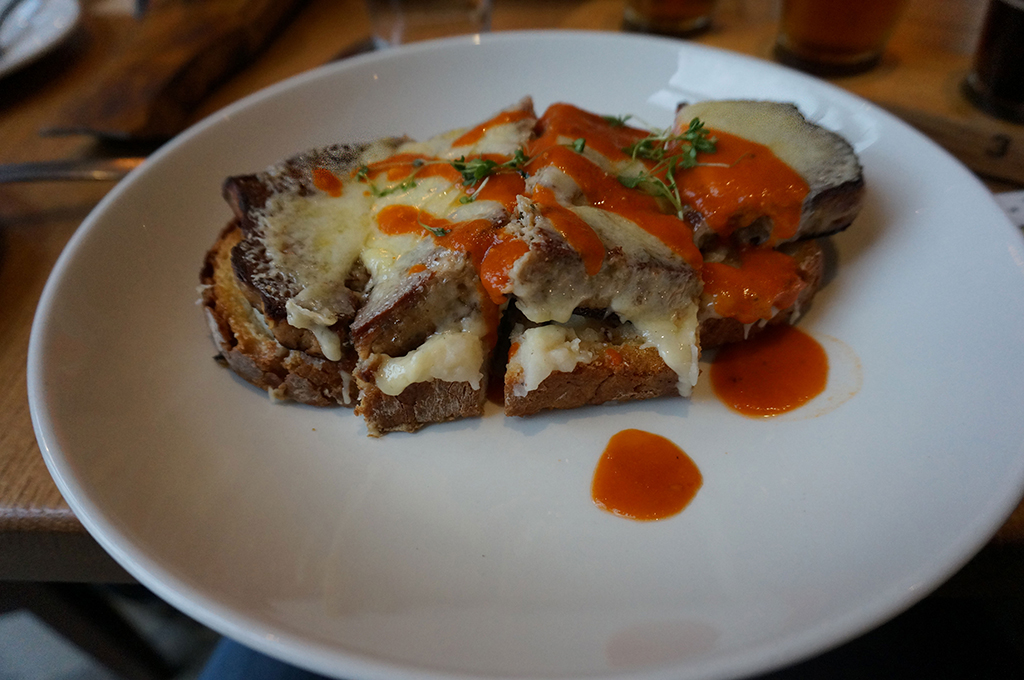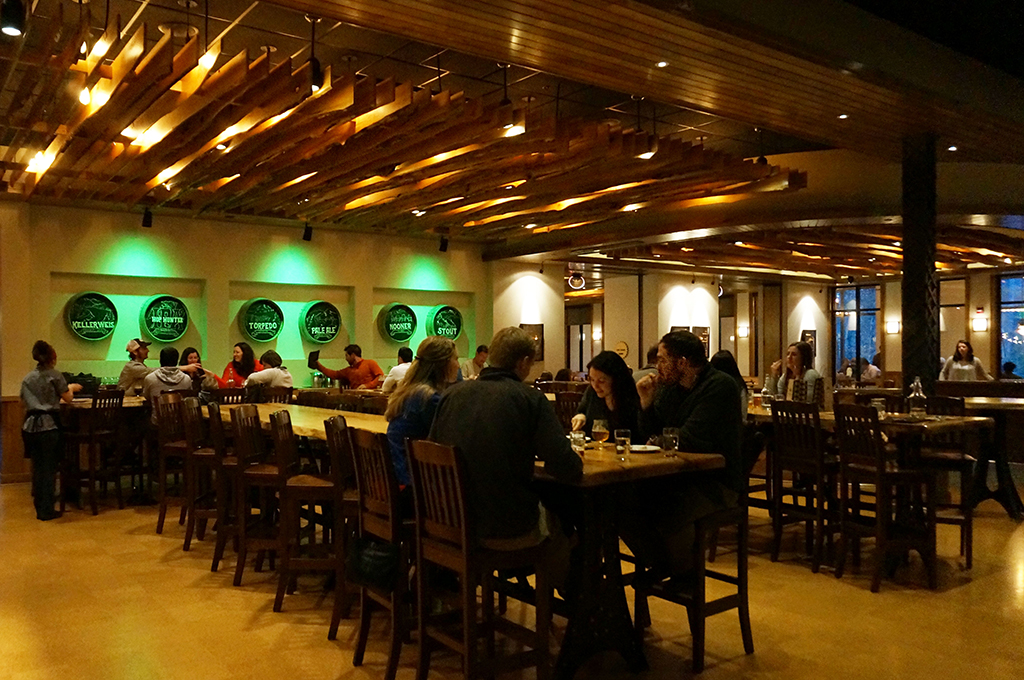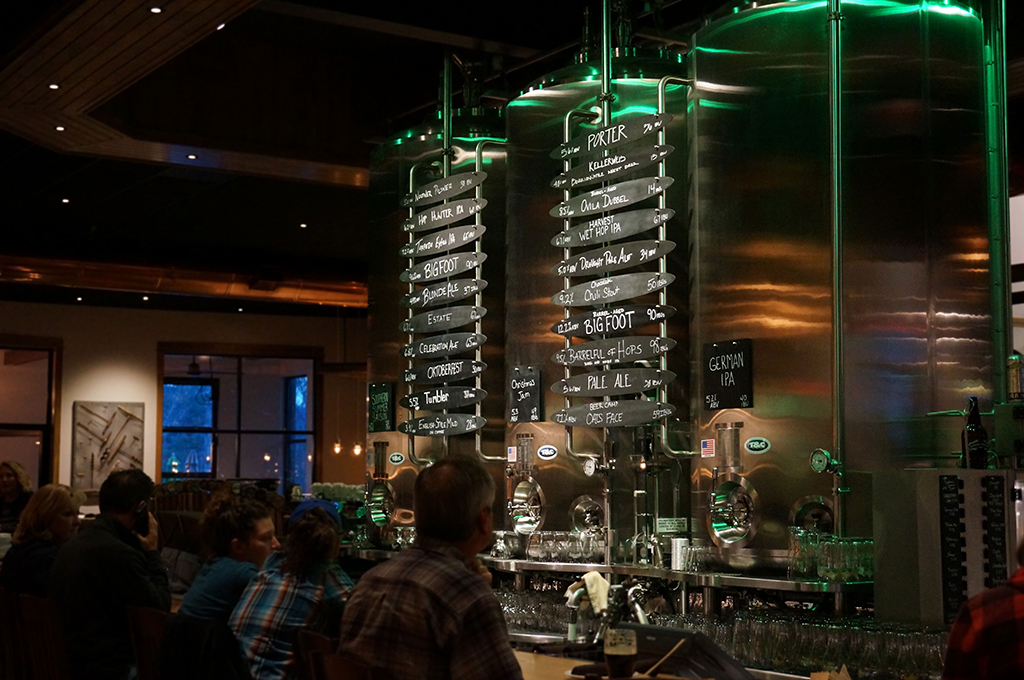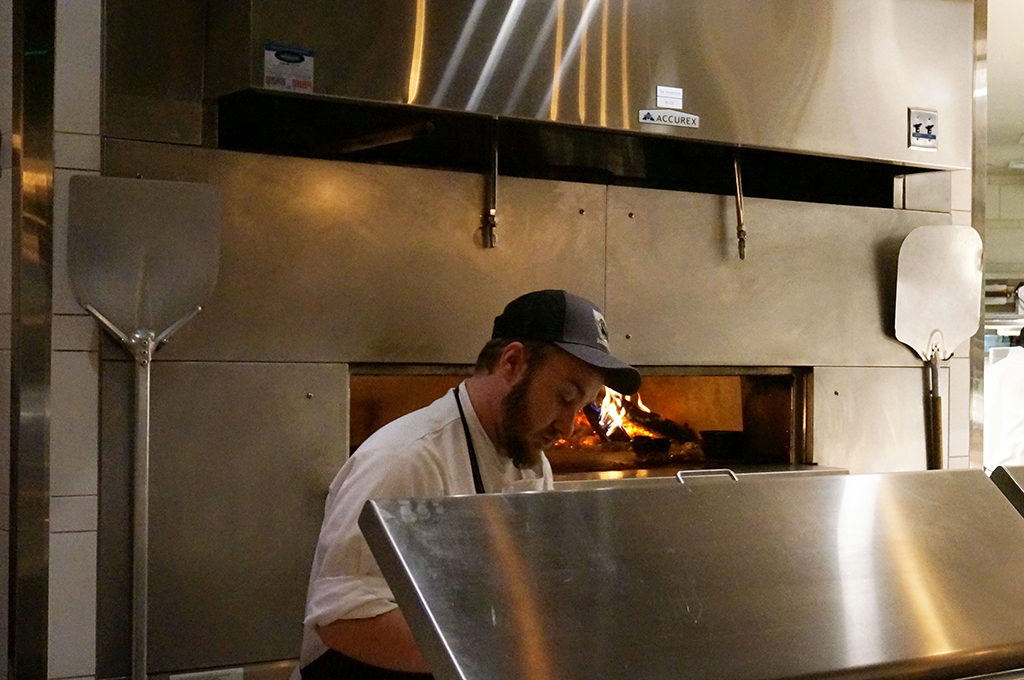 Straight through the dining room and through the back door is a large stone patio with fountains, lounge chairs and the all too familiar corn-hole games. The back patio steps down to a secondary patio with a large fire pit to keep guests warm in the cool night temperatures. Look down the back hill to find a respectably sized amphitheater with seating built into the hill. Behind that is the trail that leads further down the hill to Mills River, where docks are in place for boaters to tie up and walk up to the brewery. Turn around to find 2-3 story silos on the left and a patio bar just around the corner of the back door that I walked right past.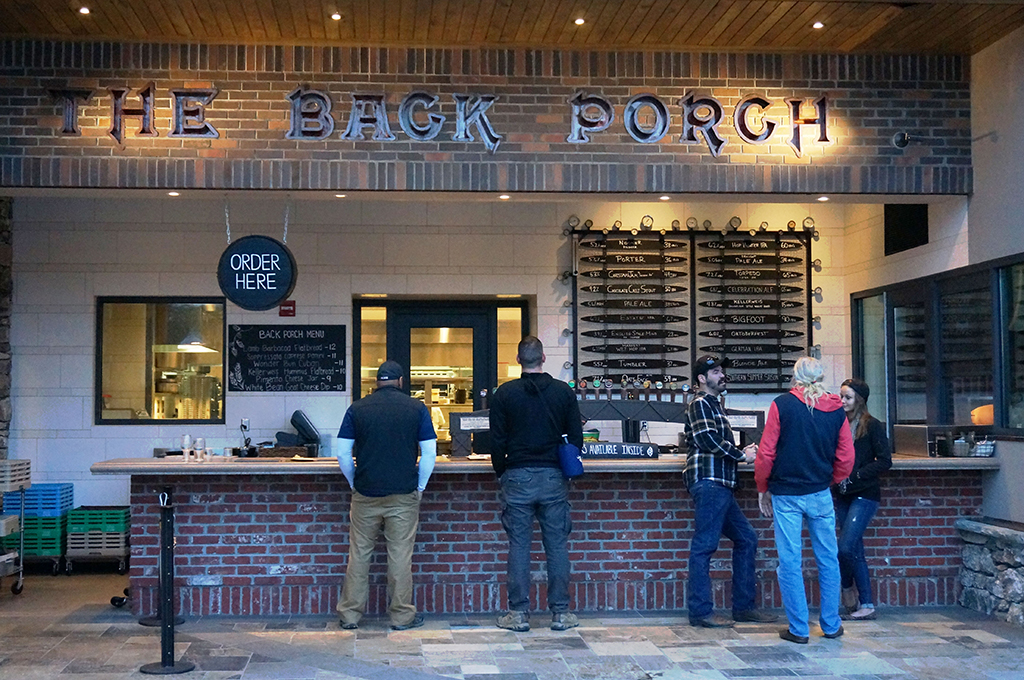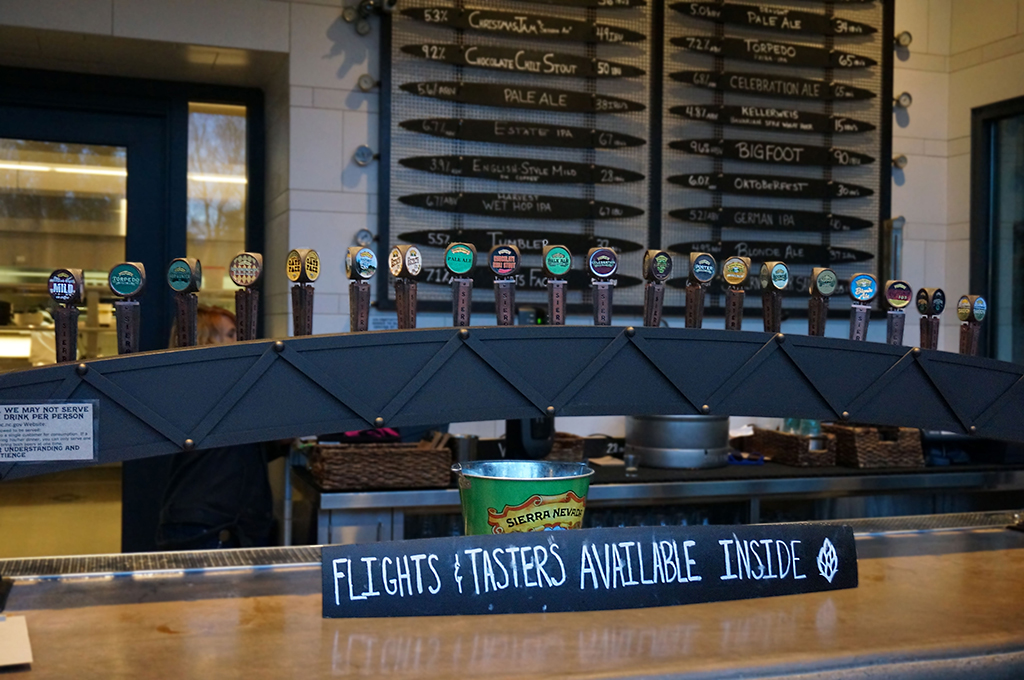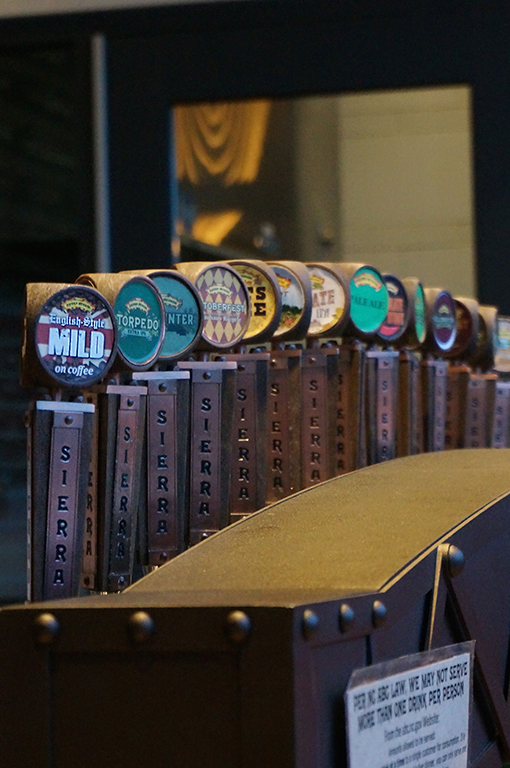 On the way out, you may be encouraged to visit the Sierra Nevada gift shop, filled with merchandise ranging from bottle openers, growlers and water bottles, to blankets, coats, shirts and, most important, rare bottles of Sierra Nevada brew chilling in a wall-cooler. The brewery has embraced their psuedo-autonomy and started brewing NC brewery-only beers that are sold only out of their east coast gift shop.
With the sun down, we boarded the bus a final time to make the journey back home in the dark of night, after a very full day. It was no surprise that most of the passengers were enjoying those comfortable seats as they fell deep into sleep.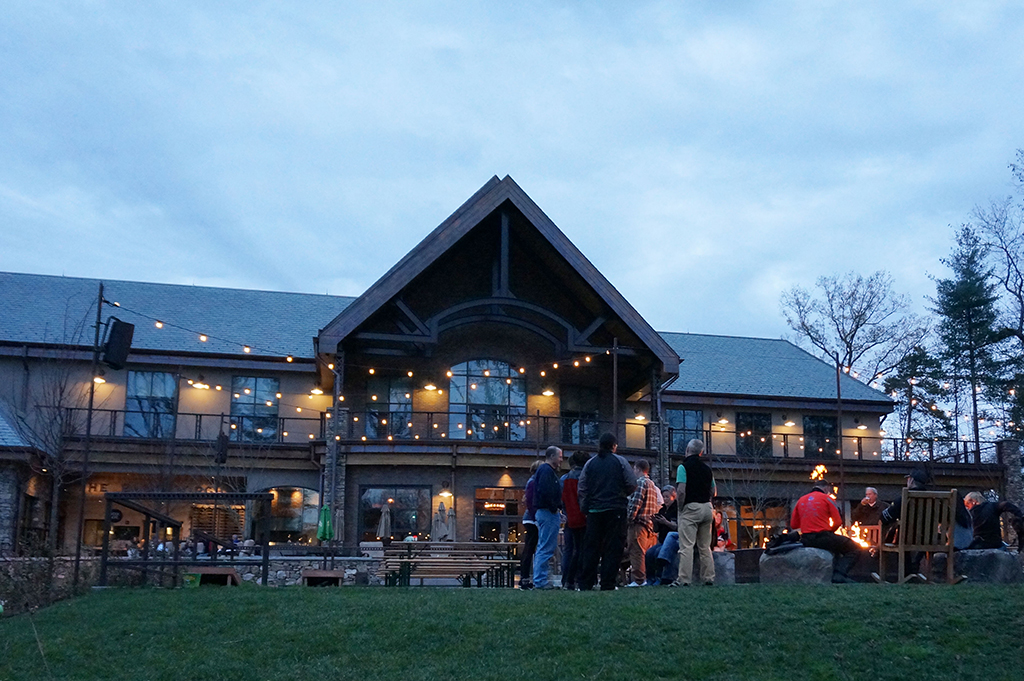 It was a great journey that was filled with fun and new experiences and, most importantly, the safest way to do a brewery road trip. There was no getting behind the wheel between breweries, which allowed us to really indulge and enjoy our visit. The three hour road trip back was plenty of time to rest and rehydrate before picking up our cars and heading, safely, home.
A couple of suggestions if you take advantage of Tip Top Tours or any other similar experience:
Eat a large and hearty breakfast with a large glass of water next to that cup of coffee.
Begin hydration early, I mean the day(s) before. You can't start hydrating too soon.
Bring a bottle of water with you, preferably one you can reuse. Breweries are happy to fill it.
Bring a snack or two, depending on how long you will be gone.
Bring a charger for your phone.
Bring a backpack to carry supplies and all that merchandise and/or bottles you are bringing back.
Lastly, relax and have a good time. These places are always excited to have visitors. They love telling their story and are motivated by watching you enjoy all of their creations.
Tip Top Taps
(706) 414-6050
4317 Washington Rd
Evans, GA 30809
For more information on future Tip Top Tours, visit their webpage.
---