No Comments
The Weekly Buzz | December 30 – January 5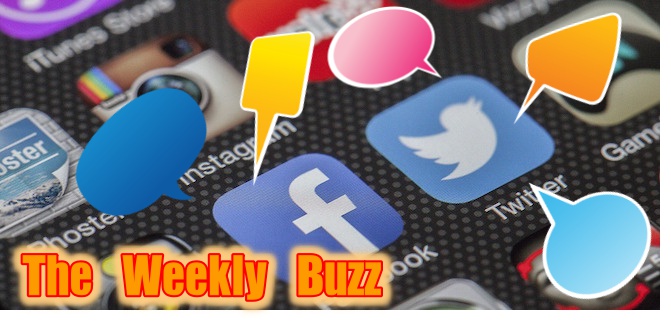 The first week of the year has been chock full of new beer and event announcements. Hopefully, this is a sign that 2017 will be a great year for craft beer. I've already started marking release dates on my calendar and making room in my refrigerator. Forget 2016. That was a garbage year. We've got to focus our positive energy on the next 359 days! Pull out your yoga mat, get into Downward-facing Dog, and get ready for The Weekly Buzz.
Shh! Don't scare it away!
Beer pic of a Beer brewing beer. #meta #barkleyboont #outofideas pic.twitter.com/aQbZhLLTRa

— Anderson Valley Brew (@avbc) December 30, 2016
---
At least there was no purchase required…
Get a free #NYE ride on us in Chicago | Dallas | DC | Duluth | Madison | Milwaukee | Minneapolis | St. Paul → https://t.co/jiQx5rMFto pic.twitter.com/pyFiuXk6ZS

— MillerCoors (@MillerCoors) December 30, 2016
---
Get your tickets now!
In #ATL ? Join us Jan 18 our full lineup announcement party at @sweetwaterbrew Attend & get brewery tour, 420 Fest glassware + fest poster pic.twitter.com/X6VkVdR1gV

— SweetWater 420 Fest (@420fest) December 30, 2016
---
We love seeing breweries doing good. Have I mentioned that before?
Surprising 113 kids w/ new bicycles for @WholeFoods' #Longmont store opening was a 2016 highlight for sure! https://t.co/CEvZSNbrd0 pic.twitter.com/qBIl8R9xdo

— CAN'd Aid Foundation (@CANdAid) December 30, 2016
---
That's a lot of brews!
#ThisYearInBeer… we ran 4,238 turns on the Brewhouse, making over 300,000 barrels of finished/packaged beer! #brewhousetweets #staythirsty

— Firestone Walker (@FirestoneWalker) December 30, 2016
---
New beer! Go get it!
Our brand-new Sidecar Orange Pale Ale is now available nationally! It's brewed with citrus forward hops & real oranges. Delicious! #sidecar pic.twitter.com/tgBgC5PH7q

— Sierra Nevada Beer (@SierraNevada) December 30, 2016
---
Man's Best Friend(s)
Here's to hoping your #2017 is filled with quality #craftbeer and cute pups ?? #TasteVictory #AlwaysWholeFlowerHopped pic.twitter.com/pkW6C7QDsL

— Victory Brewing Co. (@VictoryBeer) December 31, 2016
---
Take me out to the ballgame…
Look what's going in at @SunTrustPark!! ?: @izziro pic.twitter.com/PH53MvHQ2K

— Terrapin Beer Co. (@TerrapinBeerCo) December 29, 2016
---
Brewery cats are the only good cats.
Hi five for barrel aging! pic.twitter.com/wdr7IZ9yXQ

— Pipeworks Brewing Co (@PipeworksBrewin) December 30, 2016
---
I'll have two!
The #BeerBrunch Cocktails keep coming! Try this one for your New Year's Day Brunch… #newyears #brunch #beer #beercocktail pic.twitter.com/n3iCtTTZjH

— Deschutes Brewery (@DeschutesBeer) December 31, 2016
---
Happy New Year!
Thank you for making us a part of your 2016. Here's to an even better year ahead. #troegsway #happynewyear pic.twitter.com/vgT8mCaE3b

— Tröegs Brewing (@TroegsBeer) January 1, 2017
---
Mark your calendars…
A little something, something to help you plan your Surly drinking strategy for 2017. #GetSurly https://t.co/NJsiBhloUK pic.twitter.com/aLVfgnsUAP

— surlybrewing (@surlybrewing) January 2, 2017
---
…while you have your pen out…
We have big things brewing in 2017! #newyear #newbeers Details: https://t.co/5eEQ792laU pic.twitter.com/JQGe9FIolF

— Brewery Ommegang (@BreweryOmmegang) January 1, 2017
---
More new beer!
New Year, New Beer sounds so much better than New Year, New Me. #ProbablyBecauseItRhymes #GoldenHop #IPA Now available! pic.twitter.com/TjhdxYiIyA

— Yards Brewing Co. (@yardsbrew) January 1, 2017
---
Even more new beer?! This year is looking up!
Joining the @AllagashBrewing #team in #2017…. Welcome aboard friend!! pic.twitter.com/Zrh7ox0K1K

— Kristen Demergian (@AllagashKristen) January 2, 2017
---
Tickets available!
Don't miss out on Stone Calm Before the Storm! Tickets are available now for our pre-Super Sunday celebration: https://t.co/3orwaRYRFJ pic.twitter.com/BXCAYmTt0q

— Stone Brewing (@StoneBrewingCo) January 2, 2017
---
I'm not sure I can handle any more new brews.
Early Riser Coffee Porter drops in the Greater KC Area on Monday (kegs) & Tuesday (bottles) of next week with other cities to follow soon! pic.twitter.com/VvdksS3W6c

— Boulevard Brewing Co (@Boulevard_Beer) January 3, 2017
---
I'm clearing a spot in the fridge!
First #Hopslam cans are coming down the line. https://t.co/FJq3tvQpIb

— Bell's Brewery (@BellsBrewery) January 3, 2017
---
What are you doing this weekend?
BATTLE OF THE BREWS 1/7/17

Event details: https://t.co/CWnrv08c02

Many PA breweries at @ChickiesnPetes!#pabeer #craftbeer pic.twitter.com/w5lIjPLJR1

— Breweries in PA (@BreweriesinPA) December 31, 2016
---
Bad. Ass.
Resident badass @michellejouas breaks from fishing with an #OdellIPA before she assess her situation. Cheers and keep getting after it! pic.twitter.com/UMqLX6gNRl

— Odell Brewing Co (@OdellBrewing) January 3, 2017
---
Another new beer!
??? New brew alert ???
Get this limited Oak-aged double #IPA brewed with maple & before it's gone! https://t.co/9MaqSfpXGp

— Southern Tier Beer (@stbcbeer) January 3, 2017
---
It's a sad day for South Carolina
https://www.instagram.com/p/BO2cxwtjFNg/?taken-by=burialbeer
---