No Comments
FoBAB Releases Brewery Lineup for First Time Ever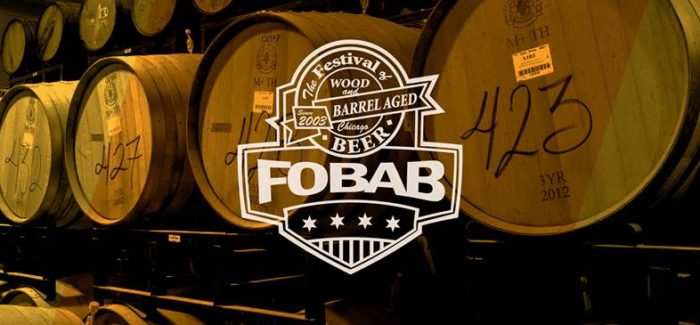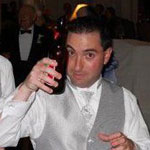 To celebrate the 15th anniversary of the Festival of Wood & Barrel-Aged Beers (FoBAB), event organizers have released the complete list of breweries that will be pouring prior to the event for the first time ever. While the specific beers can't be listed due to the competition and judging aspect tied to the festival, more hype has been added for the November event as festival-goers now have a preview of what's to come.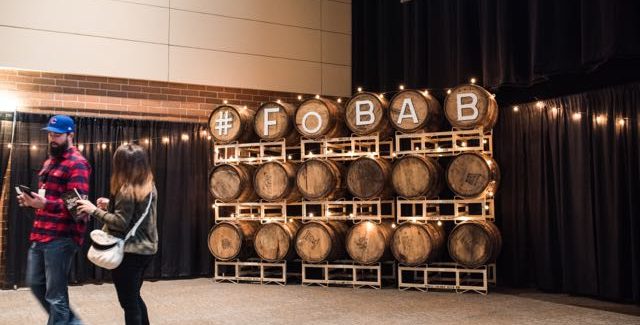 While there are some familiar breweries in attendance like Jester King, Firestone Walker and more, several big time breweries are making their first appearance at FoBAB such as Speciation, More Brewing and Mikerphone.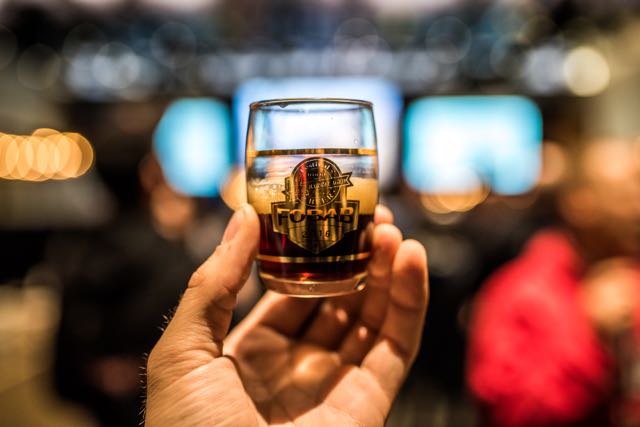 Tickets are still available for the Friday and Saturday evening sessions of the Festival of Barrel-Aged Beers taking place November 10-11 at the UIC Forum in Chicago, IL and can be purchased here.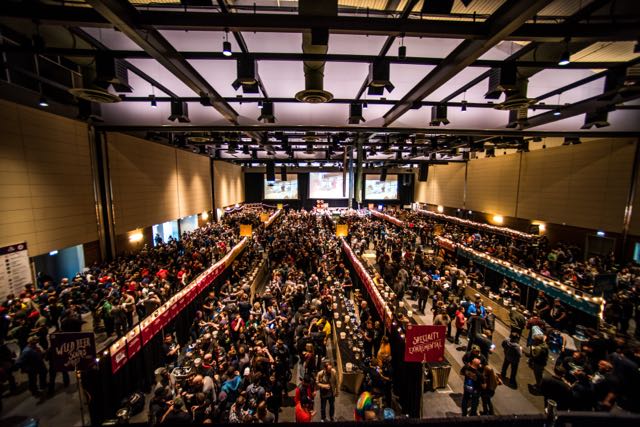 Here's the full list of the breweries that will be pouring at the 15th annual FoBAB:
10 Barrel Brewing
18th Street Brewing
2 Fools Cider
3 Floyds Brewing co
3 Sheeps Brewing co
4 Hands Brewery
4 Noses Brewing Company
5 Rabbit Cerveceria
Against The Grain
Allagash Brewing Company
Almanac Beer Co.
Alter Brewing Company
Angry Orchard
Arclight Brewing Company
Around the Bend
Arrowhead Ales Brewing Company
Atom Brewing Company
August Schell Brewing Company
Avery Brewing Company
Baderbrau Brewing Company
Ballast Point Brewing Company
Bear Republic Brewing Company
Begyle Brewing
Bell's Brewery Inc
Bent River Brewing Co
Blackberry Farm Brewery
Blue Blood Brewing
Blue Island Beer Company
Blue Moon Brewing company
Blue Nose Brewery
Blue Point Brewing
Braxton Brewing Co.
BrickStone Brewery
Brickstone Brewpub
BuckleDown
Burn 'Em Brewing
Byway Brewing Co.
Cahoots Brewing
Carson's Brewing
Cascade Brewing
Central State Brewing
Central Waters Brewing Company
Cerebral Brewing
Church Street Brewing Company
Coppertail Brewing
Coronado Brewing Company
Crooked Stave Artisan Beer Project
Cruz Blanca Brewery
Crystal Lake Brewing
Dérive Brewing Company
Deschutes Brewery
DESTIHL Brewery
DESTIHL Restaurant & Brew Works
Dovetail Brewery
Empirical Brewery
Epic Brewing Company
Evil Horse Brewing Co.
Excel Brewing Company
Firestone Walker Brewing Company
Flossmoor Station Brewing Company
Forbidden Root
Forge Brewhouse
Four Fathers Brewing
Four Peaks Brewing Company
Free Will Brewing Co.
Fremont Brewing
Goose Island Beer Co.
Greenstar Brewing
Grimm Brothers Brewhouse
Hailstorm Brewing Co
Half Acre Beer Co.
Half Day Brewing Company
Hardywood Park Craft Brewery
Haymarket Pub & Brewery
Hopewell Brewing Company
Horse Thief Hollow
Illuminated Brew Works LLC
Imperial Oak Brewing
Indeed Brewing Company
Iron Spike Brewing Company
Jester King Brewery
JT Walker's Brewery
Karetas Brewing
La Cumbre Brewing Co.
Lagunitas Brewing Company
Lake Bluff Brewing Co
Lakefront Brewery
Lil Beaver Brewery
Lionstone Brewing
Listermann/Triple Digit Brewing
Lo Rez Brewing
Lunar Brewing Company
Maplewood Brewery & Distillery
Marble Brewery
Mark Twain Brewing Company
Marz Community Brewing
Metal Monkey Brewing
Metropolitan Brewing
Mikerphone Brewing
Mikkeller Brewing San Diego
Misbeehavin' Meads
Miskatonic Brewing Company
MKE Brewing Co
MobCraft Beer
Moody Tongue Brewing Company
More Brewing Company
Mothers Brewing
Nebraska Brewing Company
New Belgium Brewing
New Holland Brewing Co
Noon Whistle Brewing
Oak Park Brewing Company
Obed and Isaacs
Odd Side Ales
Odell Brewing
Old Irving Brewing
Off Color Brewing
On Tour Brewing
One Trick Pony Brewery
Only Child Brewing Co.
Oskar Blues Brewery
Peckish Pig
Penrose Brewing Company
Perennial Artisan Ales
Perrin Brewing Company
pFriem Family Brewers
Pig Minds Brewing
Pipeworks Brewing Company
Pollyanna Brewing Company
Prairie Krafts
Prairie Street Brewing Co
Quaff On Brewing
RAM Restaurant & Brewery – Wheeling
Revolution Brewing
Revolution Brewing – Brewpub
Rhinegeist Brewery
Rivertown Brewing Company
Rock Bottom Brewery Orland Park
Rock Bottom Brewery – Portland
Rock Bottom Brewery – Chicago
Rogue Ale & Spirits
Saint Archer Brewing Company
Samuel Adams
Schlafly Beer (The Saint Louis Brewery)
Scorched Earth Brewing Co.
Seattle Cider Company
Shoreline Brewery
Short's Brewing Company
Sierra Nevada Brewing Co.
Ska Brewing
Sketchbook Brewing Co
Smylie Brothers Brewing Co.
Solemn Oath Brewery
Speciation Artisan Ales
Spiteful Brewing
Starcut Ciders
Stockholm's Vardshus, Inc.
Stone Brewing
Sun King Brewery
Sun King Tap Room & Small Batch Brewery
Surly Brewing Co.
SweetWater Brewing Company
Temperance Beer Co
Ten Ninety Brewing Co
The Blind Pig Brewery
The Bruery & Bruery Terreux
The Dayton Beer Company
The Lost Abbey
The Lucky Monk
The Rare Barrel
The Sour Note Brewing
Tighthead Brewing Company
Tin City Cider Co
Transient Artisan Ales
TRVE Brewing
Twisted Hippo
Two Brothers Brewing Company
Two Roads Brewing Company
Union Craft Brewing
Upland Brewery
Upper Hand Brewery
Upstream Brewing Company
Urban Chestnut Brewing Company
Vander Mill
Verboten Brewing
Virtue Cider
Warped Wing Brewing Company
Waterfront Brewery
Watermark Brewing Co.
WeldWerks Brewing Co.
Werk Force Brewing Co.
West Sixth Brewing
Whiner Beer
White Oak Brewing
Wicked Weed Brewing
Wild Onion Brewery
Wiley Roots
Wolf's Ridge Brewing
Woodfour Brewing Co
Zaftig Brewing Company
---