No Comments
The Weekly Buzz | December 8 – 14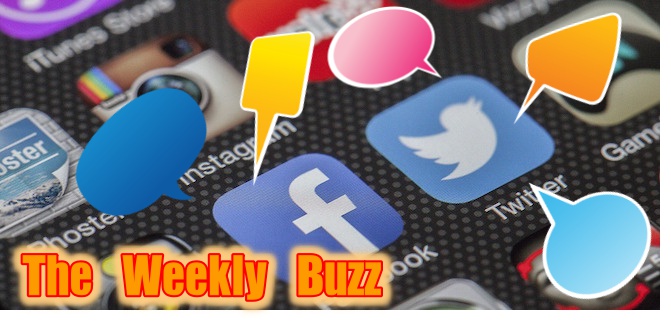 While canning, some beer inevitably ends up on the floor. That beer goes to waste–an acceptable loss in the packaging process. The world of beer news, however has a savior. We scoop up the small bits of news and shenanigans, clean them up and bring them to you. Crack open a beer because you're about to get The Weekly Buzz!
Only an old-timey riverboat could make this look cooler.
https://instagram.com/p/BcYGAowjdlV/
---
It's a winter wonderland!
It's snowing in NC! Due to adverse weather, our Mills River brewery is closed for the day. Stay safe out there! pic.twitter.com/JAAldAxY5j

— Sierra Nevada Beer (@SierraNevada) December 8, 2017
---
We hope everyone stays safe during this terrible disaster.
While our locations are not currently threatened and we remain open for business as usual, our thoughts are with all those affected by the fires here in Southern California.

— Stone Brewing (@StoneBrewing) December 8, 2017
Good morning. We hope you are all safe and as rested as possible. If you need or want a place to rest, regroup, come as you are #lilacfire pic.twitter.com/pUmq73rgjr

— Bagby Beer Company (@bagbybeer) December 8, 2017
---
Somebody call a plumber!
Full six pack status achieved. 9k BBL of fermentation capacity about to rock. As soon as I figure out how to get these things hooked up. pic.twitter.com/EtEI8qxZqB

— Sam Tierney (@intothebrew) December 8, 2017
---
Just in case you needed it spelled out.
FREE PARKING for #YARDS is just south of the taproom! Enter on 5th st. #BrewUntoOthers pic.twitter.com/XGseTZLcKT

— Yards Brewing Co. (@yardsbrew) December 8, 2017
---
Who's gonna crack some of these open in the parking lot at Lambeau?
Helllllllo Wisconsin! We're happy to announce that we're beginning self-distribution of fresh beer to our fine friends in WI!
We're starting with Milwaukee area – and opening up to Madison in Spring 2018!
Brew City beer buyer?
Email [email protected] Attn: Pat pic.twitter.com/YTAK7HvJ2J

— Pipeworks Brewing Co (@PipeworksBrewin) December 8, 2017
---
Buy great beers. Support great causes.
Drink beer and give back while you do it! This December, when you order a sample flight at either location, profits will go to help support the efforts of @gnwyfoundation and @TGPdenver. So come in for a flight and help us give back to our Denver community! pic.twitter.com/4KbWWGIS5I

— Great Divide Brewing (@greatdividebrew) December 8, 2017
---
Why isn't my freezer full of this right now?!
Can't get enough #StoneXocoveza in your life? We feel you. That's why we partnered with Jeni's Splendid Ice Creams to create #Xocorosa, the perfect complement to our imperial stout inspired by Mexican hot chocolate! Available at all Stone locations. pic.twitter.com/7y7A95nudX

— Stone Brewing (@StoneBrewing) December 9, 2017
---
I'm going to start leaving beer and pretzels for Santa.
https://instagram.com/p/BcfrzjagYzE/
---
How did you do National Lager Day?
Happy #NationalLagerDay! Head to @JABeerHall and try over 20 lagers on draft! Or pick up one of your favorites at your local store! #drinklocal #drinklager #loyaltolager #craftbeer pic.twitter.com/eO0rKAzrBe

— Jack's Abby (@JacksAbby) December 10, 2017
It's #NationalLagerDay and we know how we're celebrating! #Nooner pic.twitter.com/yQNTvZCFt9

— Sierra Nevada Beer (@SierraNevada) December 10, 2017
Happy #NationalLagerDay! We're celebrating with our new Lager – Livin' Easy 🍻 pic.twitter.com/uVNYpGz5jC

— Rusty Bull Brewing (@RustyBullBeer) December 10, 2017
Experience Hawaii today by enjoying a #BikiniBlondeLager on #NationalLagerDay! pic.twitter.com/qdJr9dkvMG

— MauiBrewingCo (@mauibrewingco) December 10, 2017
Todays excuse to crack open a cold one #NationalLagerDay pic.twitter.com/nuyFcCrn6o

— Perrin Brewing (@PerrinBrewing) December 10, 2017
Happy LAGER Day! Stop by to celebrate with a $30 case of HYPER SPACESHIP LAGER and catch the BIRDS at 4:25PM! $1 off core drafts during the game with pizza specials going all day! #nationallagerday #ncbcbeer #lager pic.twitter.com/VMH9RwzaTT

— NCBCBeer (@NCBCBeer) December 10, 2017
---
Was Extreme Beer Fest as extreme as it sounds?
Well, it seems Sam & the gang survived the inaugural #ExtremeBeerFest: LA this past weekend & we do believe it was a raging success! Props to team @BeerAdvocate & all the super-creative indie breweries who participated! So many delish experimental beers…here's to next year! 🍻 pic.twitter.com/GpKnHNt4o3

— Dogfish Head Brewery (@dogfishbeer) December 11, 2017
We had a really, really big time at #ExtremeBeerFest yesterday! Lots of great breweries and awesome #craft beers Thanks for coming out. FYI.. #andyisthisbig @BeerAdvocate pic.twitter.com/VWSrnanDKf

— Three Weavers (@ThreeWeavers) December 10, 2017
The view from #ExtremeBeerFest
Special thanks to @Todd alstrom @jasonalstrom & the @beeradvocate Crew for inviting us, and throwing a killer festival!

#ShouldHaveBeenThere #beertography #beer #brewery #vacraftbeer #vabeer #craftbeer #beerstagram #beergeek #beeradvocate pic.twitter.com/5ZPviYzUiQ

— AdroitTheory Brewing (@AdroitTheory) December 10, 2017
---
We like big tanks and we cannot lie…
https://www.instagram.com/p/BcfOaqyAARS/
---
Hope they don't mind that I'll be horrifyingly off-key.
Do you drink well with others? This Saturday come Fa La La with us as we gather together for a holiday sing-a-long with @ezrajacobmusic 7-9:30pm. Ezra will be playing an acoustic set of mostly Christmas carols and will also take requests. Eats from @juli… https://t.co/pamwaEF8w6 pic.twitter.com/SNMWyBON35

— Reformation Brewery (@ReformationBrew) December 11, 2017
---
Business as usual. Nothing to see here.
Typical day of Stone fans arriving by helicopter to buy 18 cases of beer. Very normal. pic.twitter.com/7HOf2V514J

— Stone Brewing (@StoneBrewing) December 11, 2017
---
Happy Anniversary!
https://www.instagram.com/p/BckzzfND9ID/
---
Go see who wins!
https://instagram.com/p/Bcm0bwjFrsR/
---
Nice work, team! High five!
https://instagram.com/p/BcnJcEtHSiK/
---
Get those tickets!
Cookie Season approaches… kick it off with a beer and cookie pairing with us and @GSCTXcouncil! Saturday 1/20 from 1-5pm. Details & tix: https://t.co/teVlhyfRib pic.twitter.com/FfBUwRpbqL

— Circle Brewing Co. (@circlebrew) December 13, 2017
---
https://www.instagram.com/p/BclsrpvHqgk/
---