No Comments
Solace Brewing | Partly Cloudy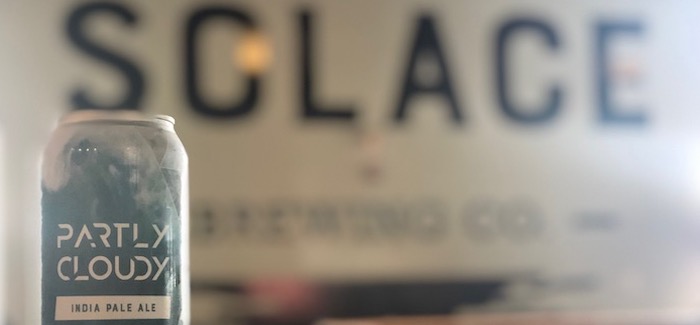 When you walk into Solace Brewing, you feel a bit happier. The vibe at this sprawling facility in Sterling, Virginia is just cheerful. From the employees to the customers, the brewery seems to live by its motto: "Find Your Solace."
When Solace opened its doors in June 2017, it was entering a crowded Northern Virginia marketplace which now numbers close to 70 breweries. However, Solace has been able to stand out because it makes good beer and it outworks the competition.
You won't find a lot of crazy styles on the beer menu here. On a recent visit, the list trended heavily towards IPAs and Pale Ales, which is exactly what the co-founders intended. According to Co-Founder Jon Humerick, the owners want to brew beer that they like, and they like IPAs (author's note: sames).
Solace's original best-seller is called Sun's Out, Hops Out, a Session IPA which evokes images of muscled dudes on a beach in tank tops. Humerick noted that all of the founders loved drinking Founders' All Day IPA, and Solace wanted something similarly crowd-pleasing. The beer was a huge hit and became a year-round staple.
But that sunny imagery and lighter flavor created an interesting issue: when winter rolled around, people didn't want to drink this amazing session IPA quite as much.
Enter Partly Cloudy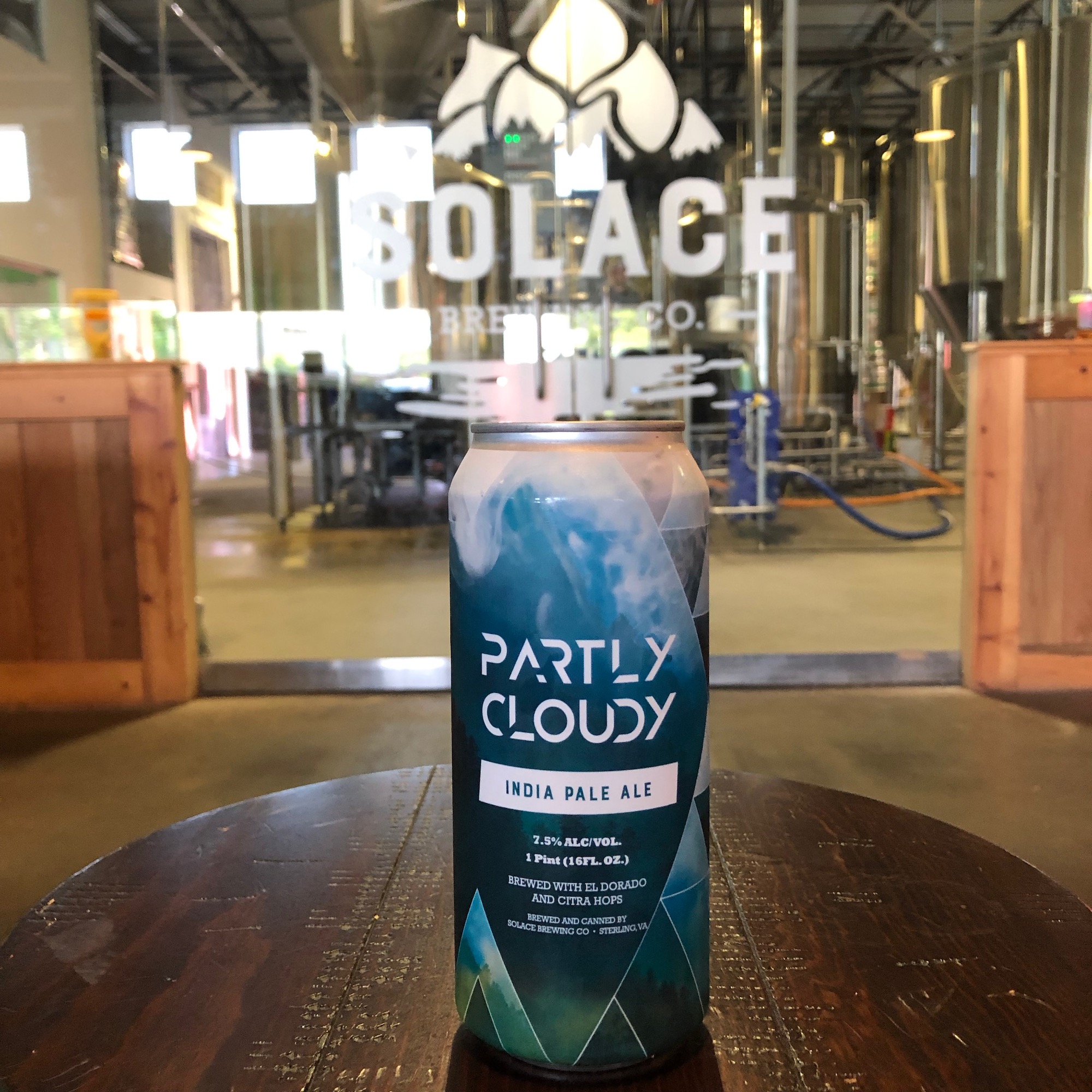 Partly Cloudy, as you might imagine, is a Hazy IPA. The name fits so well with the original Suns Out weather theme, and the beer is phenomenal. It is not technically a New England IPA. They use different yeast strains than traditional NEIPAs. But the result is still a perfectly drinkable Hazy IPA.
Solace has been on the Haze Craze since the beginning, and was one of the first in Northern Virginia to start canning them. Even in mid-2019, Solace is still one of the only NoVA breweries to offer Hazy IPAs in cans at retail.
The beer is double dry-hopped with Citra and El Dorado hops, lending itself to a citrus taste on the front end, and a touch of bitterness on the back-end. Medium-bodied, Party Cloudy goes down easily with a soft mouthfeel.
And boy, did this beer take off.
Partly Cloudy now accounts for 60% (!) of Solace's total volume. Solace cans a lot of other beer, including Sun's Out and multiple varieties of IPAs. In the first year of operation, Solace expected to do total volume of 3,000 barrels and did 4,000. This year they expect to hit 9,000 barrels. That is pretty close to maximum capacity right now – they've ordered several new fermenters and a brite tank just to keep pace with current demand. Rumors of an expansion have been percolating.
So, if it's sunny out, partly cloudy, or if it's a full on monsoon, grab yourself a Solace Partly Cloudy, find your solace, and enjoy this amazing Hazy IPA from one of the best breweries in Virginia.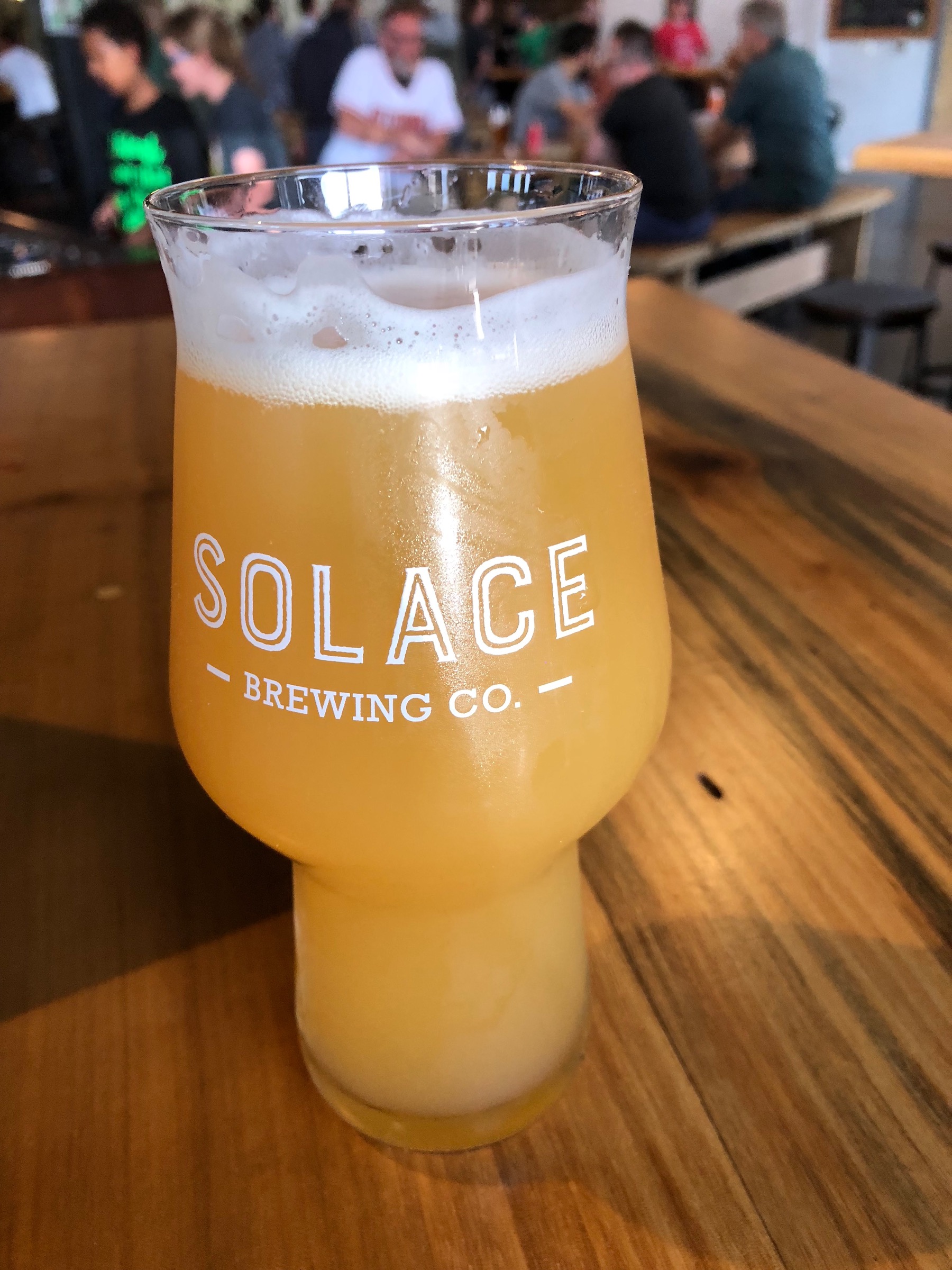 Photos courtesy Solace Brewing Company
---