No Comments
Christmas Classics | Triptych Brewing O Christmas Meme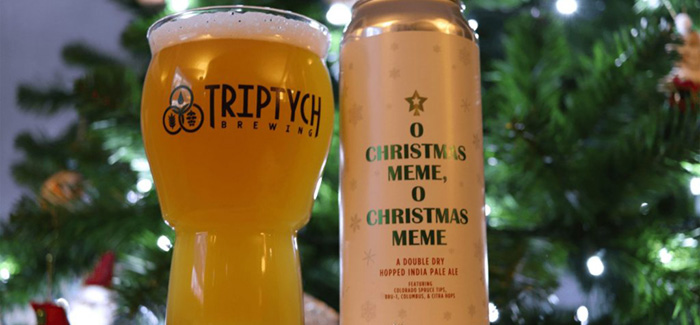 It's a well regarded fact that the best beer to make you recall fond memories of Christmases of yore is a terrifically dark, malty ale. Perhaps it's spiced, like Great Lake Christmas Ale. Maybe it's minty with deep chocolate notes. Or it could be barrel-aged, resulting in a boozy, syrupy confection that's meant to inoculate you from the inevitable holiday hangover. But what if, just this one time, you wanted to enjoy a Christmas beer that embodies the current haze craze? Well, we've found the beer for you.
Do It for the Memes
Triptych Brewing does it for the memes. They've been memeing, er brewing, up batches of beer with names like Dank Meme and Memeshake inside their literal Memery in Savoy, Illinois, with great success (queue Borat). But this time, they've captured the real essence of Christmas in their yearly installment of O Christmas Meme, O Christmas Meme.  This meme is a carefully concocted New England style IPA with 20 pounds of Colorado spruce tips in a 15-barrel batch.
Have you ever wanted to get bitch slapped by a spruce tree? No? That's what we'd come to remember when cracking this hazy boi open in years past. We're always delighted to experience the latest and greatest meme offerings from Triptych, but when we poured this one, we were a little disappointed. No garland, no glitter, not even a hint of green Christmas food coloring. It far subtler than years past. It's not really a bitch slap any more, but more of an "atta boy!" Perhaps previous experiences clouding our perception of this beer.
It shouldn't be a surprise that much like a real Christmas tree, O Christmas Meme assaults your tastebuds with a dry, resinous flavor that only the dankest and piniest of IPAs can dream to please you with. As we work our way to the bottom of the glass, the spruce flavors drift from something akin to the tree in "A Charlie Brown Christmas," and now typify something that the Whos in Whoville would call one of their own.
At the end of the day, O Christmas Meme, O Christmas Meme is still chock full of Columbus, Citra and BRU-1 hops that give this beer exceptional complexity. The fruit-like qualities of fresh spruce tips complement well with the citrus and tropical fruit flavors you've come to love from those hop varietals. You could get this beer because it's an enjoyable Hazy IPA, but that's not the reason you should get it. Come for spruce tips, stay for the memes.
https://www.instagram.com/p/B4LpvvvJsRE/?utm_source=ig_web_button_share_sheet
---