No Comments
Crafting History | The Lost Abbey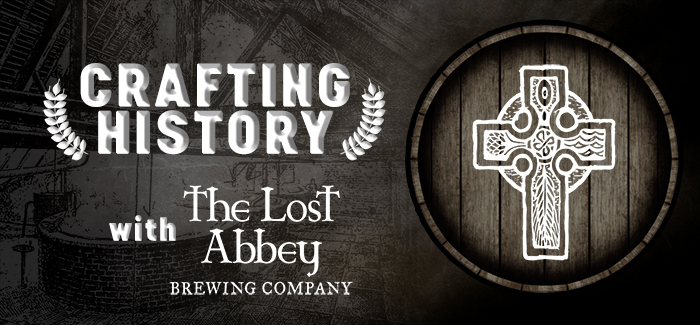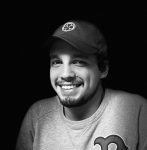 Round two of Crafting History circles back into the familiar territory of Belgian-influenced beer. A mysterious hybrid concept rooted in monastic tradition, The Lost Abbey out of San Marcos, California found historical success through flavorful, imaginative beer with no boundaries. And here we find ourselves 17 years later, with Head Brewer/Co-founder & COO Tomme Arthur still holding tightly to those founding values, and creating a product that both retains its relevance as well as reminds consumers why this brewery has solidified itself a coveted spot in craft beer history. We had the privilege of speaking with Tomme, gaining first-hand insight into the brewery itself, their development over time, and some more history behind some of the bigger beers in their portfolio.
The Lost Abbey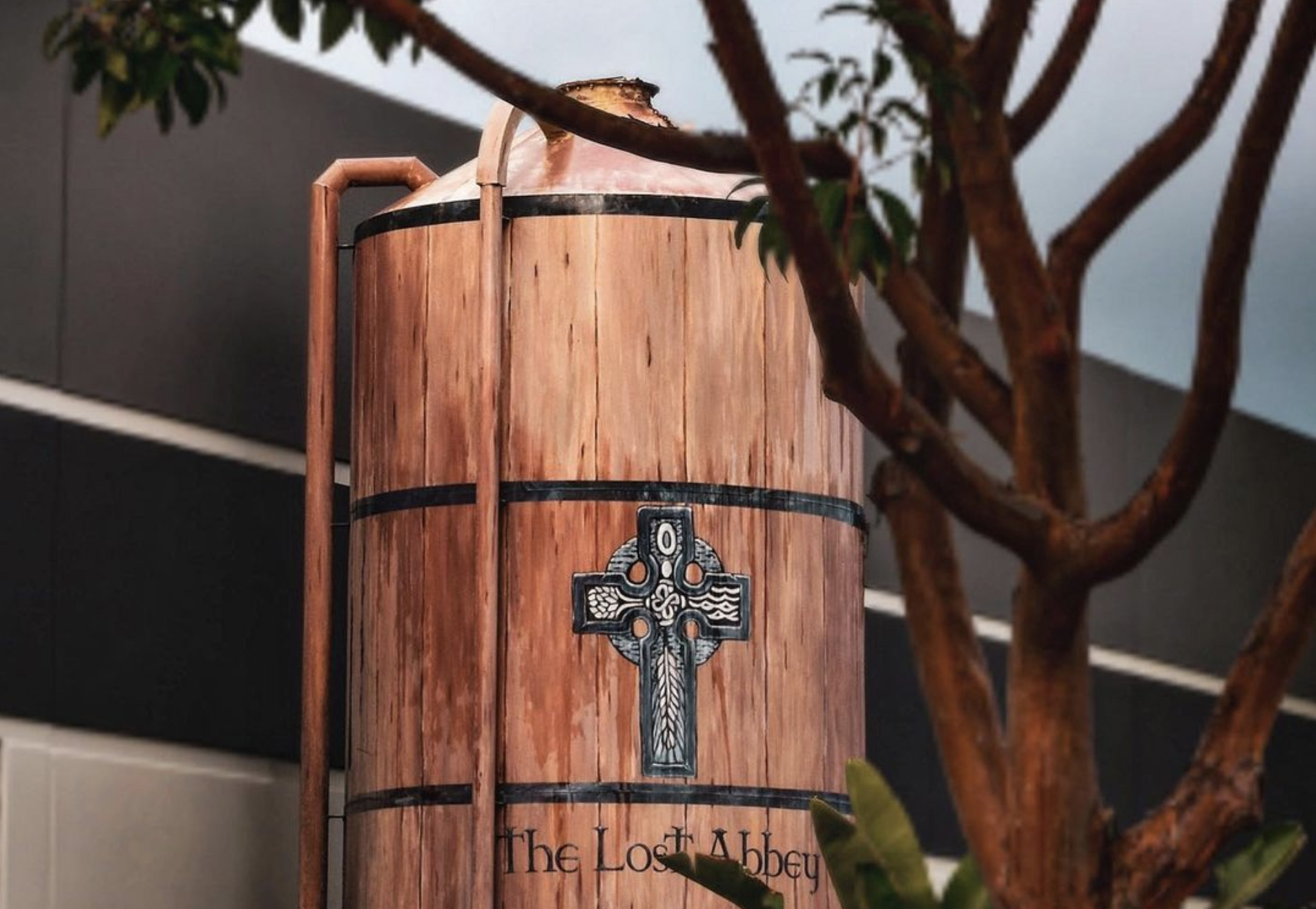 Tomme Arthur opened The Lost Abbey alongside Vince Marsaglia and his sister Gina in May 2006 as a separate brand encompassed by Port Brewing Company. In its infancy the program comprised 100 oak barrels. While at one point swelling to about 1,000 barrels, today they are at less than 300 but have also added 5 large foeders (3 – 85 BBLs and 2 – 110 BBLs).
When talking with Tomme, he told us that while they had always believed they had a sense of what they were looking to accomplish from the beginning, they just didn't have the necessary controls. Over the years they learned so much about things like acid production, re-culturing, and fruiting since they originally opened their doors. Through this combination of natural education and the resistance to craft beer "movements" surrounding barrel-aged beers, the Lost Abbey built a truly exciting and unique program with a portfolio of beers that continue to stand the test of time.
Growth & Development
When conducting interviews, we always look to focus on growth, and how these brewers and their programs developed over time.
As mentioned, The Lost Abbey have looked to avoid joining the trends in craft beer. Two beer examples Tomme gave us to back this up were Angel's Share Barleywine and Track #8 – The Number of the Beast. The former was brewed back at the beginning in 2006, and since then no changes have been made to the base recipe, with Tomme only adding two other unique expressions to the beer over time. Track #8 released in 2012 in their Ultimate Box Set, and was a barrel-aged beer with cinnamon and chiles. While at the time this was "moderately" ground-breaking, today it would be looked at as another pastry-style beer. That said, Tomme pointed out that they had no intention of joining any of the recent trends, including crazy long boils with massive OG (original gravity) and TG (target gravity) to produce sticky, sugar-dense beer.
Tomme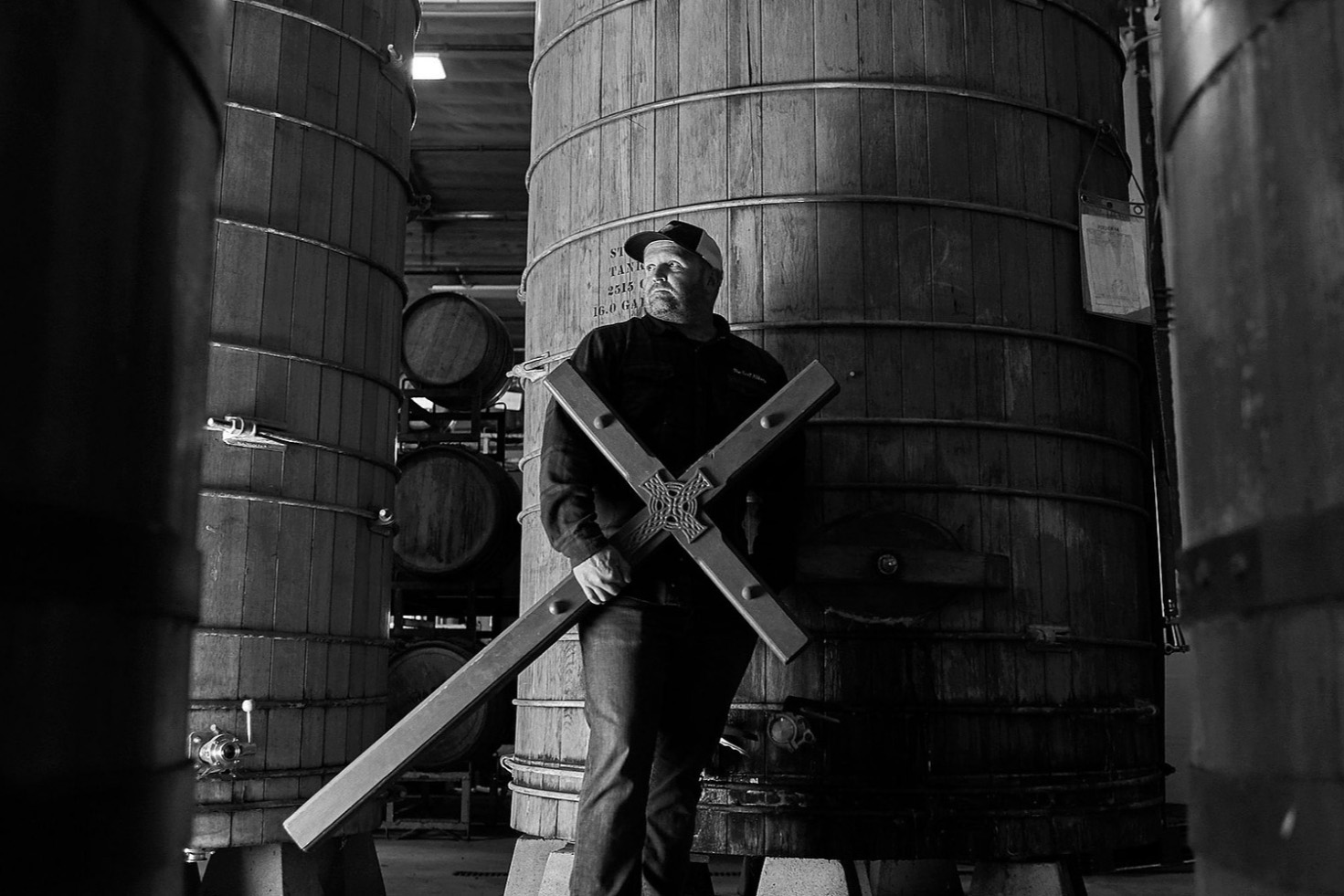 We also wanted to look deeper at the development of Tomme Arthur as a brewer, beginning at his roots. In his early days at Cervecerias La Cruda in 1996, Tomme worked under the guidance of Troy Hojel. This time spent with Troy taught Tomme about cleanliness of flavors and expression. In those formative days there were countless philosophical conversations that helped to reinforce the many ways to reach a shared destination, and that the choices we make along the way matter. La Cruda set Tomme on the path to understanding and trusting himself as an artist.
Fast forward to 2005, when full autonomy was granted to him at Pizza Port Brewing in San Diego. At that time they produced over 100 batches of beer a year, with countless opportunities for fun experimentation. More well-known beers like SPF 8 and 45 along with Cuvée de Tomme later became Lost Abbey beers Red Barn Saison, Ten Commandments, and a re-imagined Cuvée brewed at their home in San Marcos. Upon completion of walking us through his professional timeline, Tomme made a final point to note how thankful he has always been for the time and opportunities that both experiences provided him.
The Crusade
As is the case with any growing brewery, the path to fulfilling founding visions can often take time. For The Lost Abbey, they started out on a journey wanting their liquid art to reflect a time and place. Much like with Trevor Rogers at de Garde, Tomme always wanted to produce beers and let their audience find them. By doing this, outside influences didn't seem as significant, and by trusting the voice in their head that led them along the way, they would continue to succeed. And they did just that. In terms of barrel-aging, they often found that "dumbing down" their processes was the best advice they could give. Keep the best barrels and re-use them. Get rid of the bad ones and try and work with those in-between ones however they could.
The Portfolio
A brewery is nothing without their beer. And becoming one of the most unique and recognizable craft breweries in the industry doesn't come without a rich portfolio of beers. We asked Tomme if he had a personal favorite, or any particular release he felt was worth singling out. He immediately mentioned Duck Duck Gooze, a beer that has been a success for the Lost Abbey for countless releases and arguably their most well-known beer in their entire portfolio. The Cable Car series was the next on this list, a beer originally produced for Toronado in San Francisco, and the beer he feels is the most sought after beer they ever brewed. It was also a beer that was never sold at the brewery, which made obtaining a bottle a bit more of a challenge for those who visited.
Tomme and The Lost Abbey did us an amazing favor and sent us some of their more famous current and past offerings to review, as well as a few others that they felt really embodied who they are as a brewery and that they are truly proud of.
The Lineup
Duck Duck Gooze
This beer is the Lost Abbey's homage to the fantastic Belgian wild ales brewed with naturally occurring yeast. Year-to-year it is one of their most sought after offerings, and is a blend of young and old barrel-aged beers.
The name stems from the idea that blending oak barrels can be a lot like corralling little ducklings. Each barrel has its own personality. While some get in line from the beginning, others can be problematic and need more nurturing. Duck Duck Gooze is made up of all these different kinds of barrels, and is a beer that is always years in the making. Tomme called it a legacy beer for their program, one that puts their DNA in the bottle every time a new vintage is created.
The Experience
For review Tomme sent us the 2022 Vintage. We decided there was no better way to experience Duck Duck Gooze than side-by-side with the Mother of All Ducks. On the pour, both beers boast a hazy golden yellow coloration. Duck Duck Gooze opens on the nose with a great balance of sweet, tart, and funky. Notes of underripe peach and lemon zest lead the way for undertones of bright, musty funk. On the palate there is an abundance of tart stone fruit flavors. With medium acid and a touch of minerality, you can really tell the youth on the overall blend.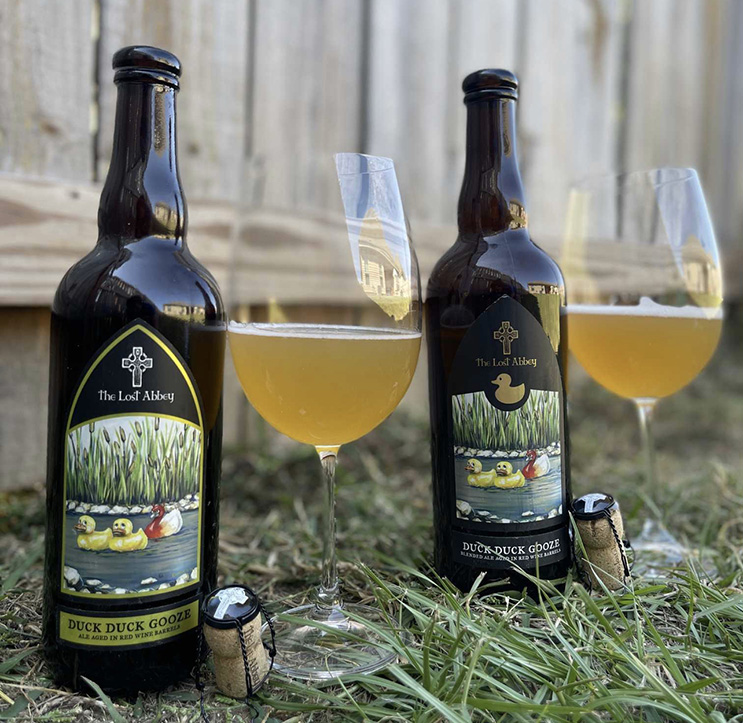 ---
Mother of All Ducks
This unique expression stemming from Duck Duck Gooze was something that came from the Lost Abbey cellars. Tomme explained that they had been saving kegs of each vintage of Duck Duck Gooze from each year and had planned to do a big promotion event tour. Unfortunately COVID came back around and it became clear that the beer should be packaged as a celebration of three separate vintages: 2016, 2019, and 2022. With 9 unique years worth of casks making up the final bottled product, Tomme didn't hesitate to note how fun a project this was to create.
The Experience
Like with Duck Duck Gooze, the pour is hazy golden yellow, with soft, frothy carbonation. The nose doesn't come off as sweet as DDG, with notes of sawdust, Lemon Head candy, and wet hay; overall a more muted profile. The palate has a soft, seltzery carbonation. Primarily dry, oaky flavors, with a nice subtle complexity in its restraint. With time in the glass, the citrus fruit flavors really starts to bloom a bit more, even more so than Duck Duck Gooze. In the end, the age of the blend is more noticeable; the final blend comprised a majority 2019 vintage with 15% of the 2016 base.
---
Cable Car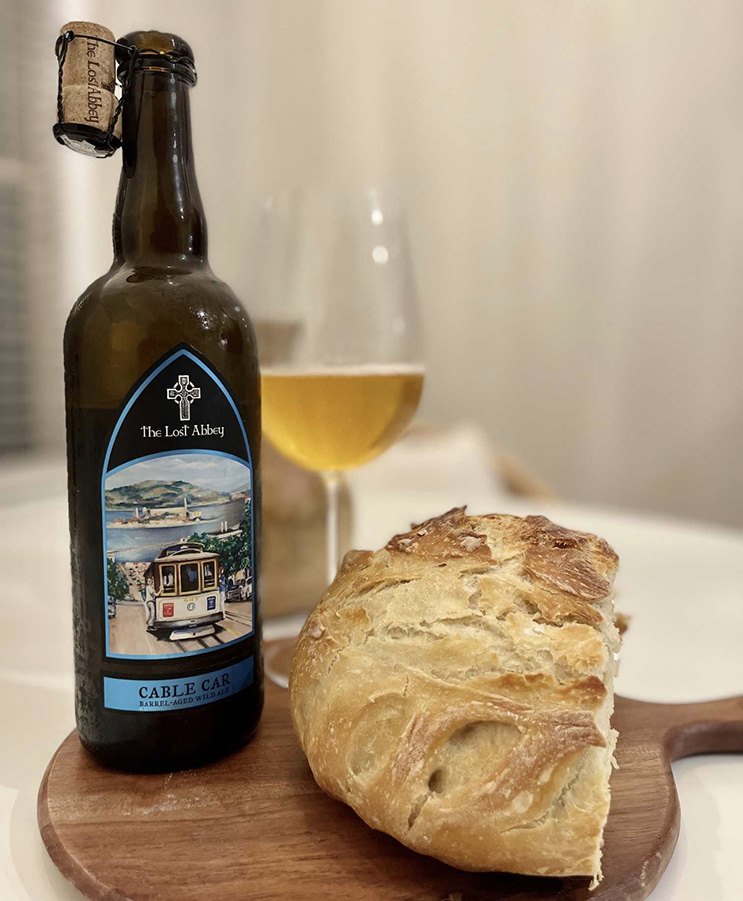 Cable Car is an Oak-aged blended Sour Blonde that was originally (and continues to be) a beer brewed exclusively for Toronado bar in San Francisco. As mentioned above, its difficulty acquiring has made it one of the more sought after beers released by the Lost Abbey.
The Experience
The review we conducted for Cable Car was the 2020 Vintage. On the pour is a clear golden coloration, with soft white head settling into a thin ring around the beer. The nose opens up with a musty sweetness balanced by candied lemon; it's a great balance of funk and citrus. The palate is tart and predominantly fruity, with a bit of a tightening pucker and a long, mildly acidic finish. There's a nice juiciness to the overall profile.
---
Cable Car Kriek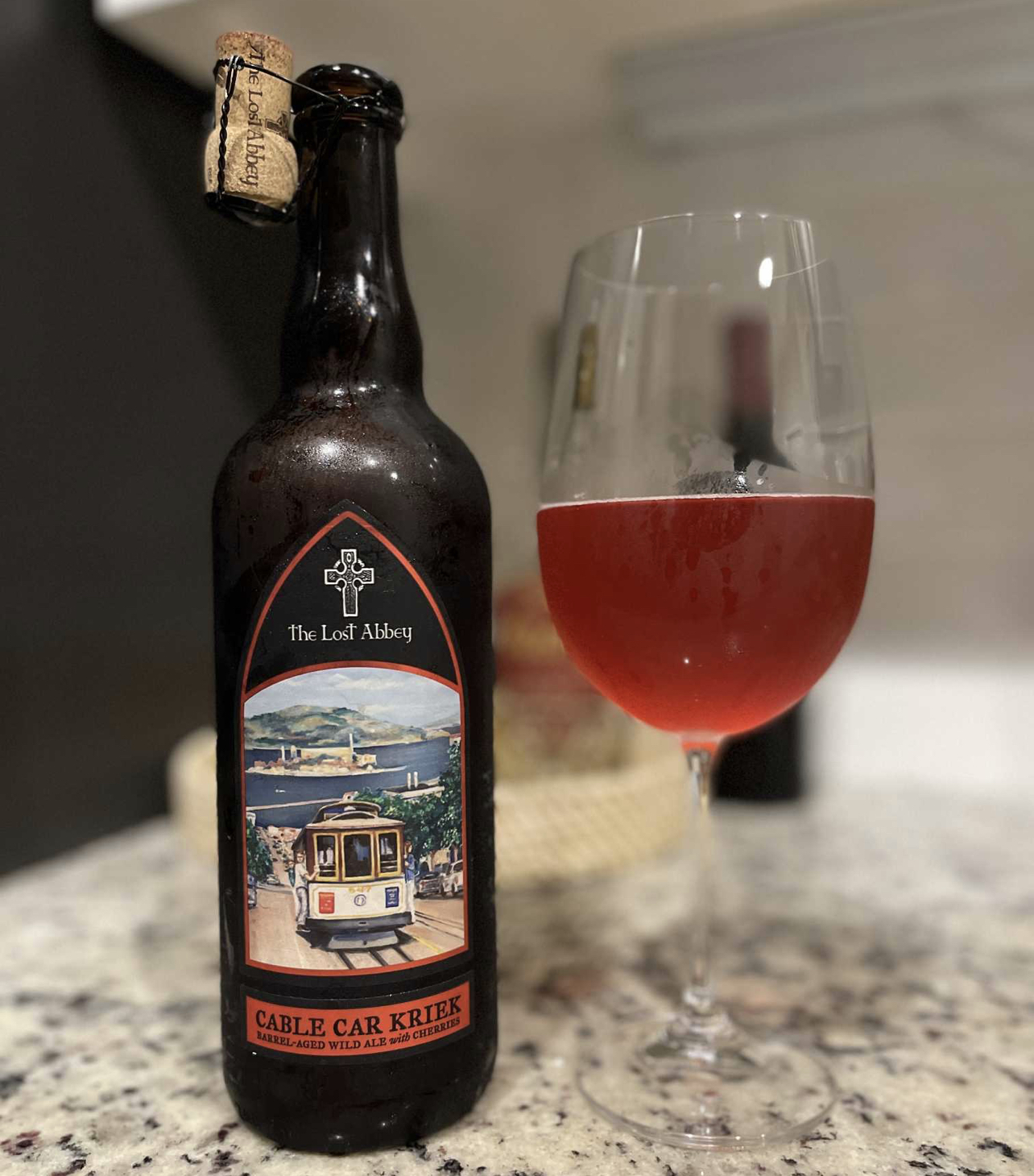 A variant of the famous Cable Car, the Kriek version was also aged in French Oak with Brettanomyces and house cultures, but with the addition of cherries. The original release in 2011 quickly became Lost Abbey's biggest "whale" they've ever released, and 2021 saw the only other time they've ever tried to recreate it.
The Experience
Tomme sent us the 2021 Vintage to review. There's a gorgeous ruby red pour, with very few agitated bubbles of carbonation. The nose is still distinctly similar to the Cable Car base, with a noticeable yet restrained funk and lemony citrus. The cherry adds more brightness and is a fresh, fruity addition. With time, a lot of oak and Brett come to the forefront. The palate is sour and noticeably acidic, with a surprisingly low carbonation. While we were hoping for more of it to cut that tart cherry and acid, overall it was never overwhelming. The tannin and brightness from the cherry works really well for the experience.
---
Peach Afternoon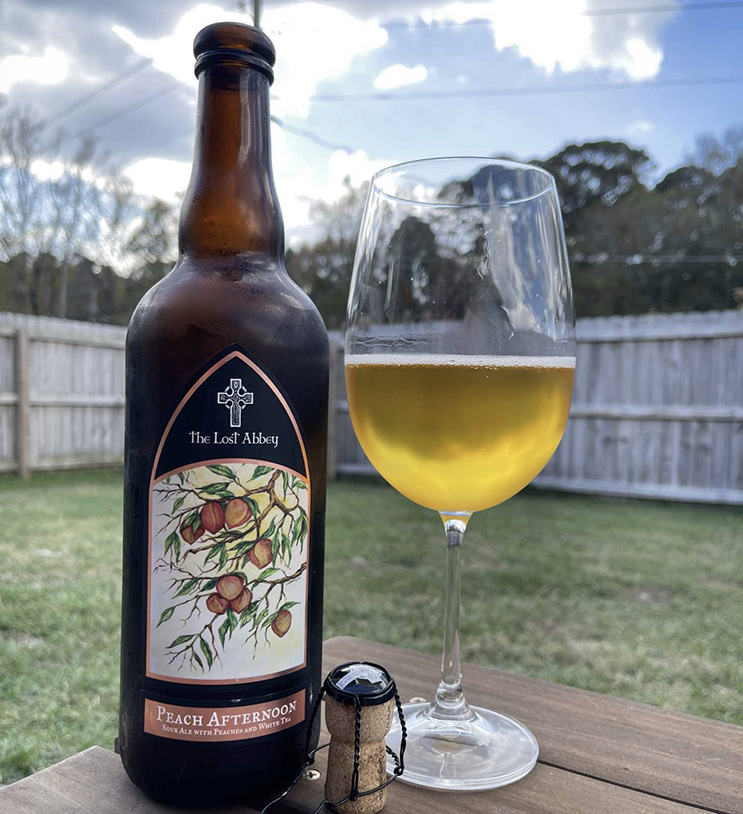 This Sour Ale with fresh peaches, nectarines, and White tea garnered its inspiration from the Japanese ritual of tea. This tradition of performing each process correctly and in order was a way to create balance to what can be a very hectic existence. The addition of White Tea to their Sour Blonde with Stone Fruit was the perfect match, adding a tannic quality and complexity to round it out.
Tomme noted that if there were a single beer that he could point to and say it is most definitely a Lost Abbey Beer in every facet, it's Peach Afternoon.
The Experience
The pour from this 2021 Vintage bottle is straw gold, with a fantastic peach tea nose bursting from the glass. Following that abundance of ripe peaches are undertones of fresh herbs, ginger, and mandarin. The palate brings with it a sour punch, accompanying notes of funky peaches, oaky tannin, and a noticeably floral base. This truly is a fantastic example of a fruited blonde sour.
---
Veritas 021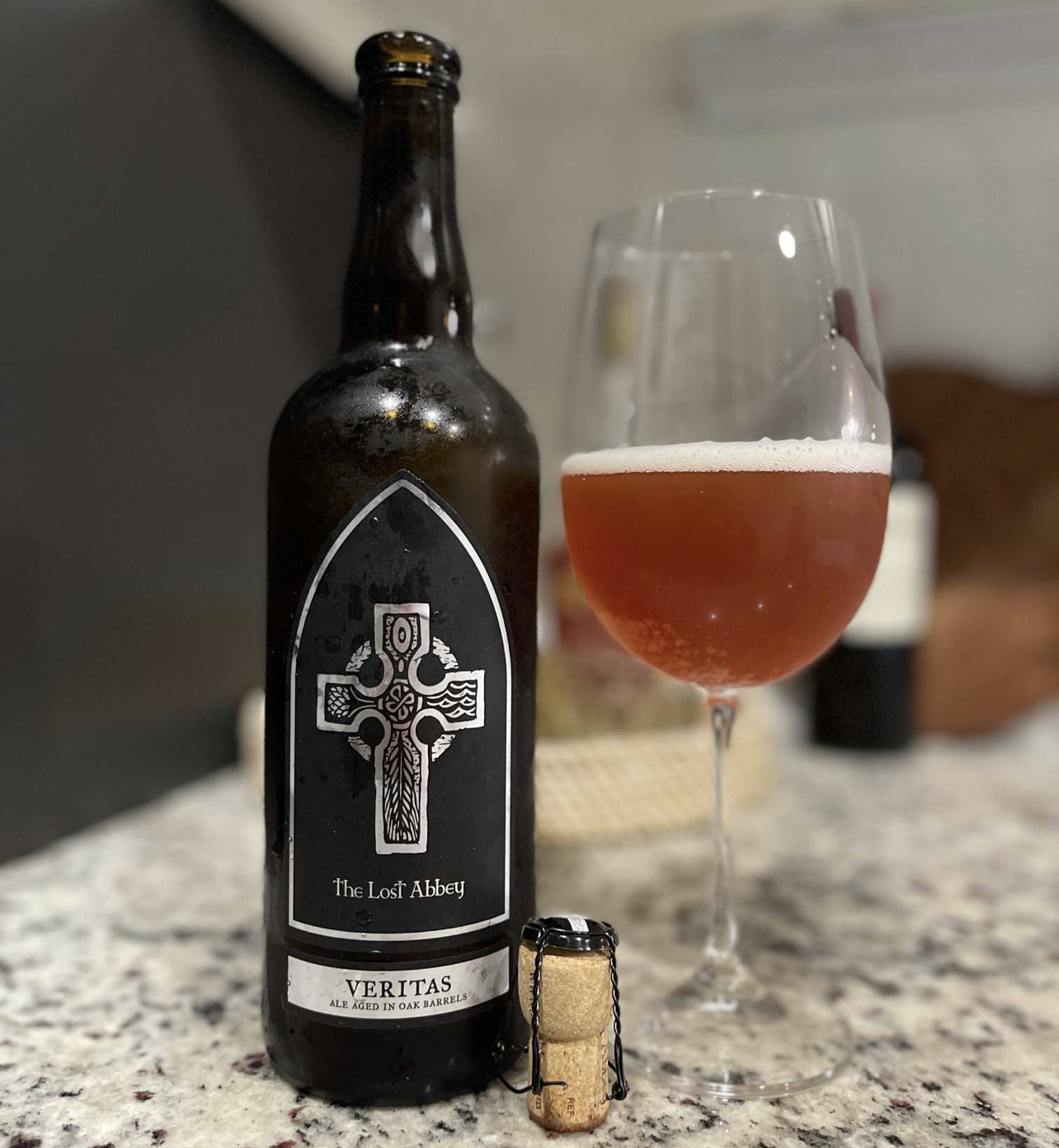 While the Veritas series is currently on pause, it has historically been a line of sour ales experimenting with different barrels and adjuncts.
Veritas 021 is the most recent release, and is comprised of a Red Wine Barrel-Aged Sour with the addition of raspberries, vanilla, cinnamon, and chiles.
The Experience
Upon pouring this beer, we were immediately reminded of the coloration on the Cable Car Kriek. Greeted with a beautiful ruby, although this time a pink-hued foam settles around the inside of the glass. The nose is a blast of raspberry sherbert and Meyer lemon. There is a raspberry tart component as well, once the subtlety of the cinnamon integrated with the fruit. An awesome introduction to the palate from the nose, with the flavors bringing a lot more of the barrel character, balancing the experience. Dry oak, acidic raspberry, and subtle vanilla open up the palate for a finish from those dried chiles. While they didn't impart much of a flavor influence, there is a lingering heat that settles in the stomach. Carbonation is sharp, with a dry, tart mouthfeel. A medium acidity throughout and that subtle chili heat round the finish perfectly.
A Part of History
In their Crusade, Tomme Arthur and Lost Abbey have created something truly special. Beyond making beer, they are in the business of imagining all things possible. Remaining in tune with the philosophical teachings of Troy Hojel, the goal at the Lost Abbey is to cultivate and develop the fruits of fertile imaginations.
In the process they've cemented themselves in craft beer history. They created things never before seen in the industry, ahead of their time in their experimentation. And as a new era of Craft Beer creeps in, they remain at the forefront of expertly crafting and blending all things wild, fruity, and funky. We would like to extend a huge thank you to Tomme and his team for allowing us an inside look and first-hand experience with both the brewery processes at the Lost Abbey and the beautiful beers created as a result.
---