No Comments
The Weekly Buzz | February 10 – 16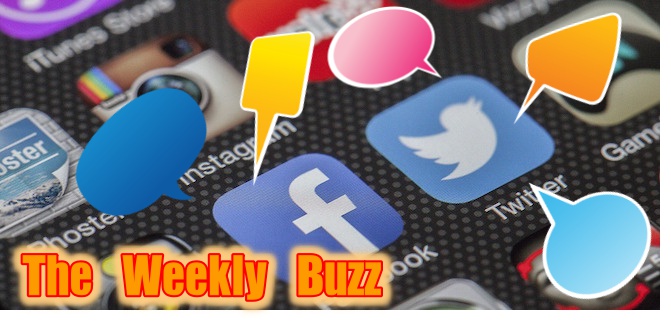 Valentine's Day fell this week, and I have reaffirmed my love for beer. It is the sun to my moon and the surf to my turf. I mean my kids and lady are great, too, but have you tried beer? They should write a romantic comedy about me and beer. It would be a smash hit. Any Hollywood producers want to get that green-lit for me?  Well, anyway, I was on Twitter this week, and this is The Weekly Buzz.
It's sold out, but maybe there will be scalpers!
Our Valentine's Day ticket bundle is the perfect "I forgot tomorrow is Valentine's Day" gift https://t.co/ykzq0B5kfu pic.twitter.com/2OtM8LZ2SA

— SweetWater Brewery (@sweetwaterbrew) February 13, 2017
---
You're killin' me, Smalls!
Available now! Our special S'mores Might Meets Right is ready to be enjoyed. We promise to keep the Sand Lot references to a minimum. pic.twitter.com/hT8wIQzhpR

— Temperance Beer Co. (@TemperanceBeer) February 10, 2017
---
You had me at "Nitro"… and "cookies"…
Drink milk (stout) & eat cookies! We're taking this pairing across the nation, come grab a pint & bite: https://t.co/p5CqL24uXd pic.twitter.com/sCoMG7xID4

— Firestone Walker (@FirestoneWalker) February 10, 2017
---
Does the job come with diplomatic immunity?
https://instagram.com/p/BQV7ZPrBNSC/
---
Bueller? Bueller? Bueller?
https://instagram.com/p/BQWsbbeDu2n/
---
Here's to many more!
Ferm is full and yeast is pitched… now we wait. Good first brew day. #GAbeer #craftbeer #drinklocal #brewery #fermentation #waiting pic.twitter.com/RsXo9orpoU

— Printer's Ale (@Printersbeer) February 11, 2017
---
What are you going to pull out of the cellar?
Join us in celebrating #drinkitnow on Sunday, Feb. 19th by opening—and enjoying—that special bottle you've been saving. You know the one:) pic.twitter.com/APQIfM3c2S

— Allagash Brewing Co (@AllagashBrewing) February 3, 2017
---
All of them. Definitely all of them.
Decisions, decisions. Which would you crack open for the annual @AllagashBrewing #drinkitnow on Feb. 19? ? pic.twitter.com/qpaeMfxyvj

— Dogfish Head Brewery (@dogfishbeer) February 14, 2017
---
Guess I'm gonna be driving to Downingtown…
https://instagram.com/p/BQa8j8zgZeM/
---
I can't wait to see the "After" photo.
https://instagram.com/p/BQbRG0TAEc3/
---
Go taste a few rarities!
Don't miss the Weekend of Compelling Ales & Whatnot! Happening March 25, we're featuring 14 rare beers! https://t.co/Y2UynHzRqT #WOCAAW pic.twitter.com/TGaTuOM0es

— Dogfish Head Brewery (@dogfishbeer) February 13, 2017
---
This bill could hurt craft brewers in Nebraska, but craft beer won't let it!
#powerofthepint #dontkillourcraft #neleg No on lb 632 pic.twitter.com/Ou9AqeuqMi

— NE Craft Brewers (@nebraskabrewers) February 10, 2017
---
What's your plan?
Plot out which booths you're going to visit at #ILWinterFest? We've been announcing Booths #s here. Stay tuned! https://t.co/evp0aTlPCR pic.twitter.com/LbbU9lyY63

— IL Brewers Guild (@IllinoisBeer) February 13, 2017
---
You can even snuggle the bottle!
If you're alone on Valentines Day, the only hint of bitterness you should feel is from my IPA. #ImHereForYou pic.twitter.com/ZTM5ivxAe9

— Voodoo Ranger (@voodooranger) February 14, 2017
---
The best Valentines of the season!
Happy #Beerentines Day! You sent in ideas for future Beerentines, here are some of our favorites. pic.twitter.com/bgvfTJ0KKp

— Bell's Brewery (@BellsBrewery) February 14, 2017
---
Time to update those resumes!
Now hiring for Taproom & Beer Hall positions???
Beertender, Server, Host, Line Cook, Prep Cook, Food Runner, Busser https://t.co/OnWn94o5Q1 pic.twitter.com/V7QLMuIejU

— DESTIHL Brewery (@DESTIHLbrewery) February 14, 2017
---
…but don't tell beer.
On this Valentine's Day, tell them how you really feel. pic.twitter.com/0FAZ8wjqVS

— surlybrewing (@surlybrewing) February 14, 2017
---
For the V-Day haters out there.
The official beer for those of us who just aren't feelin' it today. #curmudgeon pic.twitter.com/JukALqxbGC

— Founders Brewing Co. (@foundersbrewing) February 14, 2017
---
Happy Birthday!
158 years ago, this beautiful place became official. HAPPY BIRTHDAY OREGON! #oregon #becameastate #itsnotjustaboutvalentinesday pic.twitter.com/BbJgkxql5z

— Deschutes Brewery (@DeschutesBeer) February 15, 2017
---
I'm assuming it's true because it was on Twitter.
Abraham Lincoln, born today in 1809, was the only POTUS who worked as a bartender (when he owned a bar in New Salem, Illinois). #hero

— Drunken History (@DrunkenHistory) February 12, 2017
---
Beer at a gas station in PA? I never thought I'd see the day!
This is not a joke. We repeat, THIS IS NOT A JOKE. You can now buy our beer in @Wawa #ChaddsFord! We spy some Golden Monkey 😉 @phillydotcom pic.twitter.com/8uDwMvfSZv

— Victory Brewing Co. (@VictoryBeer) February 16, 2017
---
I want this to be inside me.
Take a bite on the wild side with us. https://t.co/fYiNmesRlX #twithaca #wildgame #beerdinner pic.twitter.com/dPV12IFbm0

— Ithaca Beer Co. (@ithacabeer) February 15, 2017
---
These beer dinner planners really get me.
Beer + food pairing events coming up feat. cheese, cured meats & veggies: March 16, April 20, May 11. Tix: https://t.co/QFCHtZXtSa pic.twitter.com/jdCvFJM5pV

— Founders Brewing Co. (@foundersbrewing) February 15, 2017
---
Will there be cosplay?
Latest list of #DayOfDorks brewers for upcoming all-out nerd beer fest, w nerdy beers & geeky cheers. Join us https://t.co/8pbGtr84gM! #DNVR pic.twitter.com/PKVSLp8DlU

— Wynkoop Brewing Co. (@Wynkoop) February 15, 2017
---
Now accepting applications!
We're hiring for a Brewery Events Business Manager! Apply today! https://t.co/kC9lQVBEPh pic.twitter.com/HP2PB25XCG

— Terrapin Beer Co. (@TerrapinBeerCo) February 15, 2017
---
Do you have what it takes?
We're looking for a mechanically minded Packaging Line Manager to join our growing team! Details & requirements: https://t.co/LzFAIUizRG pic.twitter.com/xpv0bV77Oa

— Trillium Brewing (@trilliumbrewing) February 15, 2017
---
Is 33 too old to go to camp?
#CANdAidCampForKids is back! We're bringin' your kiddos a week of Treads + Trails, Tunes, + Love Yur Mama filled fun https://t.co/H4uNWaqfEc pic.twitter.com/2ydcBdp4SW

— CAN'd Aid Foundation (@CANdAid) February 15, 2017
---
Collaboration in progress!
Our Brewmaster David is @skabrewing today working on a unique beer for #CollaborationFest! Who's excited for #Collab17? #StateofCraftBeer pic.twitter.com/LRpybF3LM8

— Boulder Beer Company (@BoulderBeerCo) February 15, 2017
---
Will they be doing a Power Hour?
50 breweries under 1 roof & more than 150 beers 2 taste – #PowerBeerFest is on 4/29! @MABrewersGuild Tix: https://t.co/TBiEVU4mx4 pic.twitter.com/gN9KRFSICw

— Harpoon Brewery (@harpoonbrewery) February 15, 2017
---
This is both infuriating and hilarious. I'm in a glass case of emotion!
https://instagram.com/p/BQi0a0VhrEV/
---
I bet this guy gets a lot of work done!
https://www.instagram.com/p/BQWTqjxlNTI/
---