No Comments
The Weekly Buzz | March 24 – 30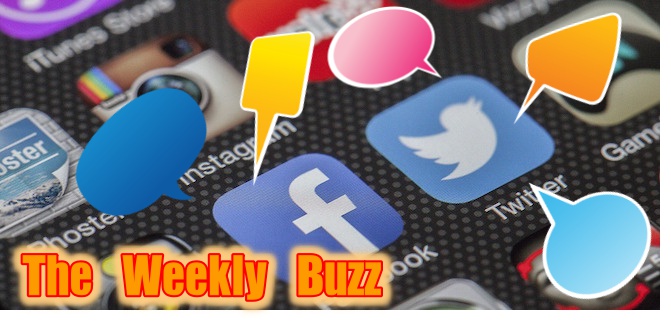 It's been another grueling week, but there is light at the end of the tunnel. That light, of course, is the glowing neon of your local watering hole. Just as your favorite bartender is ready to listen to your woes, The Weekly Buzz is hear to brighten your day. So, kick that weird guy off of your favorite stool, belly up to the bar, and enjoy this week's latest craft beer buzz. Oh… and don't forget to drink a delicious beer. That's an important part of the process.
Want to drive this truck? Apply within!
We're hiring! Indeed seeks FT Delivery Driver to join our fun & hard-working team. Deadline is Friday, 3/31! Apply: https://t.co/Hzoi47jzI0 pic.twitter.com/65o9xexGOu

— Indeed Brewing Co. (@indeedbrewing) March 24, 2017
---
If it ain't broke, you should still fix it.
Wonder what it's like to work at #Yards? Get ready for an entire week of bottling line maintenance crammed into 20 seconds! #PeopleofYards pic.twitter.com/AtqAx8jxci

— Yards Brewing Co. (@yardsbrew) March 24, 2017
---
A few check-ins from Collaboration Fest!
Welcome Beer ready to pour @coloradobrewers Collaboration Fest. pic.twitter.com/P6HVyTLETx

— StrangeCraft Beer Co (@StrangeCraftCo) March 25, 2017
#Collabfest is finally here! Stop by the booth to try our Hazy IPA collab with our friends from @Spangalangbeer pic.twitter.com/6gaTR65pHX

— Elevation Beer Co (@ElevationBeerCo) March 25, 2017
Some of the revelers at #collabfest are trying to earn their beers, or work them off #CraftBeer pic.twitter.com/Shxl15g4Rr

— Luke Perkins (@Ldperkins970) March 25, 2017
Coming full circle with some friends from @GABF at #CollabFest over a pint of Humulus Eruptus (@JaggedMtnCB Collab). pic.twitter.com/ydKjr7lwDA

— Uberbrew (@UberbrewMT) March 27, 2017
---
Help wanted!
We're now seeking a full time Kitchen Worker to join our team! #ShortsCareers #ShortsBrew #LoveWhatYouDo https://t.co/scDMVDHKZJ pic.twitter.com/v2hunUVQDX

— Short's Brewing (@ShortsBrewing) March 26, 2017
---
I want to download this playlist into my face.
https://instagram.com/p/BSGr6vNhL-x/
---
Sour Sunday seems like a delicious event!
https://instagram.com/p/BSGzKnSB8E2/
---
If this is wrong, I don't want to be right.
https://instagram.com/p/BSGsoofDiLx/
---
How did you celebrate Oberon Day?
https://instagram.com/p/BSGzX6TjyES/
Special delivery this morning for our employees. Thank you @SweetwatersDM! #oberonday17 #bellsbeer pic.twitter.com/aERweZQbjq

— Bell's Brewery (@BellsBrewery) March 27, 2017
Your 7-day #Oberon forecast… #OberonDay17 pic.twitter.com/2SItu3cfHb

— Bell's Brewery (@BellsBrewery) March 23, 2017
Thank you @BellsBrewery for giving the world Oberon. Happy #oberonday17 everyone! ?? pic.twitter.com/vh6kIsDHzg

— LaurenStanton13 (@LaurenStanton13) March 27, 2017
#oberonday17 is trending. This is a legit holiday in Kalamazoo and now, apparently, on Twitter. #cheers

— Sarah Hagen (@sarahghagen) March 27, 2017
It's Oberon Day! We have it fresh from the brewery & poured through a Blood Orange Randall.#OberonDay17 https://t.co/nSqeuE1qnU

— Slows Grand Rapids (@SlowsGR) March 27, 2017
---
I'll get in line now.
https://instagram.com/p/BSGsex4jl3N/
---
It's SPRINGTIME in Pittsburgh!
https://instagram.com/p/BSEOgE-lFrC/
---
Have a beer and enjoy a run for a good cause!
April #CheersforCharity $1/pint to Crozet Trails Crew! Sun 4/9 #FourKings 4K Trail Run w/@CrozetRunning ? Sign up: https://t.co/sceVk17Rbe pic.twitter.com/ARwfhcg8HG

— Starr Hill Brewery (@StarrHill) March 27, 2017
---
Look who's a year-round beer now!
Xtra-Citra is back. For good. https://t.co/VJdt3OImq6 pic.twitter.com/5R3UbO72tv

— surlybrewing (@surlybrewing) March 27, 2017
---
…and hopefully not their last.
TICKETS NOW AVAILABLE! Join us at East End on 4/24 during PCBW as we unveil our first-ever collaboration beer! https://t.co/CtbyKk49Me pic.twitter.com/vp1DIuCyhW

— Brew: Museum of Beer (@BrewMuseum) March 27, 2017
---
Time for some experimentation!
https://www.instagram.com/p/BSKMKpOgZln/
---
Don't just pencil this in. Use permanent marker.
Mark your calendars, the Street Fair is back! On 6/24 we'll shut down Industrial Way for our best celebration yet. https://t.co/eQH44Gq7LM

— Allagash Brewing Co (@AllagashBrewing) March 28, 2017
---
Look for it on shelves near you!
#MexicanLogger returns! Alongside a NEW #MixedUp12 which will also include Mexican Logger! Hitting shelves April 5th https://t.co/dc3vi2Y5D7 pic.twitter.com/34x5tKGtKY

— Ska Brewing (@skabrewing) March 28, 2017
---
Anyone want to plan an Ocean's Eleven-style heist?
Meet Dave! He'll be driving from San Diego to Virginia Beach and making tons of stops. Check back Friday for more info on where to meet him! pic.twitter.com/jz48teOc5t

— Green Flash Brewing (@GreenFlashBeer) March 28, 2017
---
How about a nice Hawaiian Punch?!?
This Tues 3/28 will be the debut of Never Aloha(Hawaiian Punch inspired Gose)! ? More info here:https://t.co/YRZZLz6cfn #scottsaddition #rva pic.twitter.com/iM9Ibrnn41

— The Veil Brewing Co. (@theveilbrewing) March 26, 2017
---
Where are the lingonberries?
Getting our collab on in Sweden with Fjaderholmarnas Bryggeri (Feather Island Brewery) and @skabrewing! The hops came from Colorado! pic.twitter.com/LBANlB5twU

— Avery Brewing Co (@AveryBrewingCo) March 28, 2017
---
Let's get freaky!
The aroma promises charred caramel and grilled stone fruit, but the flavor delivers waves of bright peaches, spun sugar and whiskey sour. pic.twitter.com/vdIfbqzULH

— Tröegs Brewing (@TroegsBeer) March 29, 2017
---
Settling this bet makes everyone happy!
Remember that little wager we made with @AnchorBrewing last year and then the @Mets lost to the @SFGiants? It's time for us to pay up… pic.twitter.com/BSS5gtvfrM

— Brewery Ommegang (@BreweryOmmegang) March 28, 2017
---
Looks like this season just got more delicious.
See you at the ballpark, @whitesox fans. https://t.co/bJ7uKIDKxI

— Founders Brewing Co. (@foundersbrewing) March 29, 2017
---
There's a new sheriff in town.
Our current CEO, Nikos passing the baton (tap handle) to our new CEO, Cheryl. Read more about our evolution here: https://t.co/96FD8KuSYu pic.twitter.com/4gtoNWsV20

— Ninkasi Brewing (@NinkasiBrewing) March 29, 2017
---
Have you ever been to a goat race at a brewery?
SAVE THE DATE: Bockfest is back and better than ever this year! #BOCKFEST2017 pic.twitter.com/Ja1rSwoLvJ

— Sly Fox Brewing Co (@SlyFoxBeer) March 29, 2017
---
This new facility is coming along nicely!
…And just like that, the tanks are going in.? #eriebrewingco #newbrewery #erie #comingsoon #spring2017 #brewing #brewhouse pic.twitter.com/EAPMFTjOHL

— Erie Brewing Company (@ErieBrewingCo) March 29, 2017
---