No Comments
The Weekly Buzz | March 2 – 8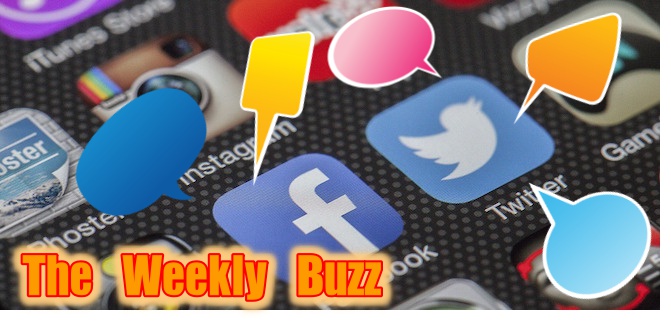 Since I'm writing this on International Women's Day, I would be remiss if I didn't thank all of my strong, creative female colleagues at PorchDrinking. Without them, this humble beer blog would be but a shadow of itself. Their hard work and dedication keeps this train on the tracks, and their fresh points of view help us keep our content fresh and relevant in an ever-changing world. I invite you all to raise a glass to them! Now, here's some stuff I found on Twitter. This is The Weekly Buzz.

Don't forget to buy milk, eggs and liquid bread before it snows!
https://instagram.com/p/Bf1YIIVH73-/
https://instagram.com/p/Bf1akSzHesC/
https://instagram.com/p/Bf-8aumg4aH/
---
Look at all that beautiful oak!
https://instagram.com/p/BfymnkDlRVO/
---
Did you attend the Chicago Beer Fest?
https://instagram.com/p/Bf4a1P_Bkcd/
---
Time to polish that resume!
https://instagram.com/p/Bf6R5ASnIOu/
Positions include hospitality staff, brewers, IT and accounting professionals, sales reps, warehouse crew, packaging technicians and a lot more. Come join our team of amazing misfits and help us give the middle finger to the status quo. pic.twitter.com/aJp5k6bnPA

— Stone Brewing (@StoneBrewing) March 6, 2018
https://instagram.com/p/Bf_nrhOF11q/
---
Start checking shelves near you!
You can almost taste it, Kentucky! pic.twitter.com/bnP6rBzeZ9

— Yuengling Brewery (@Yuengling_Beer) March 4, 2018
Lions, Bears & Beers are coming to Indiana! Join David Walker & the FW crew as we release our beers throughout the Hoosier State. Start asking your favorite watering holes & local shops to stock up! pic.twitter.com/jwPVIYnwZc

— Firestone Walker (@FirestoneWalker) March 4, 2018
---
There's nothing quite as beautiful as beer art.
https://instagram.com/p/Bf8nWpun_NP/
---
Get 'em while they're hot (and creamy)!
Who's hungry? Tickets for our Harpoon Mac & Cheers Challenge are almost sold out! 🧀🍻 Get 'em while you still can: https://t.co/8fj11K1DMC pic.twitter.com/6PYuK9Yvmo

— Harpoon Brewery (@harpoonbrewery) March 6, 2018
---
It's never too early to start planning your St. Paddy's Day feast!
Ready for St. Paddy's Day? Break out the Instant Pot and Milk Stout Nitro for this delicious corned beef recipe! https://t.co/33FRxdaPKK #AmericasStout pic.twitter.com/MtokI8cbGi

— Left Hand Brewing Co (@LeftHandBrewing) March 7, 2018
---
I did not know this was a holiday.
Brainstorming ideas for #NationalOreoDay: "why don't you stack some cookies and crush them with a beer and say @Oreo we're crushing on you." – Hagen, Rogue Creative Director pic.twitter.com/6taY94hRSw

— Rogue Ales & Spirits (@RogueAles) March 7, 2018
---
I… I just… I have no words.
https://instagram.com/p/BgB17FUnYnV/
---
Big news from the man himself.
3 O'Clock Tweet: https://t.co/FQp6p0ownP Brewers Association Announces SAVOR 2018 Brewery List

— Charlie Papazian (@CharliePapazian) March 8, 2018
---
As if you needed another reason to go…
We're sending some BA Darkness to @CigarCityBeer for #HunaDay2018. Snowbirds/Spring Training attendees, you need to get there https://t.co/LzSRQm86Mi

— surlybrewing (@surlybrewing) March 8, 2018
---
To the women of the craft beer industry, we salute you!
Please join us in celebrating the women of Ninkasi for #InternationalWomensDay!
Liz is our resident dog whisper and the inspiration behind Phil Collins Friday at the tasting room! Thanks for being the coolest, Liz! 💪 🍺 💙 pic.twitter.com/JIQA1p2dR5

— Ninkasi Brewing (@NinkasiBrewing) March 8, 2018
https://www.instagram.com/p/BgFAYTpnC4t/
Celebrating #InternationalWomensDay with us during the Spirit of Revolt Arts & Crafts Fair tonight? Come hungry because @thefatshallot, @empanadabike, and Pie Pie My Darling will be serving food all evening. https://t.co/8wBb7XsQxe pic.twitter.com/PDdjSikNwi

— Revolution Brewing (@RevBrewChicago) March 8, 2018
For the Pink Boots Collab Brew Day we brewed a dry-hopped gose and named Ruth Bader Gose because it's "slightly salty, sometimes sweet and always on point." Look for it soon only at the taproom. #iwd2018 #pinkbootscollaborationbrewday2018 #thenotoriousrgb pic.twitter.com/U72FjRpIpa

— Odell Brewing Co (@OdellBrewing) March 8, 2018
Join us at the taproom tonight for a discussion about women in the food & bev industry! #InternationalWomensDay pic.twitter.com/3qrAJavIUo

— Red Hare Brewing (@RedHareBrewing) March 8, 2018
Cheers to women all around the world for #internationalwomensday! We raise our glasses to women who continue to make the world a better place. Check out @NobelPrize video on the women optimists who have won Nobel Prizes: https://t.co/1p7QJpa1TQ

— Optimism Brewing Co. (@OptimismBrewing) March 8, 2018
We're hanging out with #UniteBrew to celebrate the International Women's Collaboration Brew Day and International Women's Day! There are so many smart and talented women in this industry and we can't say thank you enough for helping us all grow. pic.twitter.com/Z7fr4GSWBs

— Uinta Brewing (@UintaBrewing) March 8, 2018
This #InternationalWomensDay, we toast to the women who power our brewery— from business systems, retail ops, and sales, to managing, marketing, serving, and reppin' —these amazing women do it all (and then some). Raising a pint to women everywhere today! 💕🍺 pic.twitter.com/DOHfFn8ONw

— Starr Hill Brewery (@StarrHill) March 8, 2018
Schlafly women represent. Happy #InternationalWomensDay to our female employees, as well as our STL beer industry friends. You all make the STL Beer Scene amazing. pic.twitter.com/fPxmoBbSb5

— Schlafly Beer (@Schlafly) March 8, 2018
Happy #InternationalWomensDay! We're so happy to have so many amazing women on our staff. They're integral to our operation here at CCBC & we don't know what we'd do without them. If you see any of these women around today, be sure to give them a high five. pic.twitter.com/drAegatmhg

— Creature Comforts (@creaturebeer) March 8, 2018
Happy #InternationalWomensDay. To celebrate, some of our female team members joined in on the @pinkbootsbeer collaboration brew day at @BlueMoonBrewCo. Look out for our Pineapple IPA coming soon! pic.twitter.com/bcADSfyEQQ

— Great Divide Brewing (@greatdividebrew) March 8, 2018
---