No Comments
Firestone Walker | Luponic Distortion IPA Series #10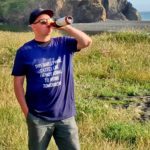 I just got back from a weekend of epic proportions. World class beer, informative talks, great music,  new friends, and an impressive brewery tour. The Firestone Walker Invitational is definitely the ultimate beer festival every beer fanatic should experience. While in Paso Robles, we had access to a multitude of world-class breweries and beers, but through all of that tasting, one beer that really stuck out was Firestone Walker's own Luponic Distortion IPA #010.
The distribution for this beer series has become pretty far-reaching and you've most likely seen one at your local grocer or beer store. Each beer is brewed with the same malt bill, but the hops change with each incantation. Every 100 days, a new variation is released which keeps my taste buds on their toes.
Co-founder David Walker took us on a brewery tour and spoke to us about some problems they've had with the marketing side of Luponic Distortion. Each can or bottle was practically indistinguishable from the next. Only a number on the neck changed with each variant. He would ask friends and family what they thought of the newest release, only to be told they couldn't remember if they had tried it. The logical step was to change the packaging, and that is what they did.
Rebrand
They decided that each can and bottle will have a different color scheme as well as tasting notes to accompany the revolving hop variety. No. 10 is a gorgeous mashup of closely guarded hops hailing from the Pacific Northwest, Germany and Australia.  That hop bill imparts naturally occurring peach, grapefruit, and mango flavors. It was particularly refreshing in the 95-degree weather this past weekend. It's just under 6% ABV, which means I can have a few in the upcoming summer heat. Sadly, in 100 days it'll be gone forever but by then we'll have something new and exciting to try.
Firestone Walker Brewing Company has been producing exceptional beer since 1996 along California's Central Coast and has won World Beer Cup's mid-size brewery award an unmatched four times.
---