No Comments
Karl Strauss & Pure Project Brewing | Murky Poetry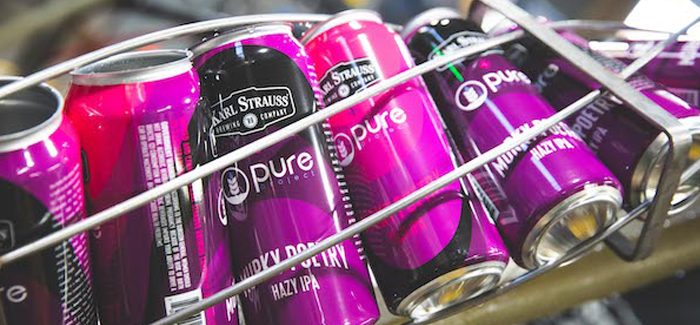 When it comes to beer collaborations, Karl Strauss Brewing has been killing it in the past year. With collaborations like Russian River and Alesmith, not to mention the many others, Pure Project was a welcome addition to their Collaboration Line up with Murky Poetry, a Hazy IPA.
With Murky Poetry from Karl's and Pure's version Liquid Allusion, there came a couple differences. Murky Poetry is a refreshing and tropical-forward IPA brewed with Amarillo, Citra, Sabro and Motueka hops that impart notes of guava, orange, and fruit punch. Oats and wheat give this beer a soft, pillowy mouthfeel. Malts from Admiral Malting in Alameda, California lend unique flavor and local terroir.  This new IPA features the new Sabro hop, which is characterized by intense coconut flavors. Liquid Allusion on the other hand will feature a completely different hop blend and Pure Project's house Murky strain that promotes aromas and flavors of fresh orange juice and lychee fruit.
Learning a bit about the beer, we reached out to both companies to get some more insight. "As with most collabs, it was our brewers sitting down in a room and talking about the things they admire about each other's beers, finding a common ground, and sharing ideas," Says Brian Skarin of Karl Strauss, "Nothing was off the table, but I think the fact that Pure is so well known for their 'murky' beers meant we wanted to explore that territory."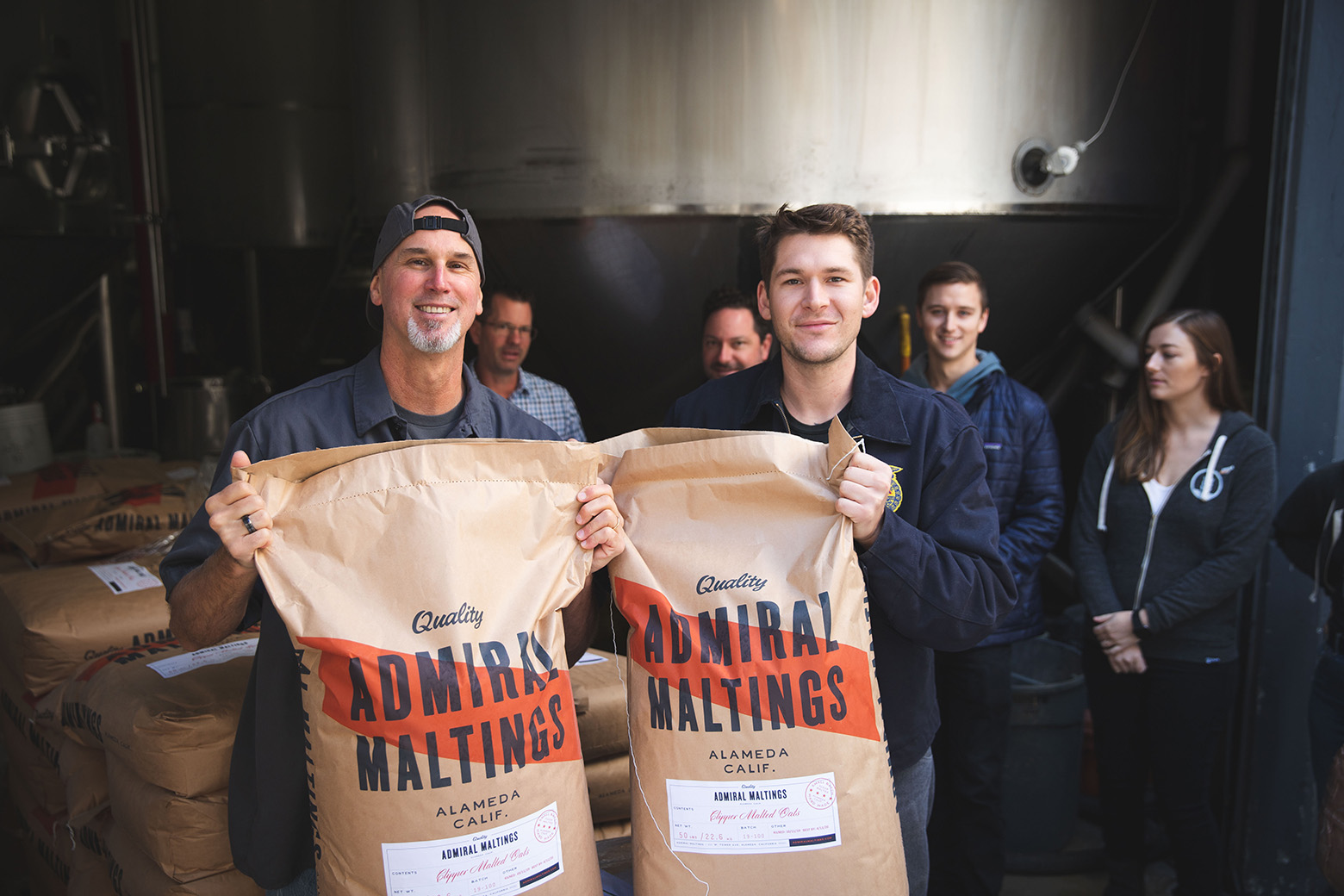 Winslow, brewer at Pure Project says, "This beer was about a year in the making. Designing the beer, lining up our release schedules and marketing the beer all takes planning and time.
"When Karl Strauss contacted us about the collab… wow I can't tell you how it feels to have one of the god fathers of craft beer approach you and tell you they want to work with you for one of only four collaboration beers for the year in a lineup that includes Russian River and Alesmith. Karl also mentioned that this would be a great opportunity to feature one of our main tenants which is California agriculture and malting. Using Admiral Maltings for the base of the beer was a definite yes for us and a great starting point for designing this beer."
"This will be the biggest batch of beer we have ever produced and will see distribution over the entire state. I am beyond excited for this beer to be many people's first experience with our brand and ethos."
"It's another in a long line of collabs that we've done over the last year that really captures the strengths of the brewery we're working with," says Skarin, "Of course, Pure is making a name for themselves as rising stars in San Diego and it's awesome to be able to have partnered with them on a big release, but even moreso to be able to do a beer with them that really plays to their strengths and allows us to celebrate what they've built!"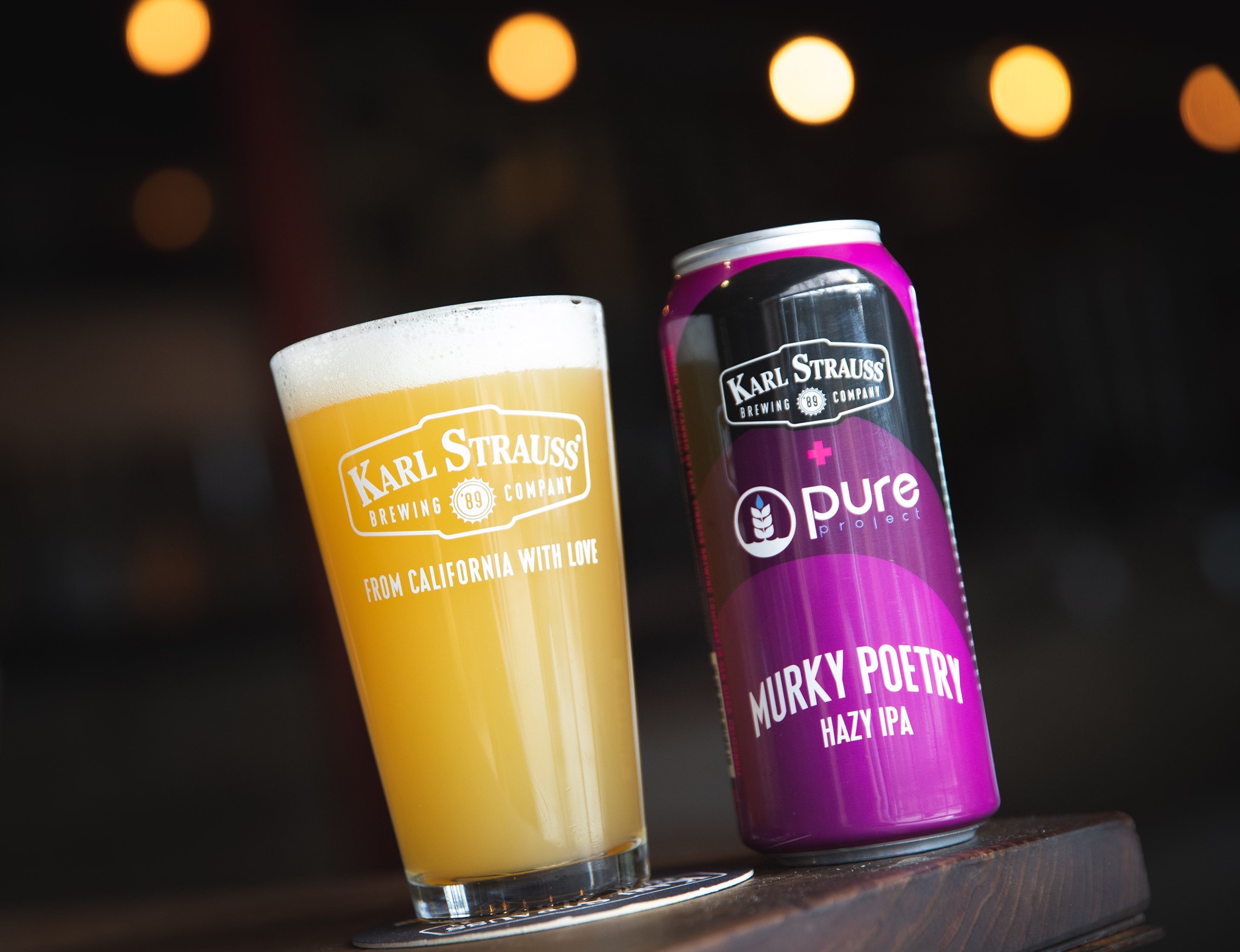 After being able to talk with the crews, I had to try this beer for myself. The most accomplished thing a brewery can do with a beer is create a sense of balance in my opinion, never destroying or underwhelming the palate and wow is it accomplished in Murky Poetry. Wheaty and oaty, with some floral notes and a a light lemon to lemongrass aroma fills your nose.
There is a forward but restrained bitter note, and simply put, balanced between the malt and hop profiles. Lemon grass and firm persimmon flavors with subtle greenery and light hop dankness. On the end there are notes of unripe melon and honeydew. A truly fantastic beer and another great addition to Karl Strauss' collaborative series.
When asked about what it was like to work the crew at Karl Strauss, Winslow retailed, "It was an incredible honor to work with Karl Strauss' the skilled team and a company that has been able to innovate and move the industry forward longer than I have been alive. It's easy for me to say that Pure Project would not exist without Karl Strauss paving the way."
Feature image courtesy of Karl Strauss Brewing Company. 
---