No Comments
Saint Errant Brewing | Cauallier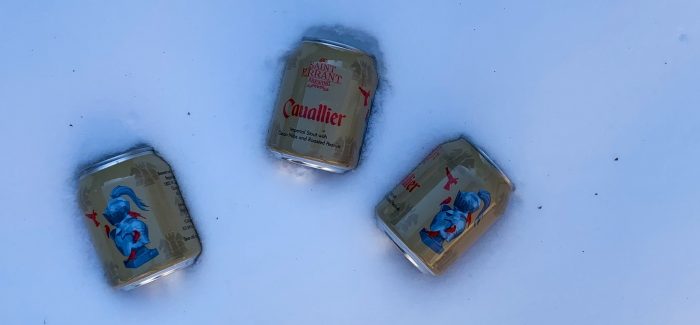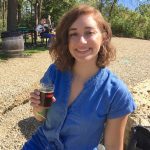 It's November in Chicago and stout season has arrived and it's not just because Festival of Barrel-Aged Beers (FOBAB) brought a deluge of fabulous new barrel-aged beers. Rather, the 3-5 inches of snow and single-digit temperatures are really putting the city in the mood for a beer as dark as the sky at 4:45 p.m. (sigh)
Luckily, Saint Errant Brewing has an indulgent option for Chicagoans: Cauallier, an imperial stout brewed with cacao nibs and roasted peanuts. This brew starts with a dense black pour, visually preparing you for its richness. With a burnt but chocolatey aroma, the first sniff does its job of pulling you in with sweet, warm vanilla notes while still letting you know this imperial means business.
If you're looking for an ultra-dessert-y beer to replace your peanut butter cup ice cream craving as the seasons change, you may want to look elsewhere. Both the cacao nibs and the peanuts contribute a lot to the beer's roasted warmth, but the cacao's sharp bittersweet flavor is what lasts. While Cauallier is sweet, it's not sweet enough to give you cavity concerns after a few sips. With a full-body that forces you to sip slowly, Cauallier saves its nostril-tingling heat from its 12.4% ABV until halfway through the sip. The rich, nutty, almost savory notes from the peanuts smooth out the finish.
Stouts, especially imperial ones, are a commitment. Compared to a crisp pilsner or a pale ale, they require more time and effort to drink. A 12-ounce bottle of a 13% ABV beer doesn't go down smoothly without a sizable amount of time to sip and savor. At least if you'd like to still be awake when you reach the bottom of the glass.
https://www.instagram.com/p/B4GFuFFF8D7/
Saint Errant is one of a few local breweries, like Hopewell and Off Color, leading the tiny beer movement. Saint Errant brews Cauallier out of Ravenswood's Begyle Brewing; the stout comes in a petite four-pack of eight-ounce cans. Not only is the squat little package adorable, but it is also perfect for those who don't want an imperial stout to be their doing-in for the evening. When you don't have any willing friends to assist you with a bomber that's been in your fridge for months, "fun-size" cans satisfy that strong beer craving without the guilt of wasting a drop.
Don't be fooled though. Even at a fraction of the size, this imperial stout can still benefit from a slowed-down tasting. You can find the half-pint cans of Saint Errant's Cauallier on shelves throughout the state. Just keep your eyes peeled for the shorties.
---